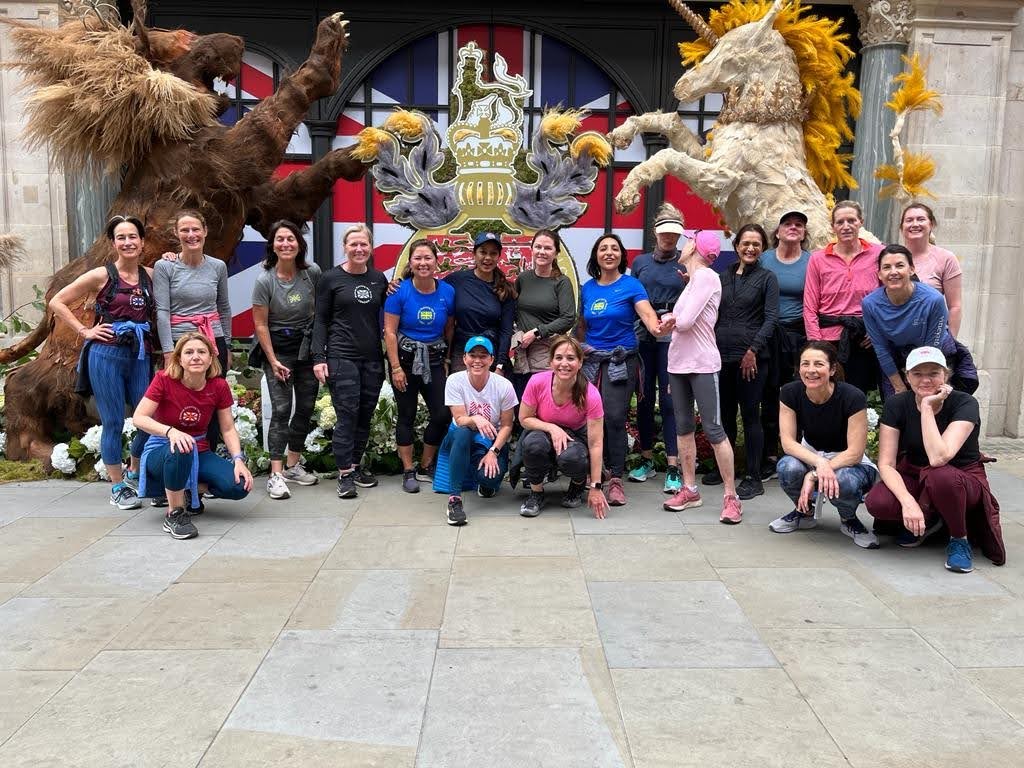 Hello Runners!
Welcome to Platinum Jubilee Week!  What a privilege that we get to be a part of this historic celebration in London!  I hope you can find the space in all the busy-ness at this time of year, to really enjoy the sights, sounds, and experience of being here to celebrate Britain's longest-reigning monarch.  Though it would seem hard to top last week's Chelsea in Bloom run, we think this week's runs to royal and iconic British sights will be some pretty stellar follow-ons!  Please bear with me through the long explanations below…
Running this Week.  Monday we are planning the Virgina Water to Windsor Castle adventure run– a 7.4 mile route which many runners say is their favourite run all year.  See below and in the routes section for transport details and route directions.  Yes, it takes time to get there and back!  But the run through Windsor Great Park is beautiful, and there is nothing like reaching the Equestrian Statue at the top of the park and seeing the Great Walk stretch straight out 2+ miles to the truly majestic Windsor Castle.  What a perfect way to celebrate Queen Elizabeth's Platinum Jubilee!  Some groups are making reservations at local pubs for brunch/lunch after the run, and some may just want to walk in to one of the open restaurants or coffee shops near the train station.  Coordinate with your friends, and even try to connect across pace groups, so we can all share this fun experience!  Also, if you want to pay admission to the Castle (or if you have an annual pass), you can see "The Queen's Coronation" exhibit for free– her coronation gown and robe are on display.  
We will be taking an 8:50 train from Waterloo (one-way fare is £11.60), which will get us to the start at around 9:30.  You will need train tickets (paper or mobile), as contactless will not work.  Plan to either purchase your tickets on your mobile device ahead of time (www.thetrainline.com), or be at the train station early enough to purchase them before departure.  Please plan well for this, as the rest of the group cannot wait if someone misses the train!  For the return, there are trains to Paddington from Windsor and Eton Central at 45 minutes after the hour (39-min journey) and 25 minutes after the hour (29-min journey).  This fare is another £11.60.  There are also trains from the other Windsor station– Windsor and Eton Riverside just down the road at :13, :23, :33, and :53 after each hour (journey times vary from 41 minutes to over an hour, and some go to Waterloo and some to Paddington). 
On Wednesday– which is Global Running Day!– we will be doing the annual Sights of London/Leavers' Run.  This is one not to be missed!  We do this in a large group– and after the last two years of separation, this will be our first time back together for the run since 2019!  It's a short run with a moderate pace and lots of photo stops at all of the best London sights– these are listed in the run description below.  Let's all please try to be mindful and respectful of all the tourists and pedestrians out for the Platinum Jubilee– both in terms of the space we take on the pavements, and our efficiency with getting the photos done.  There is a possibility, of course, that we will have to detour from our planned routes depending on barricades and roadblocks in place for the celebrations.  And finally, let's assume we will run this as one big group and take our photos all together, BUT because we haven't done this in a few years and we're not sure how big our group will be, let's confirm that or recalibrate at St Johns Wood Church Gardens on the morning of the run!  If we are all together, we will also try to take a separate shot of the Leavers at each location (so pay attention if this is you!).  This run ends at Benugo in St James Park, with hopes that many or most can join in a celebratory coffee together; but if you need to get straight back, you can split off at Westminster or Trafalgar Square.
Finally, Friday is a bank holiday, so enjoy your time celebrating, and plan a run yourself or with friends via the chat groups!
Shoutouts and Announcements.  This Wednesday, June 1, is Global Running Day– a worldwide celebration of running!  You can pop onto the Global Running Day website to learn more about what the day represents, and to pledge to participate and be counted amongst the many runners participating around the world.  
Expect an email sometime this week with links to goodbye cards for those leaving us at the end of this school year.  Which means… do let us know if your plans have changed and you are (or are now not!) leaving us.  Goodbyes are hard, but we would hate to miss the chance to send good wishes with any departing friends!
If you hear of anyone who would like to join the Beginner's class of 2023, please connect them with us or pass along their contact info to [email protected].  As anyone who has been through this program knows, it can be an amazing, life-changing experience!  The program is for people who have truly never been runners before.  It starts out with one-minute intervals at a very slow jog, so is not appropriate for anyone who is able to run even a mile or two.  Our regular M-W-F group can help people who have been runners before ease back into it and work up to joining our M-W-F runs.
Our calendar of upcoming events is really shrinking as we race toward the end of our year together!  Next week we have these runs/events to look forward to, and then we will have only one more short half-week of officially running together in 2021-22.
June 6:  Tower Hill in Bloom for Platinum Jubilee
June 10:  2nd Annual Year-end Picnic in Regents Park (from 12:30)– rain date is Monday, June 13
Have a great Sunday, everyone!  Looking forward to celebrating this exciting week with all of you, and can't wait to see everyone's photos and hear about the experiences throughout the celebrations!  
xx Micki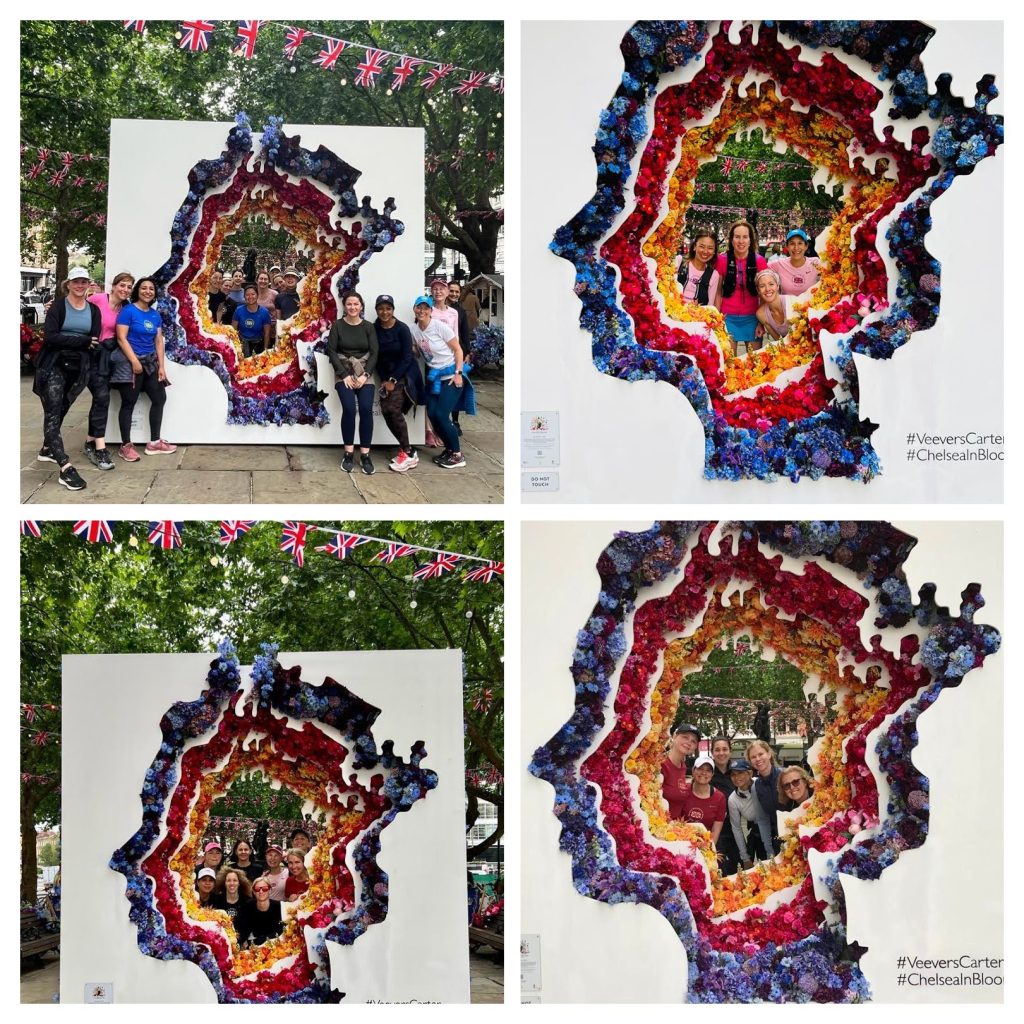 ROUTES
Monday 30 May – ADVENTURE 'COUNTRY RUN' – Virginia Water to Windsor – 7.4 miles
RUNGO:  https://routes.rungoapp.com/route/t1z5f9cjgT
Travel: SJW Jubilee line to Waterloo (10 minute journey), Waterloo train to Virginia Water (8:50am, 41 minute journey), total outbound travel about 1 hour. Return from Windsor & Eton Central Station to Paddington (30 or 45 minutes journey).
Pricing: tube fare + £23.20 (£11.60 one way to Virginia Water + £11.60 one way from Windsor to Paddington)  
Exit the Virginia Water train station and turn right, taking the stairs up to Christchurch Road.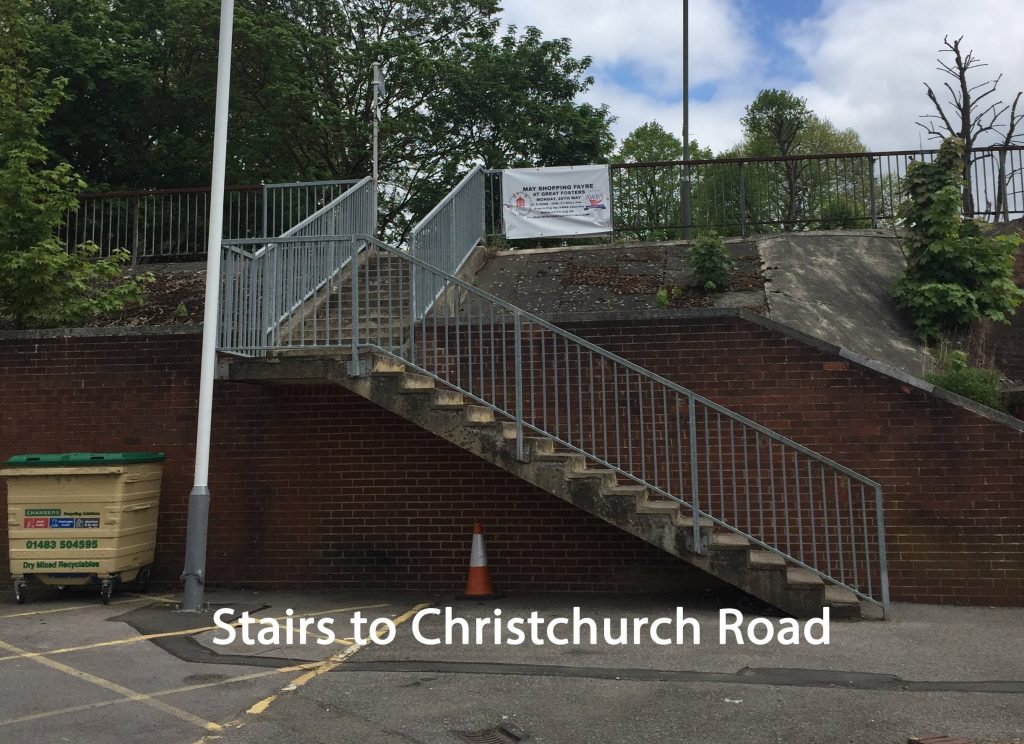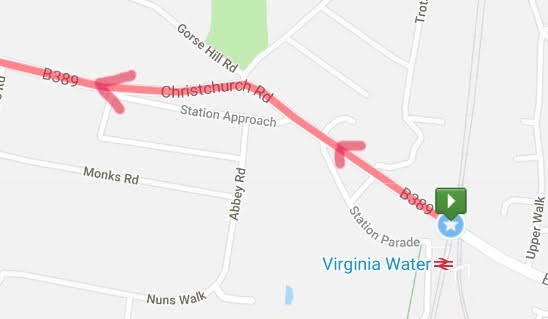 CAREFULLY cross the road and turn left. Stay on Christchurch Road (be sure to take the correct exit off the roundabout at .8 miles) until you come to the T-junction at a traffic light. Turn right and immediately cross the A30 at the traffic light. This is a very busy road so please use caution!! Continue right down the A30 for a very short distance and turn left into the Virginia Water Lake car park, then follow the walkway through the Visitor Centre.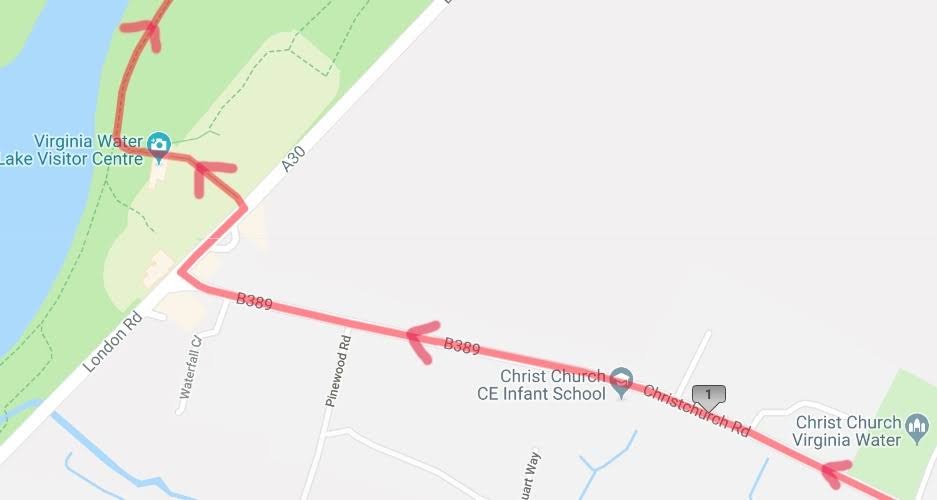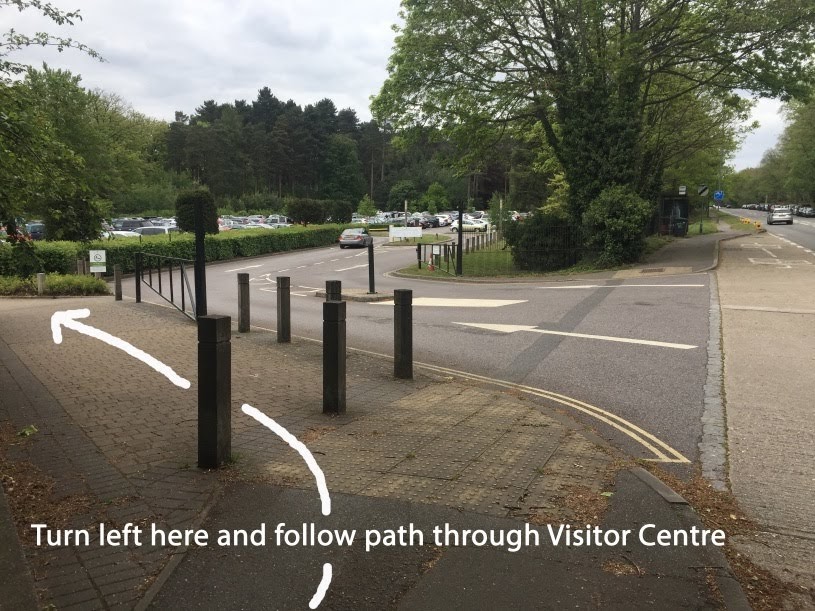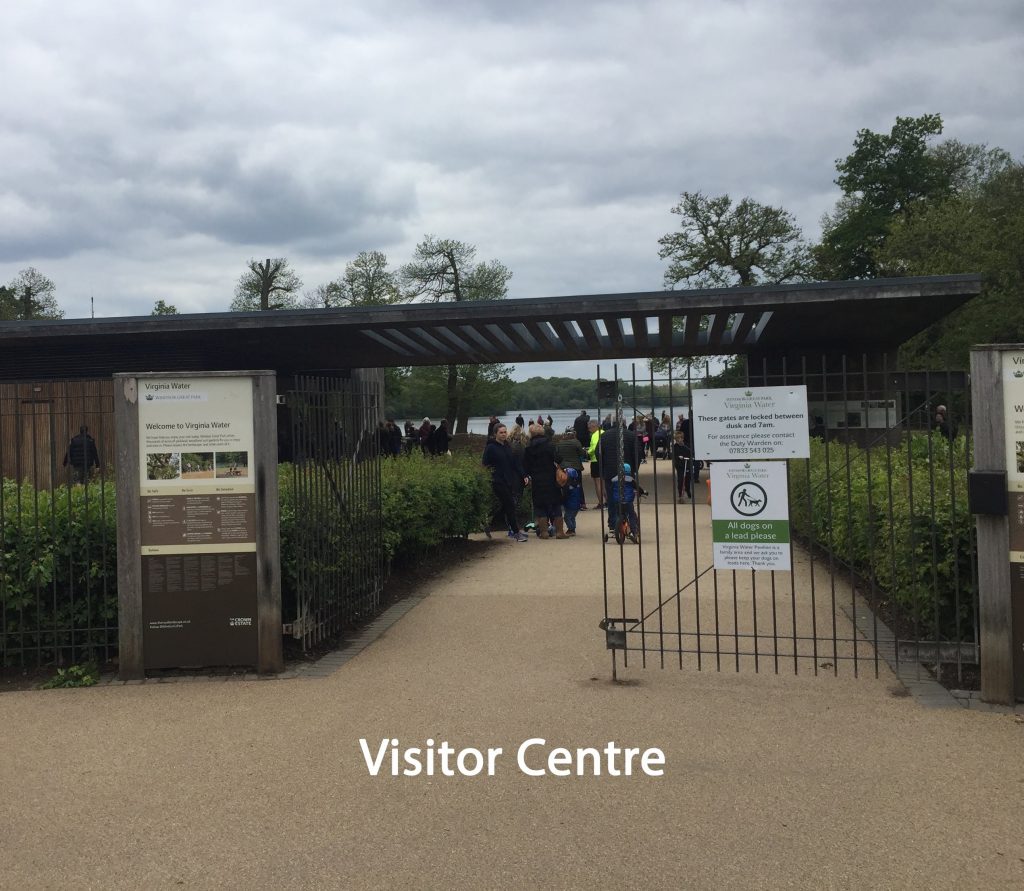 Turn right at the lake on the paved path and follow this paved path along the lake, past a totem pole and across an intersection.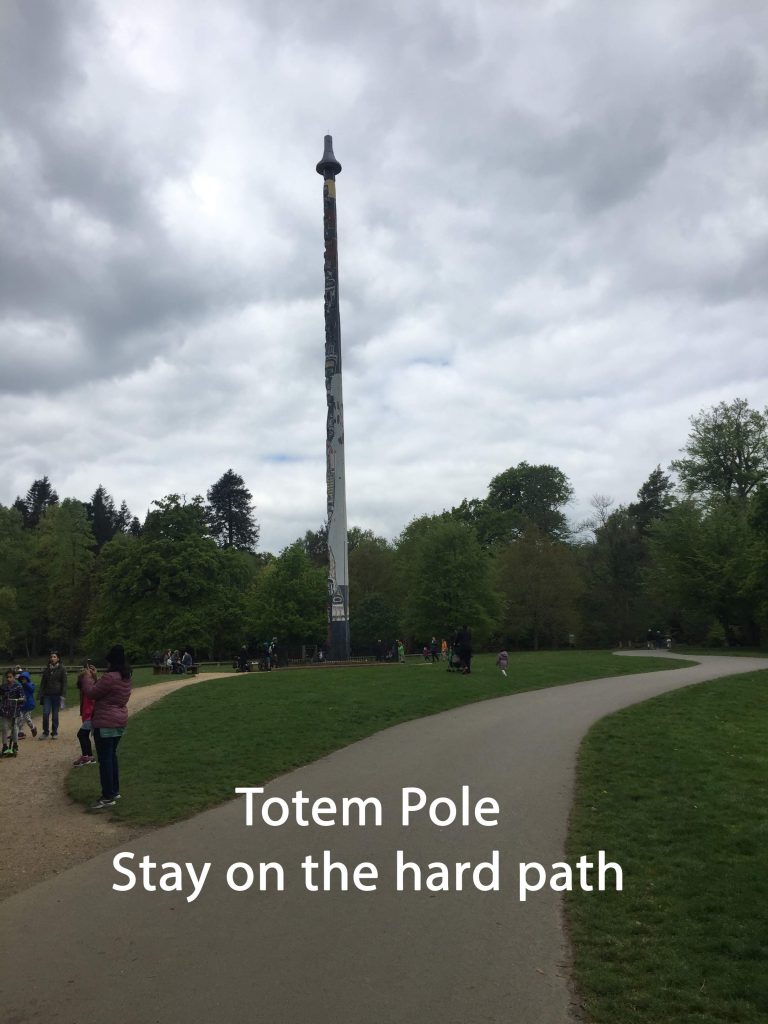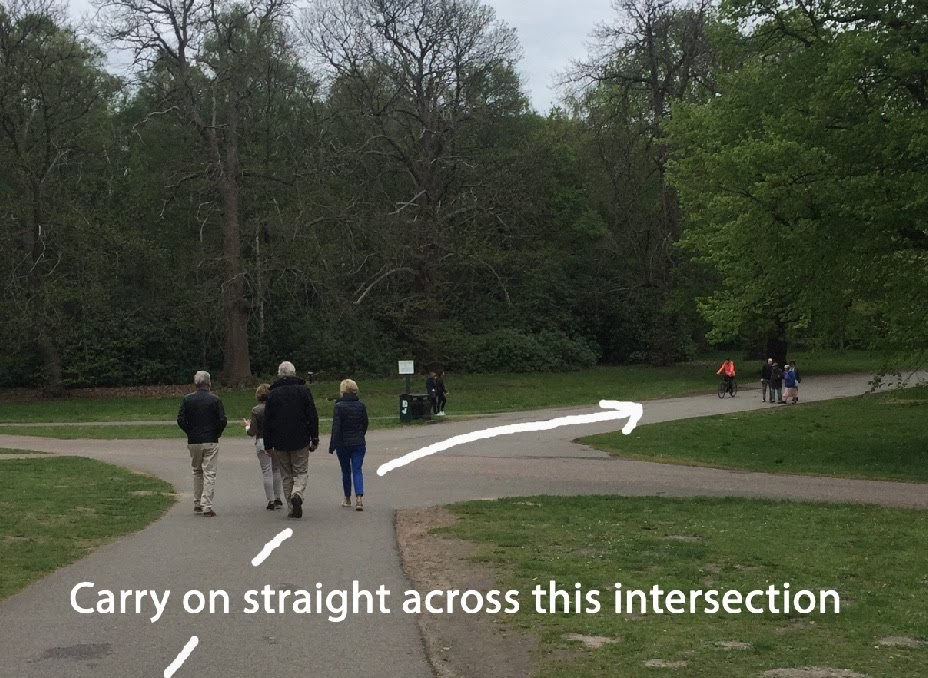 You will see Obelisk Pond on your left, and as you come up the path past the pond turn off at the dirt path on your left.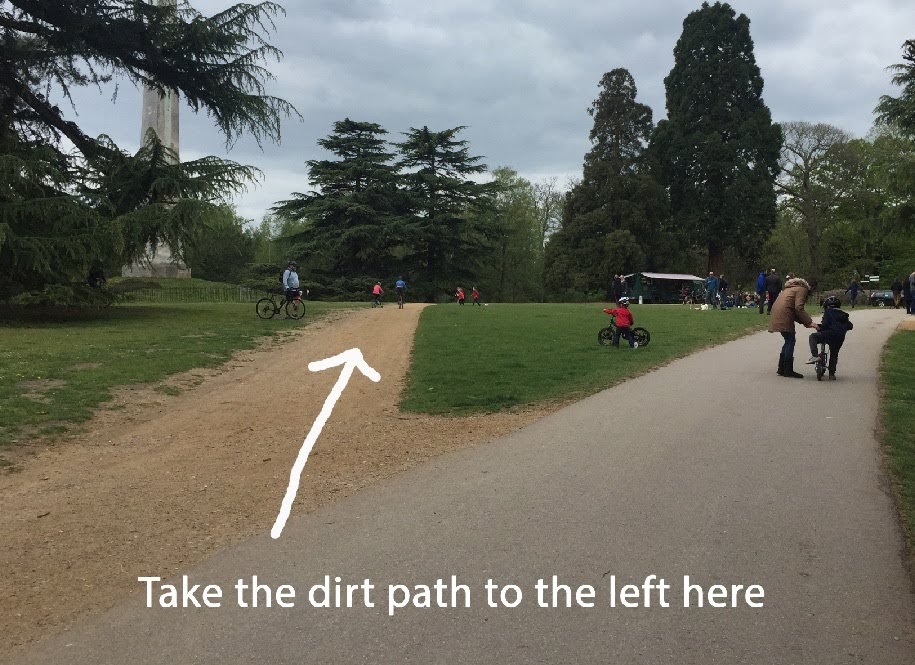 Stay on the dirt path, over a bridge with stone benches, and then up a straight, grassy path with a huge field on your left. Continue to the end of this path and turn right through the large white wooden Cumberland Gate.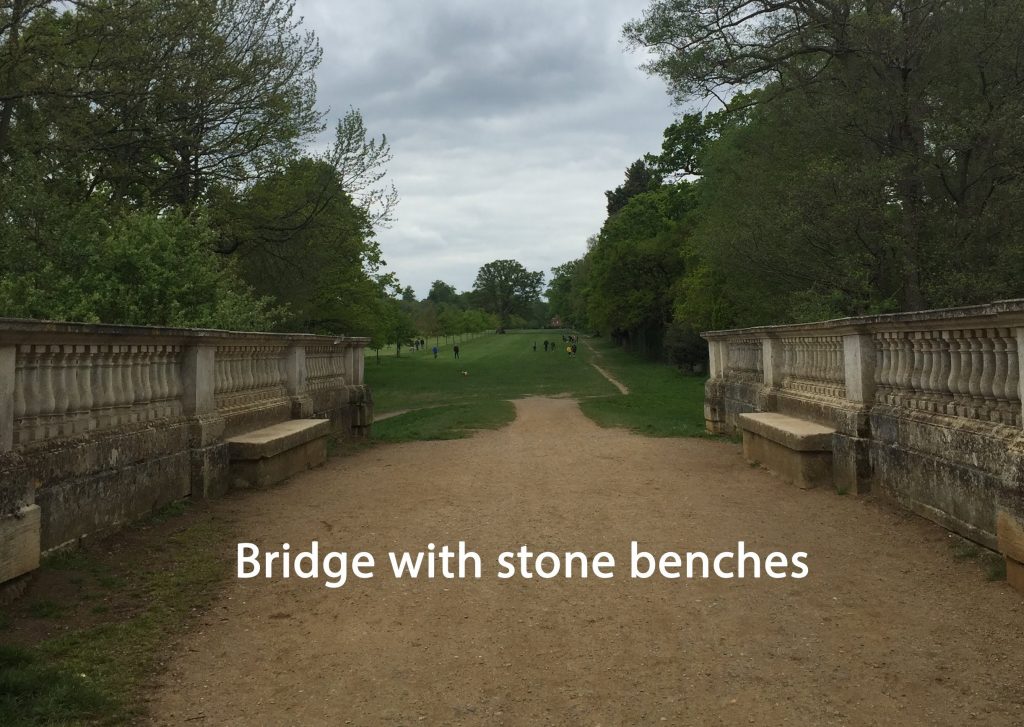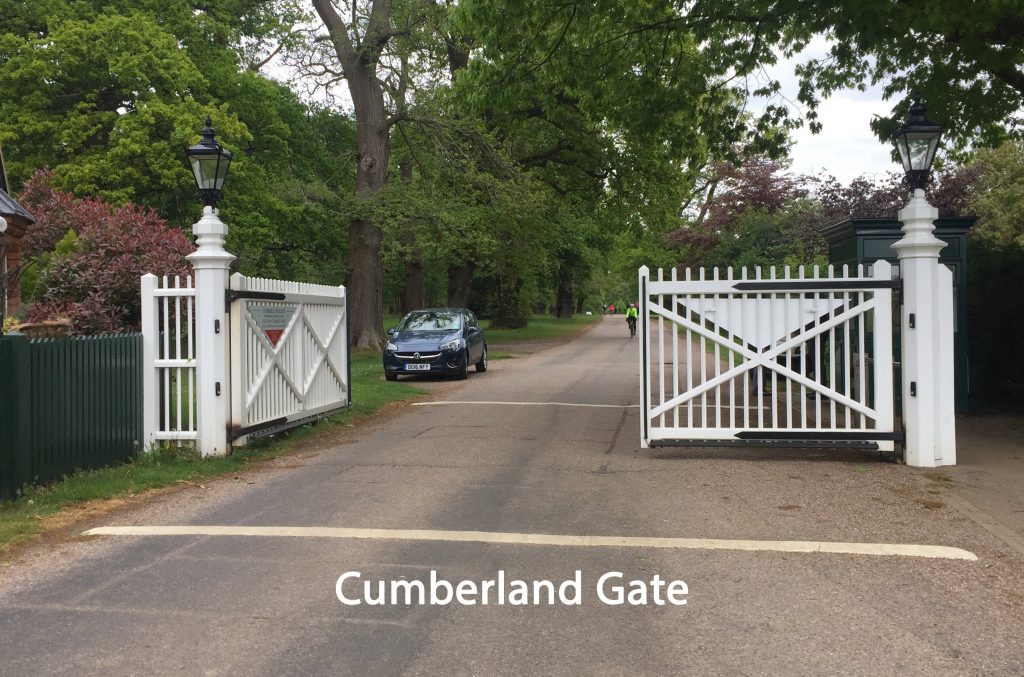 Continue on this paved path, past houses on your right, and past other paths turning off. Continue through the intersection with pink buildings on your left. Go straight to pass through the black metal gate into Windsor Deer Park.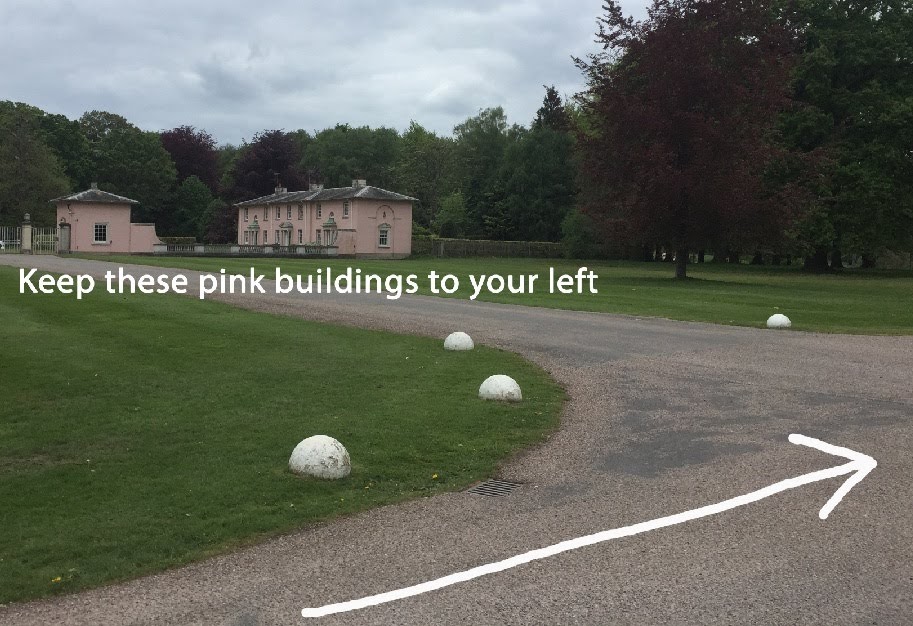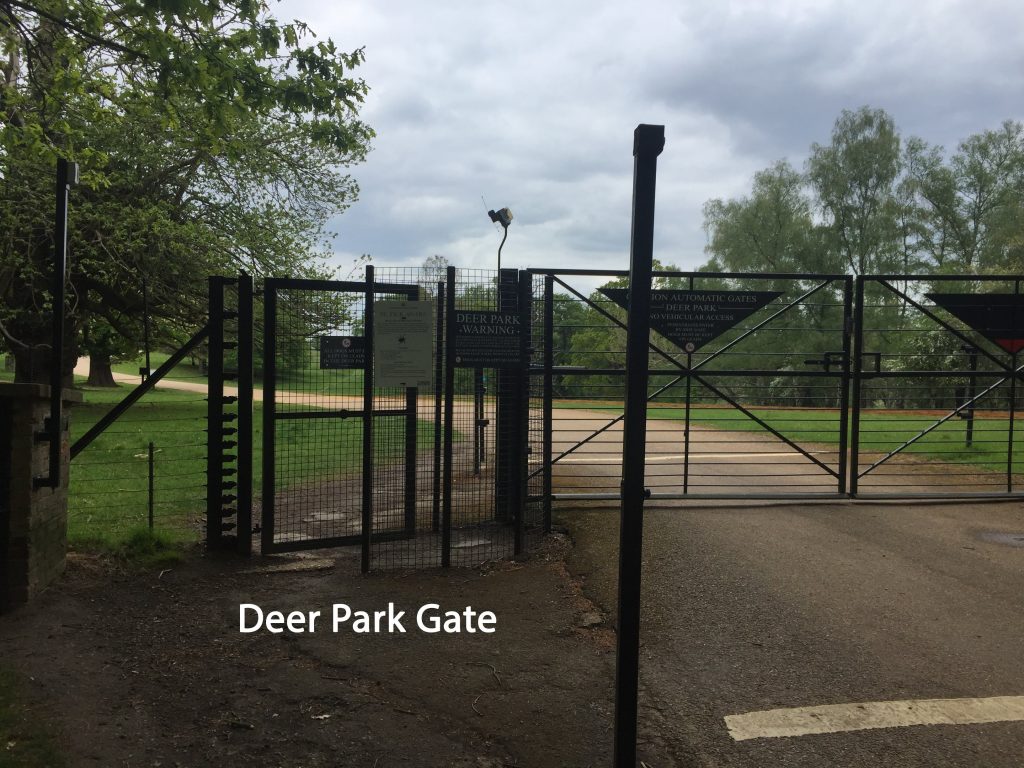 Follow the main path here as it winds through the park. You will come to a low stone bridge (see below); just after the bridge you will run up the grassy hill towards the grand statue of King George III, known as the Copper Horse. King George III was monarch during the American Revolution and father to 15 (!) children, who later in life suffered from mental illness. His dissolute son George IV commissioned this statue and inscribed on it "the best of fathers" despite the fact that father and son apparently despised each other.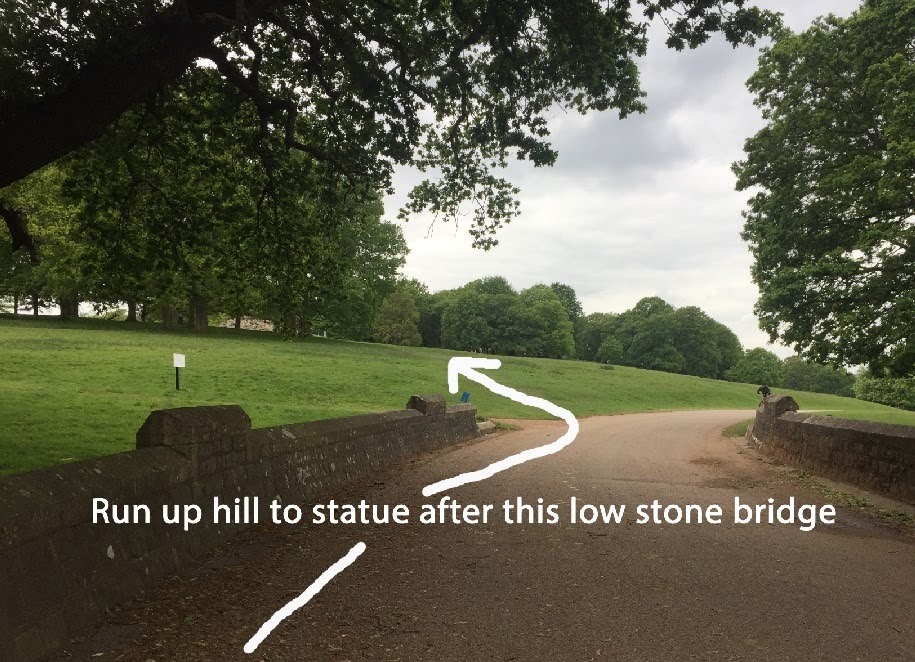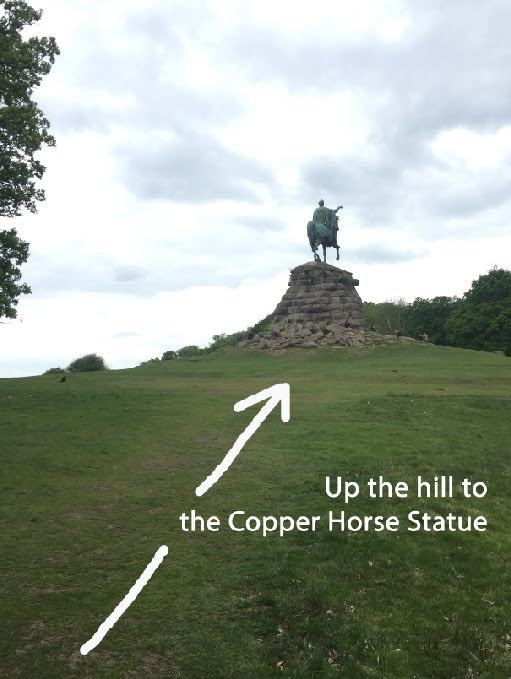 Take in the view then head straight down the hill for 2.5 miles until you reach the gates of Windsor Castle. On the way you'll pass through a large wooden gate and cross a busy road — take care!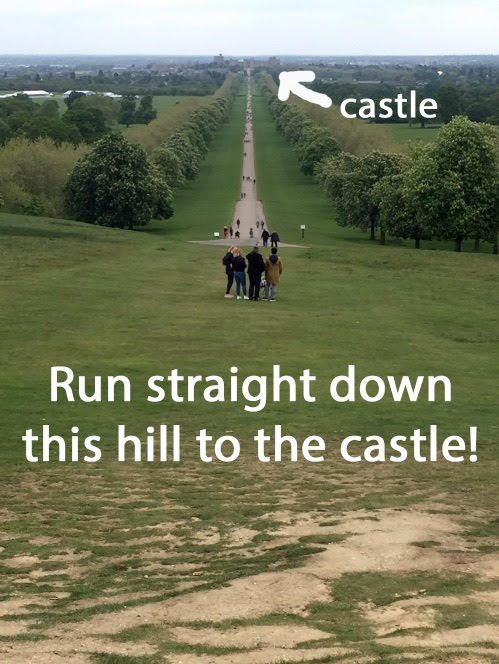 At the castle gates, turn left onto Park Street and continue onto the High Street. You'll pass a statue of Queen Victoria, see the castle walls on your right, and on the left is a passage called Jubilee Arch which leads you to the train station.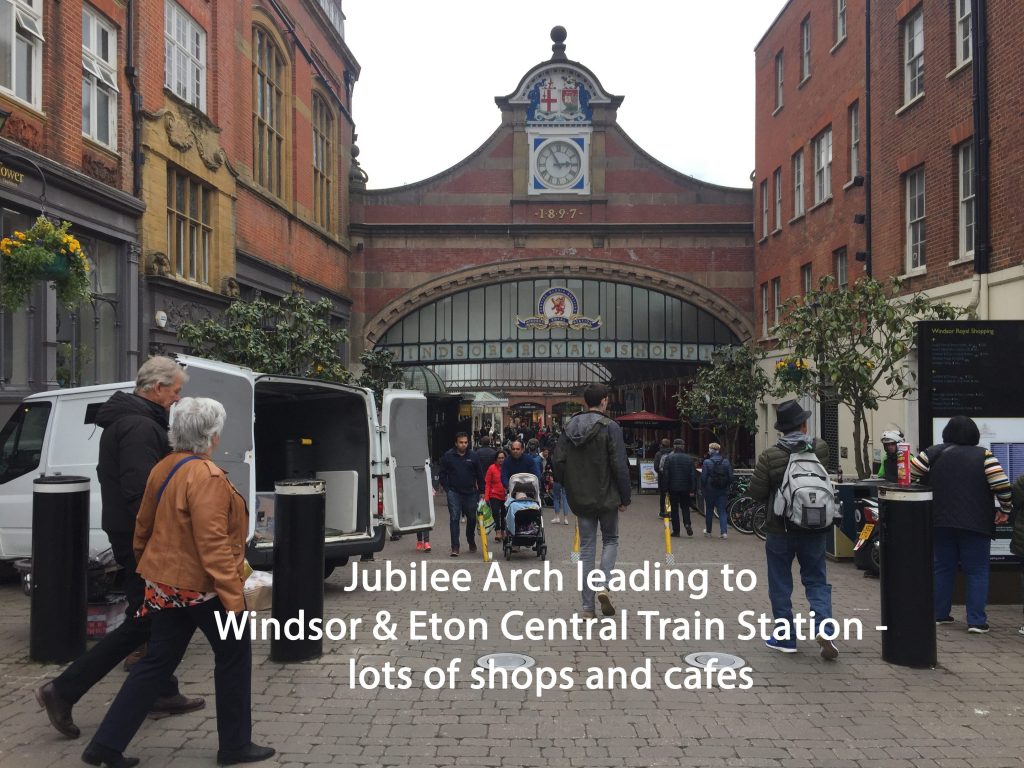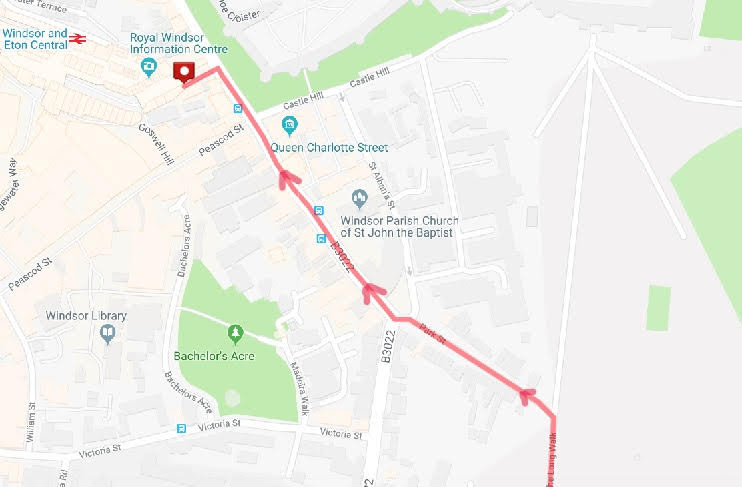 And here's a look at the full route.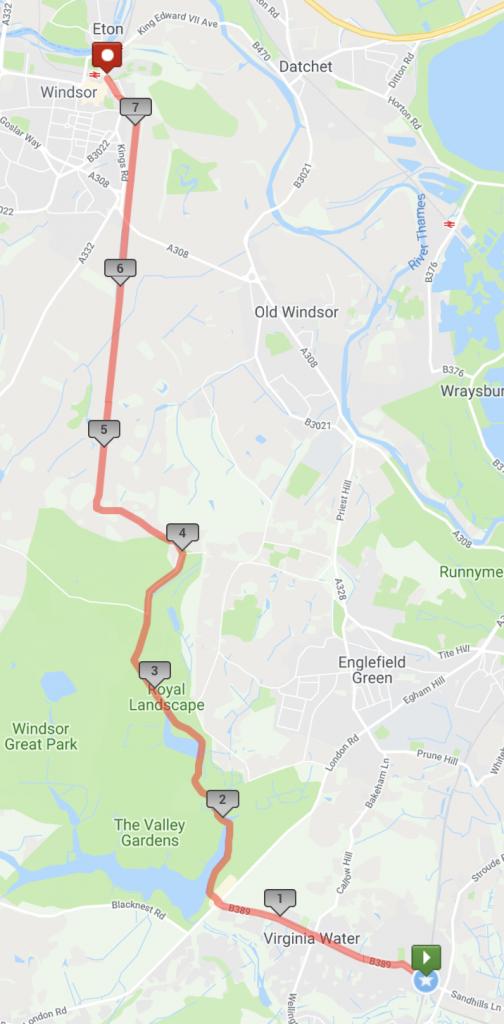 There are lots of options for food and drink in Windsor. If you prefer a longer run, there are many options once you reach Windsor Great Park. Take your phone and explore! Here is a link to the park website with more information: http://www.windsorgreatpark.co.uk/en
Wednesday, 1 June – Sights of London/Leavers Run – Big Ben and back to St. James Benugo
RunGo:  https://routes.rungoapp.com/route/0BRroh4Wm4
This is a great run!  Even if you haven't run in a little while – come along!  We run as a (BIG!) group and we wait for everyone at the lights so we can stick together.  (If we get separated we'll wait for everyone at the photo points.)  The total distance is 4.75 miles and we stop often.  Please be mindful of other pedestrians on the pavement, and give them plenty of space to pass us– especially on narrower areas such as Lisson Grove!
We'll stop for group pictures at:
– the silver sphere fountain as we enter Hyde Park
– Wellington Arch
– Buckingham Palace (from the Mall as we cross into St James Park this year, with all the bunting flags!)
– Big Ben (from the corner diagonal)
– London Eye from Embankment
– Trafalgar Square lions/fountain/National Gallery
We head to Hyde Park via the usual route. Start heading west on Circus Road and turn left on Grove End and follow south as it becomes Lisson Grove. Cross over Marylebone Road and continue on Seymour Place until the end. Turn right and cross over Edgware Road and then left to enter Hyde Park at the intersection with Stanhope Place. We'll stop at the silver sphere (one of our WRW landmarks) for the first picture!  Run along the eastern edge of the park to Hyde Park Corner, under Wellington Arch (stopping for a photo) and down Constitution Hill. We expect it will not be possible to stop directly in front of Buckingham Palace because of the Jubilee blockades, so we will plan to stop as we cross the Mall into St James Park to take photos if, as expected, traffic is blocked off (if it's not, we'll improvise!).  Run over the pond and out of the park, turning left onto Birdcage Walk and down toward Parliament Square for our photo with Big Ben.  Run toward Westminster Bridge and turn left onto Embankment for a shot of the London Eye across the Thames.  Then cross back over Embankment and run back to Whitehall, turning right to run to Trafalgar Square for one more photo. Then we'll make our way back to The Mall and finish at the Benugo in St. James Park for some celebratory coffee.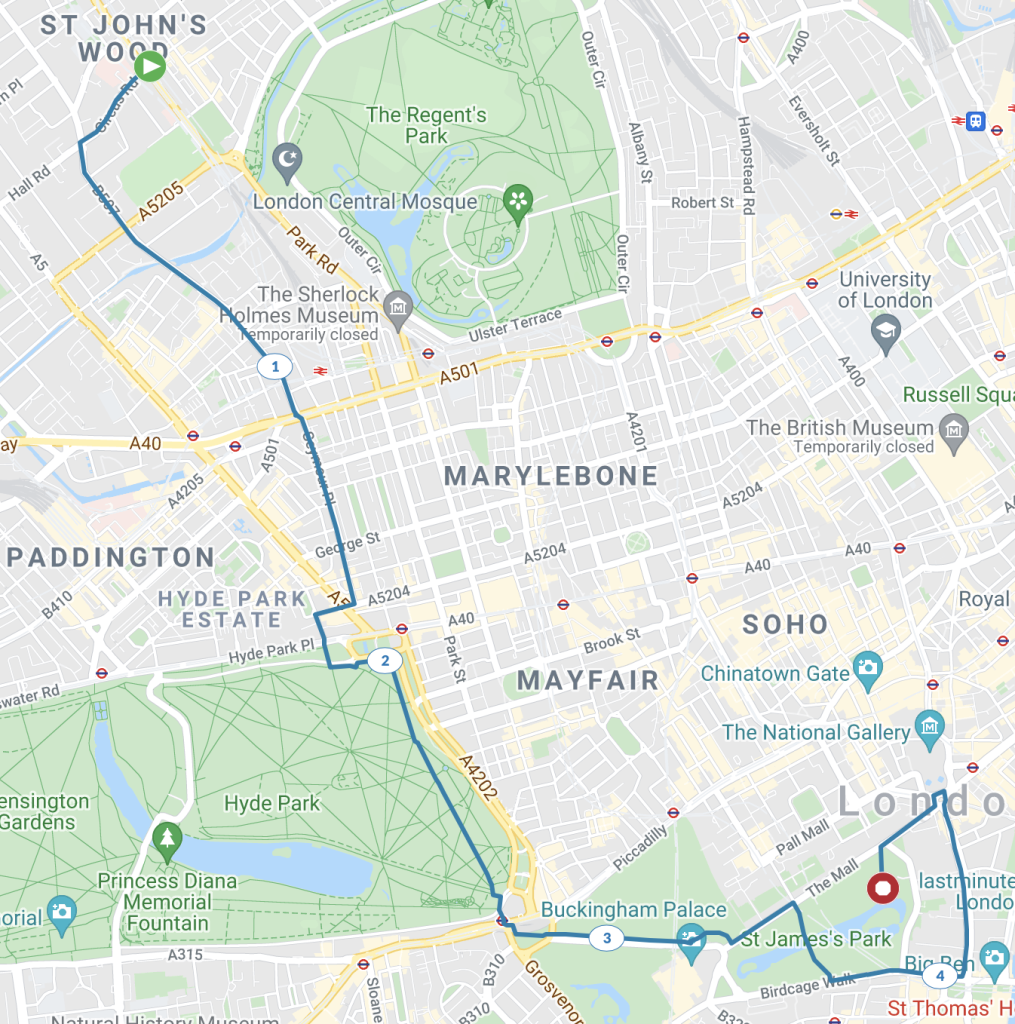 Friday 3 June – BANK HOLIDAY
Check in with your What'sApp groups to see who might be running and have a wonderful Jubilee weekend!