Hi Everyone,
We're going to Wembley! (For those of you who are English football fans, you'll know the song.)
We've got a great long run to Wembley this week with options for 7, 8 or 9 miles.  We head west along the canal for 7 miles.  We quickly lose the bike traffic and there are parts of the route that are urban and others that are very rural.  It is an interesting slice of modern London.  (The only tricky part is knowing when to exit the canal.  Check out the photo and directions below – you're looking for a big "243 Ealing Road" sign.) The good news is that the route is the same, you can decide which tube to take home based on how you are feeling on the day. (Full disclosure – the trip home on the tube gets easier the longer you run. The 7-mile Alperton tube is a long way out on the Piccadilly Line. The 8-mile Wembley Central stop is on the Bakerloo line. And the 9-mile Wembley Park station is on the Jubilee and Metropolitan lines.)  The destination runs take a bit longer, but they're worth it to prevent boredom.  Running a new route can add a spark to your training!
**** Money Collection – Tuesday 31 January 8:30-11:00am ****
Tuesday is a big day! Please stop by McKenzie's house at XXX  which is near the corner with Acacia Road (a few blocks from Starbucks) some time between 8:30-11:00am. THANK YOU McKenzie for letting us invade your house! (Also note, that this is a new address for McKenzie since last year.) We're collecting money for shirts, hats, half-zips and all outstanding items for the Warsaw trip. We'll also be handing out the apparel. The dinners and tour are requiring large deposits so we're trying to simplify things for everyone by doing the collection now. IF YOU CAN'T MAKE IT AT THAT TIME ON TUESDAY, PLEASE GIVE YOUR MONEY TO A FRIEND TO BRING AND TO COLLECT YOUR KIT. The costs are listed below:
All Warsaw Race Attendees:
Friday dinner – £45
Saturday dinner – £35
Race hat – £10
Appreciation gifts/End-of-Year celebration/WRW costs- £10
Warsaw Extra (by sign-up below):
Saturday afternoon tour – £10
WRW Apparel (by order):
T-Shirt – £25
White or Navy hat – £25
Half-Zip – £50
We'll have a master list of the amount everyone owes, but it would be helpful if you can bring the correct change. Thanks so much!
Warsaw Walking Tour – SIGN UP BEORE TONIGHT SATURDAY 28 January 5pm
If you would like to sign up for a 2.5 hour walking tour of Warsaw and Old Town, please link to the google doc below and complete the form. The cost is £10. The approximate time of tour is 2:00pm – 4:30 pm Saturday, March 25th. Sign up closes on Saturday Jan. 28th. There are no cancellations as we must commit to the guides. Below is a picture of the beautiful city that we are going to visit! If you have any trouble with the google doc you can email Jen Skor at and let her know that you want to attend the tour. HERE IS THE GOOGLE SIGN UP LINK – 
https://goo.gl/forms/CEQjvTkP3X836DBD2
Warsaw Trip is full
We have reached maximum capacity at the restaurants so we can't take any new names on the wait list. If your plans change for any reason, please let us know before you cancel your hotel room. We  will transfer your room to someone who is one the waitlist. Thanks so much!
Royal Parks Half Marathon- Sunday October 8, 2017
The ballot for spaces in the London Royal Parks Half Marathon opens soon. The ballot will open on Tuesday 31 January. This is a great race, because it is very close to home and you get to run in some of London's iconic spots like Hyde Park corner and past Big Ben with no cars, only runners. (And it's a good way to keep running over the summer as you train for this race!) We usually have a WRW group that runs this race each year. If you have any questions, let us know and we can direct you to women who have completed this race. Check out the website – 
http://royalparkshalf.com
Keep running,
Jane
Monday, 30 January – Wembley 
8 miles (Wembley Central Tube Station) or 9 miles (Wembley Park Tube Station)
This is a great long run along the Canal to the west almost the entire way, with options for 8 or 9 miles. There are few lights so it's great for a non-stop run. Start out heading west on Circus Road, turn left on Grove End to St John's Wood Road and go west, turning left on Cunningham then right on Aberdeen to work your way to the canal entrance on Blomfield. Continue out the canal and exit at Alperton, see photo below, not quite 7 miles in. Turn right at the top of the stairs, cross the bridge and take the first right onto Ealing Road. Just after the turn you'll see the Alperton station on your left. Follow Ealing Road to the High Road and turn right. You'll see Wembley Central on your right for the 8-mile route. For 9 miles, continue until you make a left on Park Lane which becomes Wembley Park Drive. Continue past the turn off to the stadium on the right and up to Wembley Park Tube Station.
Here's a photo of the exit off the canal: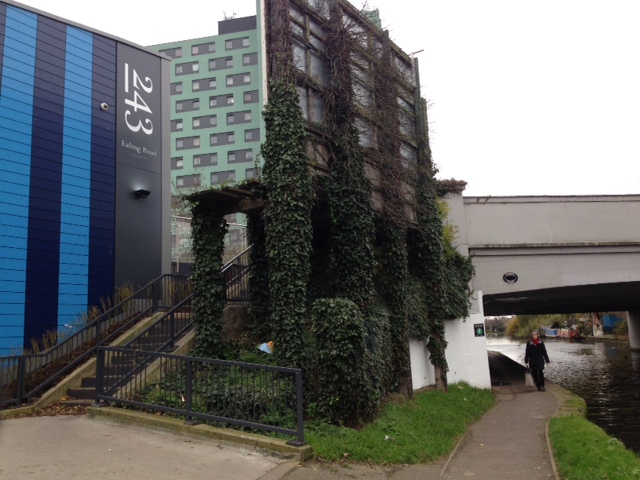 Wednesday 1 February — Speed Drills!
Tempo 'Diamond' Run
We are continuing with our focused tempo running on Wednesdays.  This week we will do 'diamonds'—they are fast but also fast to be done with so give them a try!
Head over to Regents Park, the normal way.  Enter the Park at the Charlbert Entrance and veer to the left path.  When you reach the first intersection with the other sidewalk, it is time to turn on your running jets.  You will run hard for 1 minute, then recover by running slowly for 3 minutes; then run hard for 2 minutes and recover by running slowly for 3 minutes; then run hard for 3 minutes, recover run slowly for 3 minutes; run hard for 2 minutes, recover run slowly for 3 minutes and finally run hard for 1 minutes, recover run slowly for 3 minutes.
The 'diamond' looks like this:
1 minute hard                     3 minutes jogging recovery
2 minutes hard                   3 minutes jogging recovery
3 minutes hard                   3 minutes jogging recovery
2 minutes hard                   3 minutes jogging recovery
1 minute hard                     3 minutes jogging recovery
If you need to extend the amount of time for the jogging recovery, that's fine, you can jog up to twice the amount of the hard run time [so 6 minutes max recovery jog for the 3 min hard run]
This type of running is best done within the park so you don't have to contend with driveways etc.  If you find you need more mileage in Regents Park, just keep looping however you see fit.
Friday 3 February – The Heath
It's Friday [again!], so everyone up the hill! You can pick your distance and whatever you choose, there will certainly be someone else interested in running that distance. All of these routes are on the website. If you are not up for a hill run, ask around at Barclays; every week there is a group who prefer to do a flat run and you can decide together which flat route to tackle.
4 miles:  A great way to ease into running the hill. Run up to the Hampstead tube station and back. If you have trouble running up, think about how easy it will be running down!
5 miles: The Betsy Route
6+ miles:  The Partial Heath route OR the Reverse Heath route
7.5 miles: The Highgate route
8 miles:  The Full Heath route