Happy weekend, Runners!

It's hard to believe it's the second May Bank Holiday weekend, and we're just a couple of weeks from summer break.  This past week was full of highlights, though, with lots of sunshine, and great destinations inside and outside of London: the Chelsea in Bloom displays, the iconic Sights of London run, and fun destinations planned by various pace groups (10's to Brighton, 8's to Dover– see stunning photos on WRW Facebook page!).  Once again, thanks to Tamar Brooks for lending us her talents and time– her gorgeous photos from last Wednesday's Sights of London run can be viewed here: https://www.icloud.com/sharedalbum/#B0aG6Mn9863FCU .  And a big thank you as well to Magali Kivatinetz for planning our Leavers' Coffee at The Gate– I think everyone really enjoyed the new venue (even though we hate to say goodbye to our friends who are moving on).  
Running this week.  Monday is the bank holiday, so there is no official route planned.  Meet up at Barclays at 8:30, or set up a meeting time/place via your WhatsApp groups.  Wednesday we are planning the Notting Hill route, which starts out along the canal running west, before looping through Notting Hill and Paddington and back to St Johns Wood.  And Friday, we will head to Borough Market!  Note that this is a change from the planned adventure run… we've decided that it's just a bit too much for everyone to take the extra time both to prepare and to run the new route in these last couple weeks of running.  We will trial run the route over the summer and maybe schedule it for the fall.  In the meantime, it's always a pleasure to run to Borough Market, right?  Maps and directions for Wednesday and Friday can be found below.
Spring Kit Pickup!  The special order of WRW kit– the tanks and half-zips we ordered around the time of spring break– have arrived!  Pickup will be Thursday morning from 8:15 to 10:00 at Marissa O'Malia's house.  Please plan to pick up and pay for your kit at this time!  If you are unable to make it at that time, please make arrangements with a friend to help you out (it's way too busy this time of year to have to chase people down for their items!).  Pricing will be as in the winter order, £25 for tanks and £50 for half-zips.  Unfortunately, the ever-elusive black hats did not ship.  We will leave the order in place and notify those who ordered when they do arrive (but it may not be until the fall).  Another enormous thanks– to Carol Bertolino and Marissa O'Malia for making this happen.  We truly appreciate it, ladies!  (And special thanks to Carol's husband and 'friend of WRW,' Mike Bertolino, who went out of his way to get the kit to us– and who you may also remember as our 'Italian Barista- extraordinaire' from race kit distribution day!)
Shout-outs and Announcements.  Congratulations to all the ladies who ran the Hackney Half last weekend!  I'm so sorry that I missed two of our runners in my shout-outs last weekend:  Sharon Lemberger and Katherine Greig!  Great job, ladies!  And kudos again to Julie Bataille, Laura Beal, Meredith Snizek, and Maureen Scheckel.  Great race representation for WRW, and another highly successful cheering outing for the pink hats, as well!  WRW alum Rekha Kumar will be running her first marathon next Saturday, June 1 in Singapore!  Good luck, Rekha!!
If you would like to be included on the Summer Running WhatsApp group, please follow this link to join:    .  The group can be used to informally coordinate meet-ups and running plans in London for whoever is in town during the summer months.
Beginner Running Group, 2019-2020!!  Please let us know ([email protected]) if you hear of anyone who would like to join the Beginner's class of 2020.  As anyone who has been through this program knows, it can be an amazing, life-changing experience!  Just a reminder that the program is for people who have truly never been runners before.  It starts out with one-minute intervals at a very slow jog, so is not appropriate for anyone who is able to run even a mile or two.  Our regular M-W-F group can help people who have been runners before ramp up and return to running.  We'll be working on organising our groups over the summer, and will hopefully 'hit the ground running' in August/September.
Have a wonderful long weekend, everyone!  I know it's such a busy time of year, but I hope you get the chance to squeeze in at least a few more runs over the next few weeks!  It's a glorious time to be running in our city, and these last few weeks together are really the sweet spot in our year– enjoying the friendships and the joy of running together after our year of training.  See you out there!
xx Micki 
ROUTESMonday 27 May – BANK HOLIDAY
For anyone in town, meet at Barclays at 8:30 and plan a fun route on your own.
Wednesday 29 May – Notting Hill – 6 miles
Start out heading west on Circus Road, turn left on Grove End to St John's Wood Road and go west, turning left on Cunningham then right on Aberdeen to work your way to Blomfield Rd.  Run along the sidewalk all the way down Blomfield to and across the Westbourne Terrace bridge.Turn right after the bridge, follow the sidewalk along Delamere Terrace, and join the canal path heading west at this point.  Run to the Ladbroke Grove exit then run down Ladbroke Grove to Elgin Crescent and make a left. Cross Portobello Road and continue on what is now Colville Terrace until it meets Ledbury Road where we turn right and then left at Westbourne Grove. Run down Westbourne Grove to the top of Bishop's Bridge, then left down the steps into Sheldon Square (across from the Paddington Station entrance). Stay along the canal to where you entered, then run back on Blomfield to SJW and Starbucks.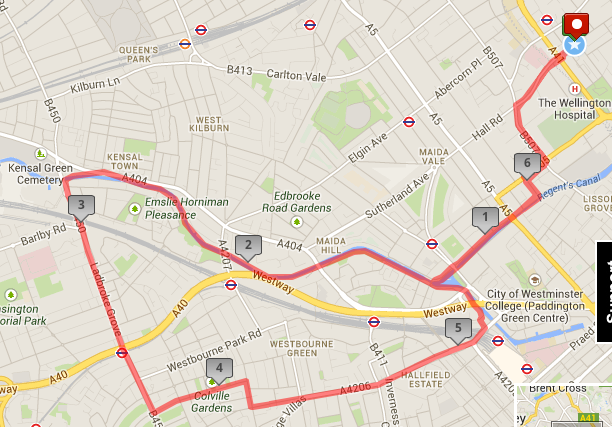 Friday 31 May – Borough Market – 6 miles
Let's mix it up with a destination run to Borough Market, official address 8 Southwark Street SE1 1TL. Grab a coffee at Monmouth or Rabot, and do a little shopping before catching the tube at London Bridge station back to SJW. Don't forget your Oyster/contactless card! We start by heading to Hyde Park via the usual route. Head west on Circus Road, turn left on Grove End Road. At the corner of St. John's Wood Road and Grove End Road, cross diagonally at the light and continue south on Lisson Grove. Cross over Marylebone Road and continue south on Seymour Place until it tees into Seymour Street. Turn right and cross over Edgware Road and then take the first left on Stanhope Place to enter Hyde Park at the intersection with Stanhope Place. Run along the eastern edge of the park to Hyde Park Corner, under Wellington Arch and down Constitution Hill. Run past the Victoria Memorial, cross The Mall at the light and turn right at the grand wrought iron gates into St. James Park. Run over the pond and out of the park, turning left onto Birdcage Walk and down into Parliament Square to Big Ben. Continue past Big Ben and cross Westminster Bridge. After the bridge turn left down the stairs to run along the Thames until the river path ends after Southwark Bridge. Just past Southwark Bridge, head right and then a quick left to go into a short tunnel that puts you onto Clink Street. Make a right on Stoney Street to get to the market (and Monmouth Coffee!).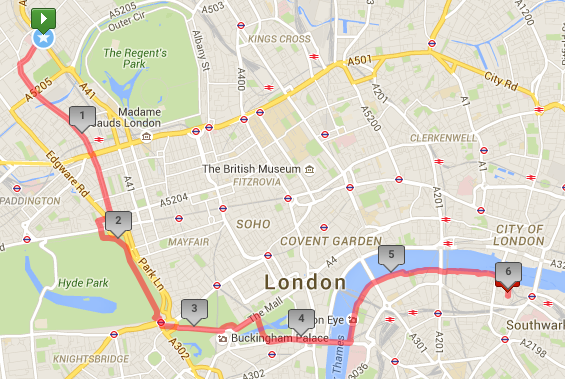 —————-