I love this photo! Here's Paula Mitchell, the founder of WRW, at the finish line after running 154 miles in six stages over seven days in the Mauna to Mauna Ultra! In a race where finishing is a Herculean accomplishment, Paula not only finished but also placed 42 out of 63 finishers. In addition, she was strong enough on the last day to be placed in the starting group with the fastest/stronger runners. I love the idea of our Paula lining up with a group of professional Ultra runners! The race was even more difficult due to days of torrential rains, many changes to the course route and running up and down mountains of razor-sharp lava. Wow! The fact that Paula can compete and flourish in these super-human races gives me inspiration about all the challenging things that we can tackle in our own lives.
I've missed running with you! The good news is that after falling down the stairs, (so stupid!) my foot is not broken, just sprained. The bad news is that I'll be off from running for a bit. I hope to be back as soon as possible!
Monday is a Bank Holiday so if you'd like to run plan to meet at Barclays at 8:30 and the group will decide on a route together. Wednesday we're running to Sloane Square, Embankment and Westminster. This is a very beautiful route and one that has many options in terms of distances. Friday we're back up the Hill again.
I hope you've been able to enjoy the beautiful summer London weather!
Keep running,
Jane
ROUTES
Monday, 29 May – Bank Holiday
If you are in town and want to run, plan to meet at Barclay's at 8:30 am and decide your route.
Wednesday 31 May – Sloane Square/Westminster/Green Park (3.75 – 7+ miles)
This route is fun because you can pick whichever distance suits you – in this case one size can fill all!!  We start out by running to Hyde Park, taking the usual route: west on Circus Road, left on Grove End, all the way down to Seymour Place where the road ends.  Right on Seymour, across Edgware, left on Stanhope and enter the park. At the silver orb, turn left and run down to the southern edge, following the path to the right before it leaves the Park.  Run to big gated exit before the tall 'One Hyde Park' complex, cross over Knightsbridge at William Street, quick right on Knightsbridge then a left onto Sloane Street.
3.75 miles:  Take tube at Sloane Square back to SJW
6.33 miles:  continue past Sloane Square down Lower Sloane St/Chelsea Bridge Road to the Thames.  Turn left on the Thames side of Grosvenor Road and run along the embankment to Westminster.  Take the tube to SJW.
7+ miles:  continue left on Birdcage Walk, cutting through St. James Park to the Mall, then left on the Mall towards Buckingham Palace, crossing before the circle to reach Green Park.  Run up to the Green Park tube and head home to SJW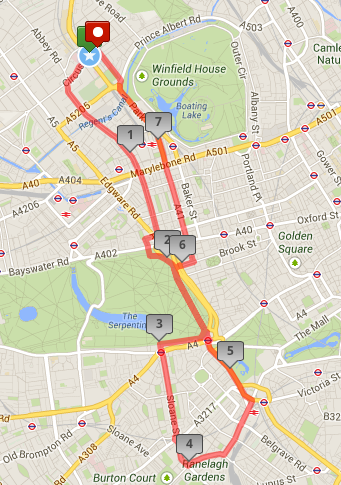 Friday 2 June – The Heath (4-8 miles)
It's Friday [again!], so everyone up the hill! You can pick your distance and whatever you choose, there will certainly be someone else interested in running that distance. These routes are on the website. If you are not up for a hill run, ask around at Barclays; every week there is a group who prefer to do a flat run and you can decide together which flat route to tackle.
4 miles:  A great way to ease into running the hill. Run up to the Hampstead tube station and back. If you have trouble running up, think about how easy it will be running down!
5 miles: The Betsy Route
6+ miles:  The Partial Heath route OR the Reverse Heath route
7.5 miles: The Highgate route
8 miles:  The Full Heath route
Click here for maps of all of the Heath routes.