Hi all,
Look at all those smiling faces – sorry I couldn't get everyone in the photo!
We had a great turn-out for our destination run to the Piccadilly Whole Foods last Monday. I'm very proud of all the runners who had never run that far before. Well done! Thanks for your patience as we negotiated our way through Farringdon. We had to make quite a few stops to make sure that we didn't lose anyone at the traffic lights. Over the next few weeks, our pace groups will continue to settle and we'll likely have smaller sub-groups that form. This will make the destination runs a bit easier to manage.
Looking ahead, Monday and Wednesday are the ASL fall holiday so we'll start at 8:30am. We aren't setting official routes for those days. If you want to run, just meet at Barclays and we'll decide on the route on the day.
Friday is our first official run to Borough Market. We're recommending the standard Westminster Bridge 6-mile route. If you aren't quite up for a 6-mile run yet, you could join the group to Big Ben, which is 4 miles and then take the Jubilee Line at Westminster to London Bridge and meet the rest of the group at the market. (We also listed the 5-mile Hungerford Bridge route but this way is more congested with pedestrians.) If you've never been to Borough Market before – join us! It's a real London treat. If you need to stick closer to home, you can tackle the Hill like we usually do on Fridays.
Well done Runners!
Congratulations to Vijaya Kurada who completed the London Shine night half marathon and Jen Dorre who completed the Copenhagen half marathon with Meg Stone!
Warsaw Race Travel Update – Request for information
Thank you for all the positive feedback on our 2017 race destination. If you have booked your flights, please email Jen Skor (
[email protected]
) and let her know what flight you are on for both outbound and return. This is a huge help for us as we begin to keep track of the number of people in our group who are travelling to Warsaw. Thank you for doing this right away so we don't have to chase you!
Lululemon Event
Mark your calendar on Tuesday, 25th October 7pm for a very special event at the Lululemon Marylebone store! The evening starts with a private 30 minute yoga session with a focus on the needs of runners. After you feel refreshed and revived, grab a glass of champagne and start shopping! The store will be open only for our group and this is a great opportunity to pick up a few cherished pieces for yourself and maybe start your holiday shopping. There will be a few surprises on the evening so don't miss this unique and fantastic event! If you are member of the SJWWC please sign up on the SJWWC website. If you are not a member of the SJWWC, please email Kathy Anderson (
[email protected]
) and Stephanie Gladis (
[email protected]
) to sign up. Space is limited so please sign up now if you are interested.
That's all for now – keep running,
Jane
Monday 3 October
Since there is no school at ASL on Monday, we will be on "holiday schedule".  We'll still be running but it may be a smaller group.  Plan to meet at Barclays for a slightly later start at 8:30.  The  runners get to pick the route!
Wednesday 5 October
This is also a DIY day because there is no school at ASL. Meet at Barclays at 8:30 and we'll pick a fun route together.
Friday 7 October – Borough Market or The Hill
Option 1 – Borough Market via Hungerford Bridge – 5 miles
Head to Regents Park the usual way taking Circus Road to Charlbert. Cross Regents Park until you hit the Broad Walk turning right and following the Broad Walk until you exit at Park Crescent. Follow Portland Place south, it turns into Langham Place and then Regent Street until you get to Riccadilly Circus. At Piccadilly Circus, take Haymarket South to Cockspur Street into Trafalgar Square. At Trafalgar Square, continue south toward the Thames on Northumberland Ave. At the river, cross on the Hungerford Bridge right in front of you. At the end of the bridge, turn left to follow the The Queen's Walk along the Thames until the path ends after the Southwark Bridge. Borough Market is under the railway bridge near the London Bridge station. The official address is 8 Southwark Street SE1 1TL.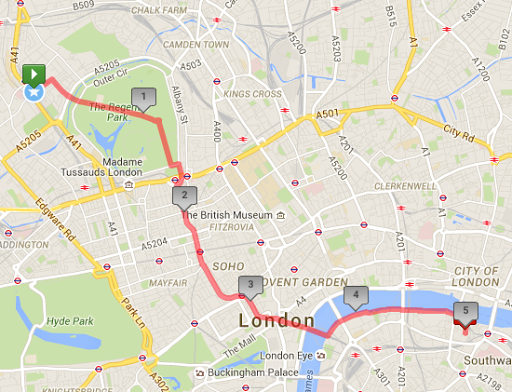 Option 2 – Borough Market via Westminster Bridge – 6 miles
We head to Hyde Park via the usual route. Start heading west on Circus Road and turn left on Grove End and follow south as it becomes Lisson Grove.  Cross over Marylebone Road and continue on Seymour Place until the end.  Turn right and cross over Edgware Road and then left to enter Hyde Park at the intersection with Stanhope Place.   Run along the eastern edge of the park to Hyde Park Corner, under Wellington Arch and down Constitution Hill.  Run past the Victoria Memorial down the mall and enter St. James Park.  Run over the pond and out of the park, turning left onto Birdcage Walk and down into Parliament Square to Big Ben.  Continue past Big Ben and cross Westminster Bridge. After the bridge turn left to run along the Thamesuntil the river path ends after Southwark Bridge. Borough Market is under the railway bridge near the London Bridge station. The official address is 8 Southwark Street SE1 1TL.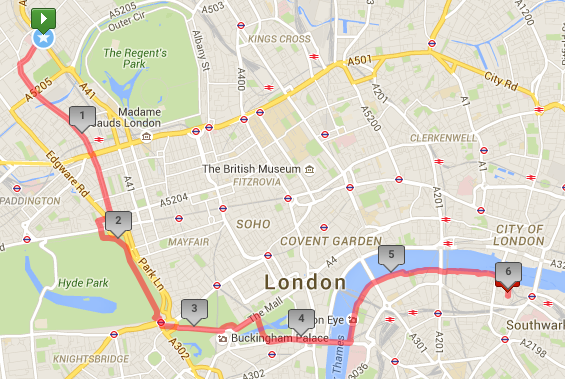 Option 3- The Hill
It's Friday and school's in session so if you would prefer to stay closer to home you can head up Fitzjohns. You can pick your distance and whatever you choose, there will certainly be someone else interested in running that distance.  All of these routes are on the website.
4 miles:  A great way to ease into running the hill.   Run up to the Hampstead tube station and back. If you have trouble running up, think about how easy it will be running down!
5 miles: The Betsy Route
6+ miles:  The partial Heath route OR the reverse Heath route
7.5 miles: The Highgate route
8 miles:  The full Heath route
Click here for maps of all of the Heath routes.