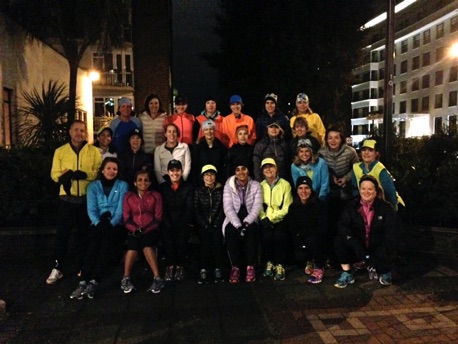 Hi Everyone,
This was another great week for WRW.  I loved how many people were up for an early morning run to see the Christmas lights!  You have amazing spirt!  We had 27 runners including two special guests – Lesley's husband David and Meg's daughter Alex.  The picture above is dark but that's the point – it's proof that we were actually at Barclays at 6:00am!  It was quite an experience to see the lights without traffic or crowds.  A big THANK YOU to Diane for the great suggestion and for leading us that morning. I think we've started a new WRW tradition.  If anyone has ideas for new fun routes, please let me know.
On Monday we're returning to the Sloan Square/ Embankment/Westminster/ GreenPark route.  It offers one more chance to see the shops on Sloane Street and many options for distance depending on which tube you take home.  Wednesday we're doing the Kensal Rise loop and Friday we're back up the hill.
Reminder:  T-Shirt order due now

I sent an email mid-week but just in case you missed it – It's time for the new t-shirts!  The cost is £25 per shirt.  It will be the same Nike Dri Fit shirt we've had the last two years, but in a new fun colour.  We'll have our WRW logo on the front and a new saying on the back.  If you want to see a sample, there will surely be someone wearing one from last year on any given running day.  You should also ask your fellow runners about their sizes because the shirts run a bit big.
If you want a shirt please:

1.  Respond to this email and say you want a shirt

2.  Include your size in the email

BEFORE next Wednesday 17 December 

(Our supplier has suggested that we get the order in before January so we're having a quick turnaround.)  We're going to collect money in January!  We're also looking into offering a long-sleeve half-zip.  More details on that in the new year.
THANK YOU to Starbucks – Last chance!

The holiday time of year is here and we'll be organising a gift for the employees at our local St. John's Wood Starbucks.  We're suggesting a £5-10 donation but feel free to give whatever you would like.  We'll also be donating some home-baked goodies.  Give your donation, in an envelope with your name, to Bonnie Bandeen or me before Tuesday Dec 16.  Please email Bonnie ([email protected]) if you would like to contribute baked treats.  Bonnie will gather the baked goods on Tuesday Dec 16 and we'll give the gift to Starbucks on Wed 17 Dec. so please get your gift to us soon if you would like to participate.  
Running over the holiday

We aren't setting official routes for the weeks of 22 and 29 December.  We'll be back training as a group the week of 5 January.  For those of you in town over the holidays, there'll be a group meeting at Barclays on MWF at 8:30.  If you need some route ideas, scan back through the weekly emails on our website.  For everyone, those staying in town and those travelling, feel free to take it easy over the break.  There is no harm in giving your body a break.  Running 2-3 times a week for 30-40 minutes will allow you to maintain fitness.  For those of you training for the half-marathon in the spring, we will start back in January with 6-7 miles then our mileage will increase over the weeks leading up to the race.
I hope you all have a fantastic holiday!  I feel very grateful for WRW and each one of you!
Keep running,
Jane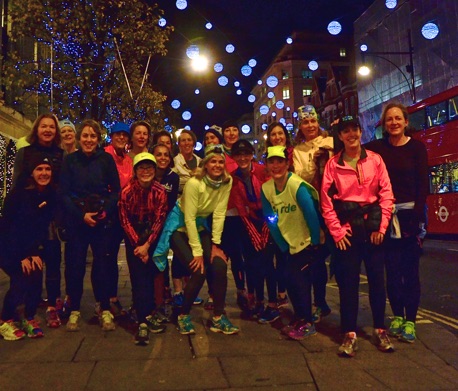 ROUTES

Monday 15 December  – Sloane Sq/Westminster/Green Park (3.75-10 miles)

Choose your distance!
Everybody starts out to Hyde Park, taking the usual route: west on Circus Road, left on Grove End, all the way down to Seymour Place where the road ends.  Right on Seymour, across Edgware, left on Stanhope and enter the park. At the silver orb, turn left and run down to the southern edge, following the path to the right before it leaves the Park.  Run to exit by the tall shiny new 'One Hyde Park' complex, cross over Knightsbridge and continue ahead on Sloane Street.
3.75'ers:  at Sloane Sq, take the Tube home!
6.33'ers:  continue past Sloane Sq down Lower Sloane St/Chelsea Bridge Road to the Thames.  Turn left on the Thames side of Grosvenor Rd and run along the embankment to Westminster Tube–you're done!
7.5'ers:  continue left on Birdcage Walk, cutting through St James Park to the Mall, then left on the Mall towards Buckingham Palace, crossing before the circle to reach Green Park.  Run up to the Green Park Tube on Piccadilly St and head home!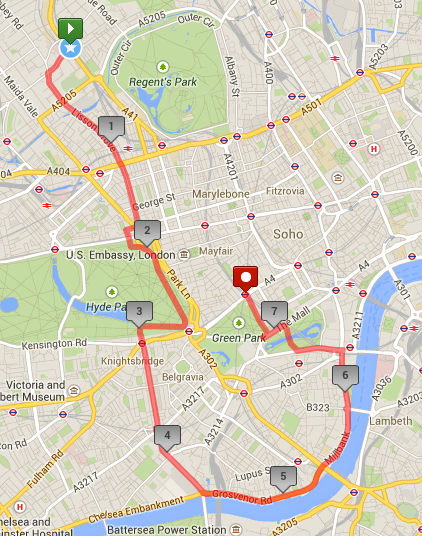 10 milers:  for anyone needing a longer run today, continue past Green Park Tube, through Mayfair to Baker Street and head to SJW Starbucks–this will give you 10 miles.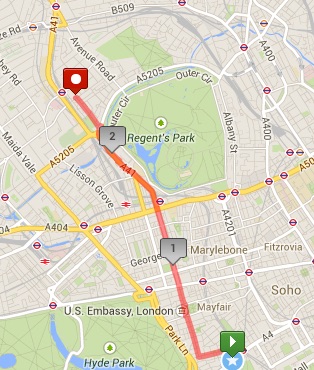 Wednesday 17 December – Kensal Rise 4-6 miles

The beginning of this run takes us along the canal to the west.  Please be aware of bikes along the canal and move into single file whenever you hear a 'bike!' shout.
Start out heading west on Circus Road, turn left on Grove End to St John's Wood Road and go west, working your way to the canal entrance on Blomfield.  Enter the canal heading west and run to the Ladbroke Grove exit.  Here we turn right and run over the bridge along Chamberlayne Road to Harvist Road. Turn right on Harvist, which turns into Brondesbury Road, and take that to Kilburn High Road/Maida Vale.  Turn right and follow Maida Vale to Hall Road where you turn left and run back to Starbucks. If you want to shorten this route, run west on the canal and turn back at your desired half-way point.
(The two mile mark is at the point on the canal when the Westway highway is over our heads.)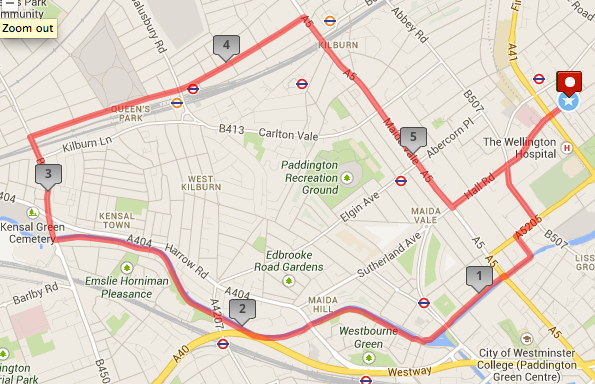 Friday 19 December – The Heath (4-8 miles)

It's Friday [again!], so everyone up Fitzjohn's.  You can pick your distance and whatever you choose, there will certainly be someone else interested in running that distance.  All of these routes are on the website.
If you are not up for a hill run yet, no problem, just let us know.  Every week there are a group of women who prefer to do a flat run.  We can help make sure that you find each other.
4 miles:  A great way to ease into running the hill.   Run up to the Hampstead tube station and back.
5 miles: The Betsy Route
6-7 miles:  The partial Heath route
8 miles:  The full Heath route
Click here for maps of all of the Heath routes.
______________________________________
A new WRW tradition is born!  Thanks, Diane Bell, for the great suggestion to run at 6 am to see the lights on Oxford Street.
15 – 19 December Running Info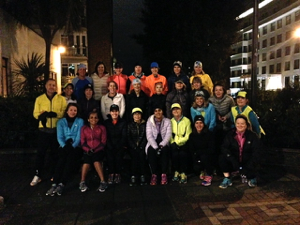 Sunday, December 14, 2014