Hello Runners!
I hope you are having a restful weekend, and that you're feeling great about the running we're doing.  It's always so uplifting to round the corner by Barclays and see so many runners gathering each morning, rain or shine!  So here's another test of dedication for you: this is a long e-mail with a lot of information about training and pace groups– can you make it all the way to the end??  If you're new to WRW, I'll fill you in a bit about our training plan and structure (you can also read more here).  If you've been with us for a while, you might end up skimming over that bit– but do tune back in toward the end to pick up the safety reminders and the announcements and shoutouts!
Running this week.  Monday we'll run an old favourite route for the first time this year.  Heading east on the canal, we exit in Shoreditch and run through the artsy streets to Brick Lane, where you can have donuts and coffee from Crosstown Donuts before heading home on the tube with your bagels from Beigel Bake (which supposedly will be open Monday, though it is Rosh Hashanah).  Please read the route, have a look at the map (especially at the end of the run, as well as at the point where we briefly exit the canal to run through Angel) and don't forget your Oyster or contactless card!  Wednesday we will repeat the recently-debuted Primrose Hill/Regents Park 5-miler.  And though it's local and you can't get too badly lost, it's still a good idea to look at the map so we can all learn this new standard route.  Then on Friday we'll head for Finsbury Park via the Parkland Walk.  This 7-mile route takes us up around the Heath to Highgate, where we connect with an old rail-trail path and run through the woods to Finsbury Park.  Maybe we're overdoing it on carbs this week, but Happenin' Bagels is another great stop at the end of this run, and there is a Costa on the way to the tube station.
Pace Groups and Training basics.  There is a strategy in our training and a pattern in our schedule each week, all designed over the years by our group founder, Paula Mitchell.  

Mondays are a long, slow training run for building endurance.  These will gradually become longer as we prepare for the half marathon in the Spring, and they are often destination runs.  We consider our training pace for Monday runs to be the speed at which we can hold a conversation while running.  It's important to keep the pace comfortable for these longer runs both to help build mileage without injury, and to help our bodies build the capacity to fuel longer runs.  Paula explains the science behind the long, slow training run here.  

Wednesdays are usually a shorter route at a faster pace– our tempo runs– and are often loops in nearby parks and neighborhoods.  We'll start adding some options for speed training in 4-6 weeks, as we begin to prepare for the race.  When those workouts start, the plan will offer guidance on target pace.  Some runners may prefer not to do the speed training, and that is absolutely fine!  We offer the training options for those who want to push their pace or reach for a time goal in the half-marathon, and we have found that many runners enjoy the challenge and the bonding of going through speed workouts together.  But there's always the option of doing a shorter, up-tempo run on Wednesdays instead of the speed workout.

Fridays we usually do a hill run, with some variations like the occasional Borough Market run.  It's natural to have to work a little harder to get up the hills (if you find someone who can make good conversation while running up Fitzjohn, my advice is to stick with them and let them talk you right up the hill!).

Pace groups are a way of helping us find and hold to our running comfort zones with people who are wanting to train at a similar pace.  They are not meant to box runners into any particular group or speed, and runners are welcome to move among the different groups depending on how they feel or what their training objectives are on a given day.  Our pace group names correspond to the training pace for the long runs, and within each pace group there are a few leaders who have agreed to keep an eye on the routes and help keep our groups together and somewhat on pace.  Please remember, though, that every runner is responsible for her own pace, as well as for generally knowing the route we're running.  We really try not to leave any runner behind, but we do each have to be responsible for ourselves, just in case!  A very big thank you to these pace leaders:

The Ramp-Up Group (various paces, for runners coming back from injury or a long break from running)Leaders:  Tamar Brooks and Jen Iannazzo

The 11's Group (11:00+ min/mile pace)Leaders:  Melissa Kay, Magali Kivatinetz, Ann Sharma, Fernanda Spinelli

The 10's Group (10:00-11:00 min/mile pace)Leaders:  Jane Novak, Carolyn Perelmutter, Megan Marine, Anne Scolari, Stephanie Mager, and Jess Browne

The 9's Group (9:00-10:00 min/mile pace)Leaders:  Amy Grace, Micki Heskett, Mariya Treisman, Meredith Snizek

The 8's Group (8:15-8:45 min/mile pace)Leaders:  Marissa O'Malia, Miki Neant

Pace groups will continue to evolve throughout the year, and sometimes we may add leaders as needed.  Do please speak up if you're having a hard time finding the right group– whatever your speed, we definitely can find someone for you to run with!  And just one further word here– about safety.  Please do take care of yourselves and each other out there.  Mind your footing, and mind other pedestrians, bikes and vehicles.  We've just said you should be able to make conversation… but don't let it get so interesting that you forget to pay attention to the environment around you!  Especially do not go dashing into a crossing just because the person in front of you did!  It's perfectly okay to split at a traffic light if the whole group can't make it through.  In fact, larger groups may find it easier to split into sub-groups this way– don't worry, you will still reach the destination within a few minutes of each other!  The main thing is to stay safe getting there!
Announcements and shoutouts.  This weekend is another busy one for WRW runners!  A big shoutout to Stephanie Gladis and Kelli Willis, running the Berlin marathon Sunday morning!  And a little further east is another contingent of our runners doing the Budapest marathon in relay teams (brilliant idea!) also on Sunday.  WRW alum and Budapest resident Maureen Fossum is running, along with alum Mee Lee (from New York), and London runners Darcy Fautz, Beth Keaveny, Alysia Hoyt, Carmine Najjar, Laura Beal, Ann-Marie Cascarino, Marigold Dooley, Sue Wheeler, and the indefatigable Mariya Treisman and Amy Grace (who both ran the Ragnar Relay last weekend).  Good luck, ladies, and enjoy the run through a beautiful city!  And peeking ahead, Miki Neant is running a 55k ULTRAmarathon next weekend, on October 5, in London– so be sure to wish her luck if you see her smiling face at Barclays or after a run in the coming week!

Last weekend– as you have probably heard all week– 30 WRW women took on the Ragnar White Cliffs Relay.  As far as I can tell, it was an amazing weekend for all, and it will undoubtedly be the source of many stories in the year(s) to come!  Congratulations to all on this huge accomplishment!  Official results from the race people are not out yet, so there may be more Ragnar shoutouts to come!

In the announcement category… Janelle Meyer has kindly agreed to be the point of contact for an "Alternate Timing" group of runners who are generally not able to run at our regular 8:20, M/W/F times.  If you are interested in connecting with other runners on a different schedule, just send us an email at [email protected]— and include your phone number so Janelle can get a WhatsApp group going.   

The Cancer Research UK London 10K has been a very popular race with our group in the past few years.  Though it's not until February 9, 2020, the time to register is now, as it does sell out, and early entries close this Wednesday!  It's great timing for our half-marathon training, and there are usually dozens of us running it, so it becomes a fun group event.  The event website is www.londonwinterrun.co.uk

Save the Date:  October 21, Hampton Court Adventure Run.  Mark your calendars for our first "adventure run" of the year.  This 8-mile run begins with a train ride to Richmond, and then becomes a truly lovely run along the Thames from Richmond to beautiful Hampton Court Palace.  We finish with coffee and a treat in the garden cafe, and then take a train back to Waterloo Station and on to home.  With the extra travel time, you'll need at least the whole morning to get this one in– but it is well worth it if you can afford the time!An endurance medal to all who've made it through this whole message– after you get through the route descriptions and maps below, of course.  Sending wishes for a sweet New Year to all those celebrating Monday and Tuesday.  And as always, I'm so excited and grateful to be running with you this week!  Enjoy the rest of the weekend…

xx Micki
ROUTES
Monday 30 September  – Brick Lane via Canal East–  6.5 miles
This is a fun and funky destination run!  We will head out in the same way as though we are running to The Wall. Take the Canal east to the Wall—go up ramp to Muriel Street, take a right and then an almost immediate left up a path that winds between the apartment buildings. Here's the entrance to the path: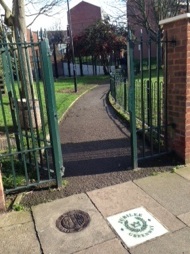 Keep going straight on the path and it will become Maygood Street. When you get to the intersection of a main road (Barnsbury Road) turn right.  Run until you make the second left onto Chapel Market. (There is a metal archway saying Chapel Market and a zebra crossing at the intersection.) Follow Chapel Market until the end. Turn right at Liverpool Street to the major road Upper Street. Cross Upper Street and turn left, then make your first right at Duncan Street. Follow Duncan Street to the end and there will be an entrance to the canal directly in front of you. At the canal path continue running straight, the water will be on your right. Follow the canal until you reach the Kingsland Road Bridge, Number 45. See the photo below.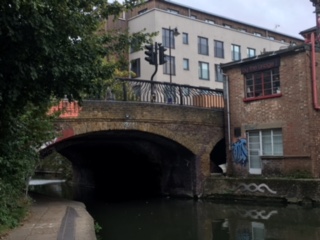 Run under the bridge and take the brick steps up on your left, see photo below.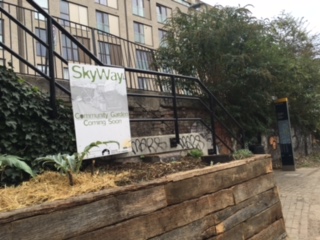 At the top of the stairs turn left and at the main road, Kingsland Road, turn left (you'll be running back over the canal). Follow Kingsland Road– you'll see the Gherkin building in the distance in front of you, and Kingsland Road will become Shoreditch High Street. Turn left at Bethnal Green Road. There will be a white metal railroad bridge in front of you and the BOXPARK market will be on your right once you turn. You'll also pass the Shoreditch High Street Overground Station on your right. Follow Bethnal Green Road until you hit Brick Lane, less than a quarter of a mile. 
There is a Casa Blue cafe at the corner, turn right into Brick Lane and you'll see Beigel Bake and Crosstown Doughnuts on the right.  For the journey home, you can take the Shoreditch High Street Overground to Canada Water and then take the Jubilee Line home. Or you can walk through Spitalfields Market to get to the Liverpool Street tube station.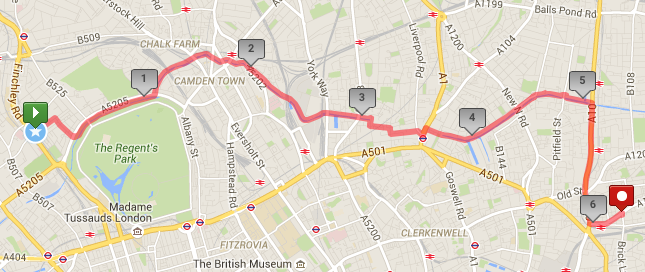 Wednesday 25 September  – Primrose Hill/Regents Park (5 miles)Start out as if we're headed for the Heath, running down St Johns Wood Terrace until it reaches the T.  Turn left, then right, then left again at Avenue Rd.  At the crossing just a short distance up Avenue Rd, cross over and run down Elsworthy Rd a short distance until you see a small road on the right that ends in the entrance to Primrose Hill park.  Once in the park take the path that angles to the left, then bear right at the first fork and left at the second.  This will take you up for a fantastic view from the top of Primrose Hill.  After you've caught your breath, take the path that goes down on the right (if you are looking out toward London), then curve around to the left at the first split.  Follow this path all the way down the hill to the crossing at Prince Albert Rd.  Cross at the zebra and head straight into the park via the bridge and across the Outer Circle (NOT a zebra, please note!).  In Regents Park, take the path that angles to the left, running behind the zoo.  Cross the Broad Walk by the fountain and continue across on the path that heads toward, but not all the way to, the perimeter of the park.  Follow this to the far corner, and then turn right to run along the southern edge of the park, inside the fence.  Continue to follow this around  the boating pond to run across the little bridge at the far end of the pond, then bear right to follow the contour of the pond to its end.  Continue on the same path until it meets the diagonal path that runs behind the zoo (the same one we ran in on).  Turn left to follow that to its end and then turn left onto the Outer Circle and follow it for a short distance to the crossing at Charlbert.  Exit the park and take Charlbert to St Johns Wood Terrace to finish at our Starbucks/Pret corner of the High Street.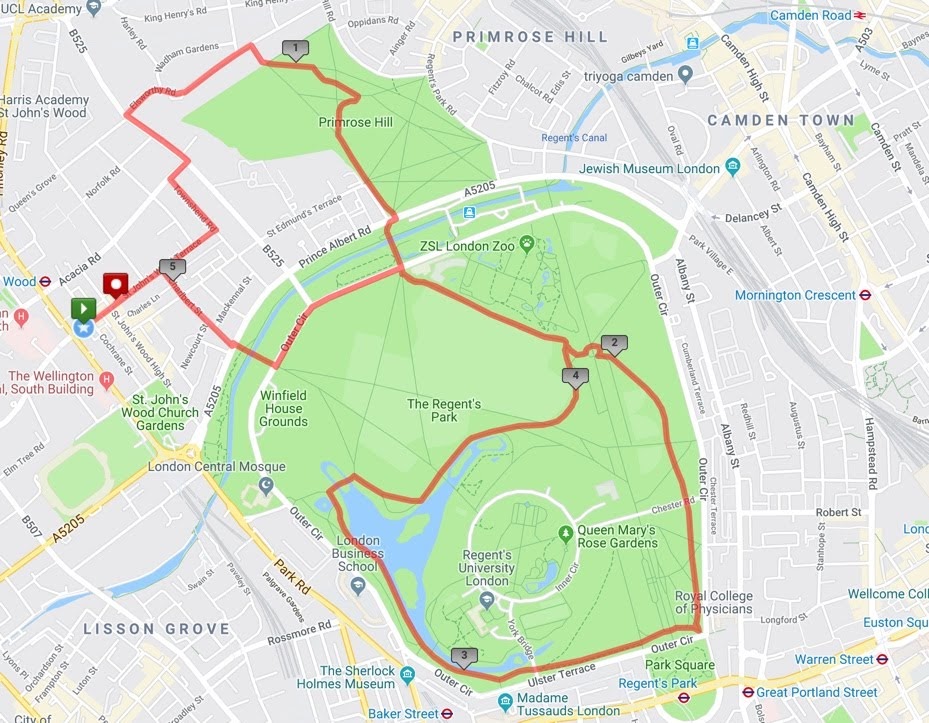 Friday 27 September  – Finsbury Park via Highgate/Parkland Walk — (7 miles)
For this run we start up Fitzjohn's as if we're going to the Heath, but pass the Heath entrance and continue up Spaniards/Hampstead Lane into Highgate. Turn left down Southwood Lane (the road next to Gail's) and go down the hill, then veer to the right (not a hard right turn!) onto Jackson's Lane. Continue down Jackson's to Archway Road and make a right, then a relatively quick left onto Holmesdale Road. Run a short distance on Holmesdale and the entrance to Parkland Walk will be on your left. Follow the path to Finsbury Park, cross over the train tracks, turn right and run along the western edge of the park and exit onto Seven Sister's Road. Happening Bagel is across the street, Costa is to the right, and Finsbury Park Station is further down on the right (on the Piccadilly and Victoria tube lines).