Hello Runners!
They say it's those April showers that bring May flowers… except for when it happens in September instead.  Chelsea was colorful with blossoms this week, and I think it's fair to say we made it even brighter!  What gorgeous photos this week (and the flowers are nice, too 😉  
Running this Week.  As we bring September to a close, it feels like we are beginning to settle in, and it has been fun to get back to some of our favourite routes.  On Monday we will revisit an old standard as we run along the canal east to Brick Lane and take a little street art detour.  If we're lucky, maybe some of the women who went on the SJWWC tour last week can give us the inside scoop as we run by.  This is a 6.5-mile destination run (you can shorten it a bit by walking the art part at the end), so don't forget your contactless card and a mask for the tube ride home, as well as for the detour at the iconic Beigel Bake Brick Lane Bakery so you can take home some of the best bagels in London!  Wednesday we will keep it simple and local with the Regents Park Inner/Outer Circle loop.  And Friday we are officially making our first trip to Borough Market for the year.  This 6-mile route goes the standard way to Big Ben, then crosses the Westminster Bridge and runs along South Bank to Borough, one of London's oldest and largest food markets, right around London Bridge.  The site has been a market since the 12th century!  If you haven't yet done this route or been to the market, plan on finding some serious foodie treats to take back to your families– after you reward yourself with a Monmouth coffee, a Rabot hot chocolate, or a fresh juice from the market!
Introduction of the Week:  Pace Group Leaders.  WRW is an all-volunteer group– we still call ourselves 'a group of friends, running together,' despite having grown immensely since the time around 2003 when our founder, Paula Mitchell, started running with a few of her friends who either were runners or wanted to learn to be.  These days it takes more than one woman  to keep WRW running.  Our pace leaders will keep an eye on routes and directions, and be aware and communicate what pace they are aiming for on any given run; but please remember that each of us is ultimately responsible for our own pace, as well as for generally knowing where we are going!  Big thanks to these ladies for taking on the pace leader role for 2021/22: 
Wonder Women Runners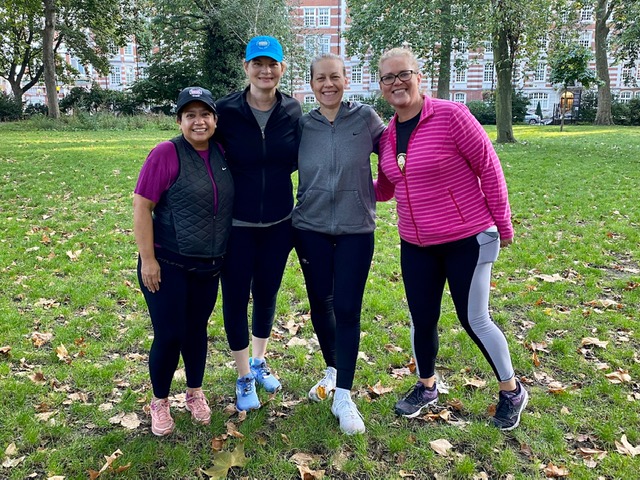 Claudia Figueroa, Tamar Brooks (who created and leads the group), Krista Sensurucu, and Yvonne Horrell are the Wonder Women Runners pace leaders this year.

12's pace group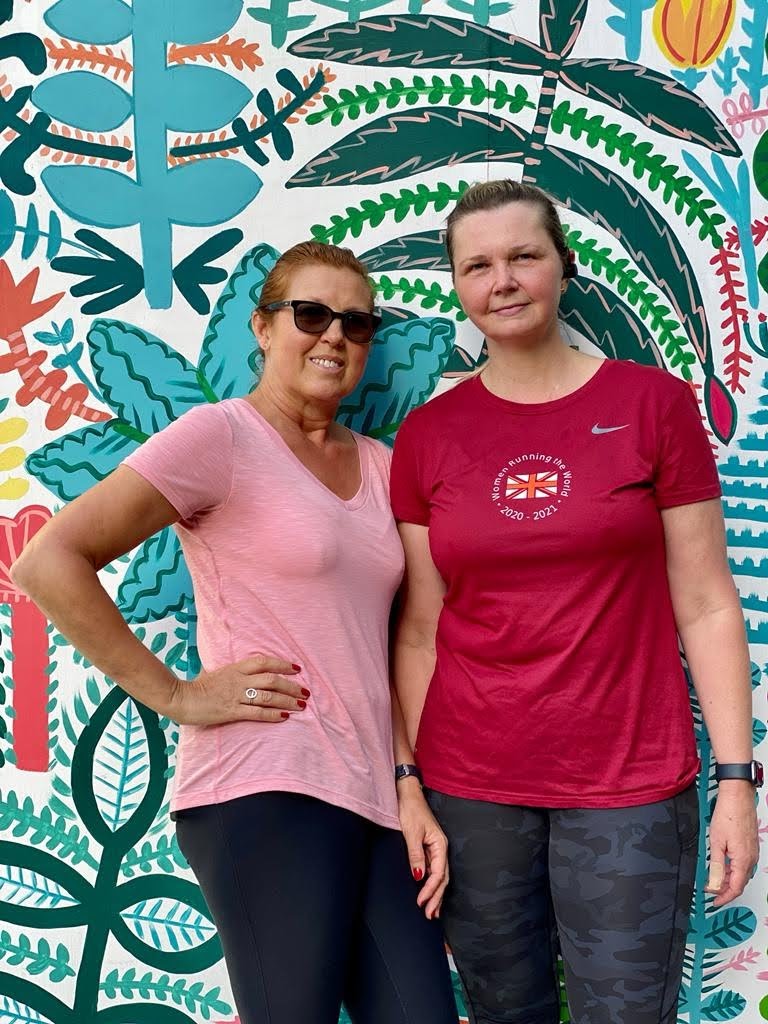 Carol Osborne and Fernanda Spinelli are leading this pack– a new addition in 2021!  We are so grateful for their leadership in starting this group!
11's pace group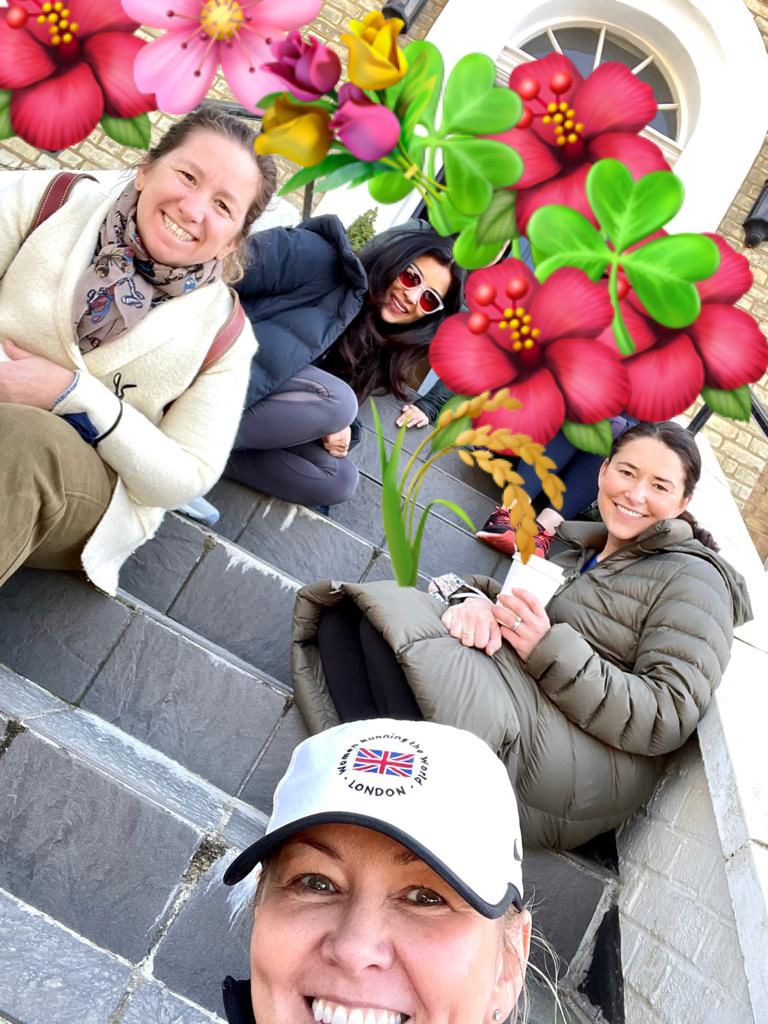 This group is led by veteran pace group leaders Magali Kivatinetz, Veena Gopal, Jen Iannazzo, and Melissa Kay.


10's pace group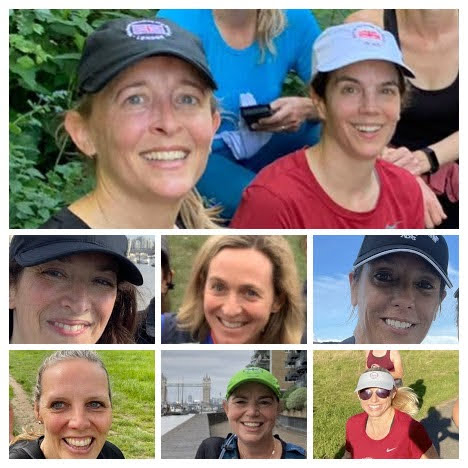 (from the top left) Heather Davenport, Jane Novak, Stephanie Mager, Anne Scolari, Jess Browne, Jennifer Egsgard, Laura Beal, and Abby Khatiblou.
9's pace group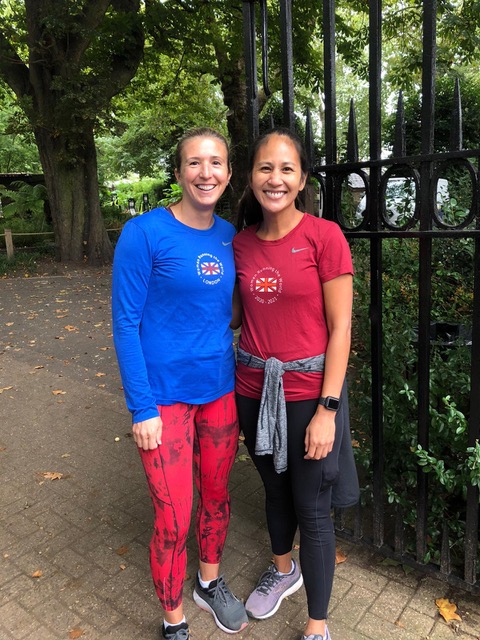 Pace leaders for the 9s this year are Emily Duffy, Marigold Dooley, and (not shown) Meredith Snizek.
8's pace group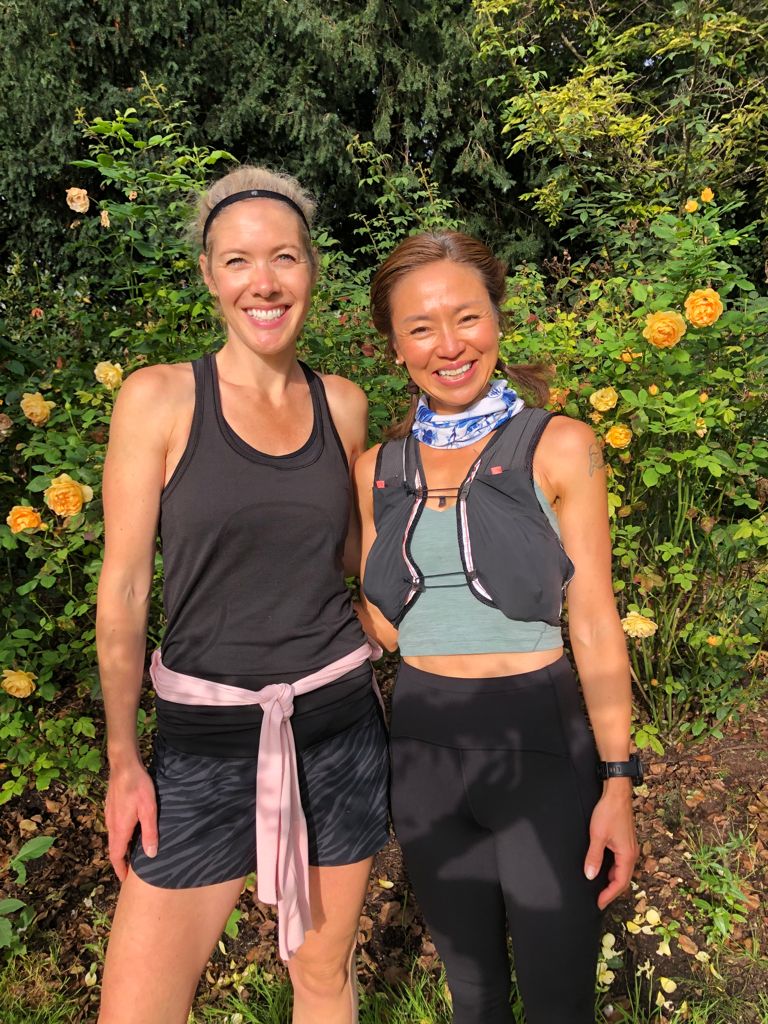 The 8's are led this year by Stephanie Gladis and Miki Neant.

Next week we will do a few more introductions, but if this email gets any longer or more picture-intensive this week, we're going to break the internet!Shoutouts and Announcements.  Miki Neant and Kelly Willis ran as guides for Sinead Kane, a visually impaired Irish ultrarunner, in the Self Transcendance 24-hour track race last Saturday and Sunday.  Running with her for several hours, including through the night, they supported her 197 kilometer, 3rd place female, 7th place overall finish.  And as always when WRW runners take on a challenge, plenty of WRW friends were on hand to cheer and support them, of course!  On Sunday, Laura Beal took on the 55-mile London to Brighton Cycle Ride, a hilly challenge that this year included a hail storm!  Well done, Laura!  And finally, at least a few runners ran the actual, rescheduled and live Hampton Court Palace Half last Sunday (let me know if I've missed anyone!).  Congratulations to Bjorg Fridbjornsdottir, Stephanie Gladis, Charlotte Sinclair and Mandeep Rai!  
The Hackney Half is this weekend– do let us know if anyone runs that, so we can give some cheers next week!  We will also be looking to give some in-person cheers for our London Marathon runners next week, on Sunday, Oct. 3!  Running the official course will be Kelly Willis, Charlotte Sinclair, and Stephanie Gladis.  Running the virtual course will be Laura Beal, Clare Missin, Jess Browne, and Miki Neant.  When we have more details on the virtual routes, as well as the timing for all the runners, we will share them either via WhatsApp from your pace leaders, or in an early Saturday email next week.  As always, we are proud of all of our marathoners, and excited to cheer for you!
Finally, just another welcome to all of our new runners!  It has been so much fun to run with you these past weeks, and we can't wait to show you more of our favourite routes in this city we love.  Please let us know if you are having trouble finding your pace, connecting with a group, or if you have any questionsl
Signing off and wishing you all a happy Sunday.  As always, I'm looking forward to seeing you out on the pavements!
xx Micki
ROUTES
Monday 27 September – Brick Lane Art Tour – 6.6 miles
RunGo:  https://routes.rungoapp.com/route/JtJprR11K2
This route is a slight variation of the Brick Lane route we've run in the past.  It takes you down several streets known for their street art.  Street art is constantly changing so there are no guarantees, but chances are good you see something spectacular!
We will head out in the same way as though we are running to The Wall. Take the Canal east to the Wall—go up the ramp to Muriel Street, take a right and then an almost immediate left up a path that winds between the apartment buildings. Here's the entrance to the path: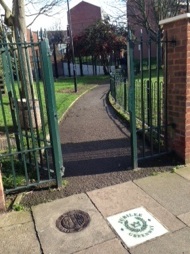 Keep going straight on the path and it will become Maygood Street. When you get to the intersection of a main road (Barnsbury Road) turn right.  Run until you make the second left onto Chapel Market. (There is a metal archway saying Chapel Market and a zebra crossing at the intersection.) Follow Chapel Market until the end. Turn right at Liverpool Street to the major road Upper Street. Cross Upper Street and turn left, then make your first right at Duncan Street. Follow Duncan Street to the end and there will be an entrance to the canal directly in front of you. At the canal path, continue running straight about a mile and a half, the water will be on your right. Follow the canal until you reach the Kingsland Road Bridge, Number 45. See the photo below.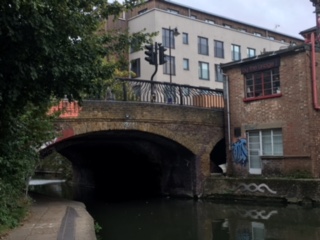 Run up the ramp at the side (on the left) to get up to Kingsland Road.  Turn right (you'll be running back over the canal). Follow Kingsland Road– you'll see the Gherkin building in the distance in front of you, and Kingsland Road will become Shoreditch High Street at Old Street and you will turn right shortly after onto Rivington Street.  Turn left at Curtain Rd, run a couple of blocks and turn left on New Inn Yard.  You should be seeing some art by now!  Make your first right onto King John Court and left onto Holywell Lane.  At the end, cross the road and bear slight right onto Bethnal Green Road. Take your first left onto Ebor St, right on Redchurch St, right on Chance and then left on Whitby to see some more popular art areas.  Turn right onto Club Row, cross over Bethnal Green Rd and turn right and then the first left onto Sclater St.  At Brick Lane, turn left and run up to Beigel Bake and Crosstown Doughnuts on your left.  
For the journey home, you can take the Shoreditch High Street Overground to Canada Water and then take the Jubilee Line home. Or you can walk through Spitalfields Market to get to the Liverpool Street tube station.

Wednesday 29 September – Regents Park Inner/Outer Circles (3-5 miles) 
RunGo:  https://routes.rungoapp.com/route/BoeFK1Khvv

From St Johns Wood Church Gardens turn left onto Prince Albert Road. Run to the pedestrian crossing where we will cross and head to the Outer Circle. Turn right and run on the inside of the circle past Winfield House which will be on your left. Continue around the Outer Circle until you reach the traffic light at the intersection with York Bridge. Turn left and proceed to the Inner Circle. Run one complete loop of the Inner Circle and back out across York Bridge where we will take a left and continue on Ulster Terrace which is part of the Outer Circle. At the next large intersection take a left and continue on the Outer Circle, heading north back towards the Zoo and Camden. Pass the entrance to the Zoo on your left and continue to the bridge at North Gate which we will cross to reach Charlbert Street. Run up Charlbert Street until St John's Terrace where we turn left and run back to the High Street for a coffee.  Don't forget to stretch, whether on the corners or in the park!
3 mile alternate:  walk to the Charlbert entrance and run around the outer circle, ending where you started, and walk back to the High Street.
4 mile alternate:  skip the inner circle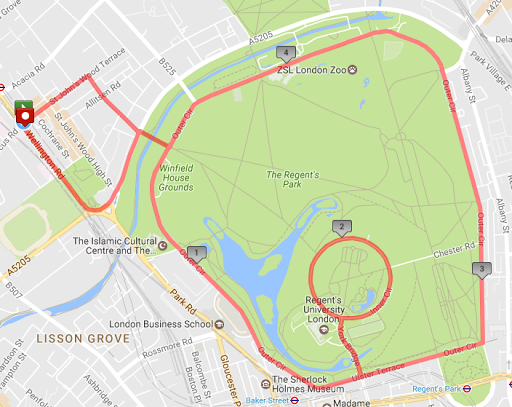 Friday 1 October – Borough Market (6 miles) 
RunGo: https://routes.rungoapp.com/route/6U5vDjwEEA
We start by heading to Hyde Park via the usual route. Head west on Circus Road, turn left on Grove End Road. At the corner of St. John's Wood Road and Grove End Road, cross diagonally at the light and continue south on Lisson Grove. Cross over Marylebone Road and continue south on Seymour Place until it tees into Seymour Street. Turn right and cross over Edgware Road and then take the first left on Stanhope Place to enter Hyde Park at the intersection with Stanhope Place. Run along the eastern edge of the park to Hyde Park Corner, under Wellington Arch and down Constitution Hill. Run past the Victoria Memorial, cross The Mall at the light and turn right at the grand wrought iron gates into St. James Park. Run over the pond and out of the park, turning left onto Birdcage Walk and down into Parliament Square to Big Ben. Continue past Big Ben and cross Westminster Bridge. After the bridge turn left down the stairs to run along the Thames until the river path ends after Southwark Bridge. Just past Southwark Bridge, head right and then a quick left to go into a short tunnel that puts you onto Clink Street. Make a right on Stoney Street to get to the market!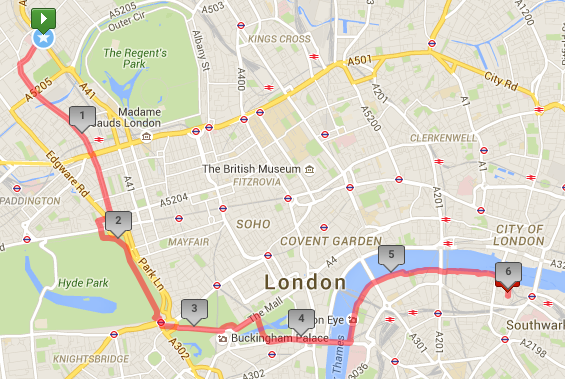 OR stay closer to home by running the Heath:
4 miles:  A great way to ease into running the hill. Run up to the Hampstead tube station and back. If you have trouble running up, think about how easy it will be running down!
5 miles: The Betsy Route
6+ miles:  The partial Heath route OR the Reverse Heath route OR Pergola route
7.5 miles: The Highgate route
8 miles:  The full Heath route
Click here for maps of all of the Heath routes.