Hi Everyone,
I hope you had a good recovery week.  I'm looking forward to seeing everyone and getting back to running.  We've only five weeks to the half marathon!  This week our long run is the Battersea Park Loop.  The entire loop is 10 miles but there are many options to do a shorter loop or take a tube home if you are not up for the full 10 miles after our recovery week.  As a reminder, looking ahead we have the following long runs:
Feb. 24 – Battersea Loop, 8-10 miles
March 3 – Canal west to Greenford destination, 10 miles
March 10 – Big Ben loop, 8 miles
March 17 – Kew Gardens destination, 11 miles
March 24 – Green Park loop, 6-7 miles
March 30 – RACE DAY
New Running Shoes

If you're thinking about getting a new pair of shoes for the race, now's the time to do it.  You want to make sure you can run in the shoes at least a few times before the actual race.  The same applies for the clothes you'll wear on race day.  Make sure you test everything first.  You don't want to get to the middle of the race and realise that something is rubbing or annoying you.  Who knows what the weather will be on race day – it could be warm, mild or cold.  That's Europe in the spring!  Plan to bring race clothes for all temperatures and we'll decide that morning!
Spring Races

Some of the women in our group are signing up for some fun races this spring.  
The Color Run – London.  This looks like a super fun 3-mile run in Wembley Park on Sunday June 1st, 2014 at 3pm. Jen Cohen is putting together a team – email her at [email protected] if you are interested in joining the team.  Click here to check out the website.
We Own the Night.  This is a women's 10K run, Saturday 10th May 2014 after dark.  Some of our runner's ran the race last year and said it was a great experience.  Click here to check out the website.
Keep running!
Jane
Click here for the interactive routes on our web.

ROUTES

LONG RUN – 10 miles – remember this is your slower paced run
Monday 24 February
Battersea Loop
We head out to Hyde Park, along the eastern edge of the park, and down Sloane Street to Sloane Square the usual way.  We continue through Sloane Square, down Chelsea Bridge Road, and over the Chelsea Bridge to the south bank of the Thames.  We will then turn right into Battersea Park and run along the south side of the Thames to the Albert Bridge, where will will cross back over the Thames.  WE will turn right again and run along the north side of the river back to Chelsea Bridge Road, where we will turn left and run back up through Sloane Square and back to Hyde Park.  We will turn right and run down Knightsbridge to Hyde Park Corner, then left long the eastern edge of the park to the exit at Upper Brook Street and back to Starbucks the usual way.

TEMPO RUN

Wednesday 26 February
Regent's Park Tempo Diamonds
We are continuing with our focused tempo running on Wednesdays.  This week we will do 'diamonds'—they are fast but also fast to be done with so give them a try!
Head over to Regent's Park, the normal way [down Wellington Road, left at the SJW Church roundabout, cross the zebra crossing before the High Street and enter Park at the Charlbert Entrance].  Enter the Park and veer to the left path.  When you reach the first intersection with the other sidewalk, it is time to turn on your running jets.  You will run hard for 1 minute, then recover by running slowly for 3 minutes; then run hard for 2 minutes and recover by running slowly for 3 minutes; then run hard for 3 minutes, recover run slowly for 3 minutes; run hard for 2 minutes, recover run slowly for 3 minutes and finally run hard for 1 minutes, recover run slowly for 3 minutes.
The 'diamond' looks like this:
            1 minute hard                      3 minutes jogging recovery
            2 minutes hard                    3 minutes jogging recovery
            3 minutes hard                    3 minutes jogging recovery
            2 minutes hard                    3 minutes jogging recovery
            1 minute hard                      3 minutes jogging recovery
If you need to extend the amount of time for the jogging recovery, that's fine, you can jog up to twice the amount of the hard run time [so 6 minutes max recovery jog for the 3 min hard run]
This type of running is best down within the park so you don't have to contend with driveways etc.  If you find you need more mileage in Regent's Park, just keep looping however you see fit.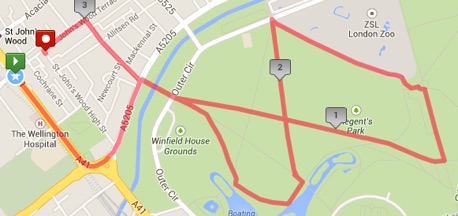 HILL RUN  The Heath
Friday 28 February
It's Friday again, so everyone up Fitzjohn's.  You can pick your distance and whatever you choose, there will certainly be someone else interested in running that distance.  All of these routes are on the website.
In addition, every week there are a group of women who prefer to do a flat run.  We can help make sure that you find each other.  
4 miles:  A great way to ease into running the hill.   Run up to the Hampstead tube station and back.
5 miles: The Betsy Route
6-7 miles:  The partial Heath route
8 miles:  The full Heath route
Click here for maps of all of the Heath routes
______________________________________
Website:  https://womenrunningtheworld.commm

Facebook Group:  Women Running The World (request to join)
Email: [email protected]
5 weeks to go until the half marathon…
24 – 28 February Running Info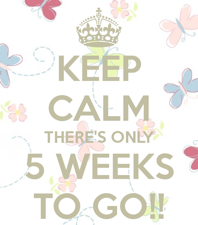 Sunday, February 23, 2014
<![CDATA[]]>
<![CDATA[]]>
<![CDATA[]]>
<![CDATA[]]>