Hello Runners!
Can you believe it's our last official week of running together in 2021? I'm going to resist the urge to wax all philosophical about the year behind us– because it seems like that just tempts fate to make the year ahead of us even more interesting. I will just say that together we all are an amazing force for powering through whatever comes our way– the great, and the not-so-great. But lately it has been mostly great– with that Chelsea Baubles run last Monday, our first tempo workout on Wednesday, and a fun Friday with some groups heading up the hill and some to Borough Market. We've got a couple more festive runs you can hopefully squeeze in during this coming busy week.

Running this week. Monday we have a new route, created by routemaster Paola di Meo to let us take in for ourselves the Trafalgar Square Christmas Tree we've been hearing so much about (for the record, I think it is a lovely and generous tradition for Norway to gift us the tree each year). Paola's 7.5-mile route covers familiar territory, but takes us on slightly different streets to mix it up a little, so be sure to take a look at the map and directions, so you don't just autopilot onto our usual routes! On Wednesday we're giving two official options– the popular Primrose Hillzzz workout, which is a 4-mile loop ending back on the SJW High Street. OR you can opt to go for one lap of Primrose Hill and then divert to run through Regents Park, down Regent Street, through Carnaby and Seven Dials, to finish at Covent Garden (5 miles). And Friday we will cap off the 2021 running year with one last trip up to the Heath with your route of choice.

Training over the holidays. There's so much to think about at this time of year, whether it's kids out of school, travel, or simply celebrating with friends and family. It's okay to back off of your running schedule a little bit during this busy time. You can maintain your fitness for up to a couple weeks with 2-3 maintenance runs (per week!) of 30-60 minutes. Of course it's great if you can do more, but your body will also appreciate a little break. However, because our break is a full three weeks, it's really a good idea to try to hit some longer, more regular runs either in the first week or the last week before we officially resume. If you are in London, there will likely be others running, so you can organise on Whatsapp and do some of your favorite routes together. When we start back up on January 10, we will give a flexible route (4-8 mile options), a regular Wednesday run, and a Borough Friday to help ease back into our training before we begin to turn up the training for the April 3 half marathon.

Shoutouts and announcements. The next regular email will hit your inboxes the weekend of Jan 8-9 (unless I just get too lonely without you all, and start writing you random notes in the meantime;)! If you are on the Berlin Half Marathon list, look for an update from tripmaster Sue Wheeler in the next day or two.
A shoutout this week goes to Marigold Dooley, who will complete her final half marathon of the year tomorrow, after having taken on the challenge of running one a month with alum Janelle Meyer last January. Also sending a shoutout to Janelle, who finished hers last weekend! The half that Marigold will run tomorrow (with many from her pace group, as well as other friends she runs with) is notable in another way as it is her big farewell-for-now run, as she will be moving to Texas with her family over break. As a beloved 9s pace leader, social run organiser, friend-to-all and general force-for-good, she will be very much missed!

And just like that, it's time to wish you all a wonderful holiday, with warmest wishes for peace, love and enjoyment of this season– whatever, however, and with whomever you are celebrating. I know many of you will be traveling, so I'll add wishes for safe journeys, good health, some stability in the travel rules, and negative Covid tests! (Not exactly a classic holiday wish, is it??). As we ring in a new year, I look forward to every mile we will run together, every post-run coffee we will enjoy together, and most of all to the friendships that will continue to grow as we share those miles and cafe tables. You are an extraordinary group of women! Have an extraordinarily happy holiday!
xx Micki
ROUTES
Monday 13 December – Trafalgar Square Tree and Chinatown Loop (7.5 miles)
We start by heading to Hyde Park via the usual route down Wellington Road and turning right on St Johns Wood Road. At the corner of St. John's Wood Road and Grove End Road, cross diagonally at the light and continue south on Lisson Grove. Cross over Marylebone Road and continue south on Seymour Place into Seymour Street. Turn right and cross over Edgware Road and then take the first left on Stanhope Place to enter Hyde Park at the intersection with Stanhope Place. Run along the eastern edge of the park to Hyde Park Corner, under Wellington Arch and down to Constitution Hill and The Mall all the way to Trafalgar Square. Cross the square, turn left onto Charing Cross Road and then left again onto Irving Street entering Leicester Square. Keep running clockwise the square and turn left onto Swiss Ct where is the Swiss Glockenspiel clock. Turn right onto Wardour street and the second right onto Gerrard Street. Turn right onto Newport Place and left onto Little Newport Ct. Turn left onto Charing Cross Road heading towards Tottenham Court Road tube station. Cross New Oxford Street and take Tottenham Court Road, keep running all the way north to Euston Road. On Euston Road turn left and keep going straight. In proximity of Regent's Park Tube Station cross Marylebone Road and take Park Square West. Cross Ulster Terrace outer circle and enter Regent's Park. Take the first path on your left. Cross York Bridge and keep following the path passing over the Boathouse Cafe and crossing the bridge on your right. Take the first path on your left and run the usual way back to St Johns Wood High Street for coffee!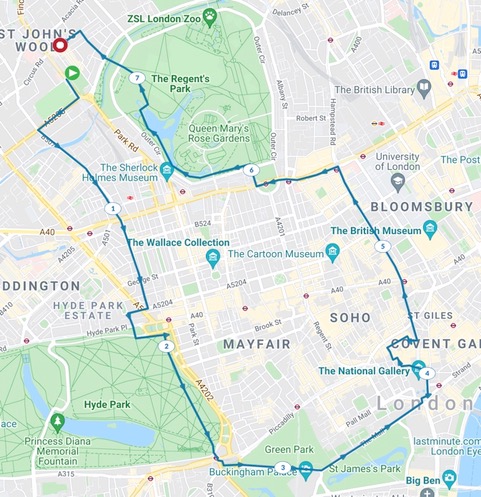 Wednesday 15 December – Primrose Hillzzz, with option to Covent Garden via Seven Dials (4 – 5 miles)
Both options today begin the same– head out from Barclays, past Starbucks, and take a right on Charlbert Street, heading into Regent's Park at the North Gate entrance. Run straight into the park, following the left fork until you get to the first intersection, where you go left. The Hub and the cricket nets will be on your far right. Follow this path until the end, over the Outer Circle and the bridge, then bear right and cross the zebra crossing to the entrance to Primrose Hill. Once in the park, take the first path on your left, run up past the entrance from St Edmund's Terrace and continue up until the path forks, taking the path to your right all the way up to the top. Enjoy a brief moment taking in the view and then head down the left path all the way to the bottom corner of the park (corner of Albert Terrace and Prince Albert Rd).  Run along the bottom of the park, past the Children's Playground, cafe and outdoor gym to where you entered the park. From here you have two choices today:
OPTION 1: Primrose Hillzzz to Covent Garden (5.15 miles)
RunGo:  https://routes.rungoapp.com/route/4p1y05bYRZ
To head for Covent Garden and more of festive London, turn left to cross back over into Regents Park.  After you cross the Outer Circle, bear left on the path that runs along behind the zoo.  Turn right when you reach the Broad Walk, and run straight down to the southern edge of the park, where you will cross the Outer Circle again and run around Park Square East.  Run halfway around Park Crescent and turn onto Portland Place, which becomes Regents Street.  After you pass the Oxford Circus tube station, take a left on Great Marlborough St, run past Liberty, and then take a right onto Carnaby Street.  Run through Carnaby's butterflies to the end, where you will turn left on Beak Street.  Make a right on Lexington St. after just a few blocks, and follow it until it runs into Shaftesbury Ave., where you will turn left.  Follow Shaftesbury to Earlham, a small street just after you cross Charing Cross Road.  Turn right on Earlham, run through Seven Dials (hopefully the lights will be on!), and continue one block to the end of Earlham to turn right at Neal St.  Follow it for just a couple of blocks, making a slight jog to continue onto James St., then turning left on Floral St.  Make the first right onto Bow St., and then the first right onto Russell St., and follow it into the center of Covent Garden.  There are some great options for coffee or breakfast here, including Pain Quotidien, and the Covent Garden, Leicester Square, and Charing Cross tube stations are all an easy walk whenever you're ready to head home.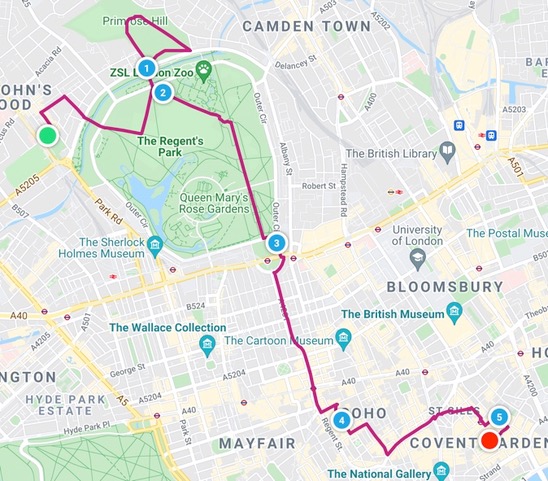 OPTION 2: Primrose Hillzzz (4 miles)
If you are keen to get more hills in, or you don't have time to leave the neighborhood today, you can stick with the standard Primrose Hillzzz route. Repeat the loop up the hill, back down on an angle, and across the bottom of the park two more times (or more if you like!). On your final loop run back up to the St. Edmund's Terrace entrance and turn left out of the park. St Edmund's Terrace will become Allitsen Rd and will take you back to St John's Wood High St. Turn right and go find yourself a nice hot drink!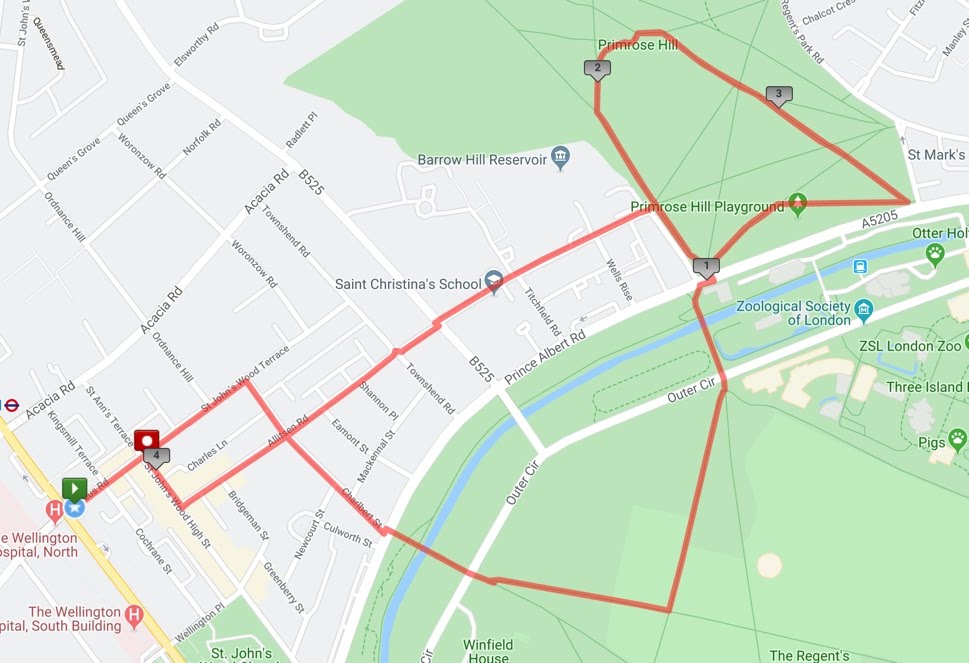 Friday 17 December – The Heath – 4 – 8 miles
It's Friday so up the hill we go!  Join us for the last official Heath run of 2021.  Which route will you choose?
<4 miles:  A great way to ease into running the hill. Run up to the Hampstead tube station and back. If you have trouble running up, think about how easy it will be running down!
5 miles: The Betsy Route
6+ miles:  The partial Heath route OR the Reverse Heath route OR Pergola route
7.5 miles: The Highgate route
8 miles:  The full Heath route
Click here for maps of all of the Heath routes.