Hello Runners!
Headlining this week's note is the Union Jack photo compilation Jen put together from your weekly snaps.  As London decks itself out for the Platinum Jubilee, can't you just feel the energy in the air for the upcoming festivities?  There are so many events and sights to take in in the next two weeks– we are lucky to be here, and to be able to access all these amazing things so easily on our own two feet! 
Running this week.  We have a fun schedule this week, beginning with your own group adventures on Monday.  We can't wait to hear and see photos of what your groups have decided to do on Monday!  I know some conflicts with meetings and races and travel made big adventures a little hard to plan for this date, but I have heard of some great local alternatives going on.  Please reach out if you are not connected with an adventure.  Wednesday we will head for the Sloane Square area to check out the always-amazing floral displays put on by local businesses during the Chelsea Flower Show.  Paola Di Meo has scouted and created this year's variation on the route to include the special "Eggs of an Era" displays in honour of the Platinum Jubilee. (A shoutout of thanks to Tamar as well, for sharing her intel on this and the Belgravia in Bloom sites!).  The route ends in Eccleston Yards, which has plenty of coffee options in the yard and nearby, and is near Victoria tube for your return, or you can choose to run on another mile to end at Green Park.  And Friday we have a variation on our Brick Lane run– this one ending at the fabulous Eataly emporium, right next to Liverpool Street station.  Thanks to Paola for leading us to yet another fab foodie destination!  As always, full directions and maps can be found below, as well as links to the RunGo maps.
Shoutouts and Announcements.  A big shoutout to all the ladies running the Hackney Half this morning!  It could not have been a more beautiful day for your run, and I'm sure there's a festive vibe going on in Hackney as I write, with all the music and street events they had planned along with the running events!  I'm almost sure I'm going to miss someone in this list, but if so we will give an extra big shoutout to them next week… Congratulations to Jo Abbot, Laura Beal, Alyssa Bond, Heather Davenport, Clementine Drackett, Jennifer Egsgard, Veena Gopal,  Julie Prince-Hojlo, Alysia Hoyt, Abby Khatiblou, Clare Missin, Kelly Sutyla, and Katie Zolnierz on another race completed!  (See photos below,  shamelessly pulled from WhatsApp just now!).  I also want to add a shoutout to three of our WRW ladies for taking on the Three Peaks Challenge this weekend– well done to Roni Fransis, Meredith Snizek, and Caroline Young for getting those peaks climbed in some gnarly weather over the course of the weekend! 
If you hear of anyone who would like to join the Beginner's class of 2023, please connect them with us or pass along their contact info to [email protected].  As anyone who has been through this program knows, it can be an amazing, life-changing experience!  The program is for people who have truly never been runners before.  It starts out with one-minute intervals at a very slow jog, so is not appropriate for anyone who is able to run even a mile or two.  Our regular M-W-F group can help people who have been runners before ease back into it and work up to joining our M-W-F runs.
And once again, please let us know if plans have changed or developed and you will be leaving London at the end of the school year.  Our Sights of London/Leavers' Run is coming up on Wednesday, June 1.
Looking ahead.  See below for the highlight list of upcoming runs.  You can view the full list for the rest of this year here.
May 30: Virginia Water/Windsor Adventure Run (7 miles)
June 1:  Sights of London/Leavers' RunJune 6:  Tower Hill in Bloom for Platinum Jubilee
June 10:  2nd Annual Year-end Picnic in Regents Park (12:30 to ?)– rain date is Monday, June 13

What a gorgeous day for a run– or for whatever your Sunday holds!  Enjoy your adventures tomorrow, send photos, and I hope to see many of you on our great runs later this week!
xx Micki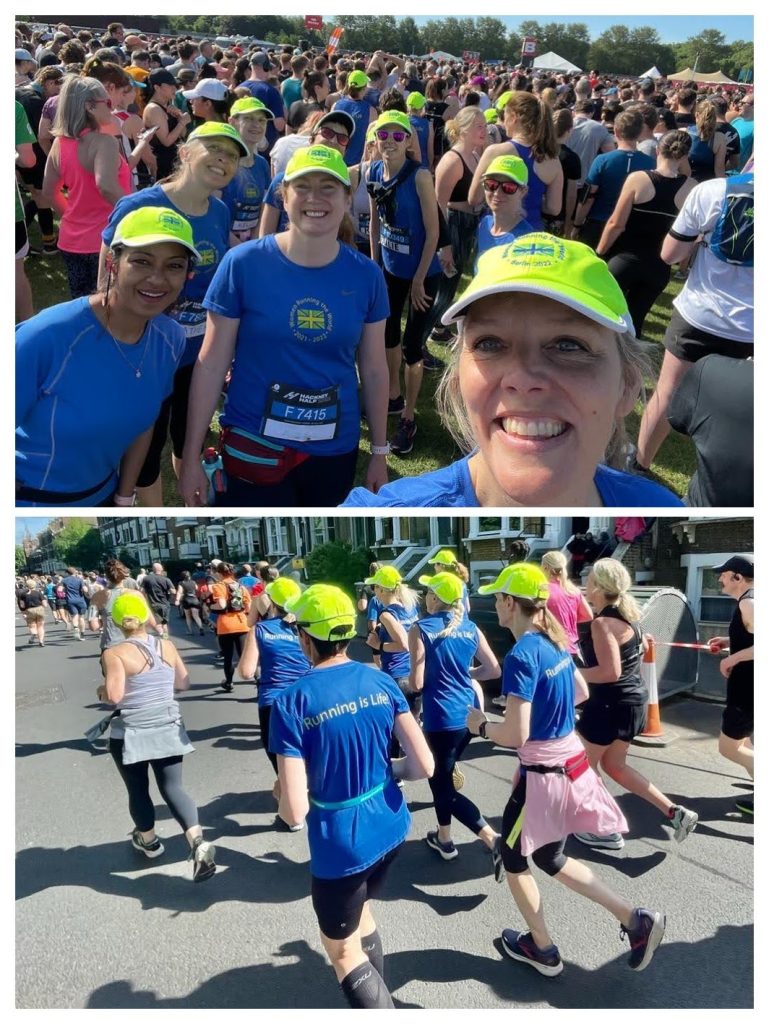 ROUTES
Monday 23 May – Choose-your-own-adventure run
The pace groups are all choosing something fun to do today – check in with your What'sApp groups to get the plan!  If you are new to the group, or not on a Whatsapp chat, let us know so we can try to connect you!
Wednesday 25 May – Chelsea and Belgravia in Bloom, plus "Eggs of an Era" (6.5 miles)
RunGo: https://routes.rungoapp.com/route/zk8ZnswqEg
Heading to Hyde Park, taking the usual route down Lisson Grove to Seymour Place. Once inside the park, turn left and run down towards the southern edge, following the path to the right before it leaves the Park (Rotten Row). Run to the large gated exit (Albert Gate) before the tall 'One Hyde Park' complex, cross Knightsbridge road and turn right on Knightsbridge, then a left onto Sloane Street after Harvey Nichols. Follow Sloane St, turn left at Cadogan Place, stay on the left, cross the road and enter Motcomb Street: inside the Halkin Arcade you can admire the  "Little Ben' floral display. 
Run back to Sloane Street and turn left. At the first traffic light cross the road on the right into Pont Street. Then turn left into Pavillon Road. Run all the way until the end of the street where you can spot two of the "Eggs of an Era" displayed to celebrate the Queen's Platinum Jubilee. Turn left into Sloane Square where there are two more "Eggs". Enter Duke of York Square where turning right around the square is possible to see other "Eggs". Get back to King's Road. Turn left and run down King's Road until you reach the Ivy Cafe, admiring the floral displays in the various shops along the way. Cross King's Road and head back the way you came towards Sloane Square. Cross the square and follow Eaton Square Gardens. Turn right into Elizabeth Street enjoying all the little cosy shops. When you reach Ebury Street, you can admire TomTom coffee house  on the corner on your left with its "Alice in Wonderland" floral facade. Turn left onto Ebury street but keep an eye on your right so you don't miss the  Eccleston Yards entrance (the entrance is hidden between terraced houses). Inside the Yard you can stop at Morena for a coffee. There is also an Ole and Steen outside the courtyards. The nearest tube station is Victoria. Green Park tube station is circa another mile.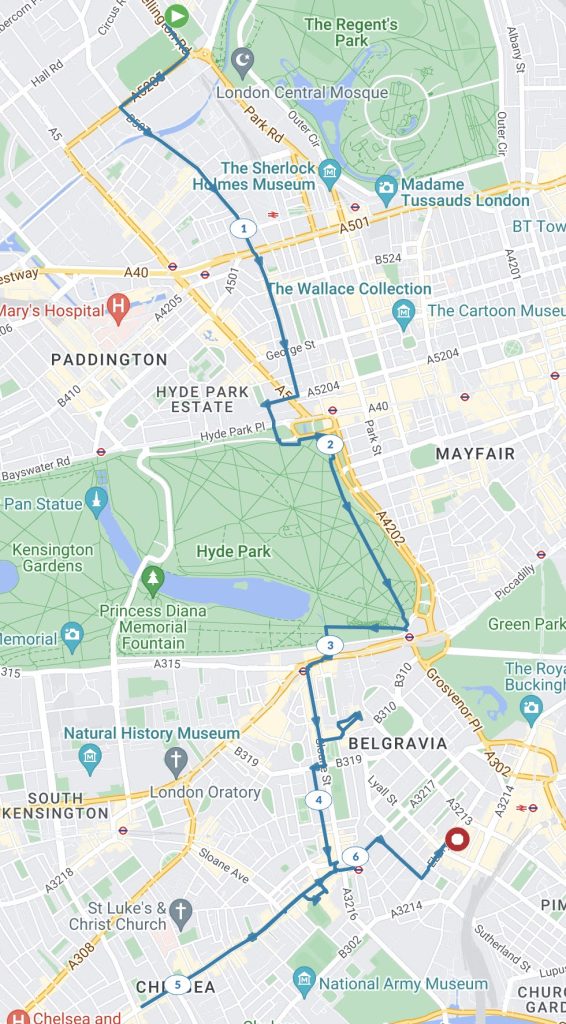 Friday 27 May – Brick Lane, ending at Eataly (7 miles)
RunGo: https://routes.rungoapp.com/route/RrZku3HKQ8
We will head out in the same way as though we are running to The Wall. Take the Canal east to the Wall, go up ramp to Muriel Street, take a right and then an almost immediate left up a path that winds between the apartment buildings. Here's the entrance to the path: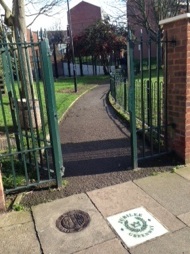 Keep going straight on the path and it will become Maygood Street. When you get to the intersection of a main road (Barnsbury Road) turn right.  Run until you make the second left onto Chapel Market. (There is a metal archway saying Chapel Market and a zebra crossing at the intersection.) Follow Chapel Market until the end. Turn right at Liverpool Street to the major road Upper Street. Cross Upper Street and turn left, then make your first right at Duncan Street. Follow Duncan Street to the end and there will be an entrance to the canal directly in front of you. At the canal path continue running straight, the water will be on your right. Follow the canal until you reach the Kingsland Road Bridge, Number 45. See the photo below.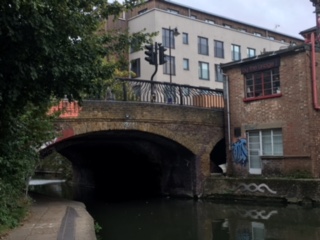 Run under the bridge and take the brick steps up on your left, see photo below.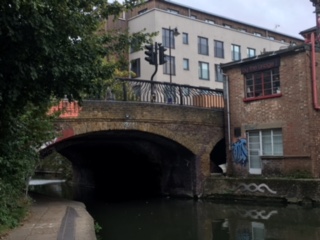 At the top of the stairs turn left and at the main road, Kingsland Road, turn left (you'll be running back over the canal). Follow Kingsland Road– you'll see the Gherkin building in the distance in front of you, and Kingsland Road will become Shoreditch High Street. Turn left at Bethnal Green Road. There will be a white metal railroad bridge in front of you and the BOXPARK market will be on your right once you turn. You'll also pass the Shoreditch High Street Overground Station on your right. Follow Bethnal Green Road until you hit Brick Lane, less than a quarter of a mile. Turn right into Brick Lane. Keep running along Brick Lane and turn right onto Hanbury Street. Run through Spitalfield Market, keeping to the left.  Eataly food market is on Bishopsgate, near to Liverpool Street tube station.