Hello Runners!
Once again this week, you sent in so many great photos it's really hard to narrow it down to a few for our e-mail.  The wonderful thing about ALL of them is that you look so happy!  We are together (in 6's, of course!), we are running to interesting and fun places, and we are taking joy from the running and the companionship and the places we go (and no doubt the coffee and breakfasts, too).  
Reminder!!!Kit orders are due today by 10pm!
Here's the link to the order form.  Marissa has given us a great selection of fun, WRW-logo running gear to choose from, including our annual shirt with the yet-to-be-determined surprise saying on the back (still taking nominations, but hurry!).  Items will be delivered sometime in early 2021, and you will pay for them at that time.  Full instructions are on the order form.  And again let me emphasize that there is absolutely no obligation to buy anything, for anyone new to WRW, this is not a uniform or an expectation, just a fun thing we do!
Running this week. 
We are continuing to keep the basic routes in play, with an occasional variation, while Covid-19 concerns and regulations remain.  So we will run Hyde Park Monday via our two new routes, with a possible variation of running desired mileage in the park and ending at Whole Foods Kensington (or Ole & Steen, also on the High Street now), just off the southwest corner of Hyde Park, along Kensington High Street.  Return home would be via taxi, tube, or bike rental.  On Wednesday our official routes will be the two new ones in Regents Park, please see the maps below and the RunGo links for details.  And note that we need to be careful to keep our distance on the SJW High Street if many of us end up there after the 'home-field' run in Regents Park!  Finally, Friday it's off to Hampstead Heath for the hills.  Our new basic routes are below.  And, of course, the Borough Market run remains a favorite for those wanting a flat Friday.

Meanwhile, as we list these basic routes, we know many groups are running alternate directions, and we love seeing and hearing about them!  We can't wait for the day (it WILL come!) when we can all head out in waves to our favorite destinations together.  In a normal year this would have been the week for Brick Lane via the canal (and bagels and Crosstown Donuts).  I'm thinking we may use this space to call out former destination runs as a reminder of where we've been together and where we will go together again when we get through this time.  And for some it might be inspiration for independent run destinations.
Training Plan.  
Our e-mails have been so consumed with keeping ourselves in line with current Covid protocols that I haven't had a chance to mention our training plan and goals.  First the goals.  I know that this year is exceptional, and we are all to some extent doing our own thing, but we want to share the cumulative years of WRW training experience and help empower everyone to meet her goals.  We normally have a half-marathon trip to look forward to (and train for) in late March or early April.  Last year we were forced to cancel.  We're not certain yet what this year will hold (our Trip Master Sue Wheeler is weighing the options and odds, and we will have some decisions in the next few weeks).  BUT it seems practical to at least start our training with the goal of a half marathon in late March.  Even under lockdown last spring, many women completed the goal independently or in pairs; and hopefully one way or another we can manage something more than that this year.  

So then the training plan.  On our website you can find a complete training plan from a previous year, as well as a partial plan for the more gradual approach.  But for those new to WRW, our training calendar usually follows a pattern of doing a long, slower-paced endurance run on Mondays; a shorter, speedier run on Wednesdays; and a mid-distance, hilly run on Fridays.  September is usually very much about getting back on track after summer break– though we also usually have some ladies training for half marathons in Sept/Oct, as well.  October is when we begin to stretch the distance bit by bit, with Monday runs going in the 6-8 mile range, Wednesdays holding steady at 5-6 miles but perhaps beginning to reach for an up-tempo pace, and Fridays holding at 6-8 miles in the Heath (with an occasional flat run for a break).  We will work on customising the plan more as our overall plan for the year comes into focus. 
Announcements and Shoutouts.  Next weekend Laura Beal and Jess Browne will run an independent version of the Virgin London Marathon 2020!  Laura was training for the official race, originally scheduled for last April, when lockdown happened.  The postponed race date was October 4, but Covid forced it to become a virtual race.  So, next Sunday Laura will run her official, virtual London Marathon!  And Jess Browne, who has stepped up to train with her through the months, has now become a London Marathoner as well!  We want to support and cheer these ladies to the max– what grit and heart they are showing to do the marathon without all the glory and the celebratory atmosphere of marathon day in London!  Look for more information this week on how to support them on race day next Sunday!  
On a more somber note, we have had one incident with a runner being verbally attacked just after a run last week.  I'm so sorry for what she went through from a man who was clearly unbalanced; but also so proud of how she handled it– calmly responding, and then walking away with the rest of her 6-pack.  Do be careful out there, and keep your wits about you.  If you face a similar situation, try to remember that in these times the safest and best course is to walk away, even if everything inside you screams to fight back.
Covid-19 Reminders.  As we all continue to do our best to observe and respect all the current guidance and regulations on gathering and social distancing during the pandemic, please remember our current basic operating principles:  meet in groups of no more than 6 people, with several meters of space between groups; be mindful of social distancing within our groups as well as out on our routes when we pass people; be careful not to allow ourselves to group up beyond our sixes after runs; and do not let any person's behavior provoke you to actions or words that could be dangerous for you or reflect poorly on our group.  And finally, as we continue to navigate the protocols for what to do if you have been exposed– directly or indirectly– to someone with Covid symptoms, we'd like to ask that you notify both the people you ran with most recently, and your WRW team.  We will respect your privacy and not share anything without your permission, but it is fairly important that we have an overall picture of what is happening within the group, so we know if we should be changing our plans.  Please see here for our WRW Covid-19 statement.
So, onward into another week in this crazy year!  Let's tackle it together (a couple meters apart) with positive spirit and all the mutual support we can offer.  Can't wait to see you out there tomorrow!
xx Micki
ROUTES
Monday, September 21 – Hyde Park via two Routes (4 – 7 miles)
8s and 10s pace groups – Hyde Park via Regent's Park
RunGo link:  https://routes.rungoapp.com/route/WV7sVAqTR5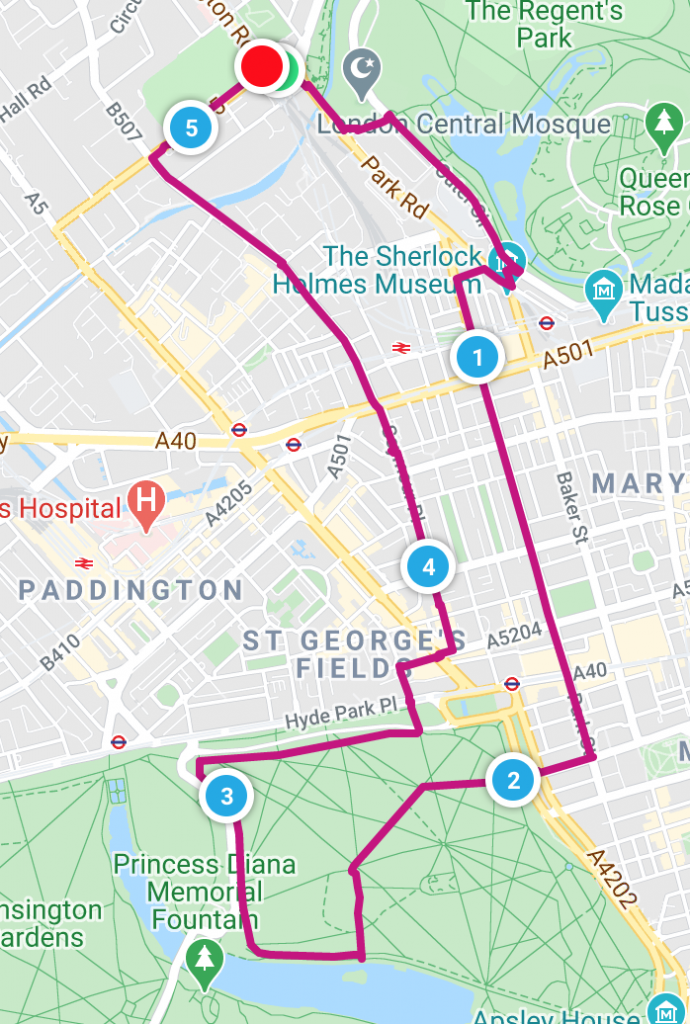 Options – your choice in Hyde Park to increase or decrease distance! See here for all of our old, familiar Hyde Park routes!
9s and 11s pace groups – Hyde Park via Westbourne Terrace
RunGo link:  https://routes.rungoapp.com/route/HjtdobwsPm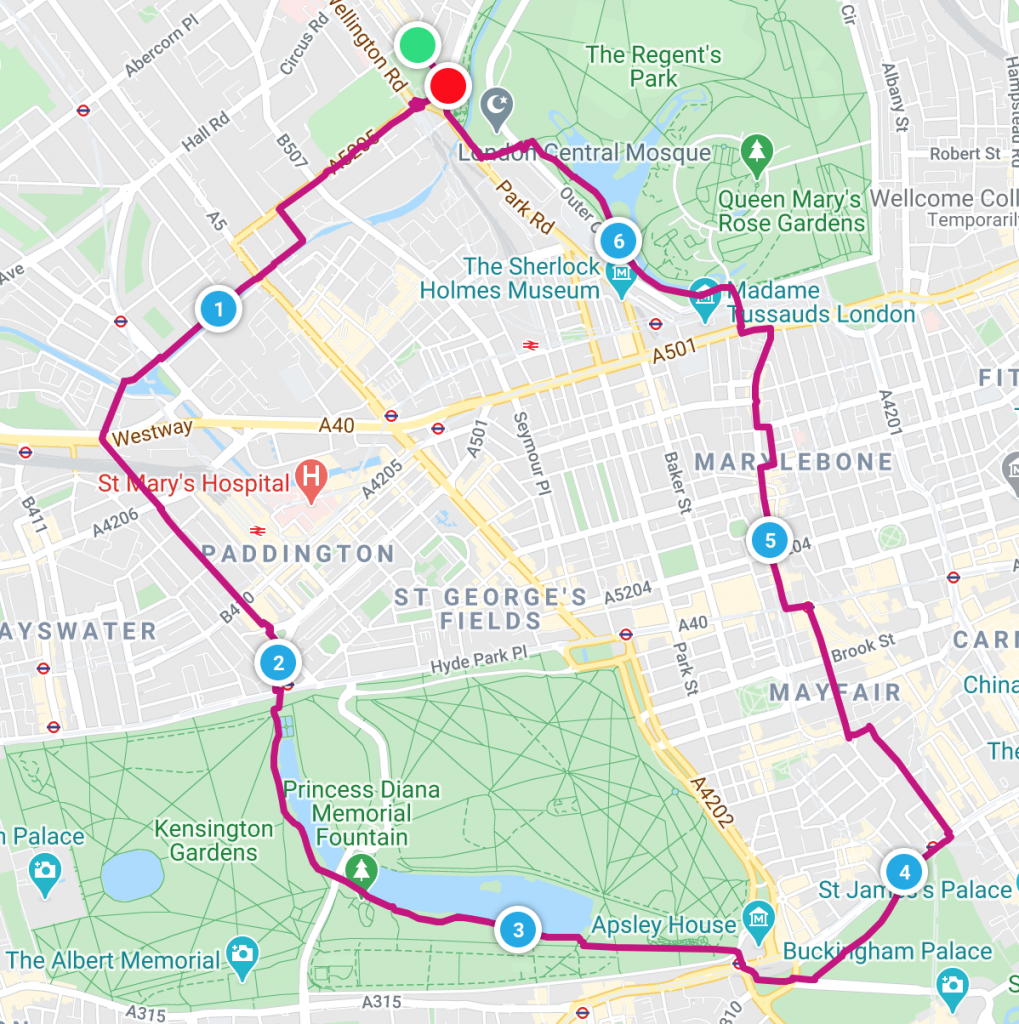 Options – your choice in Hyde Park to increase or decrease distance! See here for all of our old, familiar Hyde Park routes!
Wednesday, September 30 – Regents Park New Routes (5-6 miles)
8s & 10s pace groups – Reverse Inner/Outer
RunGo link: https://routes.rungoapp.com/route/BoeFK1Khvv
From the church gardens, make your way to Allitsen Road and run down Allitsen to Primrose Hill. Enter the park and turn right. Cross over Prince Albert Road to head into Regent's Park. Once across the Outer Circle, turn left to run around the outer edge of the park. After 1.5 miles, turn right on York Bridge to get to the Inner Circle. Run all the way around the inner circle and exit the way you came in on York Bridge. Turn right to continue running around the outer edge of the park, exiting at Avenue Road (NOT Charlbert). Turn left to run along Prince Albert Road to SJW High Street and Starbucks/Pret.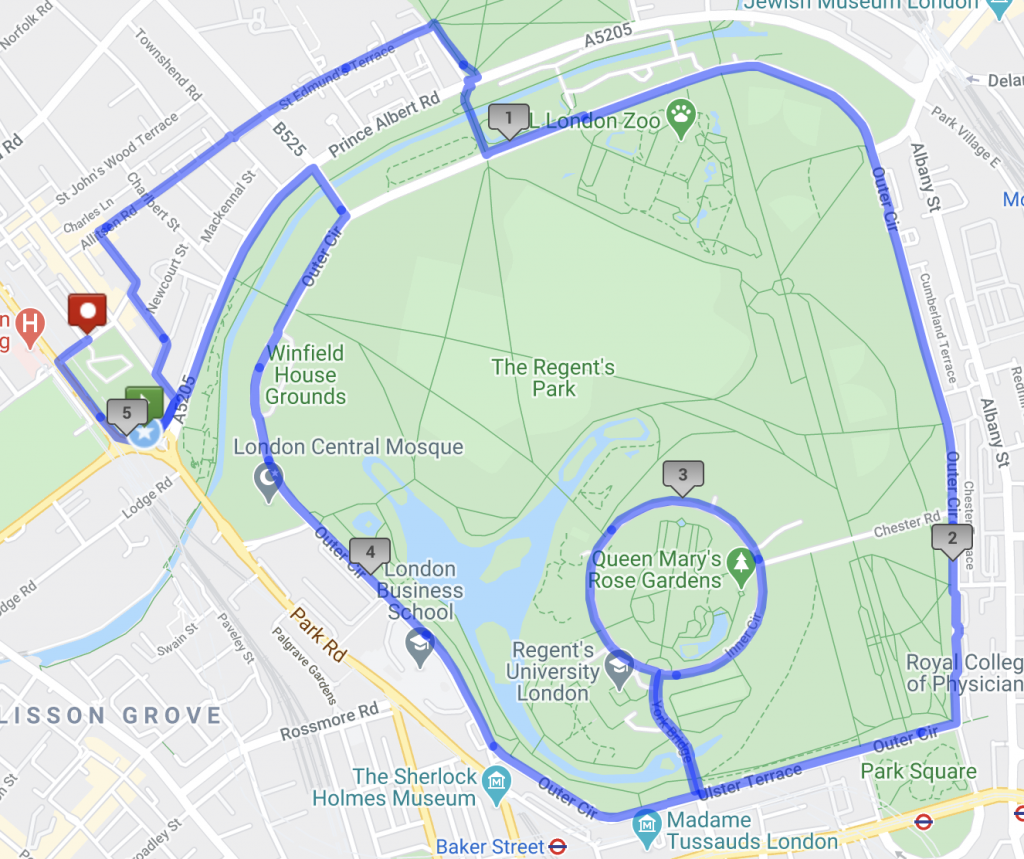 9s & 11s pace groups – Regent's/Primrose
RunGo link: https://routes.rungoapp.com/route/m8IcEJxNpp
From the church gardens, run down Prince Albert Rd to the Charlbert entrance to Regent's. Run straight, pass The Hub and at the next intersection after that, make a sharp right and run with the water on your left. Curve around and then turn left to run over the bridge. Turn left after the bridge to run past the Boating Lake and keep running around the edge of the park (keeping inside the park). The path will start making its way to the left, putting you at the fountain at the highest part of the Broad Walk. Go straight over the Broad Walk and keep to the right to run along the edge of the zoo. Cross over the Outer Circle and then Prince Albert Road. Once in Primrose Hill Park, turn right and run to the far edge, then turn left and run at a slight diagonal and make a left to run up to the top of Primrose. Head back down towards the Elsworthy exit and go out and turn left on Elsworthy. At Avenue, turn left and cross where you can, then turn right on Acacia to head back to SJW High Street.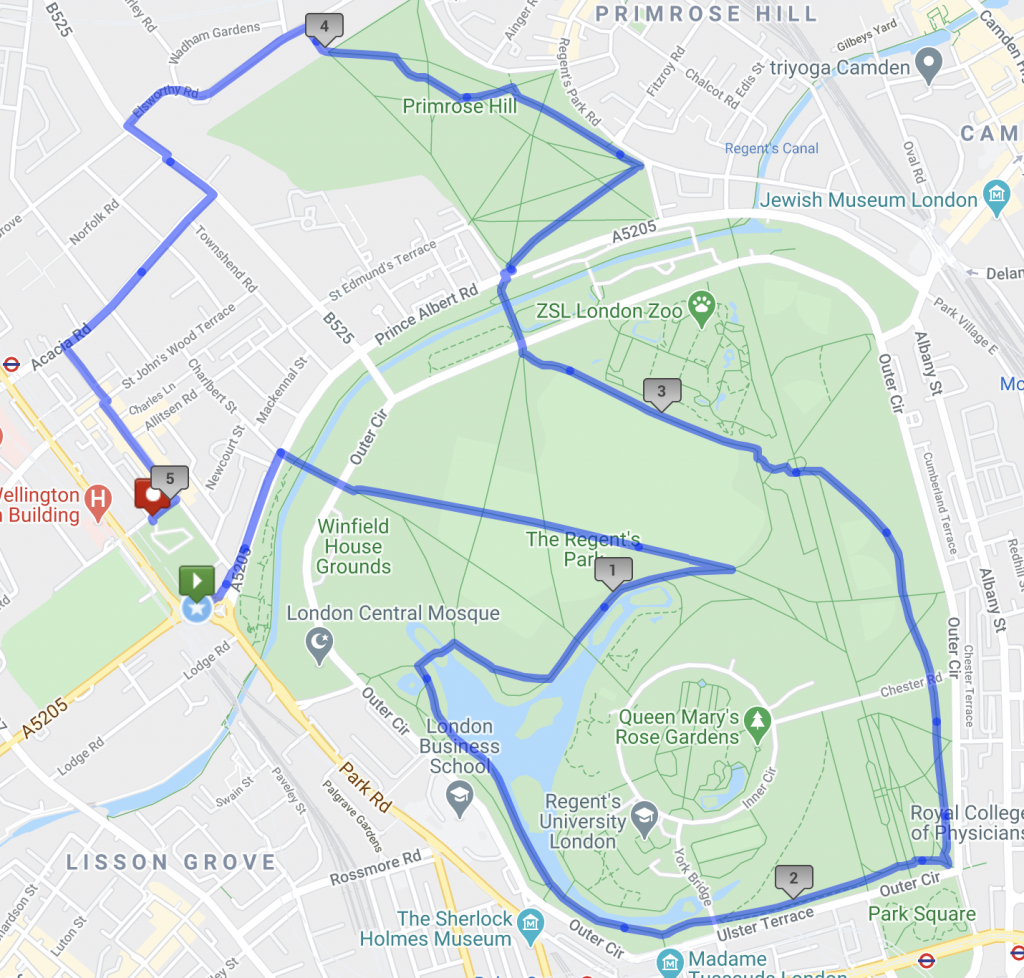 Friday, October 2 – Reverse Heath Routes (5-8 miles)
8s and 10s pace groups – Hampstead Heath via Thurlow Rd
RunGo link: https://routes.rungoapp.com/route/i8RgRtOTQE
From the Church Gardens, cross SJW High Street and take either Greenberry St or Barrow Hill Rd to Bridgeman St. Turn right onto Allitsen and left onto Charlbert. Take a quick left and then a right onto Ordnance Hill and run up to Swiss Cottage. Pass the tube and turn right onto Belsize Lane. Take the first left onto Daleham Gardens, keeping left onto Akenside Rd. Turn right onto Lyndhurst Rd and then the first left onto Lyndhurst Terrace. Turn right onto Thurlow Rd and run straight until you enter the park. Take the first path on the left and follow the curve to the right between the two ponds. Then… follow the directions below for your distance/hill preference.
Parliament Hill – 6 miKeep running straight to go up Parliament Hill the way we normally do. At the top, take a left on the dirt path and veer to the left at the second path and then turn left at the next path. Veer to the right and shortly rejoin the path we usually run down (turn right to go up the hill). At the entrance to the Heath, turn left and run back via Fitzjohn's and to SJW via SJW Park/Ordnance.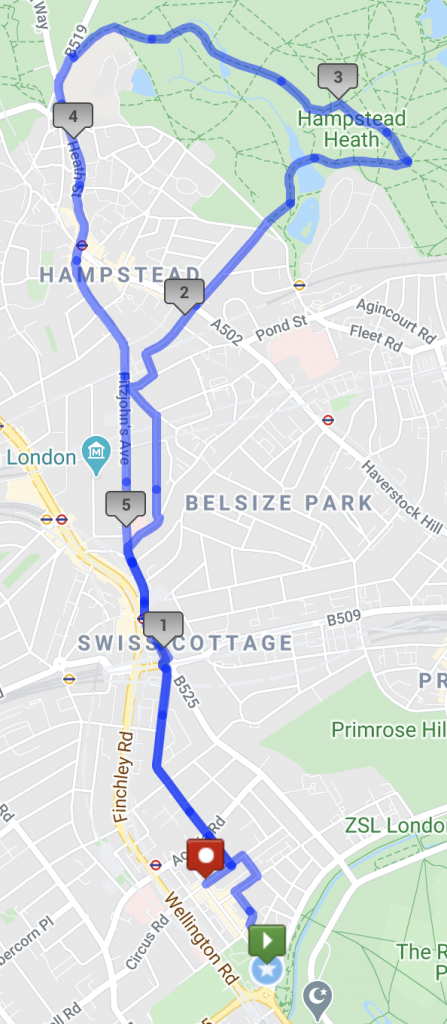 9s and 11s pace groups – Hampstead Heath via Elsworthy Rd
RunGo link: https://routes.rungoapp.com/route/OGdOHtpFkK
Exit the church gardens at the gate on the St Johns Wood High Street side, cross the street, and run a short distance to make a right on Allitsen Road. Make a left on Townshend Road and follow it to its end, then make a right on Acacia Road and a quick left on Avenue Road. Cross Avenue at the first crossing to run down Elsworthy Road. At the end of Elsworthy, turn left onto Primrose Hill Road and follow it until you turn right onto England's Lane. At the end of England's Lane, cross Haverstock Hill and go right just to take a left onto Parkhill Rd. Follow Parkhill to its end, then take a right onto Mansfield Road and a left on Roderick Road. At the end of Roderick, you will see the Heath entrance across the street.
Elsworthy to Heath Reverse 6 – 6.4 milesOnce you enter the Heath, turn right and run along the path above the track. Turn left after you pass the cafe on your left. Run straight along the path until you reach the end of the second pond. Turn left and run straight along the path until it reaches a T. Turn right and follow the path as it curves gently and then joins up with the path we take to enter the Heath on our standard 6-mile route. Exit the park at Spaniards Road and turn left to run down Heath Street and Fitzjohn's Avenue to Swiss Cottage. From Swiss Cottage take St Johns Wood Park to Ordnance Road and turn right on St Johns Wood Terrace to end on the High Street.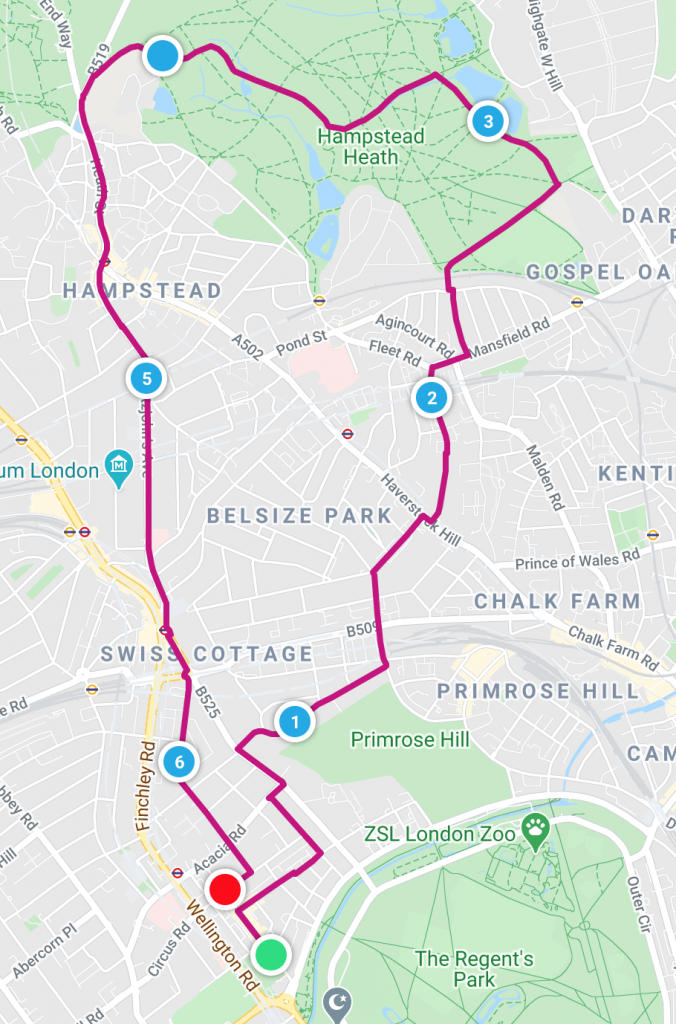 Click here for maps of all of the Heath routes.