Hello Runners!
Running up the hill yesterday, I overheard a dad walking his kids to school. 'See?' he said, 'Here comes more of the running group.' And he said it in a nice way, just pointing us out as a local fixture in the neighbourhood, coming up the hill in waves on a Friday, as usual. His comment gave me a contented sense of belonging– here we are, doing our running thing, day after day, all about our city, where some people have come to recognise and expect to see us. Looking through the photos this week gave me a similar feeling– there's so much going on within our group, and yet we all share this experience and hopefully, a sense of WRW belonging– whether passing out the golden batons from the Ragnar Relay win (a shoutout to the amazing Crazy 8's team!), smiling up the hill to Holland Park (go 10s!), hearing race and training tips from an accomplished marathoner (Kelly and the 11s!), working up to more mileage after long injuries (looking strong, ladies!), or smiling with a favourite alum in our midst after a tough tempo workout (Kathy McMahon and the 9s!). I hope you all feel you've found a comfortable place within WRW! For the several ladies who've just joined us– or anyone who's been with us but may be struggling– please feel free to get in touch with me if you need help settling in.
Running this week. Monday we will run a 9-mile loop route through Regents Park, around Hyde Park/Kensington Gardens and back to St Johns Wood. Our Routes Team has created this option to also be a go-to route for anyone who needs to get in longer mileage but doesn't have time for a destination run in any given week during this season of longer training runs. It's also a great alternative if we get a Monday with particularly bad weather or icy conditions. Please check the description and map below, and we'll set up a link and keep it handy for you in future e-mails! On Wednesday we will continue the optional tempo training with Pyramids, previously called diamonds (we've done a geometric reassessment!), in Regents Park. These faster-tempo timed intervals are explained fully in the Routes writeup below, but in summary they are graduated, short intervals of hard running, interspersed with 3-minute recovery jogs. Remember to keep that recovery jog slow, and to regroup during the jog so your pace group can all begin the next interval together. If you are not doing tempo work, we suggest a 5-6 mile route of your choice. And Friday we will head back up the Hill again, aiming for another round of the Full Heath 8-mile route– it's a challenge, it feels great to complete it, and we are on a mission to 'learn where to turn' on it!
Training notes. As our long run mileage continues to slowly grow, I can't help repeating that it is meant to be, indeed, the long, slow, distance (LSD) run. Here's the link again to a good pace calculator that can help you see what your training pace should be in order to hit your desired race pace. If you notice that your long run pace lines up with a much faster race pace than you expected, maybe you will want to consider slowing down the Monday runs– or maybe you'll want to revise your race goals!
Another thing to think about as we move into the long runs is what type of fuelling you'll use during the race. This is different for each runner, but our WRW founder, Paula Mitchell, left us with some general guidelines. The rule of thumb is that after about 80-90 minutes of running you'll have used up your natural fuel sources and you'll need to top up the tank with something. That's based on the type of running most of us are doing– if someone is running a marathon at a 6 min/mile pace, their fueling needs will be different! Most of the women in this group use some sort of sports gel in a half marathon. If you've never used a sports gel before it is crucial that you try it out during some of our long training runs. The gels are very concentrated so a brand that might work well for one person could make another person feel sick. Some people like the gels, which have a consistency of jelly or frosting; and some people like blocks or chews, which are similar in consistency to a gummy bear. Talk with the women in your pace group if you need suggestions. A good place to start is trying the Gu brand, which has a wide variety of flavors from blueberry pomegranate to salted caramel, some with caffeine, some without. It's worth stocking up now so you'll have them for our longest runs. You can find a variety of different brands of gels and fuelling options in Runner's Need stores, or order them on the internet (Amazon has a good stock). And if you have some leftovers at home, make sure to check the expiration date because they don't last forever.
We'll review this again before the race, but in general during a race you would take a gel somewhere between 7-8 miles and then not take another one for 35-45 mins. (Don't be tempted to take more than one gel in 30 mins!) If you don't want to get into too much of the science of it all, Paula recommends that you take a gel at 8 miles during the race if you're running at a medium pace for you (not as compared to anyone else) or 7 miles if you're running at a faster pace for you. In a 9 or 10-mile training run, many of us will take a gel around the 7-8 mile mark. Even if we don't feel we desperately need it at that point, it gives a boost for those last few miles, helps us feel better at the end of run, and gives us practice taking a gel. If you are interested in learning more about fuelling, Paula's full note is here.

Announcements and Shoutouts. Carmine Najjar quietly ran the Naples Daily Half Marathon in Florida last weekend! She was in good company, having a chance to meet the inspiring and formidable Jeannie Rice, the 70+ year-old, record-holding marathoner. See our WRW facebook page for the message Jeannie sent us via her new friend, Carmine! The entry ballot for next fall's Royal Parks Half Marathon (October 11, 2020) will open this coming Tuesday, Jan. 28! This has been a popular run for our group in the past, though it is difficult to secure a ballot spot. Here is the link for entry. Coming up much sooner is the Vitality Big Half Marathon, which takes place in London on March 1. Though the race has sold out, we've received an offer of charity places from the Royal Society for Blind Children (RSBC) for only a £300 fundraising commitment. Their deadline for registering runners is coming up very soon, so register with them here right away if you are interested in running for them. And finally, just a reminder that our annual Kit collection and race payment day has been scheduled for Tuesday, February 11. Details will follow, but please plan to either pickup and pay in person that morning, or have a friend take your payment and collect your kit!

Save the date. Our hard-working Routes Team met this week and made some updates to the upcoming schedule! If you've already put in the runs as listed in the last couple weeks, please have a look and update your calendar!
Sunday, 9 February – Cancer Research UK London Winter 10KTuesday, 11 February – WRW Kit pickup and race payment date!*Wednesday, 12 February – Canary Wharf w/Regents (10 miles) — *(long run that week suggested for Wednesday because of the large number of runners doing the 10k on Sunday)
Monday, 17 Feb – Friday, 21 Feb – February break for ASL, no official running scheduleMonday, 2 March – Canada Water (10 miles)
Monday, 16 March – Kew Gardens (11 miles)Thursday, 26 March – Depart for Prague!
Thanks for persevering through this long e-mail. I hope you are having a wonderful weekend, whether you are celebrating Chinese New Year, Burns Night, or simply the warmth of home on a cold, grey afternoon! Can't wait to see you Monday morning at Barclays!
xx Micki
ROUTES
Monday, 27 January – Hyde Park with Regent's Park Extension (9 miles)
Begin with the usual route to Hyde Park, turning right at the sliver sphere once you enter the park. Cross over N Carriage Rd and keep going until the very end of the park. Turn right to exit the park, then left on Bayswater Road. After just a couple of blocks turn left again, passing through a guard booth and onto Kensington Palace Gardens. Run on the left side of the road for most of the length of the street, and then turn left after a stretch of fenced garden, when you see the first entrance into Kensington Gardens, on a small road called Palace Avenue. Pass the Palace on your left, turn right on the Broad Walk…back in familiar territory…left at the base of the park, and follow all the way around the perimeter to exit at the Animals in War Memorial, onto Upper Brook Street, and left on Park St, crossing onto the right side of the street. Proceed about a mile and keep an eye out for the Windsor Castle pub on your right, shortly after which you will turn right down a path called Kent Passage into Regent's Park. Turn right on the Outer Circle, left at York Bridge, left into the Inner Circle, and left through the gate after the big gated driveway marked "The Holme". Follow the path straight across the park to exit at Charlbert St and head back to Starbucks.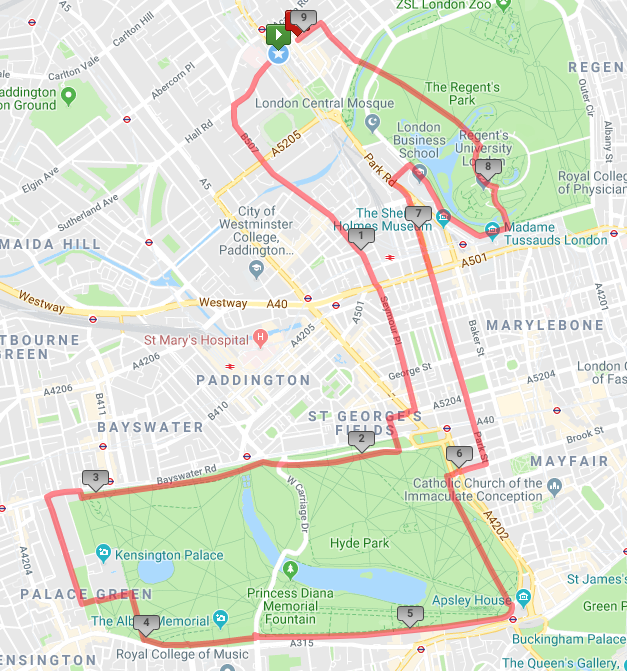 Wednesday, 29 January – Regent's Park Tempo DiamondsHead over to Regent's Park the normal way. Enter the Park at the Charlbert entrance and veer to the left path. When you reach the first intersection with the other sidewalk, it is time to turn on your running jets. You will run hard for 1 minute, then recover by running slowly for 3 minutes; then run hard for 2 minutes and recover by running slowly for 3 minutes; then run hard for 3 minutes, recover run slowly for 3 minutes; run hard for 2 minutes, recover run slowly for 3 minutes and finally run hard for 1 minutes, recover run slowly for 3 minutes.
The 'diamond' looks like this:
1 minute hard 3 minutes jogging recovery
2 minutes hard 3 minutes jogging recovery
3 minutes hard 3 minutes jogging recovery
2 minutes hard 3 minutes jogging recovery
1 minute hard 3 minutes jogging recovery
If you've been doing consistent tempo work and would like a challenge you can up your game with the following:
2 minutes, then 3 minutes recovery
3 minutes, then 3 minutes recovery
4 minutes, then 3 minutes recovery
3 minutes, then 3 minutes recovery
2 minutes, then 3 minutes recovery
If you need to extend the amount of time for the jogging recovery, that's fine, you can jog up to twice the amount of the hard run time [so 6 minutes max recovery jog for the 3 min hard run]. This type of running is best done within the park so you don't have to contend with driveways, etc. If you find you need more mileage in Regent's Park, just keep looping however you see fit.
Friday, 31 January – The Heath (8 miles)Run down Circus Rd past Starbucks to the end and turn left on Townshend Rd. Turn right on Acacia then left on Avenue. Cross diagonally over Adelaide Rd to run past the Swiss Cottage tube and proceed up Fitzjohn's Avenue. Run up the hill to the Hampstead Heath Tube. Continue up Heath St (to the left of the Tube) all the way to the stoplight at E Heath Rd. Cross at the light, continue past the roundabout, and enter the Heath at the first trail entrance on your right. Follow this major trail down past Lime Avenue and other smaller trails, fields and forested areas. As the trail starts to veer right, take the sharp left to run up Parliament Hill. Enjoy the spectacular vista (and catch your breath before continuing down the other side of the hill, keeping left when the path splits and taking a sharp left at the bottom of the hill. Run past three ponds on your right, turn right after the third pond and up the rise to a wide gate (loos on your left here). Go through the gate and turn left along the eastern edge of the Heath. Follow the path downhill then up until you reach the gate on the left that marks the entrance to the Kenwood House grounds. Enter the grounds, turn right to run past Kenwood House, then right again through the gate onto a gravelly path. Follow the path through a gate, and stay on the path as it bears left and passes a wooden bench on the left. Keep your eye out for a small clearing ahead on the left with another bench — when you see it (but before you pass it!) take a hard right down a steep path that crosses a small bridge and heads uphill again. Turn right at the main trail intersect (this is the same trail you ran down at the beginning of the Heath, in the opposite direction) and run back up to where you entered the Heath. Turn left on Spaniards Rd and retrace your steps all the way back to SJW and Starbucks.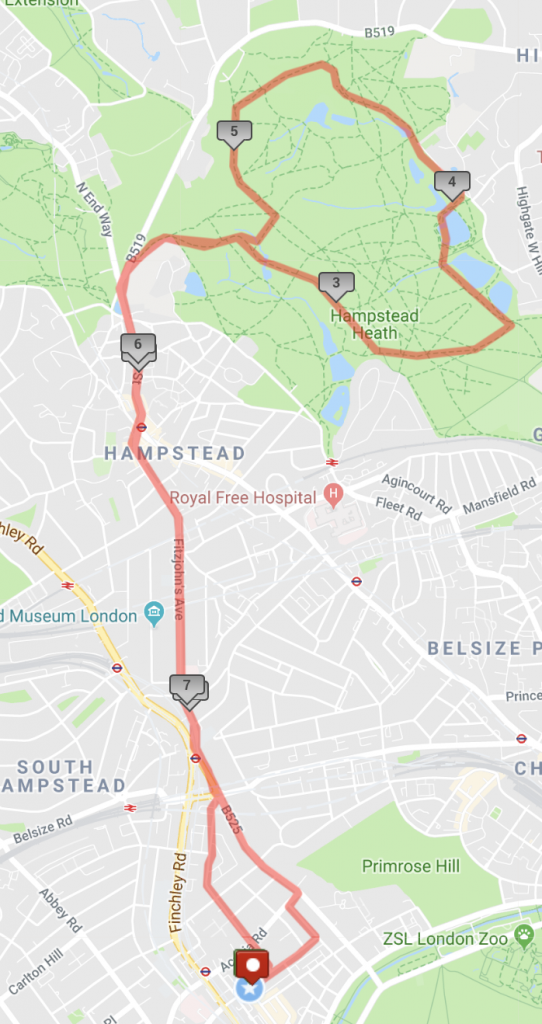 If you are not up for a hill run, no problem. Every week there are a group of women who prefer to do a flat run. We can help make sure that you find each other.
4 miles: A great way to ease into running the hill. Run up to the Hampstead tube station and back. If you have trouble running up, think about how easy it will be running down!
5 miles: The Betsy Route
6+ miles: The partial Heath route OR the Reverse Heath route OR Pergola route
7.5 miles: The Highgate route
8 miles: The full Heath route

Click here for maps of all of the Heath routes.