Hello Runners!
Here we are, at the last e-mail and coming onto the last 'official' week of WRW running for the 2021-22 year.  But before we get to the goodbyes, how about a quick look back to the fantastic runs we had together last week?  The Tower may not have been fully blooming yet, but the run to Tower Hill never disappoints, especially when the weather is fine– and despite the forecast for the week, we had some very fine days.  And what a great turnout we had for the Sights of London/Leavers' Run on Friday, followed by the 2nd Annual End-of-Year Picnic in Regents' Park.  Everyone looked so relaxed and happy (and summery!) at our casual gathering.  I had to join a little late, and it was a beautiful sight to walk up to all of you gathered– all together!— in the green and sunny park.
Running this week.  On the last Monday of every running year, it's tradition to do one last run to Big Ben.  Even though we actually just did this run– with the 'Sights' run rescheduled to last Friday– we are going to keep it on the schedule.  It's tradition, after all, and still a great route.  With any luck, more of the barriers from the Platinum Jubilee will be down and we will be free to run the parks again.  It's just 4 miles to the Westminster tube station if you need to get back for your end-of-year to-do list, or you can carry on from there or run back to SJW.  And for Wednesday, our last official run of the year, we'll do a quick tour of Regents Park, with the 5-mile Regents' Park/Primrose Hill loop.  From Friday, we're on our own to organise our runs independently for the summer.  Which brings us to…
Announcements and Shoutouts.  Though most of us are connected to our pace groups via Whatsapp chat, one of the great things about running in London if you are around in the summer, is getting to run with people from other pace groups!  We open a WRW Summer Running Whatsapp chat each year to help facilitate meeting up and planning.  Many of you may already be on this, as it's a continuation/revival of last year's group, but I would encourage anyone spending time in London this summer to try connecting and making friends across our usual pace groups.  The link just above will get you connected.
If you hear of anyone who would like to join the Beginner's class of 2023, please connect them with us or pass along their contact info to [email protected].  As anyone who has been through this program knows, it can be an amazing, life-changing experience!  The program is for people who have truly never been runners before.  It starts out with one-minute intervals at a very slow jog, so is not appropriate for anyone who is able to run even a mile or two.  Our regular M-W-F group can help people who have been runners before ease back into it and work up to joining our M-W-F runs.
A shoutout to Rebeca Ernrooth of the 8s, who (a little birdy told us) paced a friend the last 50 miles of a 100-mile race on the South Downs Way last night.  What amazing support!  Though there is no weekly e-mail through the summer to keep track of the shoutouts for all the amazing things you all are doing, I would love to hear about them.  Keep us up-to-date on your adventures– maybe there will be a summary of shoutouts at the beginning of the next running year.
Yes, we are still doing e-cards for the Leavers!  Stay tuned for the links in a separate e-mail, so you can sign and post photos for our WRW friends who are moving.  Cards will stay open for signing until one week from today (Sunday, June 19).  Instead of a WRW e-mail on that day, our leaving friends will receive their cards via e-mail.
And finally… Closing out the last e-mail of the year, you know that I will wax both grateful and nostalgic.  First, I am so grateful for all of you– that you keep showing up day after day and week after week for yourselves and for each other!  And I am so very glad we have been able to run together this full year.  Even with some early masking requirements and ongoing concerns regarding Covid exposure and isolation protocols, it's been a joy to return to running together without all the restrictions we faced over the previous two years!  And I am thrilled that we managed to get back to our destination half-marathons, with a grand-slam of an event in Berlin, thanks to the Herculean efforts of Sue Wheeler and team!  Maybe a few years ago we would have taken all of these things for granted, but the perspective we've all gained over our pandemic years begs us to take a moment and appreciate every single wonderful thing we've been able to add back into our lives this past year!
And now for the nostalgic… every year, we rush up to this week and the end of the school year with the same blinding speed at which we do our interval training on Wednesdays in January (😉)!  And then we reach the end, it's over, and we are out of breath but we can't believe it went by so fast.  It's hard to say goodbye to our friends who are leaving, but as we say each year, every alum we add to our ranks just reinforces our group name and identity– we are running the world, after all.  To those of you leaving London, as well as to those already reading this from abroad: you will always be a part of WRW!  And as we were reminded this year when we finally got to reunite with so many old friends in Berlin, reunions are wonderful!  To those of you returning to London next fall, I can't wait to build the 2022-23 version of WRW with you (our first official run will be August 31st)!  
Sending love and wishes for a fantastic summer for all… 
xx Micki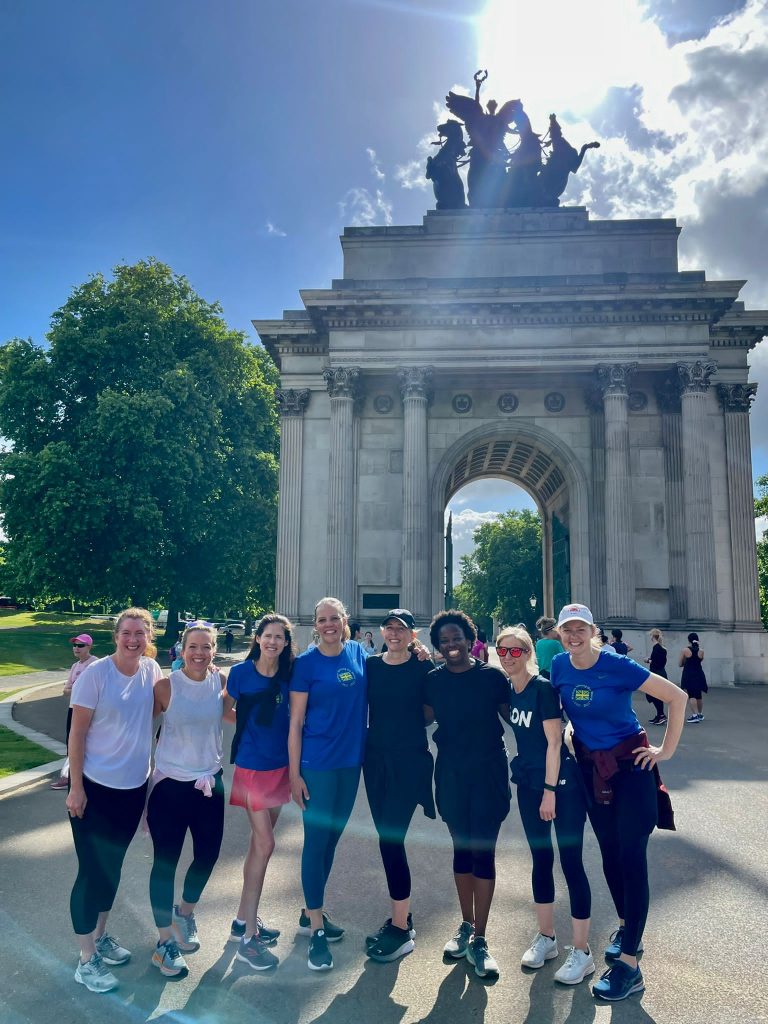 ROUTES
Monday 13 June  – Big Ben (4-8 miles)
RunGo:  https://routes.rungoapp.com/route/JDPjKnb1VC
Traditionally, we run Big Ben on the first and last Monday of the WRW running season.  We all know the way by now – choose your distance!
Head to Hyde Park via the usual route. Start heading west on Circus Road and turn left on Grove End and follow south as it becomes Lisson Grove. Cross over Marylebone Road and continue on Seymour Place until the end. Turn right and cross over Edgware Road and then left to enter Hyde Park at the intersection with Stanhope Place.   Run along the eastern edge of the park to Hyde Park Corner, under Wellington Arch and down Constitution Hill. Run along the edge of Green Park, past the Victoria Memorial and cross The Mall at the traffic light. Run down The Mall and enter St. James Park.  Run over the bridge across the lake and out of the park, turning left onto Birdcage Walk and down into Parliament Square to Big Ben. Those running four miles will take the tube back to SJW from here and those running eight will turn around and follow the same route back.  You can also make it a five-mile run by turning back at Big Ben and running to the Green Park Tube Station, then tubing it home.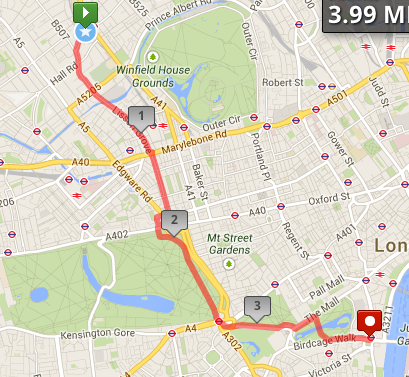 Wednesday 15 June– Primrose Hill/Regents Park Loop (5 miles)
RunGo: https://routes.rungoapp.com/route/S0AwJViBrd
We'll keep it close to SJW for our final run of the year for those who need to get back home quickly.
Start out as if we're headed for the Heath, running down St Johns Wood Terrace until it reaches the T.  Turn left, then right, then left again at Avenue Rd.  At the crossing just a short distance up  Avenue Rd, cross over and run down Elsworthy Rd a short distance until you see a small road on the right that ends in the entrance to Primrose Hill park.  Once in the park take the path that angles to the left, then bear right at the first fork and left at the second.  This will take you up for a fantastic view from the top of Primrose Hill.  After you've caught your breath, take the path that goes down on the right (if you are looking out toward London), then curve around to the left at the first split.  Follow this path all the way down the hill to the crossing at Prince Albert Rd.  Cross at the zebra and head straight into the park via the bridge and across the Outer Circle (NOT a zebra, please note!).  In Regents Park, take the path that angles to the left, running behind the zoo.  Cross the Broad Walk by the fountain and continue across on the path that heads toward, but not all the way to, the perimeter of the park.  Follow this to the far corner, and then turn right to run along the southern edge of the park, inside the fence.  Continue to follow this around  the boating pond to run across the little bridge at the far end of the pond, then bear right to follow the contour of the pond to its end.  Continue on the same path until it meets the diagonal path that runs behind the zoo (the same one we ran in on).  Turn left to follow that to its end and then turn left onto the Outer Circle and follow it for a short distance to the crossing at Charlbert.  Exit the park and take Charlbert to St Johns Wood Terrace to finish at our Starbucks/Pret corner of the High Street.