Hi Everyone,
After a beautiful day on Monday, we had a bit of bad luck with rain on Wednesday and Friday. Well done to everyone who braved the weather and made it out to run. (When we're faced with major rain, we may adjust the course to run a shorter distance, loop back to St. John's Wood and/or avoid the slippery leaves on the canal path.) I loved the Halloween running outfits especially Yianna's flapper costume complete with dress, hat and jewellery!
This week we're continuing with the Halloween theme as we run on Monday through the Brompton Cemetery and end at the Whole Foods in South Kensington. The Brompton Cemetery is one of those hidden London jewels! It was opened in 1840 and designed to be a garden for recreation as well as providing burial space. The cemetery covers 39 acres and 205,000 people are buried there including the famous suffragette Emmeline Pankhurst. To top it off, the South Ken Whole Foods has a large seating area for sharing a post-run coffee. I hope you can join the run! Wednesday is The Wall and Friday we're back up the hill.
Half Marathon travel update

If you're planning on going on the trip but just haven't booked your hotel room yet please try to book soon. It looks like we may need to add rooms to our block and we want to do that before the race registration opens and the hotel has an influx of other runners looking for rooms.
After you book please send an email to Kathy Anderson ([email protected]) with the following information: room type, roommate name (if applicable), and flight details. We want to make sure that our list matches the hotel list (and we've already caught a few inconsistencies so it's important that you do this).
For example:
Hotel: Classic Double, roommate is Paula Radcliffe
Outbound flight: Friday BA 0346 departs 8:55
Inbound flight: Monday BA 0343 departs 11:50
A big thank you to Kathy for taking on this job!
Keep running,
Jane
ROUTES

Monday 2 November – Whole Foods via Brompton Cemetery (6.5+ miles)

Today we'll earn our post-run treat by ending at Whole Foods on the Kensington High Street!  Bring your shopping list if you want.

We start out the normal way to Hyde Park.  Once you enter the park, turn left and run along the east side of the park.  At Hyde Park Corner turn right and run along the south side exiting at the gate we normally use at William Street [next to the French Embassy].  Cross the street, take a right.  Turn left at Brompton Road (just past the tube) and take Brompton all the way (admiring Harrods as you pass) until Fulham Road.  Veer left on Fulham Road and continue to Brompton Cemetery.  Turn right to enter the Cemetery.  Run through the Cemetery then exit and turn right onto Old Brompton Road, then turn left onto Earls Court Road. Cross Cromwell Road, then turn right onto Cromwell Road and then turn left onto Marloes Road. Continue north on Marloes making your way through the streets to Kensington High Street.  Whole Foods will be to your right.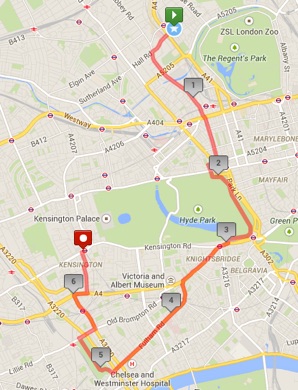 Wednesday 4 November – The Wall (3 to 6 miles)

We head down towards Regents Park, then enter the canal at the Charlbert entrance and run east [left] cutting through Camden Lock Market until we run out of canal path at Islington and hit "The Wall".  At The Wall, we turn around and head back to St. John's Wood.  This is a great route to do a tempo run because there are no traffic lights.  But please be careful and aware of the bikes on the path.

If you run all the way to The Wall and back it is 6 miles.  But it is very easy to run half the distance if you want and turn around and head home.  As a marker, if you run to the Camden market (where we have to exit the canal path and run past the food stalls for a minute) and return home it is a 3 mile round trip.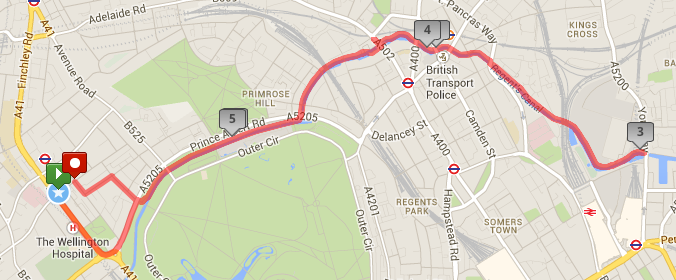 Friday 6 November – The Heath (4-8 miles)
We run up the hill on Fridays–it's tradition! It is hard, but you'll feel great when you are finished.
If you are not up for a hill run yet, no problem, just let us know.  Every week there are a group of women who prefer to do a flat run.  We can help make sure that you find each other.
4 miles:  A great way to ease into running the hill.   Run up to the Hampstead tube station and back. If you have trouble running up, think about how easy it will be running down!

5 miles: The Betsy Route

6-7miles:  The partial Heath route

7.5 miles: The Highgate route
8 miles:  The full Heath route

Click here for maps of all of the Heath routes.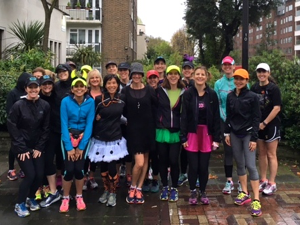 Saturday, October 31, 2015
<![CDATA[]]>
<![CDATA[]]>