Hi Runners,
I hope you're all recovered from our amazing race and ready to get back to some fun runs in London. On Monday we head to the Whole Foods in Piccadilly. This is a good route with a nice incentive of good food and good shopping at the end – what more could you ask for?! Wednesday we're doing the Kensal Rise loop and Friday we're back up the hill!
Keep Running
I know it's tempting now that our big race has finished to take a break from running. Especially as life gets increasingly busy as the end of the school year approaches. However, the best thing you could do for yourself is to keep running over these last few months of the year and over the summer. You'll hang on to the fitness level you built for the race and you'll start the fall ready to run.
Spring, Summer or Fall race?
One of the best ways to keep running is to sign up for a race. Having that race on your calendar will motivate you to train.  Even a short local race can make a difference. Or you may want to consider signing up for a half marathon in the fall. We have a group that is doing the Royal Parks Half Marathon on 11 October. The lottery spots for that race are full but there are still charity openings if you want to commit to raise money for a charity. The Windsor Half Marathon is on 27 September. This is supposed to be a beautiful race, but it is a bit hilly.
Welcome to Ex-Beginners!
We're excited to have the ex-beginners join our MWF group! As a reminder, we have five pace groups (8s, 9s, 10s, 11s, and 12s) but the groups are really just a simple way to organise folks who run at roughly the same pace. Most beginners start in the 11s or 12s. There is a big group of ex-beginners, so wherever you end up there will be other ex-beginners with you. We all know that joining the big group can be intimidating at first, but please know that the first day is the hardest.  Everyone is so friendly that you will quickly fit right in.  Also if you find that on the first day the group that you are in is too fast or too slow, don't worry.  It may take a few tries to get a sense of where you should be. (It's easier to join the MWF group in the spring, because in the fall there are many new runners that just moved to London.) As a reminder we meet at Barclays at 8:15, and we try to start running at 8:20. Let me know if you have any questions about the pace groups or the MWF group.
I'm really looking forward to seeing everyone!
Jane
ROUTES

Monday 27 April – Whole Foods Piccadilly – 6.5 miles
This is always a fun route.  We start out heading east on the canal and run to the Wall.  We'll exit the canal there and turn right onto Rodney, which will turn into Penton Rise, then King's Cross Road, and eventually Farringdon, which we will stay on until we reach the embankment.  We then turn right and run along Victoria Embankment to Northumberland (just past Embankment Tube Station).  Turn Right onto Northumberland and run through Trafalger Square onto Cockspur and then turn right onto Haymarket.  Take Haymarket into Piccadilly Circus and turn left onto Coventry. Run through Piccadilly Circus, cross the street and onto Glasshouse Street, where you will see Whole Foods.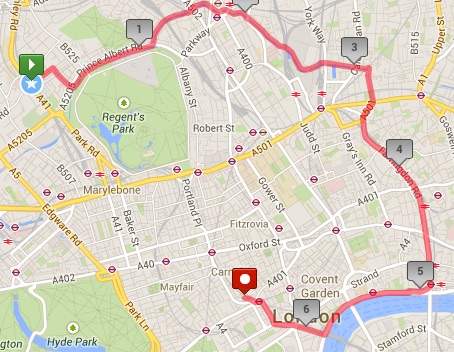 Wednesday 29 April – Kensal Rise-4-6 miles
The beginning of this run takes us along the canal to the west.  Please be aware of bikes along the canal and move into single file whenever you hear a 'bike!' shout.
Start out heading west on Circus Road, turn left on Grove End to St John's Wood Road and go west, working your way to the canal entrance on Blomfield.  Enter the canal heading west and run to the Ladbroke Grove exit.  Here we turn right and run over the bridge along Chamberlayne Road to Harvist Road. Turn right on Harvist, which turns into Brondesbury Road, and take that to Kilburn High Road/Maida Vale.  Turn right and follow Maida Vale to Hall Road where you turn left and run back to Starbucks. If you want to shorten this route, run west on the canal and turn back at your desired half-way point.
(The two mile mark is at the point on the canal when the Westway highway is over our heads.)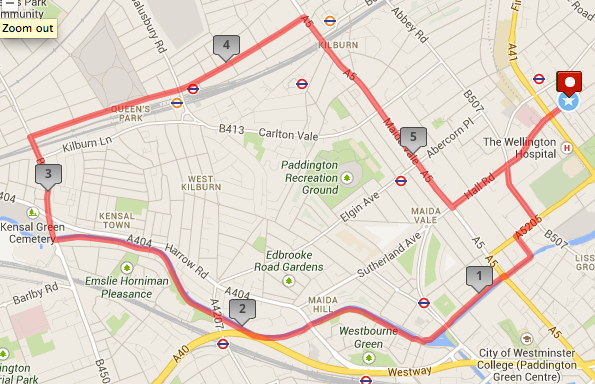 Friday 1 May – The Heath!
It's Friday [again!], so everyone up Fitzjohn's.  You can pick your distance and whatever you choose, there will certainly be someone else interested in running that distance.  All of these routes are on the website.

4 miles:  A great way to ease into running the hill.   Run up to the Hampstead tube station and back.
5 miles: The Betsy Route
6-7 miles:  The partial Heath route
7.5 miles:  The Highgate route
8 miles:  The full Heath route 

Click here for maps of all of the Heath routes.