Hello Runners!
How is it May already?  What a great way to close out April, though, with the five gardens of Regents Park, the pergola, and even a Pop-up Meadow in Trafalgar Square last week– all of which made for stunning photos!  I know some runners made the trek to Olympic Park last Monday (I love that run!) as well, so bravo for keeping that route alive!
Running this week.  Monday is a holiday (again?) so we don't have an official route.  For those who are in town, take the opportunity to run your favourite route with friends, on your own schedule!  Wednesday is May 4th… yes, as in 'May the fourth be with you' (haha…groan!).  So with a slight nod to the Star Wars universe, we're rerouting the Kensal Rise route to pass the Abbey Road Studios, where the scores for the Star Wars films between 1980-2005 (Empire Strikes Back, Return of the Jedi, and the prequel trilogy) were recorded by John Williams and the London Symphony Orchestra.  Be sure to let your favourite Star Wars riff play in your head as you pass the studios!  And Friday, of course, is the first Friday of the month, so we will head to Borough Market!
Announcements and Shoutouts.  There are so many races coming up!  Tomorrow we have several people running the Vitality 10K through central London– have a great run, all  (shoutouts coming for you next week)!  And next Saturday, May 7, Miki Neant will take on the Centurion Thames Path 100— a 100-mile race beginning in Richmond at 9:30 Saturday morning and finishing 16-28 hours later on the grounds of Oxford University.  What an undertaking– good luck, Miki!  Fellow 8s Francesca, Kelly and Bjorg will crew her for the second half of the race (she is required to run the first half alone).  And then, just a week after running through the night with Miki, Francesca Rangheri will run the Copenhagen Marathon on May 15.  This is a race, by the way, that she signed up for in 2019 and is finally getting to run after all the Covid cancellations!  Stay tuned for some additional news on the running challenges and events WRW ladies are taking on in the month ahead.  And please let us know if we're missing anything.  It's not easy to "keep up" with this bunch of runners!
Looking ahead.  We have a date for the Sights of London/Leavers run!  We're excited to be able to run it this year on Wednesday, June 1, the week of the Platinum Jubilee.  London should be looking its finest, and even if we encounter security barriers or detours, it will be fun to be out in the midst of preparations for this historic event!  For those new to this tradition, this is the one run of the year in which we all set out pretty much together, and we pause at various landmarks for large group photos.  We will end with coffee at a designated spot for all who can stay.  Also, by popular request, we are pleased to announce a year-end picnic on Friday, June 10 in Regents Park.  Born of necessity (social distancing rules still in place last spring!), this 2nd annual event is a fun, informal, self-catered chance to hang out together on a hopefully 'fine' afternoon in the park (raindate will be Monday, June 13).  The other events below are primarily the 'adventure runs'– which are destination runs that require a tube/train ride either to the start, from the finish, or both.  Because they take a bit more time out of the day, we want to give you plenty of time to plan if you want to join them.  But there will always be people who are running local rather than to the destination, so just connect on Whatsapp and find friends for your preferred route!  
May 9:  Hampton Court Adventure Run (8 miles)
May 16:  Alexandra Palace Adventure Run (5 miles, to Finsbury Park finish)
May 23:  Choose-your-own-adventure Pace Group Options*
May 30: Virginia Water/Windsor Adventure Run (7 miles)
June 1:  Sights of London/Leavers' RunJune 6:  Tower Hill in Bloom for Platinum Jubilee
June 10:  2nd Annual Year-end Picnic in Regents Park (12:30-?)*information coming to Pace Group Leaders soon!
Enjoy the rest of the bank holiday, runners!  As we gear up for some really fun runs in the weeks ahead, take care of yourselves, stay healthy, and enjoy your runs and this busy, crazy time of year!  Every once in a while when I feel like there is too much going on, I cast my thoughts back to the last couple of years where literally nothing could happen– and that just magnifies my gratitude for every run, every coffee, every meeting… every thing!  I'm so happy we get to run together this spring– see you out there soon!
xx Micki

ROUTES

Monday – bank holiday
Use the What'sApp groups to see who's running and choose your own route.
Wednesday 4 May 2022 – Kensal Rise, with a 'May the Fourth' nod to Abbey Road Studios (5.75 miles)
Run Go: https://routes.rungoapp.com/route/1rhb3AdSh7
Start out heading west on St. John's Wood Road and cross Grove End at the traffic light. Turn left on Cunningham, right on Aberdeen, and cross Maida Vale to the right side of Blomfield Rd. Stay on the right side of Blomfield Road as you run parallel to the canal. Turn left at the second bridge over the canal (at Westbourne Terrace Road), turn right just after the bridge, follow the sidewalk along Delamere Terrace, and join the canal path heading west at this point. Run to the Ladbroke Grove exit. Here we turn right and run over the bridge along Chamberlayne Road to Harvist Road. Turn right on Harvist, which turns into Brondesbury Road, and take that to Kilburn High Road/Maida Vale. Turn right and follow Maida Vale a short distance, crossing the road to turn left onto Springfield Lane, and then following that road as it jogs to the right. After two blocks, take another short jog to the right on Kilburn Priory, and then immediately left onto Greville Road. From there take a left on Carlton Hill, and then a right onto Abbey Road. You'll pass Abbey Road Studios on your right. Turn left on Circus Road to run back to the St Johns Wood High Street.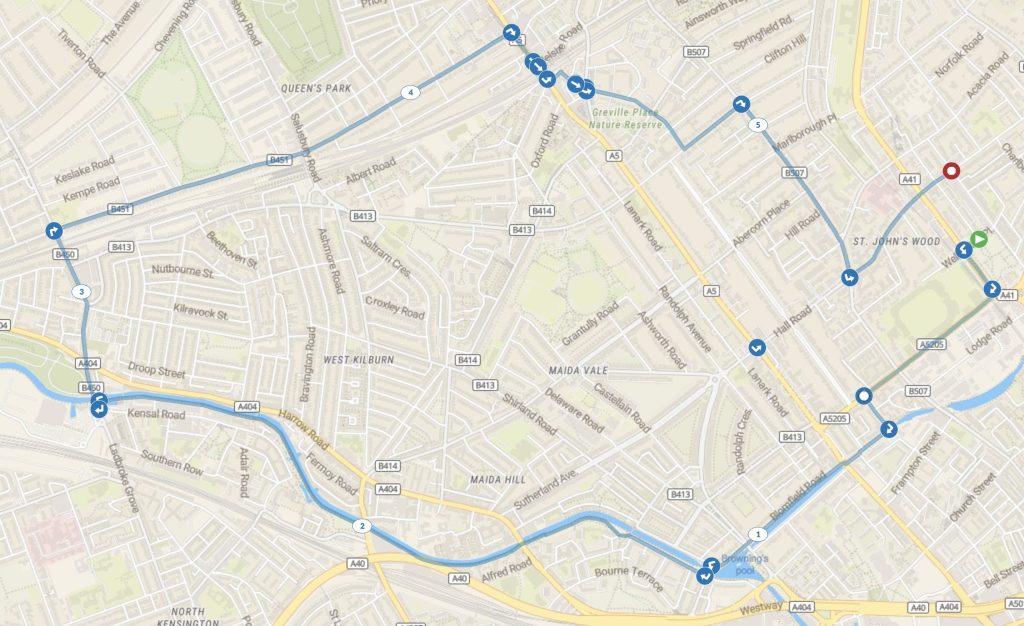 Friday 6 May 2022 – Borough Market (6 miles)
RunGo:  https://routes.rungoapp.com/route/6U5vDjwEEA
It's First Friday so let's do our Borough Market run! We can grab coffee at Monmouth or Rabot Estates before doing any shopping and catching the tube at London Bridge station back to SJW. Don't forget your mask and your contactless card! We start by heading to Hyde Park via the usual route. Head west on Circus Road, turn left on Grove End Road. At the corner of St. John's Wood Road and Grove End Road, cross diagonally at the light and continue south on Lisson Grove. Cross over Marylebone Road and continue south on Seymour Place until it tees into Seymour Street. Turn right and cross over Edgware Road and then take the first left on Stanhope Place to enter Hyde Park at the intersection with Stanhope Place. Run along the eastern edge of the park to Hyde Park Corner, under Wellington Arch and down Constitution Hill. Run past the Victoria Memorial, cross The Mall at the light and turn right at the grand wrought iron gates into St. James Park. Run over the pond and out of the park, turning left onto Birdcage Walk and down into Parliament Square to Big Ben. Continue past Big Ben and cross Westminster Bridge. After the bridge turn left down the stairs to run along the Thames until the river path ends after Southwark Bridge. Just past Southwark Bridge, head right and then a quick left to go into a short tunnel that puts you onto Clink Street. Make a right on Stoney Street to get to the market (and Monmouth Coffee or Rabot Estates!).