Hi everyone,
We've had a great start to the running season! It was wonderful to see so many of you gathering in front of Barclays. Even on a cloudy/rainy Wednesday we had a record turn out. And nothing, even being soaking wet, can keep us from coffee afterwards!
To the new runners, we're so glad you've joined us! To the returning runners, thanks for being so friendly and welcoming to our new runners- keep it up!  We have more new runners starting this week. To everyone, if the runs last week were too slow/fast or too short/long – Don't give up!! It often takes a few sessions to find the smaller group of women that run the right distance/pace for you. (If you need some help/guidance linking up with someone, just let me know.) One runner said to me, "Wednesday was really difficult and I almost didn't come back, but Friday was great. Now I'm hooked!" I know the first few runs after the summer can be challenging. Stick with it and I promise it will get better.
As a reminder to the new runners, we meet in front of Barclays Bank at the corner of Circus and Wellington Roads at 8:15am so we can start running at 8:20. If you are new to the group, I have a new orange and blue hat so you can find me in the crowd. Come say HI!
Monday is a Bank Holiday so we won't have an official route. If you want to run, plan to meet at 8:30 at Barclays and we can decide a route on the day. Wednesday we'll head to the Wall and Friday we're back up the Hill. In each route, there are lots of options for mileage. As always, don't be tempted to do too much, too soon.
Late-Start Group

We're trying a new thing this year. We have a group of runners who can't make it to our regular 8:15am start (mostly because their children attend schools that start later than 8am) who are going to meet later to run together. The first day for the late-start group is Wednesday 2 September. They will meet at Barclays at 9:30 and do the same routes set for the 8:15 group. If you have a friend who would like to join this group, please have them email us.
Sidewalk awareness

We are such a large group! Please remember not to block the sidewalk when we gather at Barclays or when we stop at Starbucks at the end. We want to be good citizens of St. John's Wood.
T-Th Beginner Group

The first day for the new beginner group is Thursday 10 September. If you have any friends who are interested in joining, please have them email me. Remember that the beginner group is for women who have never run before.
Stay Tuned – Spring Half-Marathon Trip

We're hard at work behind the scenes trying to find a great race for our spring half-marathon. As you know, we have to balance many factors in choosing a race including timing, travel and finding a race that is appropriate for our beginner runners. We have our eye on a few races that look great, but they haven't announced their 2016 dates yet. Because of that, we probably won't announce the race until the end of September or early October.
Keep running,
Jane
ROUTES THIS WEEK
Monday 31 August – BANK HOLIDAY

If you would like to run, meet at Barclays at 8:30. We'll decide the route on the day.
Wednesday 2 September – The Wall (3 to 6 miles)

We head down towards Regents Park, then enter the canal at the Charlbert entrance and run east [left] cutting through Camden Lock Market until we run out of canal path at Islington. Since the canal is blocked here, we call it "The Wall." At The Wall, we turn around and head back to St. John's Wood. This is a great route to do a tempo run because there are no traffic lights. But please be careful and aware of the bikes on the path.

If you run all the way to The Wall and back it is 6 miles. But it is very easy to run half the distance if you want and turn around and head home. As a marker, if you run to the Camden market (where we have to exit the canal path and run past the food stalls for a minute) and return home it is a 3 mile round trip.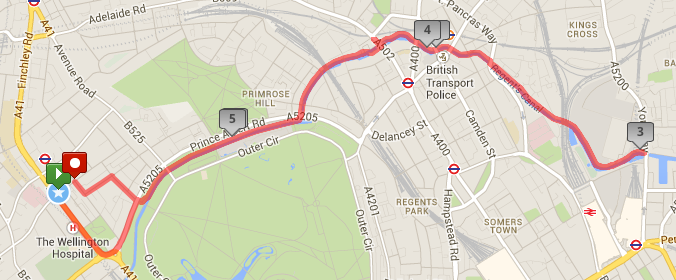 Friday 4 September – The Heath (4-8 miles)
We run up the hill on Fridays–it's tradition! It is hard, but you'll feel great when you are finished.
If you are not up for a hill run yet, no problem, just let us know.  Every week there are a group of women who prefer to do a flat run.  We can help make sure that you find each other.
4 miles:  A great way to ease into running the hill.   Run up to the Hampstead tube station and back. If you have trouble running up, think about how easy it will be running down!
5 miles: The Betsy Route
6-7miles:  The partial Heath route
7.5 miles: The Highgate route
8 miles:  The full Heath route
Click here for maps of all of the Heath routes.
31 Aug – 4 Sept Running Info
Saturday, August 29, 2015