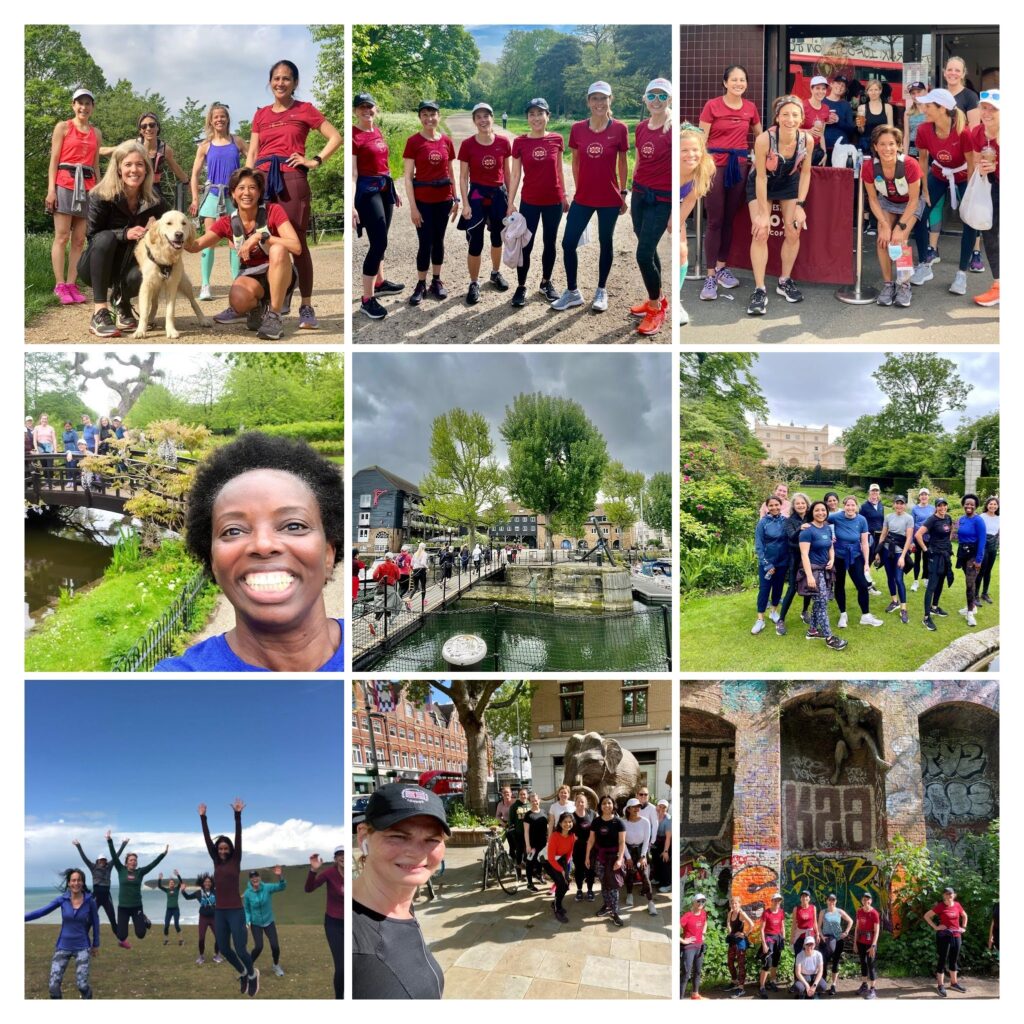 Hello Runners!
I hope you are having a fabulous bank holiday weekend! How great is it to have nice weather finally arrive for this long weekend, along with more relative freedom to travel and hang out with friends? And even though we had to contend with some rain and even hail earlier in the week, our beautiful photos only highlight the great destination runs our pace groups chose– so be sure to take a moment to cycle through the rapid-fire slideshow below!
Running this week. We have a super short 'official' running week, as Monday is a bank holiday and Friday each pace group is on its own to plan a breakfast run. On Monday (and all holidays), we usually move our start time to 8:30, and whoever shows up at SJW Church Gardens to run chooses a route. It's a good idea to check your WhatsApp chat for running buddies, though, as we've moved more toward making arrangements ahead of time over our last year+ of running socially distant. For Friday, hopefully everyone who wants to be is dialed in with plans and reservations for the pace group destination breakfasts. If not, please check in on your WhatsApp group, or give us a shout here at [email protected], and we can get you connected with one group or another! For anyone not doing the breakfast run, we suggest either a Hyde Park loop, or a Borough Market run for a Friday treat!
Which leaves us with Wednesday– the annual Sights of London/Leavers' Run! This short run we've done as a big group in the past, with photo stops at some iconic London sights. This year we will do this in pace groups, so we can stay below the 30-person rule in our photos. Stop for a photo at each of the designated spots (see route description below). Finish at the Benugo in St James Park, where there should be adequate space inside and outside for us to gather in appropriately sized groups for a goodbye coffee. Please do try to keep some separation between groups as necessary– we never know how restaurants are going to respond to our separate groups but collectively large presence, especially if many of us happen to wearing our WRW kit!
Announcements and Shoutouts. A big shoutout goes to our founder and friend, Paula Mitchell, who last weekend ran the Jemez Mountain 50-miler race in New Mexico. Not only was it a high altitude endurance challenge, but she also had to contend with bears on the course and a close encounter with a rattlesnake! Congratulations to Paula, and glad you are safely through it! Meanwhile, last weekend in the Pacific Northwest, some of our Seattle alumnae ran their Spring half marathon! Congratulations to Kim Stone, Ann Sharma, and Molly Johnson (who was on injured reserve but still showed up to cheer on her group and bring the shirts and medals!). Well done to all! And I have a feeling I may be missing some shoutouts as things open back up– do keep us posted if you are 'off to the races!' And finally, a shoutout to our friend Phil, who took a tumble on Monday's run– we are thinking of you and looking forward to you rejoining us when all healed up!
If you hear of anyone who would like to join the Beginner's class of 2022, please connect us or pass along their contact info to [email protected]. As anyone who has been through this program knows, it can be an amazing, life-changing experience! The program is for people who have truly never been runners before. It starts out with one-minute intervals at a very slow jog, so is not appropriate for anyone who is able to run even a mile or two. Our regular M-W-F group can help people who have been runners before ease back into it and work up to joining our M-W-F runs.
Looking ahead. The WRW End-of-Year Celebration is set for next Friday, June 11, beginning at 1pm in Regents Park (arrive from 12:30 if you can to help secure spaces for each group!). The rain date is Monday, June 14. And sadly, our last official run of the year will be Wednesday, June 16!
A happy, relaxed remainder of the bank holiday to everyone. Let's have a great run together Wednesday, as we squeeze our group meet-ups and memories into these last few weeks of the year! We'll see you out in the gardens and on the pavements!
xx Micki
ROUTES
Monday 31 May – BANK HOLIDAY – meet at 8:30 and choose your own route, or consult your WhatsApp chat for group plans!
Wednesday 2 June – Sights of London/Leavers Run – Big Ben and back to St. James BenugoRunGo: https://routes.rungoapp.com/route/0BRroh4Wm4
This is a great run! Even if you haven't run in a little while – come along! We run as a (BIG!) group, although will need to keep it to no more than 30 of course, and we wait for everyone at the lights so we can stick together. (If we get separated we'll wait for everyone at the photo points.) The total distance is 4.75 miles and we stop often.
We'll stop for group pictures at:– the silver sphere fountain as we enter Hyde Park– Buckingham Palace– Big Ben (or the London Eye from Embankment if you prefer)– Trafalgar Square
We head to Hyde Park via the usual route. Start heading west on Circus Road and turn left on Grove End and follow south as it becomes Lisson Grove. Cross over Marylebone Road and continue on Seymour Place until the end. Turn right and cross over Edgware Road and then left to enter Hyde Park at the intersection with Stanhope Place. We'll stop at Speaker's Corner for the first picture! Run along the eastern edge of the park to Hyde Park Corner, under Wellington Arch and down Constitution Hill. We'll stop in front of the gates of Buckingham Palace for the second photo! Run past the Victoria Memorial down the mall and enter St. James Park. Run over the pond and out of the park, turning left onto Birdcage Walk and down into Parliament Square to Big Ben for our third photo! Turn left on Whitehall and run to Trafalgar Square for our fourth picture. Then we'll make our way back to The Mall and the Benugo in St. James Park for some celebratory coffee.
Friday 4 June – Choose your own breakfast spot destination runGather your pace group to decide on a great place for breakfast and then run to it! The sky's the limit! Let us know if you're not connected with a group for this event!