Hi all,
There's a lot of important stuff in this email (so please read it!) because we're starting our pace groups this week. I'm going to try to avoid bombarding you with too much training information all at once. I'll give you the basics and point you to the website for more specifics. We'll come back to these training principles often throughout the year.
On Monday we have a great run to the Whole Foods in Piccadilly Circus. I love the variety of the route and running along the Embankment through the heart of London. But the best part is ending at Whole Foods for some great coffee and food. (There is seating outside and upstairs.) The entire route is 6.5 miles but you can also take the tube from Blackfriars or Temple which is 5 miles. Wednesday we're in Notting Hill and Friday back up to the Heath.
Good Luck Racers!
This weekend Meg Stone and Yianna Xenakis are running the Causeway Coast half marathon in Northern Ireland. The route follows the paths, tracks, beaches and coastline of the Causeway Coast Way which is described as "one of the most spectacular coastlines in the whole world." What an adventure! We can't wait to hear about it. I love that running has brought you to such a unique part of the world.
2016 HALF MARATHON
I sent out an email Friday announcing that the group will be travelling to Nice, France to run the Semi-Marathon International De Nice on Sunday 24 April 2016. Thanks for all the positive feedback. We're really excited about this race. If you didn't receive the email, it may have bounced to SPAM. If not, please let me know so I can check the distribution. Registration for the race has not opened yet. We'll be back to you soon with more details about the flights, hotel and race registration.
PACE GROUPS
Each training week is planned to have one longer/slower run on Monday, one shorter/faster run on Wednesday and one hill run on Friday. The pace groups are for the longer/slower run and the pace listed is the training pace (not race pace). For the tempo/faster day and the hill day the groups will not necessarily be together. Some folks may want to push it more than others.
For those who are interested, there is a nifty calculator on our website to determine your training pace as compared to a target race pace. For many, the pace calculator might be too technical. As a rule of thumb, you should run your long run at a pace that allows you to carry on a conversation. Not too fast, not too slow. (I know that is easier said than done!) The slower run is an important part of your training because it helps build mileage without injury but it also helps your body build fuel. For more info about pace and the science behind the slower run, click here
The pace groups are not an exact science! They serve more as a general guide. Since our group is so large, the pace groups allow for smaller groups of women that run roughly the same pace to find each other and train together.
Leaders
There are 2-3 women in each group who will be pace group leaders for the long run. They'll help keep the group together, which will be increasingly important as we do more longer runs and/or new routes. But please remember that everyone is responsible for generally knowing the route, not just the leaders.
Please let me know if you need some help finding your group or if you have any questions.
The "Eights" Group (8:30-9:15 min/mile)
Leaders: Kathy Anderson and Yianna Xenakis
The "Nines" Group (9:15-10:00 min/mile)
Leaders: Amy Grace and Erin Roth
The "Tens" Group (10:00-10:45 min/mile)
Leaders: Darcy Fautz, Maureen Fossum and Jane Novak
The "Elevens" Group (10:45-11:30 min/mile)
Leaders: Julie Adams, Stefhanie Howe, Melissa Kay
The "Twelves" Group (11:30-12:30 min/mile)
Leaders:  Nicky Falconer, Karina Kalb and Sonia Takkar
A big THANKS to all our leaders – you play an important role in helping such a large group work smoothly!
That's all for now – Keep RUNNING!
Jane
ROUTES

Monday, 28 September – Whole Foods Market Piccadilly Circus– 6.5 miles
This is fun destination route.  How can you resist a fun run that ends up with delicious and healthy food options to bring home?   Don't forget your cash and tube card!  We start out heading east on the canal and run to the Wall.  We'll exit the canal there and turn right onto Rodney, which will turn into Penton Rise, then King's Cross Road, and eventually Farringdon, which we will stay on until we reach the embankment.  We then turn right and run along Victoria Embankment to Northumberland (just past Embankment Tube Station).  Turn Right onto Northumberland and run through Trafalgar Square onto Cockspur and then turn right onto Haymarket.  Take Haymarket into Piccadilly Circus and turn left onto Coventry. Run through Piccadilly Circus, across the street and onto Glasshouse Street, where you will see Whole Foods Market.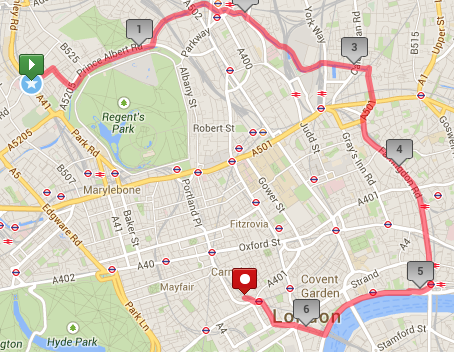 Wednesday 30 September – Notting Hill (4 – 6 miles)
Run out the canal to the west and exit at Ladbroke Grove.  Run to Elgin Crescent and make a left.  Continue to Ledbury and go right and then left at Westbourne Grove.  Run down Westbourne Grove over Bishop's Bridge and down the steps into Sheldon Square.  Go back along the canal and out where you entered and back to Starbucks.

You also have the option of a shorter run by not running as far as Ladbroke Grove.  Instead, run half the distance you want, turn around and head home.  For example, running to the Westway flyover and back is about four miles.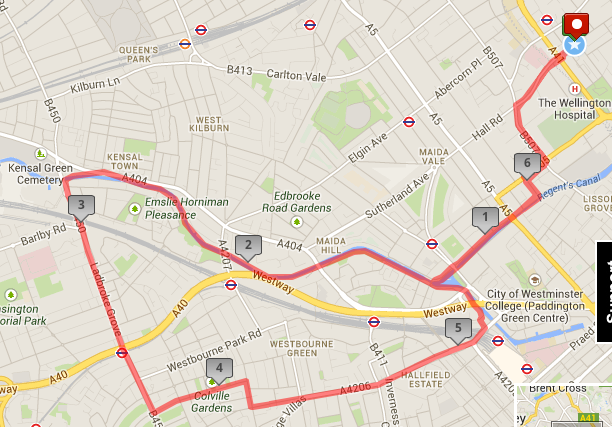 Friday 25 September – The Heath (4-8 miles)
We run up the hill on Fridays–it's tradition! It is hard, but you'll feel great when you are finished.
If you are not up for a hill run yet, no problem, just let us know.  Every week there are a group of women who prefer to do a flat run.  We can help make sure that you find each other.
4 miles:  A great way to ease into running the hill.   Run up to the Hampstead tube station and back. If you have trouble running up, think about how easy it will be running down!

5 miles: The Betsy Route
6-7miles:  The partial Heath route
7.5 miles: The Highgate route
8 miles:  The full Heath route

Click here for maps of all of the Heath routes.