Hi Everyone,
Thank you for making this year at WRW such a success! AND thanks to everyone who ran with us on Friday for The Sights of London run. What a beautiful day – we got to see London in all its glory! This is our last week of official routes until the autumn, but please keep running over the summer! The best way to keep your conditioning and avoid injury is to keep running.  
Since our run to Happening Bagel was rained out last Wednesday, we're adding it as one of the runs for Monday. The other Monday option is to do a Hyde Park loop. Wednesday is the Camden/Regent's Park loop and Friday is the Heath or a route of your choice.  
Summer running in London

There is usually a group that continues to run in London throughout the summer. We tend to meet at Starbucks at 8:30 MWF, but sometimes we start earlier if it looks like it will be a hot day. We just make up the route on the day. Please join us! Syma volunteered to be a contact person for the summer running, so you can check in with her if you are around and want to run with the group.  Her is email is [email protected].  
GOOD LUCK RACERS!

Good luck to Sonia, Gudny, Charlotte and Betsy who are running the Runner's World Trailblazer Run (10K and Half Marathon) in Kent on June 7. We're excited to hear about your trail running experience. I bet it is going to be a beautiful course. Good Luck!
Fall Half-Marathon Training Schedule

Signing up for a fall race is one of the best ways to make sure you run over the summer. In the next couple of days, we're adding a training schedule to the WRW website for the Amsterdam Half Marathon on Sunday 19 October .  If you are doing a race on a different weekend you can adjust the schedule to fit your date.
Email List

Our policy is to keep you on our email list unless you ask to be removed.  So if you're moving, or just taking a break, you'll keep getting the emails.  Please let us know if you'd like to be removed – we won't be offended, promise!
Wednesday August 27 will be our first day back after the summer.  I'm already looking forward to next year!   Have a fantastic summer.
Keep running,
Jane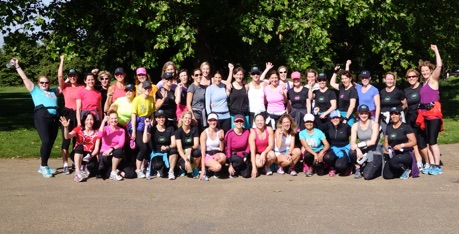 ROUTES

Monday 9 June

Happening Bagel via Highgate and Finsbury Greenbelt – 7 miles

For this run we start up Fitzjohn's like we're going to the Heath, but pass the entrance and continue up Spaniards/Hampstead Lane to Highgate.  Cross the street at the big intersection and go down Southwood Lane and at the bottom of the hill veer to the right onto Jackson's Lane. Continue down Jackson's to Archway Road and make a right, then a relatively quick left onto Holmesdale Road.  Run a short distance on Holmesdale and the entrance to the Finsbury Greenbelt will be on your left.  Follow the path to Finsbury Park, cross over the train tracks, turn right and run along the western edge of the park and exit onto Seven Sister's Road.  Happening Bagel is across the street and we will go to Costa for coffee. We will take the tube home from the Finsbury Park Station.

OR

Hyde Park – all distances

Since this is a busy week for everyone, we'll head to Hyde Park where you can run whichever distance you choose.   All the routes are on the WRW website here.

Wednesday 11 June

Camden/Morningside Crescent/Regent's Park Loop – 5 miles

We start out on the canal eastbound to Camden Market, where we exit the canal and turn right onto Camden High Street.  We'll run down Camden High Street to Mornington Crescent Tube Station and veer right onto Hampstead Road, which we will take down to Euston road.  We'll then go right on Euston to Park Square East, where we will enter Regent's Park.  We make the first left onto Outer Circle and run around the loop to the Charlbert exit (where we enter for the canal). We'll run up Charlbert to Allitsen, make a left, and head back to Starbucks.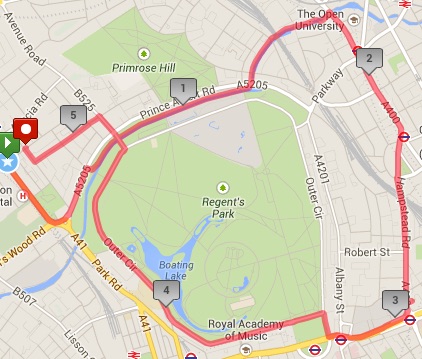 Friday 13 June

Today is ASL Graduation so we'll take a 'gradual' run up to the Heath to celebrate!  This is also our last organized WRW run of the 2013-2014 term so extra celebrations are in order —  a double latte anyone???

The Heath

All of these routes are on the website.

4 miles:  A great way to ease into running the hill.   Run up to the Hampstead tube station and back.

5 miles: The Betsy Route

6-7 miles:  The partial Heath route

8 miles:  The full Heath route

Click here for maps of all of the Heath routes

______________________________________

Website:  https://womenrunningtheworld.commm

Facebook Group:  Women Running The World (request to join)

Email: [email protected]

To be removed from this list, send a request to the email above.
A glorious day in London seeing the sights!  Very sad to see our Leavers go…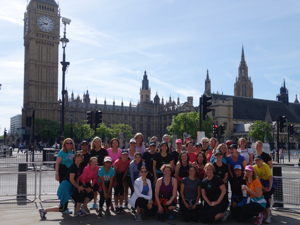 <![CDATA[]]>
<![CDATA[]]>
<![CDATA[]]>
<![CDATA[]]>