Hello Runners!
As I write this, I've just been basking in the happy glow from Wednesday morning's photos… I really love our annual Holiday Lights Run! Thanks to all who contributed these creative, dazzling pics (I particularly stole from FB posts by Tamar, Bjorg, Marissa and Jennifer Egsgard– thank you ladies!).

Running this week. Monday we have scheduled a reverse run from Wembley Park. We will meet at Barclays as usual, then head out in waves to take the Jubilee line to Wembley Park and run home. We're doing this run a week later than we have in the last couple of years, and we've decided to try leaving from SJW tube rather than Maida Vale as we've done in the past. See below for full directions and the map. Wednesday we are doing another festive run, through Hyde Park and ending at Covent Garden for a coffee at Le Pain Quotidien (and if you pack warm layers to wear afterwards, it's not a bad time to get a little shopping done before the crowds arrive!). We've also suggested Primrose Hillzzz as an option if you can't take the time for the destination run that day. Friday morning before the run we will deliver our Holiday cheer/thanks to our local cafes, and then head for the Hill for the last (official) time this year!

Holiday Cheer, PLEASE HELP! Thank you to those who have already contributed cash or promised baked goods for our appreciation gifts to staff at Starbucks and Pret! If you'd like to give– this is purely voluntary!– Laura Beal is collecting cash (£5-10 suggested) and she does a lovely job of presenting it in personalised cards with our baked goods (if you don't spot Laura, feel free to hand off to me and I'll pass it on). Susan Farrell has kindly stepped forward to be our 'Cookie Master' coordinating our baked goods. Please let us know if you are willing to bake a homemade treat. They can be dropped off at Susan's house, just a few doors down from the cafes at xxxx, on Thursday from 8:10-9:00am or 10:30-12, or you can coordinate with her for another time (her phone is xx). Enormous thanks to both of these ladies for taking this on during the busiest time of year!

Announcements and Shoutouts. Alum Litsa Savastano, who left us for Lisbon last year, is running the Half Marathon of the Discoveries in Lisbon tomorrow. Good luck, Litsa– we're cheering you from afar, and can't wait to run with you in March!

A slightly different kind of shoutout this week for our 8s Pace Group who, we've heard (and not from them), took the time to spread some joy on Friday to a friendly Big Issue vendor who always cheers them on when they do the Borough Market run. Running London sometimes makes it feel like a smaller town, and many of us were inspired by how you took this to heart and engaged with our community!

Holiday Running. This will be the last e-mail of 2019, and Friday will be our last official run of the year, as schools are headed onto winter break! Please use your WhatsApp groups if you are in town and want running buddies. If you're somehow not on a WhatsApp chat yet, let us know and we will get you connected! Our usual advice over the holidays is to try to maintain your fitness with 2-3 runs of 45-60 mins each week if possible. Making one of those a 6-8 mile run would be even better. We resume our training together on January 6, and from there we have 12 weeks before the half marathon (that includes Feb break). That's very do-able, but slightly easier if we haven't been on the sofa for the whole break! Also be sure to keep stretching and take good care of yourselves.

It's a crazy time of year as everyone prepares for holidays and travel, but I hope to see most of you out there sometime this week. I know I won't get the chance to say so to everyone personally, so let me wish you a wonderful break, happy celebrations, and the very best start to the New Year! I'm looking forward to all the wonderful runs– and wonderful things more generally– ahead of all of us in 2020!
xx Micki

ROUTES
Monday 9 December – Wembley Park to SJW (IN REVERSE) 9 miles
This week we are reversing our long run by starting at Wembley Park and running back back along the canal to St. John's Wood. Meet at Barclays at the usual time for the short walk over to SJW tube station, where will will take the Jubilee Line out to Wembley Park station.
Coming out of Wembley Park Station, go down the stairs and bear slightly right, heading towards the Premier Inn and the main road, ignoring the tunnel under the road towards the stadium. Follow Bridge Road past the hotel, staying to the right along a row of shops, where it turns into Wembley Park Drive (A4089). At a large intersection where five roads converge, keep straight onto Park Drive which is the continuation of Wembley Park Drive (still A4089). After a mile at the T junction, cross the High Road and turn right.
Pass Wembley Central Station on your left and afterwards take your first left on to Ealing Road. Follow Ealing Road (past the Alperton station) to the T- junction and turn left, staying on Ealing Road. You'll cross over the canal bridge and see the entrance to the canal path on your left. There is a 243 Ealing Road sign for new apartments at the entrance to the canal (see photo below.) We'll follow the canal back home (it should be on your left!) and then exit the canal off Bloomfield Road in Maida Vale and run back the usual way to Starbucks.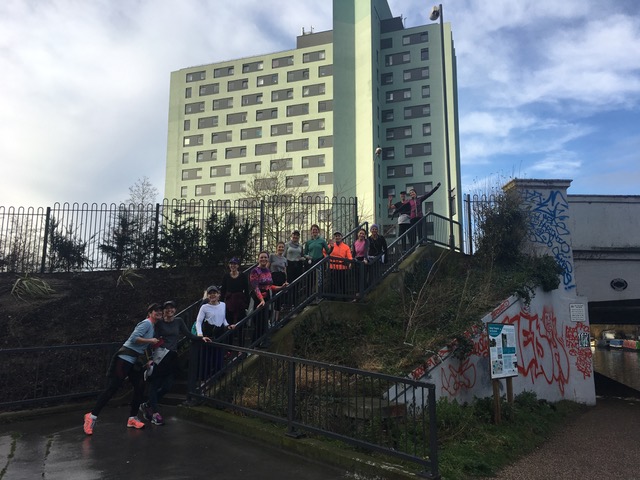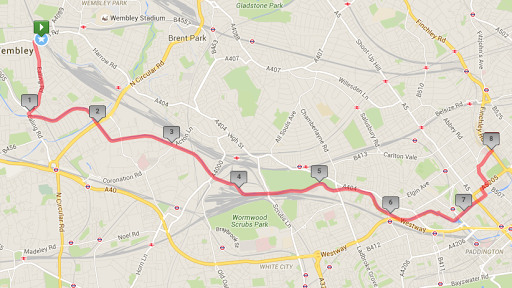 Wednesday, 11 December – two options — one a festive destination run, the other a loop close to home
OPTION 1: Hyde Park to Covent Garden (5.5 miles)

We start from Barclays, run down Circus Road and turn left on Grove End/Lisson Grove. Cross diagonally at the light to run along the west side of the street. Cross over Marylebone Rd (now you're on Seymour Pl) and run until the road ends. Turn right on Seymour St, cross Edgware Rd, and turn left at the next street (Stanhope Pl). Cross into Hyde Park, cross over the Carriage Rd and enter the park.
Turn right at the silver sphere after entering the park. Cross over N Carriage Rd and turn left just after the Italian Gardens. Run along the water (it turns into the Serpentine) and turn right at the end to run along the southern edge of the park. Turn right to run out of the park at Hyde Park Corner and follow the direction below.
At Hyde Park Corner, run through Wellington Arch and along the southern edge of Green Park. At the end of the park, keep running straight down The Mall (do not cross the street as we do when we are going to Big Ben) until you come to Trafalgar Square. Run along the far side of the square, past St Martin-in-the-Fields. Turn right onto St. Martin's Place and then left onto Chandos Place. When it ends, turn left and enter Covent Garden. We will meet at Le Pain Quotidien which is next to Shake Shack.
OPTION 2: Primrose Hillzzz (4 miles)
Head out from Barclays, past Starbucks, and take a right on Charlbert Street, heading into Regent's Park at the North Gate entrance. Run straight into the park, following the left fork until you get to the first intersection, where you go left. The Hub and the cricket nets will be on your far right. Follow this path until the end, over the Outer Circle and the bridge, then bear right and cross the zebra crossing to the entrance to Primrose Hill. Once in the park, take the first path on your left, run up past the entrance from St Edmund's Terrace and continue up until the path forks, taking the path to your right all the way up to the top. Enjoy a brief moment taking in the view and then head down the left path all the way to the bottom corner of the park (corner of Albert Terrance and Prince Albert Rd.) Run along the bottom of the park, past the Children's Playground, Cafe and outdoor gym to where you entered the park. Repeat this loop two more times (or more if you like!). On your final loop run back up to the St. Edmund's Terrace entrance and turn left out of the park. St Edmund's Terrace will become Allitsen Rd and will take you back to St John's Wood High St. Turn right and head back to Starbucks.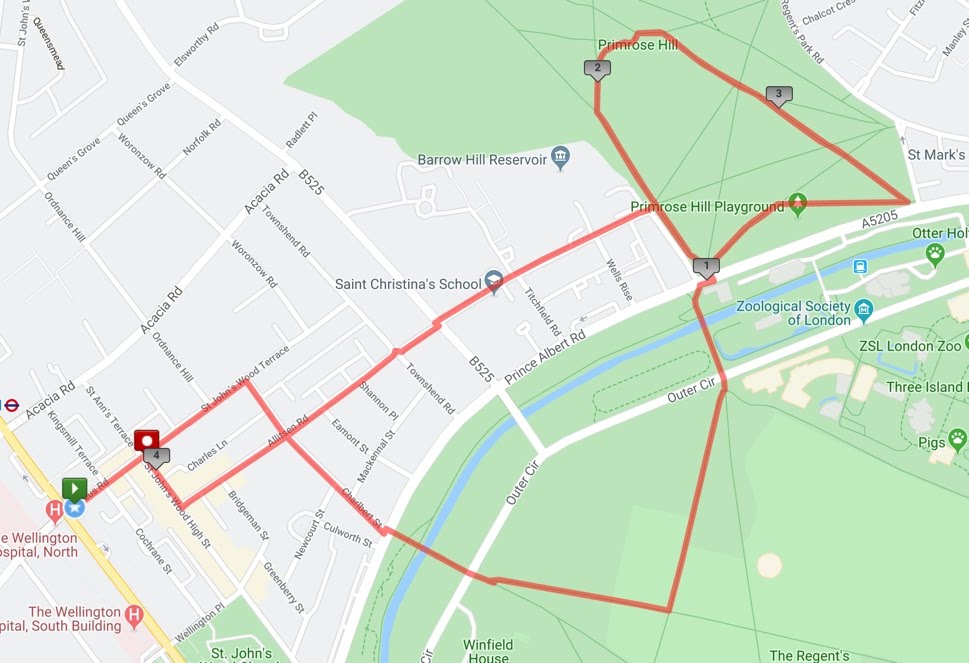 Friday, 13 December – The Heath (4 – 8 miles)
It's Friday, so we are headed back up the hill to Hampstead Heath! Choose your route from 4-8 miles, as listed below. This link will take you to all the Heath route descriptions and interactive maps, and our standard Heath route is shown below.
4 miles: A great way to ease into running the hill. Run up to the Hampstead tube station and back. If you have trouble running up, think about how easy it will be running down!
5 miles: The Betsy Route
6+ miles: The partial Heath route OR the Reverse Heath route OR Pergola route
7.5 miles: The Highgate route
8 miles: The full Heath route