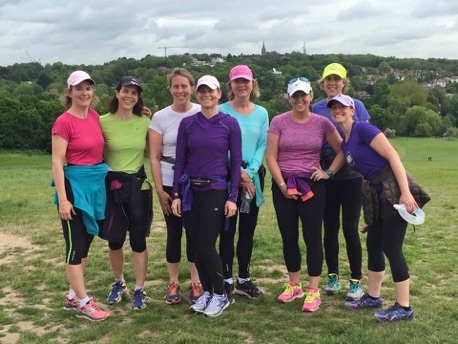 Hi Everyone,
We just ran our last official Heath route of the year and I can't believe we have only a week and a half left before the 2014-2015 WRW year draws to a close! Monday we head to Hyde Park for a distance of your choice. The park is particularly beautiful these days, so come join us! Wednesday we're going to the Happening Bagel in Finsbury Park via the Greenway. This is one of my favourite London runs – you tackle the hills in Highgate and then get the reward of an unexpected stretch of green woodland (along an old train line) in the middle of London. (Make sure that you look for the Green Man statue hidden along the way.) Friday is our Sights of London run and the Leavers Coffee. Please come! More details are below.
Triathlon!

Good luck to Yianna Xenakis who will be competing at the World Triathlon event in Hyde Park this weekend. She's completing an Olympic distance triathlon of a 1.5km swim, a 40km bike and a 10km run. GO YIANNA!  We hope you have a great race!
Gauntlet Games

Good luck to our runners who are competing in the Gauntlet Games this weekend including Sunny Brenneman, Lesley Gallagher, Lee Ann Gossett, Karina Kalb, Tammie Perdue, Chris Roberts and Sherri Zimmerman (sorry if I forgot anyone). They are completing a 10K including obstacles that promises lots of mud. Have fun and make sure you take some photos!
Friday June 5 – Sights of London run and Leavers Coffee

This is a great run!  Even if you haven't run in a little while – come along!  We run as a (BIG!) group and we wait for everyone at the lights so we can stick together.  (If we get separated we'll wait for everyone at the photo points.)  The total distance is 4-5 miles and we stop often.
We'll stop for group pictures at:
– Hyde Park Speaker's Corner
– Buckingham Palace
– Big Ben
– Trafalgar Square (maybe)
Depending on the timing, we'll either take the tube back to St. John's Wood from Westminster or Trafalgar Square. We'll walk to the Richoux cafe at 3 Circus Road, NW8 6NX.  (We'll be in the upstairs room at Richoux.) If you can't run for any reason, please still come for coffee. I expect we'll be there around 10 am. Unfortunately we have 18 runners leaving London this year!  So take a minute to come and say good-bye. We're going to miss them so much!
Collecting names for next year's beginner group

If you have any friends that are interested in being part of the beginner group for next year, please tell them to email Vicky Timbers at [email protected] and Amy Grace at [email protected]. Thanks!
Finally, thanks to everyone who went on the run to see the Queen last Wednesday – what fun! A real London moment. I especially loved the dash across the park to try to see her carriage for a second time. We'll make sure to add this run to our spring plan for next year!
Keep running,
Jane
ROUTES

Monday June 1st—HAPPY JUNE!  Hyde Park—all routes—[3 to 8 miles]

Click here for all of the Hyde Park interactive route maps

Start:  Everybody starts the same way… head west on Circus Road, turn left on Grove End Road and follow south as it becomes Lisson Grove.  Cross over Marylebone Road and continue on Seymour Place until the end.  Turn right and cross over Edgware Road and then take the first left on Stanhope Place to enter Hyde Park at the intersection with Stanhope Place. Cross into the Park—you'll see a silver orb just inside the Park.  After entering the Park, turn right and run towards Speaker's Corner.

3 Milers:  Continue south through Hyde Park, past the Serpentine and at the Carriage drive, make a left and head back toward Hyde Park Corner.  Take the Hyde Park Corner tube home.

5 Milers:  At Hyde Park Corner continue back up/north on the carriage drive.  Exit the park at the Animals in War memorial and follow Upper Brook Street.  Turn left on Park Street which becomes Gloucester Place and then Park Road back to St. John's Wood. 

6 Milers: upon entering the park, turn right at the silver sphere and run until you meet N Carriage Road where you turn left.  Run down to the Serpentine, crossing over the bridge then left to run along the Serpentine. At the end of the Serpentine, turn left again and make your way to the eastern edge of the park before exiting at the Upper Brook St/Animals in War exit.  Continue along Upper Brook Street to Park Street, turn left, take it to Park Road and into SJW.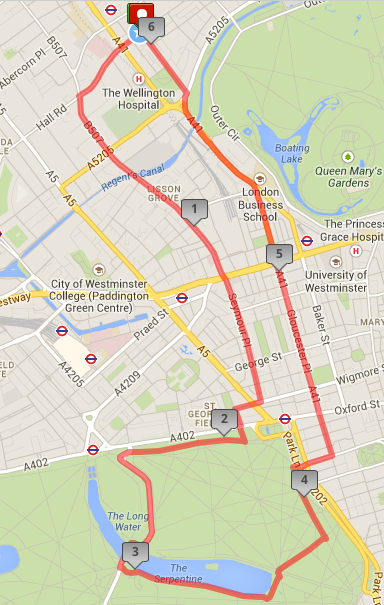 8 Milers: follow the 6 mile run but do not turn left at North Carriage Rd, instead cross over [this is tricky, be careful] and follow until you reach the large broadwalk where you turn left.  Run past Kensington Palace (on your right) and take a left to run along the southern edge of the park towards Hyde Park Corner, then turn left on the eastern edge and exit at Upper Brook St/Animals in War exit as above.  Take Upper Brook Street to Park Street [left] to Park Road and home to SJW.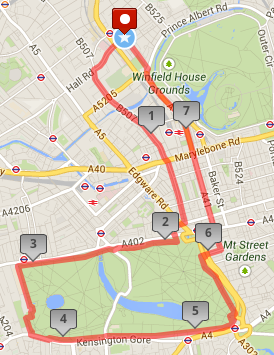 Wednesday June 3rd—Happening Bagel via Highgate and Finsbury Greenbelt – 7 miles

For this run we start up Fitzjohn's like we're going to the Heath, but pass the entrance and continue up Spaniards/Hampstead Lane to Highgate.  Cross the street at the big intersection and go down Southwood Lane and at the bottom of the hill veer to the right onto Jackson's Lane. Continue down Jackson's to Archway Road and make a right, then a relatively quick left onto Holmesdale Road.  Run a short distance on Holmesdale and the entrance to the Finsbury Greenbelt will be on your left.  Follow the path to Finsbury Park, cross over the train tracks, turn right and run along the western edge of the park and exit onto Seven Sister's Road.  Happening Bagel is across the street and we will go to Costa for coffee. We will take the tube home from the Finsbury Park Station.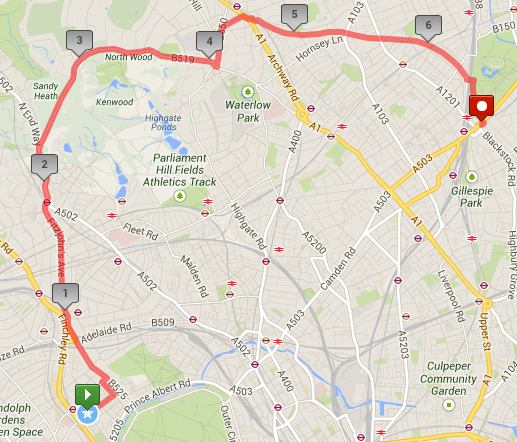 Friday June 5th—SIGHTS OF LONDON FAREWELL RUN, followed by our End of Year Coffee at Richoux

Sights of London Farewell Run – 5 miles

This is a fun run.  We will start out the usual way to Hyde Park, where will sill stop at Speaker's Corner for a photo.  We'll then continue on along the eastern edge of the park to Hyde Park Corner, where we will cross towards and run through Admiralty Arch then run down Constitution Hill to Buckingham Palace, where we will gather again for another photo. Then, we'll run down The Mall and cross through St James Park to Birdcage Walk and on into Parliament Square, where we'll take another photo in front of Big Ben. Finally, we'll head down WhiteHall into Trafalgar Square, where we'll take one last photo and then hop on the tube – Bakerloo, then a transfer to Jubilee at Baker Street – and head to Richoux for the farewell coffee.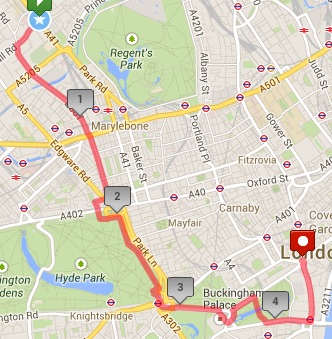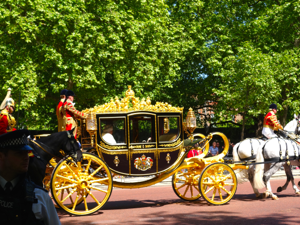 <![CDATA[]]>
<![CDATA[]]>