Hello, Runners!
Another gorgeous week here in California… I mean, umm, London.  Hope you've all been out enjoying it!  In fact, I'm pretty sure you have, because I have a lot to write about this weekend!  So I'll jump right in.

WRW Race Around the World.  Let's lead with our global run this week… we've made it to Iceland!  Bravo on all the miles added this week– since lockdown began we have logged over 24,000 miles!  As we cruised through Reykjavik, we sent big shoutouts to alumnae Asdis Karadottir and to Gudrun Aspelund, who just left us at the start of the lockdown to go and help with the government response to Covid-19 in Iceland.  We miss you here in London, Gudrun, but we're proud of the important work you are doing!  On to Portugal to see Litsa, and then back to London before school lets out.  Come on, ladies, keep running– we've got this!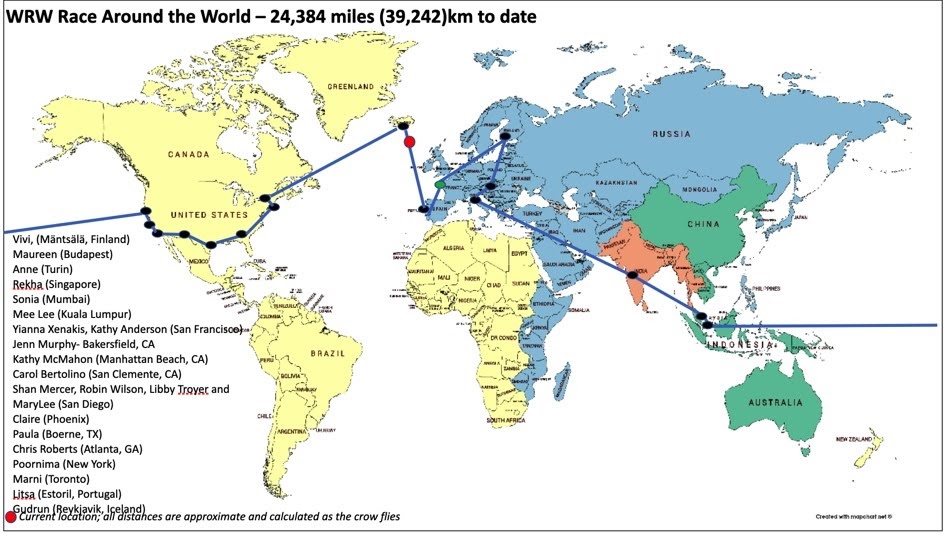 Running this week.  You can see in the photo collage at top that Perla Greenup got out and ran the route to see last week's scavenger sites (Notting Hill Blue Door/Debenham House Holland Park/Thin House Kensington).  Love it!  Also… my apologies if I sent anyone off course!!!  The Thin House is not at 5 Thurloe Place, as I reported, but at 5 Thurloe Square!  (Sorry!  And thanks, Perla!).  
A few of our explorers have added some other new attractions to our growing list.  Miki Neant sent photos and details for a "Sculpture in the City" run, taking in a number of sculpture installations as part of a 9th annual exhibition event in different areas of London every summer.  So here's another great reason to go for a run in the City!  This website shows all the artworks as well as a map:  https://www.sculptureinthecity.org.uk/artwork/9th-edition/?type=list .  And below is a stunning preview, along with some additional graffiti shots, from Miki's photo safari.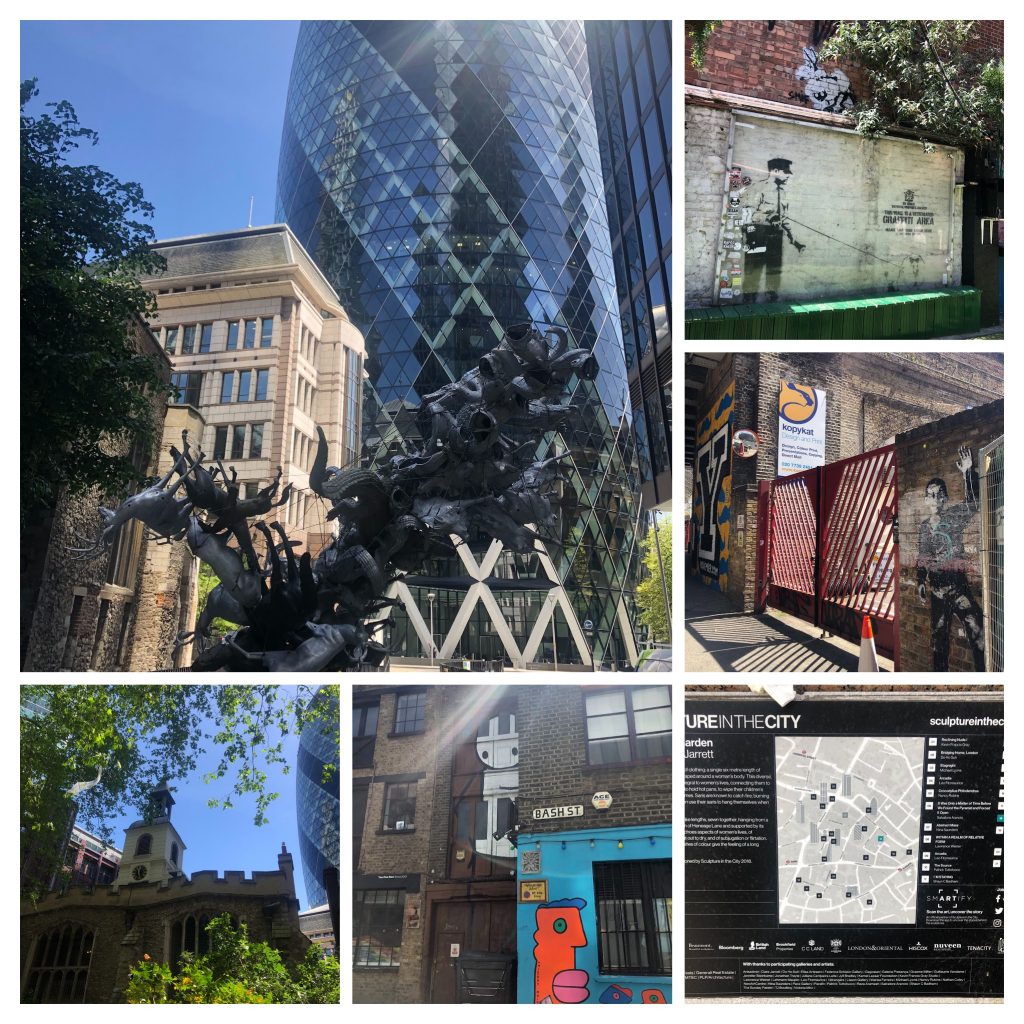 We also have more Quarantine Quests up on the WRW website!  The amazing Amy Grace has created a route to take in the NHS Street Art we featured a few weeks ago (from several of the 8's).  It's 6.8 miles one way, so could either be an out-and-back half marathon, or you could get creative with a Santander Cycles return ride (pack some Dettol wipes) or maybe even a taxi.  She also created a Notting Hill and Holland Park route that incorporates several points of interest, including the Blue Door and the Debenham House mentioned last week (from Janelle Meyer).  Most exciting of all is the new (to us) app Amy is working with:  RunGo.  If you register and search WRW, you can join the group page and download our routes with audio directions for your phone!  This could be a game-changer for some of us (raising my hand).  Huge thanks go to Amy for setting this up and learning how to get the routes in!  We'll keep working on adding more, and hopefully it can be a really helpful tool for summer running as well as whatever kind of running we are doing when we come back in the fall!
Leavers' Run/Sights of London. The annual Leavers' Run is a time-honored tradition with WRW. In more normal times, we would head out all together on a 4.5-mile route that takes us past some iconic London sights, and we would stop at each one to have a big group photo taken. Though we are sad to miss the group effort this year, the basic route is below. The addition of the return run makes it a little longer, and obviously you may want to customise it to begin from and end at your home rather than Barclays. If you do the run this week, either alone or as a small group, send us the photos and we'll try to put together a Leavers' Run photo compilation next week! These are our usual photo spots:
Hyde Park Sphere (where we enter the park)
Buckingham Palace
Big Ben (but substitute a photo of Westminster Abbey or detour down to the river and get the London Eye!)
Trafalgar Square
an additional sight this year could be the Piccadilly Circus billboards with the NHS thank yous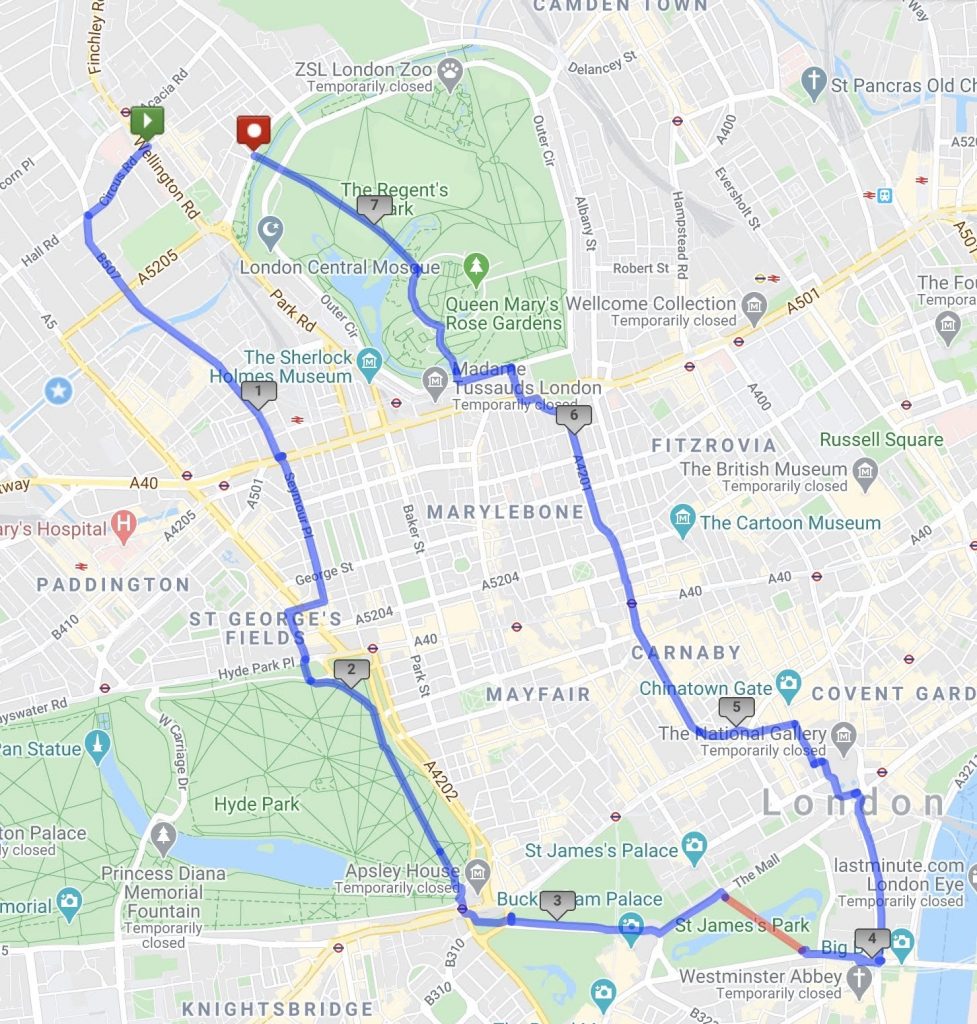 Announcements and Shoutouts. Look out later this week for your invitation to the WRW End-of-Year Zoom Celebration, which will be next Sunday, June 7 at 5 pm London time. This is our alternate to the post-race dinner in Prague this year, and though we are so sad to miss that special event (and all that went along with it), one silver lining is that this year we can include everyone in the celebration, not just those who made it to the race. Please do feel free to join us from wherever you are– if you care enough about WRW to read this e-mail, you are welcome to join us!! Not only is this a great chance to make (contactless) contact before the end of the year, but also, we will debut Megan Marine's brilliant WRW film– which is absolutely a highlight every year! If you haven't had the pleasure of Zooming at some point during the pandemic, be sure to go to the website (zoom.us) and make sure your software is installed and up-to-date sometime before the event.

As Lockdown guidelines are set to change in London this week, we are all looking forward to the chance to be together more. It may even be that some of you clever runners can figure out to how to do the Zoom celebration in a small group from a garden with good wifi and multiple screens or the room to be socially distant. Just saying. But also a reminder to all, since we are now an identifiable presence in London– especially in our SJW neighborhoods– whether we mean to be or not. The rules now officially allow us to run together, but let's be extra considerate about social distancing and giving other pedestrians space. I have found it is most often not the runners who are at fault in those traffic-jam, too-many-bodies-too-close-together situations, but that everyone seems to want to blame us anyway. So just a gentle reminder to all of us to keep trying to do the right thing (and lest that sound like a lecture, I'm saying it with the fresh memory of having been yelled at by a cyclist Friday morning!)

Beginner Running Group, 2020-2021!! Please let us know ([email protected]) if you hear of anyone who would like to join the Beginner's class of 2021. As anyone who has been through this program knows, it can be an amazing, life-changing experience! The program is for people who have truly never been runners before. It starts out with one-minute intervals at a very slow jog, so is not appropriate for anyone who is able to run even a mile or two. Our regular M-W-F group, especially with the brilliant 'ramp-up' pace group, can help people who have been runners before ease back in to it and join in our M-W-F runs.
There are so many notable things going on with this group– families running together, people completing multiple-multiple half-marathons and other adventure runs, celebrity encounters, and even a few 'last' London runs and goodbyes already. It's a joy to hear how you're all getting on and staying connected. The way you've risen to meet this challenging time with spirit, positivity, creativity and compassion is truly an inspiration. I hope the week ahead holds more sunshine and the chance for some more happy reunions. You all deserve it! To borrow Jane Novak's old sign-off line– keep running!

xx Micki