Hello Runners!

What a strange and stormy Saturday!  Hope you all got out and had some fun, but managed not to get caught in the downpour.  Congratulations to the ASL Class of 2020 and their parents on Graduation Weekend, as well as to everyone observing academic or other milestones with your children in the coming weeks.  Though the celebrations in these strange times may not be what we pictured, I hope they will be happy, and I'm certain they will be memorable!

WRW End-of-Year Zoom Celebration– Sunday at 5-6:15pm!  Please join us Sunday evening (yes, tonight!) for our year-end celebration!  We will share some memories, say some thank you's, screen the annual not-to-be-missed WRW Movie, and say goodbye to our leavers.  You should have received an invitation in a separate email, but here are the details again:  

Topic: WRW End-of-Year Celebration, 2020
Time: Jun 7, 2020 05:00 PM London
Join Zoom Meeting


Race Around the World… We MADE it!!  This week we powered from just off the coast of Iceland all the way to Portugal to say hello to Litsa Savastano, and then… back to London!  We're home!  In just 11 weeks, 129 WRW runners (including alumnae) logged enough miles to run all around the world– the long way– with detours to visit friends in far-flung places.  That's a staggering 26,167 miles, and I think we can call that a good use of our lockdown time!  Special thanks once again to Devy Schonfeld for fueling the idea and navigating us all the way!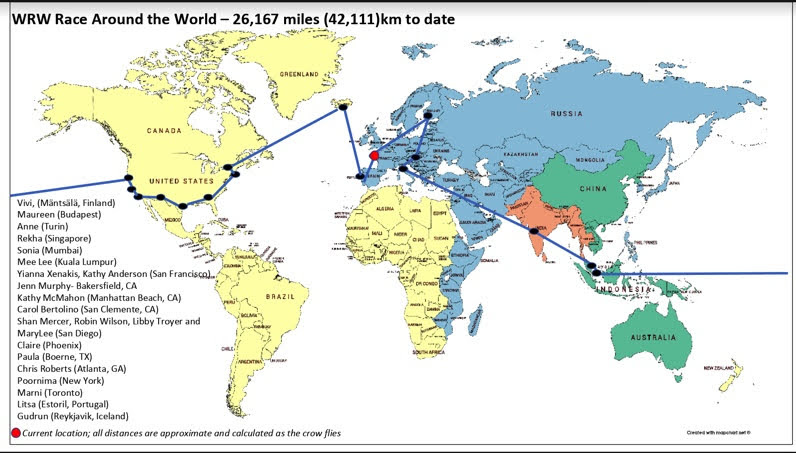 WRW Routes on your phone.  Amy Grace has continued to add some of the new routes created from your fun lockdown running ideas to the new WRW RunGo page this week.  You can check them out here, join the group, download the app, and take the routes with you for WRW adventures in London all summer!  

Beginner Running Group, 2020-2021!!  Please let us know ([email protected]) if you hear of anyone who would like to join the Beginner's class of 2021.  The Beginner's program is one of the very best things about WRW– any of us who have been through it will tell you it can be a life-changing experience!  The program is for people who have truly never been runners before.  It starts out with one-minute intervals at a very slow jog, so is not appropriate for anyone who is able to run even a mile or two.  Our regular M-W-F group, especially with the brilliant 'ramp-up' pace group, can help people who have been runners before ease back in to it and join in our M-W-F runs.

I really can't believe, after all our weeks of living and running through this lockdown, separately but together, that it's suddenly the end of the 2019-2020 running year.  This will be the last weekly e-mail until the end of August.  Our first run, if we are back to a normal schedule, will be September 2.  It's always hard to say goodbye for the summer, but this year has been unique.  Together we have discovered what a strong and supportive community we have in each other.  For me, finding the depths of your caring, fun, and creative spirits while we worked to stay connected and take care of one another, will be one of the best memories I take with me from this crazy year.  

For our dear runners moving on to new adventures next year, our best and fondest wishes go with you.  But wherever your next stop takes you, we will always be your community– we are Women Running the World, after all!  
xx Micki

P.S., Don't forget to join our celebration on Zoom tonight!