Hello, Runners!
I sound like a broken record, but wasn't that an amazing week we just had? Monday's Hampton Court run could not have been lovelier– and as if the run itself weren't great enough, some of our runners were rewarded with a sighting of Mo Farah right at the end (no photos– he was moving too fast)! Pretty amazing that WRW shared a trail with Great Britain's most successful Olympic track athlete on a random Monday while just out for our run, isn't it? Wednesday's route to Covent Garden gave us the chance for coffee off the beaten path (and a little shopping), and Friday's Kenwood Loop didn't disappoint– it was even worth a few crazy hills to see the rhododendrons and azaleas in full bloom. Running together this time of year is always full of great sights and experiences, both expected and unexpected!
Running this week. Sunday morning already, and the weekend clock is ticking down… but isn't it great that we always get to ease into our week with a first-thing Monday morning run together? This week we have another adventure run scheduled– from Alexandra Palace down the North section of the Parkland Walk to Highgate Wood, and then picking up the section of the Parkland Walk we follow when we run to Finsbury Park (aka, Happenin' Bagel). The run is just over 5 miles (but it does have some hills at the start) and, of course, requires a tube ride at the start and from the finish, so will take a little more time than our usual 5-mile run. We will meet at 8:30 at the Finchley tube station (not the Overground this time!) to take the Metropolitan line, switching at King's Cross to Piccadilly east to Wood Green. If you are following an alternate route to Wood Green, plan to arrive there no later than 9:00, and be sure your pace group knows to look out for you. Full directions for the route are below, as always. Wednesday we plan to do the 6.5-mile Whole Foods Piccadilly via Embankment route. That's the one that goes along the canal east for three miles, then drops down through Farringdon and along Embankment before turning up for a last bit of a mile to Piccadilly. And Friday it's back up to the Heath for the route of your choice (or you might choose to run to Borough, as we only have one more run scheduled there, on June 10).
Shoutouts and Announcements. As I write, Francesca Rangheri has just finished her Copenhagen Marathon! (Yes, of course I was tracking it and cheering– technology is great that way!). Kudos and cheers to Francesca for a fantastic race! Next Sunday we have several women running the Hackney Half, so WRW continues to represent all over the place– and we get to keep handing out shoutouts! If you hear of anyone who would like to join the Beginner's class of 2023, please connect them with us or pass along their contact info to [email protected]. As anyone who has been through this program knows, it can be an amazing, life-changing experience! The program is for people who have truly never been runners before. It starts out with one-minute intervals at a very slow jog, so is not appropriate for anyone who is able to run even a mile or two. Our regular M-W-F group can help people who have been runners before ease back into it and work up to joining our M-W-F runs.
On a different note, please let us know if plans have changed or developed and you will be leaving London at the end of the school year (or if plans have changed and you are not leaving if you were listed as a leaver!). Our Sights of London/Leavers' Run is coming up on Wednesday, June 1.
Looking ahead.  Next Monday is the Choose-your-own-Adventure run.  I've heard plans from a couple of groups (sounds like fun!), and hopefully you all have something in the works.  Do let us know if you need ideas, or if you (individually) have not heard anything about group plans for that day– you should be seeing info about it on your WhatsApp chats.  The chats are also the place to go to find running partners for any day you need to run local rather than do an adventure run.  Stay tuned for the 2022 edition of the Summer Running WhatsApp as well, for those in London this summer and looking to run with friends.  And see below for the highlight list of upcoming runs.  You can view the full list for the rest of this year here.
May 23:  Choose-your-own-adventure Pace Group Options*
May 30: Virginia Water/Windsor Adventure Run (7 miles)
June 1:  Sights of London/Leavers' Run
June 6:  Tower Hill in Bloom for Platinum Jubilee
June 10:  2nd Annual Year-end Picnic in Regents Park (12:30-?)– rain date is Monday, June 13
* destinations to be determined by pace group!  Reach out to us if you need ideas or logistical help!
Sending cozy thoughts for this drizzly afternoon, and looking forward to some wonderful runs in the week ahead!
xx Micki
ROUTES
Monday 16 May – ADVENTURE RUN – Alexandra Palace to Finsbury Park via Parkland Walk (5 miles)
RunGo:  
https://routes.rungoapp.com/route/OZIpYbUoPv
Meet at Finchley Road tube, to depart at 8:30. Take the Metropolitan Line East to King's Cross, switch to the Piccadilly line East to Wood Green. Transport for London estimates this to be an 30-35 minute trip in total. 
After you exit Wood Green tube station, you need to follow Station Road which is the road directly in front of you. Cross the street in front of the station and follow Station Road, staying right at the roundabout, which becomes Buckingham Road. You will pass the Alexandra Palace overground station. At the T-junction with Bridge Road, turn left and cross the bridge (car and pedestrian bridge) over the train tracks.At the end of the bridge, turn left and follow Bedford Rd which becomes South Terrace and leads you directly into Alexandra Park. Follow the sidewalk along South Terrace (climbing a hill – the views are worth it!) and passing in front of Alexandra Palace. You can skip the hill by running along the path at the bottom of the grassy hill.  After you pass Alexandra Palace, the road turns downhill, look out for the bus stop in front of you, just after a car park (see below). You need to cross the road here and follow the path that leads away from the bus stop and parallel to the car park. Along the way you can also follow the sign for Little Dinosaurs.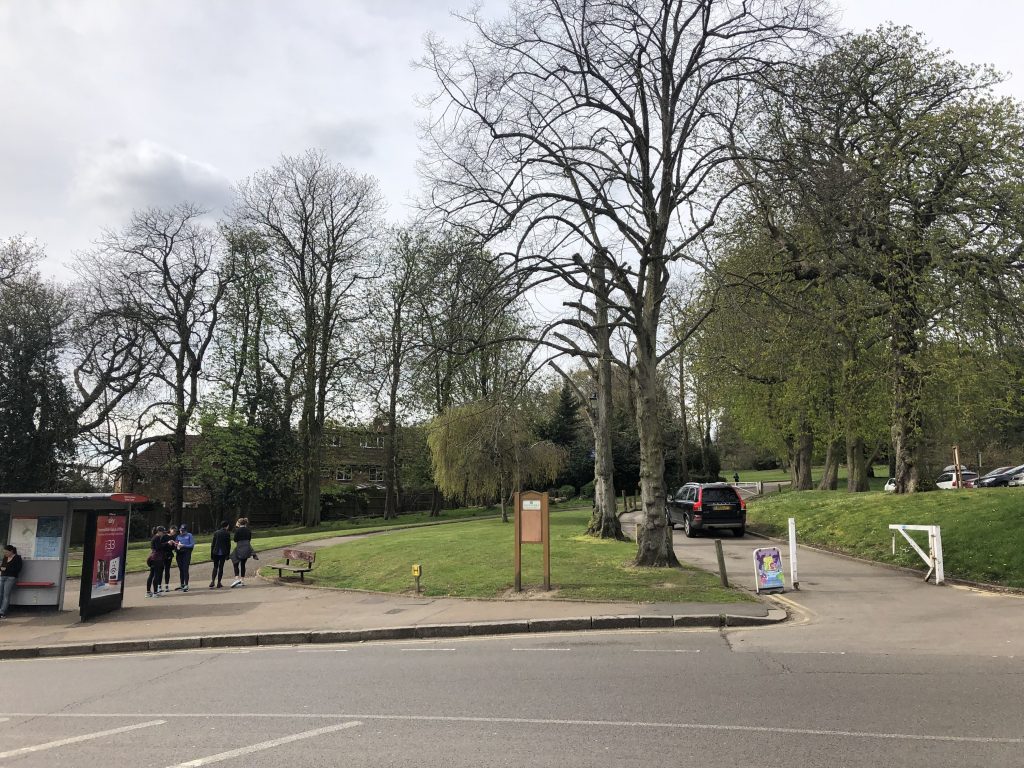 Follow this path, you will run through a metal tunnel (see below) and then the path loops around and under the road.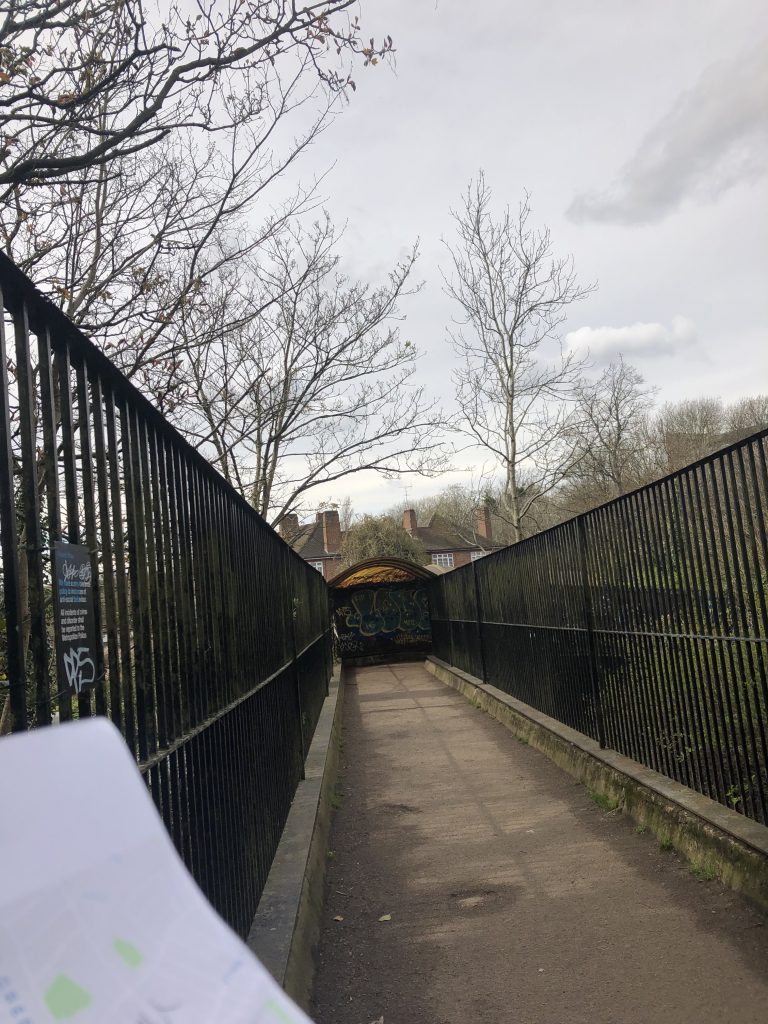 After you cross under the road you are entering the Parkland Walk North section. Run the Parkland Walk North and enjoy the views along the way. At the end of Parkland Walk you come out alongside Muswell Hill Road and are looking for the entrance to Highgate Wood on your right. You are on Muswell Hill Road very briefly, so don't miss it. See below for the entrance to Highgate Wood.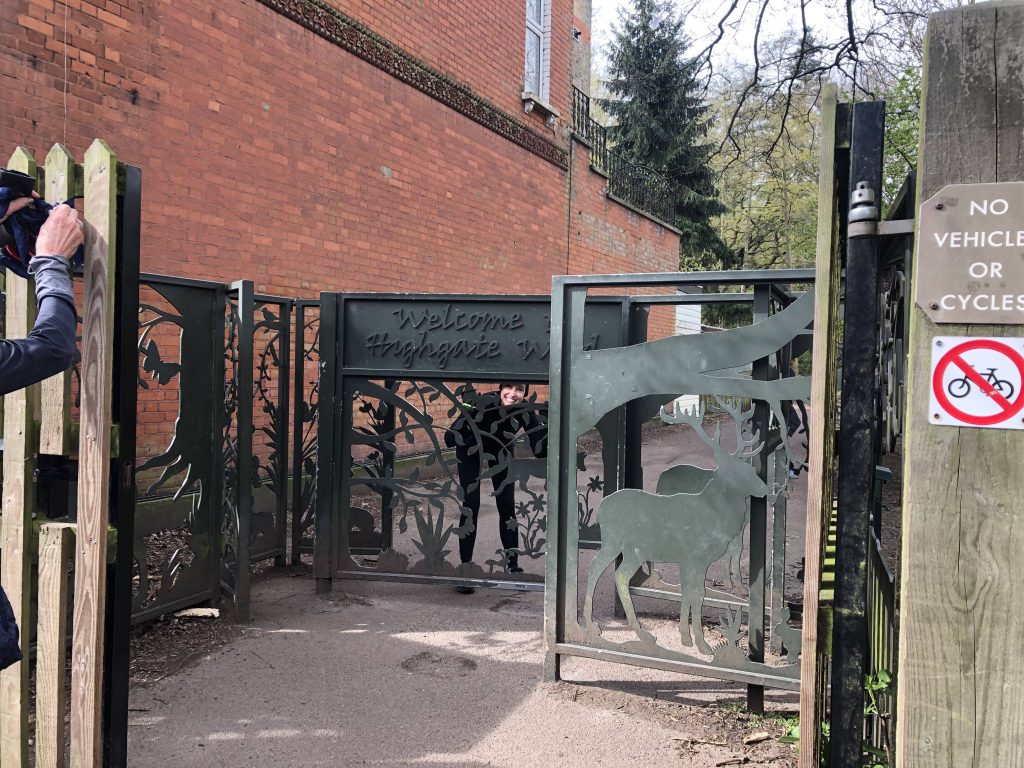 Once you are in Highgate Wood, turn left and follow the path (bear left at every opportunity and run with the road to your left) to the end of the park.  You will exit at the Gypsy Gate. When you exit the park, turn right and cross Muswell Hill Road at the next pedestrian crossing light. After crossing the road, turn right and run to Archway Road. At Archway Road, turn left. You'll be running with the shops on your right and fence, trees, Highgate station on your left. Following Archway, passing Gonnermann antiques (this is where we usually cross the road in the Happening Bagel route) and taking the next left on Holmesdale Road. Run down the hill and look for the entrance to Parkland Walk South on your left. Follow the path until the end. At the end, turn left, cross the train tracks and enter Finsbury Park. Once you are in Finsbury Park, turn right and follow the path along the outer edge of the park until you end at the Finsbury Park gate on Seven Sisters Road. Happening Bagel is across the street and Costa Coffee is to the right on your way to the Finsbury Park tube station.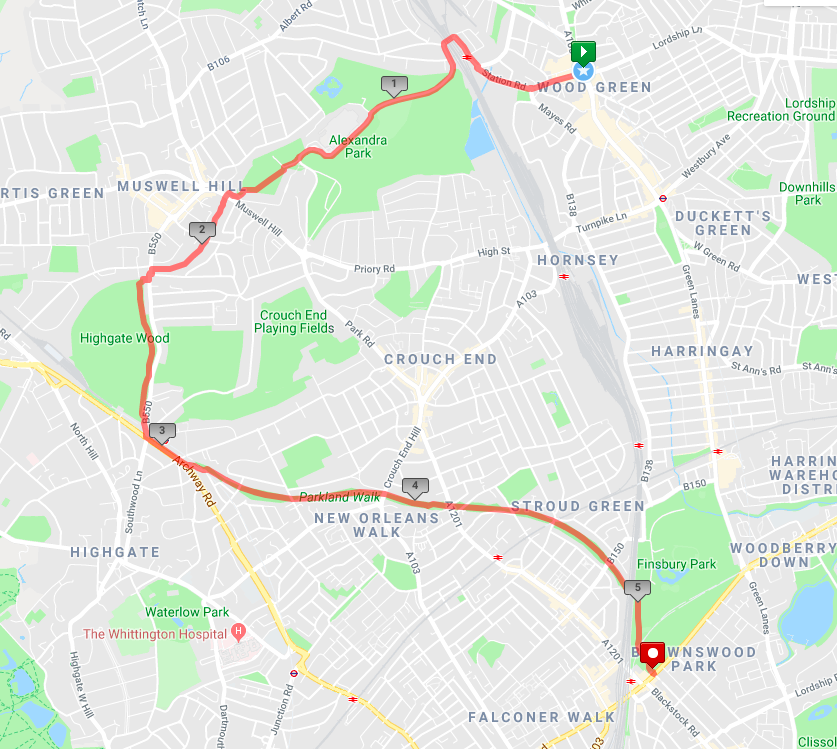 Wednesday 18 May  – Whole Foods Piccadilly via Embankment (6.5 miles)
RunGo:  https://routes.rungoapp.com/route/sPLE0JCI3K
We start out heading east on the canal and run to the Wall.  We'll exit the canal there and turn right onto Rodney, which will turn into Penton Rise, then King's Cross Road, and eventually Farringdon, which we will stay on until we reach the embankment. We then turn right and run along Victoria Embankment to Northumberland (just past Embankment Tube Station). Turn Right onto Northumberland and run through Trafalgar Square onto Cockspur and then turn right onto Haymarket. Take Haymarket into Piccadilly Circus and turn left onto Coventry. Run through Piccadilly Circus, across the street and onto Glasshouse Street, where you will see Whole Foods Market.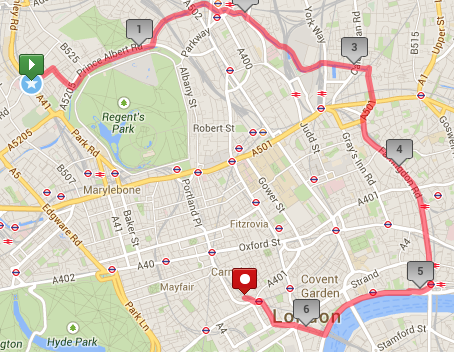 Friday 20 May – The Heath, Runners' Choice 
It's Friday, so away we go to the hill for a Runners' Choice day!  Pick your Heath route with your group– or go crazy and head for Borough Market.
<4 miles:  A great way to ease into running the hill. Run up to the Hampstead tube station and back. If you have trouble running up, think about how easy it will be running down!
5 miles: The Betsy Route
6+ miles:  The partial Heath route OR the Reverse Heath route OR Pergola route
7.5 miles: The Highgate route
8 miles:  The full Heath route
Click here for maps of all of the Heath routes.