Hello Runners,
We're going to Wembley! (For those of you who are English football fans, you'll know the song.) And we're doing it in REVERSE like we did earlier in the fall. We'll start our run with a quick jog over to Maida Vale station and then take the tube out to Wembley Central and run back to St. John's Wood. Make sure you get in your pace groups before we leave Barclays.
Wednesday we return to tempo work in Hyde Park – the famous Hyde Park Tempo Triangles! Friday we're doing something a bit different, we're running to the Finsbury Happening Bagel through Highgate and the Greenbelt. At this time of year, it's good to mix things up a bit! This is one of my favourite runs, which we don't do that often because we usually run in the Heath for our hill days. It takes a bit longer because we tube home but to me it's worth it. I love the Greenbelt – a stretch of wild green in the middle of the city- and truthfully I LOVE the bagels at Happening Bagel. (If you can't run to Happening Bagel, you can always do one of our standard Heath routes.)
Good Luck Racers!
This weekend we have a big group of runners participating in the Cancer Research London Winter 10K including Kundhavi Bala, Dani Burke, Alyse Driscoll, Lesley Gallagher, Stephanie Gladis, Stefhanie Howe, Charlotte Jones, Megan Marine, Julie Moyle, Marissa O'Malia, Carolyn Perelmuter and Megan Weitz. (Sorry if I forgot anyone!) We hope you have a great race!
THANK YOU
Thank you to everyone for making last week's money collection and shirt/hat distribution a success! Thank you to everyone who came to pay and collect their goodies and to everyone who gave their money to a friend.
An extra special thanks to the following people for their help:
• Chris Roberts – finalising the designs and dealing with the vendors who made the shirts and hats
• Kelli Montanaro – collecting the shirt orders and designing our WRW shirt logo
• Amy Grace – designing the grey hat and collecting orders
• McKenzie Webster – hosting our large group on Tuesday morning
• Shannon McHugh – dealing with the shipping
• Melissa Kay – collecting money
• Stefhanie Howe – handing out shirts and hats
• Diane Bell – organising our Saturday night race dinner and collecting meal orders
If you need additional incentive to run…
After the Wednesday run we saw Matthew Perry at our very own SJW Starbucks. And the adventurous group who did the Highgate Heath route on Friday saw Damian Lewis and his wife Helen McCrory. (They were walking home with their groceries and very friendly and encouraging to our little tired group!)
Keep running,
Jane
ROUTES
Monday 1 February – Wembley Central IN REVERSE – 8 miles
Once again we are running the 8-mile Wembley route in reverse. That means we're going to take the tube first, out to Wembley Central station and then run back to St. John's Wood. The benefits are that we'll avoid the cold trip home after running, we will have less bike traffic on the canal and we can still meet for coffee in St. John's Wood. We're going to do a short run (0.75 miles) over to the Maida Vale station and then take the Bakerloo line to Wembley Central Station, where there's a very convenient loo right at the top of the stairs as you head out of the station. You may want to stretch again on the train. Take a left out of the tube station and then a left on Ealing Road. We stay on Ealing Road, which eventually bears left at the bottom of the hill, and enter the canal by heading down the steps at the 243 Ealing Road apartment house. Enjoy the non-stop running until you leave the canal in Little Venice, head up Blomfield Road and back to St John's Wood.
Wednesday 3 February – Hyde Park Tempo Triangle
Head down to Hyde Park the usual way at a very gentle pace. Once you reach the park pick up the pace a bit around Speaker's Corner, and then run very fast down to the SE corner of the park. Jog slowly around the corner while you try to bring your heart rate back down to a recovered rate. Once you reach the straightaway, run hard again to Carriage Road. Slow down to a recover rate again as you cross over the bridge and up to the path, where you will turn right and run hard along the diagonal back to Speaker's Corner. Jog very slowly back to SJW or, even better, hop on the bus or tube from Marble Arch. If you are not doing tempo work, you can do this run at a regular pace and if you go back to SJW it is about 6.5 miles.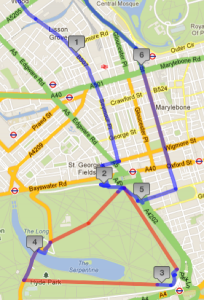 Friday 5 February – Happening Bagel via Highgate and Finsbury Greenbelt – 7 miles
We have a different hill run this week, complete with bagels as a reward at the end! For this run we start up Fitzjohn's like we're going to the Heath but pass the entrance and continue up Spaniards/Hampstead Lane to Highgate. At the very top of the hill bear right and run slightly downhill towards Highgate High Street. At the second circular intersection, cross the high street at the zebra crossing and go down Southwood Lane. At the bottom of the hill veer to the right onto Jackson's Lane (which is a very narrow road). Continue down Jackson's to Archway Road, cross the road and make a right, then a relatively quick left onto Holmesdale Road.  Run a short distance on Holmesdale and the entrance to the Finsbury Greenbelt will be on your left.  Follow the path until it ends, turn left, cross the bridge over the train tracks and enter Finsbury Park. Turn right and run along the western edge of the park until the entrance on Seven Sister's Road. After we stretch we will head over the street to the Happening Bagel. Once we've bought our bagels we will cross back over the street to Costa for coffee and then take the tube home from the Finsbury Park Station.