Hi Everyone,
I hope you're recovered from our amazing race and ready to get back to some fun runs in London. Monday we have two options. First, we're running to our favourite Brick Lane for bagels. We take the canal east and the entire route is about 6.5 miles. See the directions below and take note of the bridge where we exit the canal. Second, Darcy and Maureen are going to do a "reconnaisance mission" out the canal east to Stratford to check out a new route for us. This will probably be around an 8-10 mile run, and may include a few wrong turns. If you're up for an adventure run, they would love your company. Make sure you bring water and maybe even a gel and check in with Darcy and Maureen at Barclays so they know who is joining them. Wednesday we're heading to Hyde Park for a distance of your choice and Friday we're up the hill. I'd love your help this week to welcome all the ex-beginners. (I know that's an easy request because you're always so welcoming!)
Good Luck Alison and Jordanna!
Alison and Jordanna couldn't join us in Warsaw, but they've been training with us all year and they are running the Prague Half Marathon tomorrow Saturday. Good luck! We hope you have a great race and most importantly, have fun! Please keep us posted and send photos. We'll be cheering for you!
Keep Running

I know it's tempting now that our big race has finished to take a break from running. Especially as life gets increasingly busy as the end of the school year approaches. However, the best thing you could do for yourself is to keep running over these last few months and over the summer. You'll hang on to the fitness level you built for the race and you'll start the fall ready to run.
Spring, Summer or Fall race?

One of the best ways to keep running is to sign up for a race. Having that race on your calendar will motivate you to train. Even a short local race can make a difference. We have a group of WRW runners who signed up for the Richmond 10-mile race on 4 June. Check out the registration here:  
London 10 Mile
Or you may want to consider signing up for a half marathon in the fall. We usually have a group that does the Royal Parks Half Marathon which is on 8 October 2017. The lottery spots for that race are full, but there are still charity openings if you want to commit to raise money for a charity. The Windsor Half Marathon is on 24 September 2017. This is supposed to be a beautiful race, but it is a bit hilly.
Keep running,
Jane
ROUTES
Monday, 3 April – Brick Lane via Canal (6.5 miles)
This is a fun and funky destination run!  We will head out in the same way as though we are running to The Wall. 
**Please note that there is a temporary detour through Camden. Get off at the market, cross Camden High Street, take the next right at Hawley Road and a right at Kentish Town Road. The canal entrance will be on your right.**
Take the Canal east to the Wall—go up ramp to Muriel Street, take a right and then an almost immediate left up a path that winds between the apartment buildings. Here's the entrance to the path: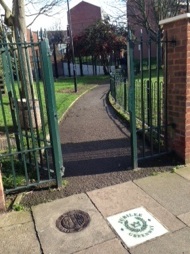 Keep going straight on the path and it will become Maygood Street. When you get to the intersection of a main road (Barnsbury Road) turn right.  Run until you make the second left onto Chapel Market. (There is a metal archway saying Chapel Market and a zebra crossing at the intersection.) Follow Chapel Market until the end. Turn right at Liverpool Street to the major road Upper Street. Cross Upper Street and turn left, then make your first right at Duncan Street. Follow Duncan Street to the end and there will be an entrance to the canal directly in front of you. At the canal path continue running straight, the water will be on your right. Follow the canal until you reach the Kingsland Road Bridge, Number 45. See the photo below.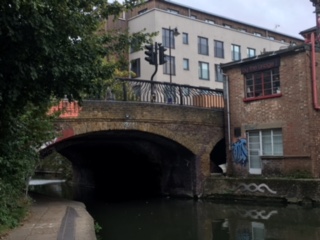 Run under the bridge and take the brick steps up on your left, see photo below.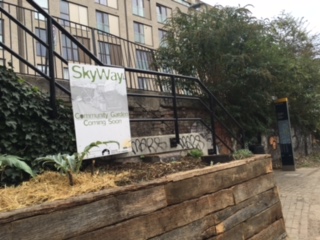 At the top of the stairs turn left and at the main road, Kingsland Road, turn left.  (You'll be running back over the canal.) Follow Kingsland Road, you'll see the Gherkin building in the distance in front of you. (Kingsland Road will become Shoreditch High Street.) Turn left at Bethnal Green Road. There will be a white medal railroad bridge in front of you and the BOXPARK market will be on your right once you turn. You'll also pass the Shoreditch High Street Overground Station on your right. Follow Bethnal Green Road until you hit Brick Lane, less than a quarter of a mile. There is a Casa Blue cafe at the corner, turn right into Brick Lane and you'll see Beigel Bake on the right.  For the journey home, you can take the Shoreditch High Street Overground to Canada Water and then take the Jubilee Line home. Or you can walk through Spitalfields Market to get to the Liverpool Street tube station.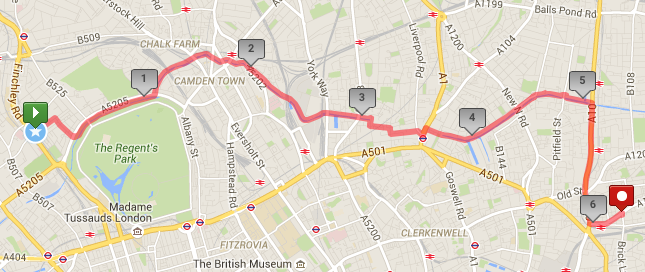 Wednesday, 5 April – Hyde Park  – always versatile! (5 – 8 miles)
Click here for all of the Hyde Park interactive route maps
Start:  Everybody starts the same way… head west on Circus Road, turn left on Grove End Road and follow south as it becomes Lisson Grove.  Cross over Marylebone Road and continue on Seymour Place until the end.  Turn right and cross over Edgware Road and then take the first left on Stanhope Place to enter Hyde Park at the intersection with Stanhope Place. Cross into the Park and enjoy your run!
Friday, 7 April – Hampstead Heath Routes
Something for everyone!
4 miles:  A great way to ease into running the hill. Run up to the Hampstead tube station and back. If you have trouble running up, think about how easy it will be running down!
5 miles: The Betsy Route
6+ miles:  The Partial Heath route OR the Reverse Heath route
7.5 miles: The Highgate route
8 miles:  The Full Heath route
Click here for maps of all of the Heath routes.