Hello Runners!
Whew!  What a weekend!  Whether you were in London or traveling for the extended weekend, it has felt like a whirlwind, and is sometimes hard to remember what day it is!  While we had to reschedule our 'Sights of London' run last Wednesday, I think most of us took in plenty of sights over the weekend.  I know I've seen spectacular photos on social media from some of our intrepid runners who went right in and got a front row view of Jubilee festivities (well done!).
Running this week.  Monday we are planning to run to the Tower of London to see the 'Superbloom' wildflower moat created for the Platinum Jubilee.  We last ran there in April, when the moat had just been tilled and the wildflower seeds sown.  It will be fun to see the progress on tomorrow's run– routemaster Erin Roth has given us a scouting report in the 'Routes' section below.  One rather big caveat to this… there is a major tube strike planned for tomorrow, June 6.  It is unclear what stations will be closed, but TfL journey planner seems to indicate it will still be possible to travel home to SJW from Tower Hill.  We should check updates tonight and tomorrow morning, and then each of us decide what level of ambiguity we can live with– and whether we are willing to get Ubers/taxis or use other alternate means of transport home if necessary.  If you prefer to stay local, there are plenty of great routes on our doorstep.  Wednesday is a little more straightforward, as we've planned a simple standard route around the Inner and Outer Circles at Regent's Park.  
And Friday, finally, we have the Sights of London/Leavers' Run we postponed from last week!  Directions are below, and assuming things are slightly more back-to-normal in London, we will attempt to run as one big group.  Please, please do be careful both of other pedestrians, and of traffic— it's so easy to get distracted when we are in the midst of a big pack!!  At the end of this run, you can choose to tube home from Charing Cross (Trafalgar Square) or to run on through St James Park and back to Green Park tube station.  We will notplan a big meeting at Benugo St James Park, as we our End-of-year Picnic is scheduled for Friday at 12:30 in Regent's Park (rain date is Monday…so stay tuned)!
End-of-Year Picnic Friday!  Our end-of-year picnic tradition began just last year under the last bit of social distancing rules, when we were looking for a way to celebrate the year together-ish.  But it was such a fun and easy outing, that we've decided to keep it going!  This is a BYO event– bring your own food, drink, blanket, etc.; or coordinate to whatever extent you want within your pace groups or with friends.  The point is to enjoy this time together– not to add the stress of another 'event' at the end of the school year.  So do this in a way that works for you, but of course as always with that inclusive WRW spirit if you do start making plans to coordinate.  This year we will not need to separate into groups of less than 30, thank goodness!  But we will need to spread out some if we have a good turnout.  So we'll plan to situate ourselves in the general area of the park shown below, in the Inner Circle in the area in front of the fountains and near the restaurant and public toilets: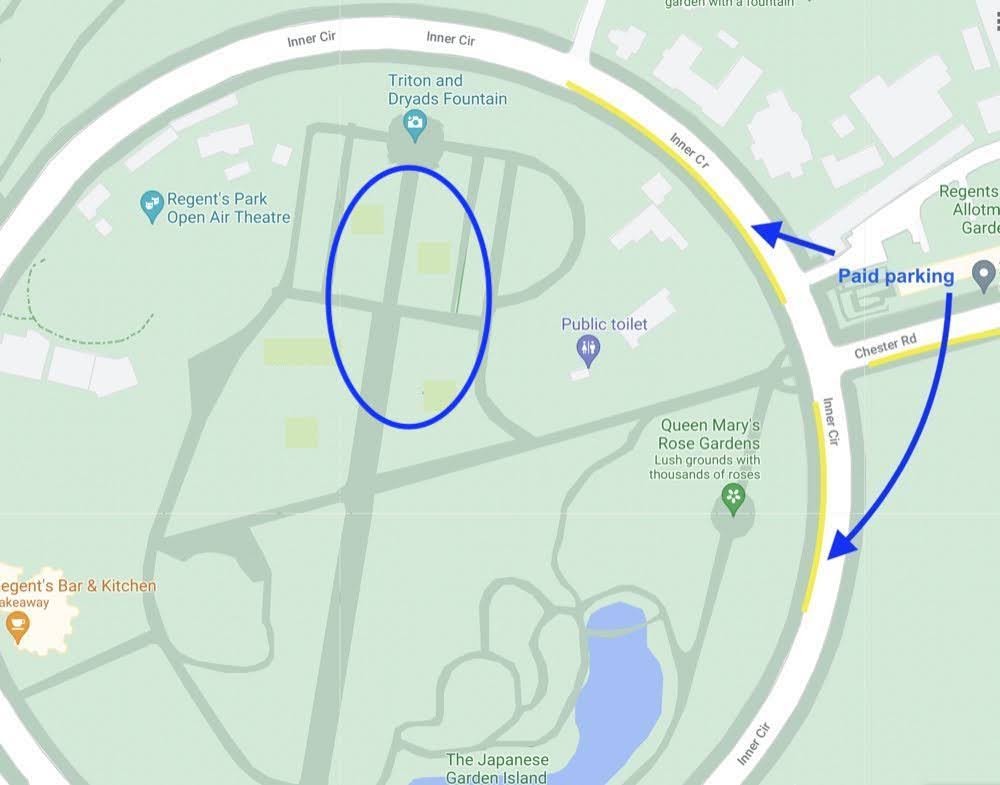 Plan to roam amongst the group and see friends across pace groups and, definitely, to seek out and send good wishes with those who are leaving London this summer!
Announcements and Shoutouts.  If you hear of anyone who would like to join the Beginner's class of 2023, please connect them with us or pass along their contact info to [email protected].  As anyone who has been through this program knows, it can be an amazing, life-changing experience!  The program is for people who have truly never been runners before.  It starts out with one-minute intervals at a very slow jog, so is not appropriate for anyone who is able to run even a mile or two.  Our regular M-W-F group can help people who have been runners before ease back into it and work up to joining our M-W-F runs.
Though most of us are connected to our pace groups via Whatsapp chat, one of the great things about running in London if you around in the summer, is getting to run with people from other pace groups!  We open a WRW Summer Running Whatsapp chat each year to help facilitate meeting up and planning.  Many of you may already be on this, as it's a continuation/revival of last year's group.  Follow the link just above to join if you want to keep up with London running friends, or find new ones, this summer!
A couple of runners (thanks Sue and Tamar!) forwarded information on the 'Corgi Trail' treasure hunt open in London this summer.  It looks like such a fun way to run and explore once all the Platinum Jubilee festivities and our own end-of-year events are done!  Routemaster Miki Neant jumped right on and has created a route that takes in 19 Corgis!  Here is the RunGo link!  She notes that 4 of the Corgis are inside hotel property (which presumably it's okay to enter to view, just something to be aware of!).  This site offers more details and a map.   
Look out in the photos and in the coming two weeks for familiar faces of WRW alums visiting London!  I'm afraid to start name-dropping, lest I miss anyone (or invade anyone's privacy), but I have heard of so many beloved visitors hitting town in these next two weeks, it should be very exciting to see some old friends on our runs or about town!  And on that note, our last official run will be next Wednesday, June 15.  For both runs next week, we usually keep it simple and close to home, as there is so much going on at school for all our runners who have children finishing their year.  I can't believe we are crashing in on the end of our fantastic year together already!  
Enjoy the rest of your weekend, friends!  I'm dashing out the door for one of the Platinum Jubilee street parties.  Hope you, likewise, are celebrating (or perhaps recovering!) well!  Look forward to seeing you out on our London routes this week!
xx Micki
ROUTES
Monday 6 June – Tower Hill (7 miles)
RunGo: https://routes.rungoapp.com/route/eckLcQj4pf
Today we will be running across, along and back across the Thames, and in and around some of the oldest parts of London. The sights will be stunning!  As an added draw, we will have a view of the Tower of London's Superbloom, created in honor of the Platinum Jubilee. Ten thousand metric tons of soil were craned in and twenty million seeds were cast by hand in the Tower's moat, to lay dormant until rain and warmth created the ideal conditions for growth. Although the full bloom is still a couple of weeks away, many flowers are out and the changes made to develop a new landscape in this historic location are very cool to see! Come back with friends or family to walk through the moat and try out the slide as well (tickets required, sold out for 6 June).
If you don't want to do the full 7 miles to the Tower, simply end at Borough Market for 6 miles, or stop at Westminster for 4 miles.
We start off as though we are running to Borough Market— down Grove End and into Hyde Park, under Wellington Arch, along Green Park, through St James Park and towards Big Ben then across Westminster Bridge. At the end of Westminster Bridge, exit left down the stairs and run along the Thames Path past the London Eye, Royal Festival Hall, Blackfriars Bridge, Tate Modern, Shakespeare's Globe to the Golden Hinde, admiring all the landmarks as you trod past. Follow the walkway to the right of the Golden Hinde and at the junction with Southwark Cathedral, turn sharp left and follow Montague Close, passing through the tunnel. You are now on Tooley Street. Shortly, you will see a Legible London standing road sign for Tooley St/London Bridge (photo below) – turn left and go through the passage to meet up with Queen's Walk/Thames Path. Turn right onto the walk. Continue on the Thames Path past the HMS Belfast, City Hall and Potters Fields, to Tower Bridge. Climb the stairs up to the Bridge (don't go under the Bridge), then run across Tower Bridge (the views!), continuing past the Tower of London (more views!) until you reach the stairs down to Tower of London Park. Take the stairs down and follow the paved path along the park. Just past the park is a junction in the path-turn right to run in a tunnel under Tower Hill Road, past part of the original London Wall and up to the Tower Hill tube station. Now, think of all the history you've witnessed in just 7 miles!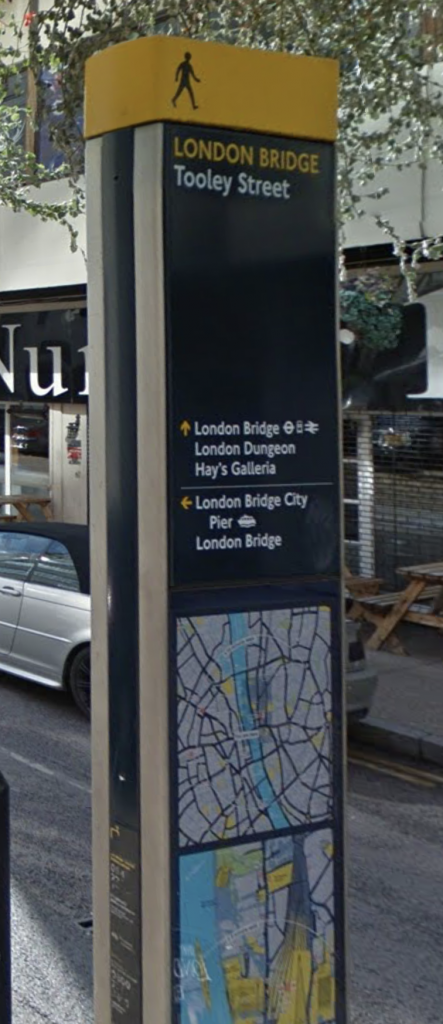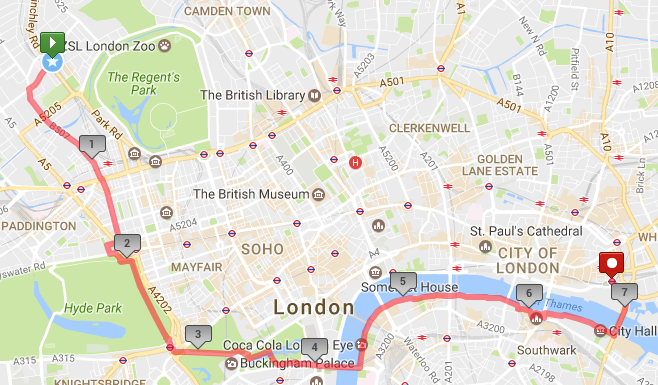 Wednesday 8 June – Regent's Park Inner/Outer Circle (5 miles)
RunGo:  https://routes.rungoapp.com/route/BoeFK1Khvv
From the Church Gardens head down past the church and turn left onto Prince Albert Road. Run to the pedestrian crossing where we will cross and head to the Outer Circle. Turn right and run on the inside of the circle past Winfield House which will be on your left. Continue around the Outer Circle until you reach the traffic light at the intersection with York Bridge. Turn left and proceed to the Inner Circle. Run one complete loop of the Inner Circle and back out across York Bridge where we will take a left and continue on Ulster Terrace which is part of the Outer Circle. At the next large intersection take a left and continue on the Outer Circle, heading north back towards the Zoo and Camden. Pass the entrance to the Zoo on your left and continue to the bridge at North Gate which we will cross to reach Charlbert Street. Run up Charlbert Street until St John's Terrace where we turn left and run back to the High Street for a stretch before heading to Starbucks or Pret.
Note – you can make this a 4 mile run by cutting out the inner loop.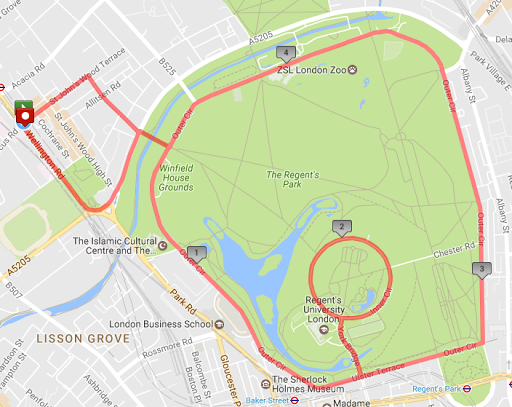 Friday 10 June 2022 – Sights of London/Leavers Run – Big Ben, Embankment, Trafalgar Square (5 miles)
RunGo:  https://routes.rungoapp.com/route/0BRroh4Wm4
This is a great run!  Even if you haven't run in a little while – come along!  We run as a (BIG!) group and we wait for everyone at the lights so we can stick together.  (If we get separated we'll wait for everyone at the photo points.)  The total distance is 4.75 miles and we stop often.  Please be mindful of other pedestrians on the pavement, and give them plenty of space to pass us– especially on narrower areas such as Lisson Grove!
We'll stop for group pictures at:– the silver sphere fountain as we enter Hyde Park
– Wellington Arch
– Buckingham Palace (from the Mall as we cross into St James Park this year, with all the bunting flags!)
– Big Ben (from the corner diagonal)
– London Eye from Embankment
– Trafalgar Square lions/fountain/National Gallery
We head to Hyde Park via the usual route. Start heading west on Circus Road and turn left on Grove End and follow south as it becomes Lisson Grove. Cross over Marylebone Road and continue on Seymour Place until the end. Turn right and cross over Edgware Road and then left to enter Hyde Park at the intersection with Stanhope Place. We'll stop at the silver sphere (one of our WRW landmarks) for the first picture!  Run along the eastern edge of the park to Hyde Park Corner, under Wellington Arch (stopping for a photo) and down Constitution Hill. We expect it will not be possible to stop directly in front of Buckingham Palace because of the Jubilee blockades, so we will plan to stop as we cross the Mall into St James Park to take photos if, as expected, traffic is blocked off (if it's not, we'll improvise!).  Run over the pond and out of the park, turning left onto Birdcage Walk and down toward Parliament Square for our photo with Big Ben.  Run toward Westminster Bridge and turn left onto Embankment for a shot of the London Eye across the Thames.  Then cross back over Embankment and run back to Whitehall, turning right to run to Trafalgar Square for one more photo. You can head back to St Johns Wood directly from Charing Cross at Trafalgar Square, or run back through St James Park to Green Park tube station.