Hello, Runners!
Wherever this finds you, I hope those of you who celebrate American Thanksgiving have enjoyed a happy and 'full' holiday!  It never hurts to take a moment to be thankful for the good things in your life, whether you celebrate this holiday or not.  And I am thankful for the abundance of friendship and positivity that flows through this community we have together!  Though it was a short week for scheduled runs, it seems from the chats that many of you have managed to meet up for runs on your own schedule this week.  Well done!
Running this week.  This week we begin with a run to St James Park Benugo via Holland Park.  We start on the canal and exit at Ladbroke Grove, then continue on through Kensington, along the south side of Hyde Park and straight on to St James Park.  If you need to get back to St Johns Wood, simply cut north in Hyde Park and run home our normal way.   
Wednesday is a group favourite– our annual Holiday Lights Run at 6:00am sharp!  The mileage is flexible, so you can cut out at Bond Street (4.4 miles) or Baker Street (5 miles) to get back to your households as needed for morning demands.  This year we've added a little loop to the route to take in Annabel's and Hedonism Wines, two local holiday decor highlights– thanks to Tamar Brooks for flagging these festive locations!  NOTES ON EARLY MORNING RUN:  The St Johns Wood Church Gardens are not open at this time in the morning, so let's gather (quietly!) on Wellington Place outside the garden gates.  People in the nearby residences have told us before that we've woken them up on our early meet-up, so best to save the chat for after we've left St Johns Wood!  For safety, wear bright colors or reflective clothing, and maybe even bring a bike light or headlamp if you have one.  And most of all, pay attention to your footing– uneven pavements, curbs, and other obstacles like benches and light poles(!) can be especially problematic in the dark.  
It's the first Friday of the month, so we are off to Borough Market.  Look for holiday touches along the South Bank, and stock up on Borough treats for the season!  As always, you can find the routes, maps, and directions in the "Routes" section below.
Announcements and Shoutouts.  As you are all aware, our old friend Covid has taken another turn.  In light of the rising numbers, the alarming new variants, and the upcoming holidays, we ask that everyone please be extra considerate and thoughtful in our interactions.  It's a good idea to take a lateral flow test before meeting up with your group if you have been traveling (the new guidance on Day 2 PCR tests is emerging as I write this, but this is based on information at the moment).  Don't forget to bring a mask on your runs, as they are now required on public transit and in shops.  And of course, keep up with all the precautions we all have been taking vis-a-vis symptoms, exposures and self-isolating.
Congratulations to Jess Browne and alum Litsa Savastino on the Lisbon Half Marathon last weekend!  Well done, ladies!  Please keep us posted on your running adventures– we are always happy to give a shoutout here.
Looking ahead.  Monday, December 6 is our Crazy Tights Run.  Excavate those bright, tacky, or maybe just beautifully coloured tights from the bottom of your sportswear drawer… or do a little home crafting on some old tights, or online shopping for something unique.  It's always good fun, and yes, we are quite a spectacle on that day!
Monday 6 December – Crazy Tights Run
Wednesday 15 December – Hyde Park to Covent Garden
Enjoy your last bit of the long weekend today, running friends!  Take good care of yourselves and your families.  It will be great to see everyone out running together again this week!
xx Micki
ROUTES
Monday 29 November – Holland Park to St James Benugo (8 miles)
RunGo:  https://routes.rungoapp.com/route/uKxwpqhOoZ (note that this version ends at Green Park– to reach St James Park Benugo, follow along the Mall and cross the street into St James Park, following the path angled to the left before the bridge)
We start out the same as our traditional Notting Hill Route: Circus Rd to Grove End, to St Johns Wood Rd to Cunningham, to Blomfield to the Canal, going west past the Westway to Ladbroke Grove. Once on Ladbroke Grove, run south all the way until it ends at Holland Park Avenue. Cross Holland Park Avenue, take a right and then a left on Holland Walk, just past Aubrey Road. Holland Walk is a pedestrian way. Run up Holland Walk until the first entrance into Holland Park on your right, opposite the Duchess of Bedford Walk. Run into the park and then turn left on the Broad Walk which goes the length of Holland Park. Just before it ends at Kensington High Street take a left onto the quiet Phillimore Walk. Follow Phillimore Walk, which runs parallel to Kensington High Street, until you reach Hornton Street, where we take a right and then a left onto Kensington High Street. Continue on until you reach Kensington Gardens, where you enter it at the junction with the Broad Walk, just before Palace Gate Road. Take the Broad Walk to the first path on the right which turns into South Carriage Drive. You'll run past The Albert Memorial and cross West Carriage Drive at the light. Continue on South Carriage Drive all the way to Apsley House/Hyde Park Corner. Cross over Piccadilly and run under Wellington Arch, then cross at the light to run along the path to the left of Constitution Hill, the same route we take in going to Big Ben. Cross the Mall, run along the edge of the park, and take the angled path to the Benugo cafe. Do some striders, have a stretch, and then indulge in some breakfast. (Or, if you need to get back to SJW, instead turn left at the end of Green Park to run by Lancaster House and up to Green Park tube station.)
Wednesday 1 December – London Holiday Lights Run (4.5- 7 miles)
RunGo: https://routes.rungoapp.com/route/LlClVDQFBD (note that this version does not include the detour at Bruton Street for Annabel's and Hedonism Wines)
We start out straight down Wellington Road past the Mosque onto Park Road and down to the Baker Street tube station. Turn left and run along Marylebone Road, crossing after Madame Tussaud's to cut through the Marylebone Church courtyard and turn right to follow Marylebone High Street, enjoying its lights until you turn right on George Street. After just a couple of blocks, take a left on Spanish Place to Manchester Square, running to the right (past the Wallace Collection) to make a right on Fitzhardinge Street, then a left on Orchard Street (at Portman Square) until you reach Oxford Street. Turn left on Oxford Street and continue until you reach Regents Street and turn right. Follow Regents Street to Great Marlborough Street, take a left, go past Liberty and then take a right on Carnaby Street. Follow Carnaby to its end at Beak Street, right on Beak then left on Regents Street, all the way into Piccadilly Circus. Turn right on Piccadilly Street and then right on Old Bond Street. Follow Old Bond which turns into New Bond, but take a detour to the left at Bruton Street to run around Berkeley Square and see Annabel's lights, then just a quick further detour up around the block beginning with a left at Mount Street. Return to the regular route via Bruton, turning left onto New Bond and then left onto Brook Street. Turn right onto South Molton Street and run through the iconic blue arches up to Oxford Street. You can stop at the Bond Street Station (4.4 miles) or continue up Gee's Court (a tiny alley street diagonally across from Bond Street Station) which becomes St. Christopher's Place. Cross Wigmore Street up Marylebone Lane, back up the Marylebone High Street, through the Marylebone Church courtyard to Marylebone Road.
Options: turn left at Marylebone Road to reach Baker Street Station and you will have run 5.4 miles; alternatively, retrace your steps through Regents Park outer circle back to Starbucks via Allitsen and St Johns Wood Terrace and you will have run 7 miles. Latte time!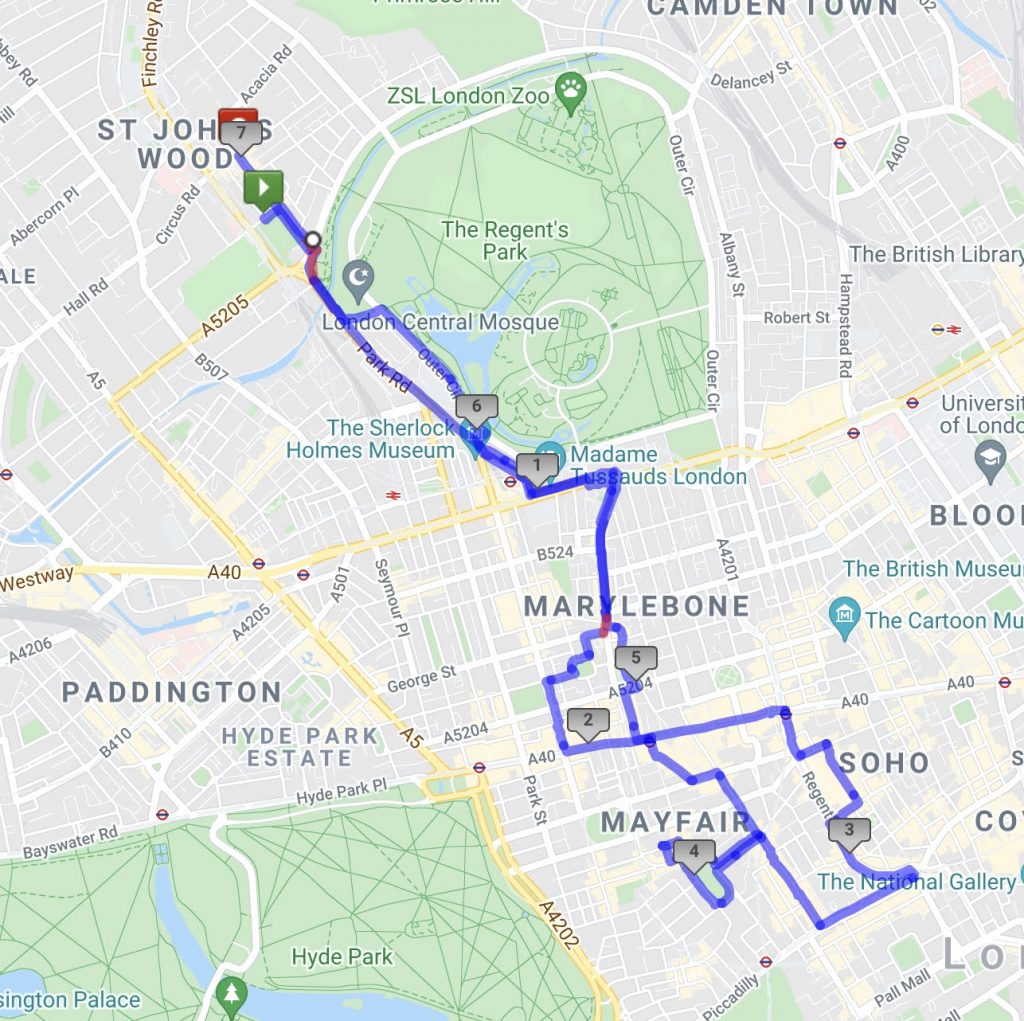 Friday 3 December – Borough Market First Friday – (6 miles)RunGo:  https://routes.rungoapp.com/route/6U5vDjwEEA
Let's mix it up with a destination run to Borough Market, official address 8 Southwark Street SE1 1TL. We can grab coffee at Monmouth before doing any shopping and catching the tube at London Bridge station back to SJW. Don't forget your Oyster! We start by heading to Hyde Park via the usual route. Head west on Circus Road, turn left on Grove End Road. At the corner of St. John's Wood Road and Grove End Road, cross diagonally at the light and continue south on Lisson Grove. Cross over Marylebone Road and continue south on Seymour Place until it tees into Seymour Street. Turn right and cross over Edgware Road and then take the first left on Stanhope Place to enter Hyde Park at the intersection with Stanhope Place. Run along the eastern edge of the park to Hyde Park Corner, under Wellington Arch and down Constitution Hill. Run past the Victoria Memorial, cross The Mall at the light and turn right at the grand wrought iron gates into St. James Park. Run over the pond and out of the park, turning left onto Birdcage Walk and down into Parliament Square to Big Ben. Continue past Big Ben and cross Westminster Bridge. After the bridge turn left down the stairs to run along the Thames until the river path ends after Southwark Bridge. Just past Southwark Bridge, head right and then a quick left to go into a short tunnel that puts you onto Clink Street. Make a right on Stoney Street to get to the market (and Monmouth Coffee or Rabot Estates!).