Hi everyone,
I enjoyed running in our beautiful warm weather last week. End of October and we're still in short sleeves – we'll take it. Please read the following email. It's long, but it has some important information including the 2017-2018 WRW shirt and hat order information and a cool Lululemon running/training event.
On Monday we're celebrating Halloween with a run through the Brompton Cemetery ending at the Whole Foods in South Kensington. The Brompton Cemetery is one of those hidden London jewels! It was opened in 1840 and designed to be a garden for recreation as well as providing burial space. The cemetery covers 39 acres and 205,000 people are buried there including the famous suffragette Emmeline Pankhurst. To top it off, the South Ken Whole Foods has a large seating area upstairs for sharing a post-run coffee. I hope you can join the run! We have a large group this year, so make sure you take a look at the route. We try hard to have to the pace groups stick together as much as possible but if the group is very large, we'll likely split into smaller groups along the way. Wednesday is the Camden/Morningside Crescent/Regents Park route and Friday we're back up the hill.
Good luck Sue!
Congratulations to Sue Wheeler who is running the River Thames Half Marathon this Sunday 29 October. We hope you have a great race and have fun!
Halloween Costumes on Monday!
It's time for our Fourth Annual Halloween Costume run! Plan to dress up for Halloween – nothing too elaborate because you still have to run – but be creative! A crazy hat? A Halloween top? Last year we had some great running "costumes" and I can't wait to see what you come up with for this year!
WRW SHIRTS AND HATS – ORDER NOW
It's time for the new WRW T-shirt order and this year we are also offering some additional WRW kit. (Thank you Carol Bertolino for organising all these great offerings!) Orders are due by5pm on Thursday 2 November. Since we have such a large order, we need to work with the Nike "teamwear" vendors as the inventory levels are always changing. So once we get confirmation that our preferred colour/style is in stock, we need to order ASAP. That means that we can't extend the deadline or make late additions once we have submitted the order. Don't be late, or you'll miss your chance to order! We don't have an exact price yet from our vendor (depends on the number we order) so we've provided you a price range.
2017-2018 T-shirt
We're offering the same Nike Legend Dri Fit shirt we've had the last five years. We're keeping the shirt and race-hat color a surprise, but trust us it's going to look great! (The shirt color will be a standard color and not anything sheer or a color you wouldn't normally wear.) We'll have our WRW logo on the front and a new saying on the back. If you want to see a sample, there will surely be someone wearing one from last year on any given running day. You should also ask your fellow runners about their sizes because the shirts run a bit big. Many runners order a size smaller than their usual size. The price will be £25 – £30 per shirt.
WRW Kit Hat
We're offering the same Nike Dri-Fit featherlight cap that we've had the last two years with the WRW logo, London and the British Flag in classic red/white/blue on the front. At the moment, the only colour in stock is the charcoal grey that we offered two years ago. However, I know that many of you missed a chance to get that hat so we're offering it again. The price will be between £25-£30 per hat depending on the number we order. Please note that this is NOT the race hat for Utrecht. (We're ordering a race hat in a fun bright colour for all those who are going to the half marathon.)
WRW Kit Long-sleeve T-shirt in two colours
This year we are also offering a long-sleeved Nike Legend Dri-Fit T-shirt. This is the same style as the short-sleeve shirt just with long sleeves. The colours available are black and cardinal (which actually looks more like a raspberry colour – there is a picture on the google form) and it will have the WRW logo, London and the British Flag in accenting colours printed on the front. The price will be between £35-£45 per shirt.
How to order
If you would like to place an order, please click on the WRW Apparel Order Form to complete the Google Doc. It's very simple, just follow the directions. If you want to order multiple shirts in multiple sizes, you should submit the form for each shirt size with a different name. For example, Jane Novak1 orders one small shirt and Jane Novak2 orders one large shirt.
If you have trouble with the Google Doc for any reason, please email Carol Bertolino at [email protected].
Money Collection
We're going to collect money when the shirts/hats arrive, probably not until January.
Ordering from abroad
We're happy for our WRW friends from all over the world to order, but we kindly request that you arrange for a friend in London (not Jane or Carol) to pay and pick up the shirt/hat when we do the money collection and shirt/hat distribution. Please also plan for your London friend to arrange for shipping as well.
Lululemon training event – "Baby Got Track" this Thursday 2 November 6:30-8:30PM
How do the shapes we make and the breath we take, affect our performance within the sport of our choice and everyday life? Join Lululemon Ambassador Chevy Rough and his movement community, the ChasingLights Collective, for a night of play, games and workshop-based learnings on how to move, breathe and recover like nature intended. The session will take place on a running track, however don't assume it's all running and that you may not be good enough to keep up. This is just a space that will be housing us and for you to explore in new ways. The evening is not about coming first, it's about connecting the dots between mind and body while having fun with other like minded humans. Performance junkies or those new to exercise will all takeaway something different to help them with the road ahead. Location Paddington Rec Ground W9 1PD. Sign up on Eventbrite at lululemonbabygottrack2017.eventbrite.co.uk and also email Nicole McNaughton at [email protected]. Also be sure to pick up your pre-run pack at Lululemon Westfield from October 26th. Print off your eventbrite sign up and show in store to redeem.
Heart Monitoring – Making the most of your training
Christian Hyslop, a personal-fitness trainer who has worked with many women in WRW, is offering an innovative and easy-to-use heart monitoring system called MyZone.
Some benefits include:
Easy-to-follow colour-coded format to help keep you at a comfortable running pace
The MyZone app is compatible with Apple, Android and Google smartphones
Fabric chest strap is comfortable to wear and washes easily
Chest strap works with smart watches and all other heart rate watches
For more information please contact Christian directly at [email protected]
Utrecht Half Marathon Travel Plans
I sent out an email on Wednesday with details and directions for how to book a hotel room and register for the race. Thank you for all the positive feedback and for being so responsive. Once again, if you are considering going to the race, please book your hotel room now. (We have a generous cancellation policy so you could always cancel later.) It is very helpful to us to know as soon as possible if we're going to need to add more rooms to our group block. If you didn't get the travel email, please let us know. Also, please email Sue Wheeler at [email protected] with your flight information and the names of the roommates if you are staying in a double room.
Keep running,
Jane
ROUTES
Monday 30 October – Whole Foods via Brompton Cemetery (6.5+ miles) HALLOWEEN RUN!
Today we'll earn our post-run treat by ending at Whole Foods on the Kensington High Street!  Bring your shopping list if you want.
We start out the normal way to Hyde Park.  Once you enter the park, turn left and run along the east side of the park.  At Hyde Park Corner turn right and run along the south side exiting at the gate we normally use at William Street [next to the French Embassy].  Cross the street, take a right.  Turn left at Brompton Road (just past the tube) and take Brompton all the way (admiring Harrods as you pass) until Fulham Road.  Veer left on Fulham Road and continue to Brompton Cemetery.  Turn right to enter the Cemetery.  Run through the Cemetery then exit and turn right onto Old Brompton Road, then turn left onto Earls Court Road. Cross Cromwell Road, then turn right onto Cromwell Road and then turn left onto Marloes Road. Continue north on Marloes making your way through the streets to Kensington High Street.  Whole Foods will be to your right.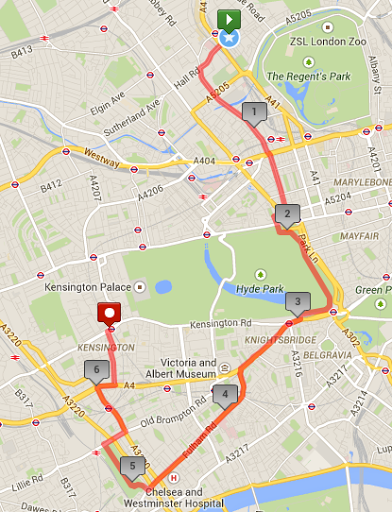 Wednesday 1 November –  Camden/Morningside Crescent/Regent's Park (5 miles) 
We will run to the canal going eastbound to Camden Market, where we exit the canal and turn right onto Camden High Street. We'll run down Camden High Street to Mornington Crescent Tube Station and veer right onto Hampstead Road, which we will take down towards Euston Road. Just before reaching the huge intersection at Euston Road we turn right at the Sainsburys/Itsu and run between the office buildings at Regent's Place and past the nice fountains, through Triton Square.  Left to Euston Road, then cross Osnaburgh Street and Albany Street. At Park Square East, turn right towards Regents Park.  We make the first left onto Outer Circle and run around the loop to the Charlbert Street exit (where we usually enter for the canal or park). We'll run up Charlbert Street to Allitsen Road, make a left, and head back to Starbucks.  [Note, some ladies choose to run into and through Regents Park to meander to the Charlbert Street exit].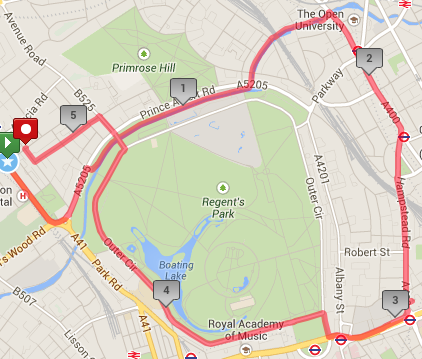 Friday 3 November – The Heath (4-8 miles)
We run up the hill on Fridays–it's tradition! It is hard, but you'll feel great when you are finished.
If you are not up for a hill run yet, no problem, just let us know. Every week there are a group of women who prefer to do a flat run. We can help make sure that you find each other.
4 miles:  A great way to ease into running the hill. Run up to the Hampstead tube station and back. If you have trouble running up, think about how easy it will be running down!
5 miles: The Betsy Route
6+ miles:  The partial Heath route OR the Reverse Heath route OR Pergola route
7.5 miles: The Highgate route
8 miles:  The full Heath route
Click here for maps of all of the Heath routes.