Hi all,
Welcome to the new runners that just joined the group this week.  We're thrilled for you to join us!  A reminder to everyone who joined this year – if you're finding your group a bit too fast or slow, just email me and I can introduce you to a group that may be more your speed.  Most days we have a large group of runners so there will be someone running close to your pace.  
Thanks for all the photos and the good feedback about last Monday's run to Westminster via Farringdon.  One of the fun things about building our mileage is that we can branch out and explore London!  
ASL is off on Monday for an all-school parent conference day so we'll start at 8:30am. We kept it simple with the Hyde Park routes for Monday – feel free to pick your distance.  Wednesday we return to the familiar Kensal Rise loop and Friday is HALLOWEEN!  Let's dress up for Halloween – nothing too elaborate because you still have to run – but be creative!  A crazy hat?  A Halloween top?  Your favourite English fascinator?  I challenge you – and promise fame and fortune to the woman with the best running "costume."
Travel to Italy

We've updated the website with the travel information for our Padua race in April. Once you make your hotel and flight reservations, please email Patricia Shelton ([email protected]) with the specifics so we can keep track of our numbers.  
Nutrition

Nutrition is a hot topic these days and it seems every day there is a new expert with a new view.  How do you sort it all out?  Over the next few months, we're going to tap into the experience and knowledge of our group and offer some guidance on nutrition topics for runners.  See below for our first tips on post run food options.
Eating after the run

Below is some advice from Paula Mitchell.  I love hearing her voice in the words so I kept her exact quotes.  Paula has a lot of experience with running, but also coaching other runners. 
"Within 30 minutes after you run, I would suggest the following:

•50g carbohydrates

•10g protein

•2g fat

The protein piece is critical as is the timing of this food.  Again, a nutritionist/scientist would cringe at how I try to explain this, but here we go… when you exercise your muscles are agitated/traumatised.  The cell membranes temporarily become more porous (instead of a wall, it's more like a mesh allowing the flow of nutrients easy passage).  Some post-run ideas would be a latte and yogurt, a latte and a piece of fruit or a latte and half a skinny muffin.  Basically a tall, skinny latte has 15g of carbs, 10g of protein and 0g fat – so you're looking for another 35g of carbs in addition to the latte.  This would apply to longer runs and what qualifies as a long run is different from runner to runner.  You're probably just fine eating whatever you normally consume until about mid-end November when our runs lengthen."

That's all for now! 
Keep running,
Jane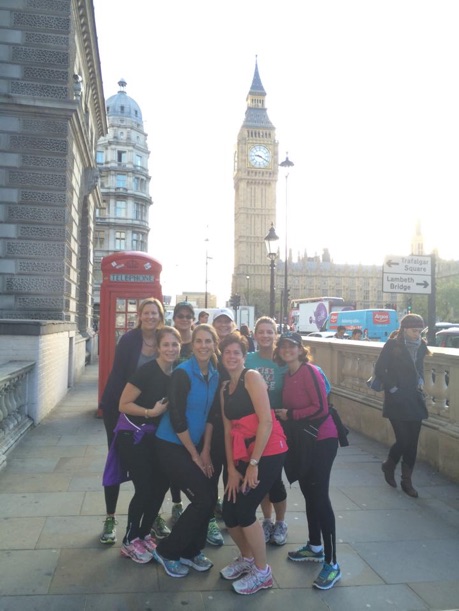 ROUTES

Monday 27 October–No ASL–Hyde Park
Monday is an all school day off at ASL, so we'll make it easy for those who can make it out by heading to Hyde Park.  All the routes are on the WRW website link here so grab some buddies and run whichever distance you prefer!
Wednesday 29 October – Kensal Rise 4-6 miles

This week we'll head west along the canal. Remember to be aware of bikes and boat mooring posts along the way!
Start out heading west on Circus Road, turn left on Grove End to St John's Wood Road and go west, working your way to the canal entrance on Blomfield.  Enter the canal heading west and run to the Ladbroke Grove exit.  Here we turn right and run over the bridge along Chamberlayne Road to Harvist Road. Turn right on Harvist, which turns into Brondesbury Road, and take that to Kilburn High Road/Maida Vale.  Turn right and follow Maida Vale to Hall Road where you turn left and run back to Starbucks. If you want to shorten this route, run west on the canal and turn back at your desired half-way point. 
(The two mile mark is at the point on the canal when the Westway highway is over our heads.)  
Friday 31 October – Boo!  The "Haunted" Heath (4-8 miles)
Nothing to be scared of here as we do our traditional run up the hill on Fridays.  It may feel hard but your reward is the extra Halloween candy you can munch on tonight!  Dress up if you dare!
4 miles:  A great way to ease into running the hill.   Run up to the Hampstead tube station and back. If you have trouble running up, think about how easy it will be running down!
5 miles: The Betsy Route
6-7 miles:  The partial Heath route
8 miles:  The full Heath route
Click here for maps of all of the Heath routes.
A great run to Westminster via Farringdon!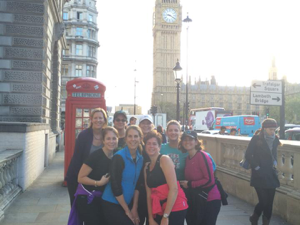 Saturday, October 25, 2014
<![CDATA[]]>
<![CDATA[]]>