I want to thank each of you for helping to make this year at WRW a success! Thanks to everyone who came out for our Sights of London run and also to everyone who was able to join us at coffee afterwards. A huge THANK YOU to Laura Smith and Chris Roberts for organising the Leavers Coffee. What a great morning – except that we're going to miss all our leavers so much! (Nancy says we need a new name for "Leavers" – maybe next year it will be the WRW Graduation Coffee?!)
Thanks to everyone who joined our run to the West Heath on Friday. It was fun to explore a new and beautiful area of the Heath and get happily lost a few times. We'll work on coming up with a "simple" route so that the West Heath can be one of our standard Friday runs.
Monday is a Bank Holiday so we'll meet at Barclays for a bit later start at 8:30. Wednesday we're running to The Wall and Friday we're doing our last run to Borough Market (or you can do the Heath if you prefer.)
Save the Date – Monday June 6 Adventure run – Richmond to Hampton Court Palace
We're trying something new! We're taking the train to a beautiful destination, running and then taking the train home. This means the morning run will take more time because there are two train trips. I know it is a busy time of year. If you can't join this time, don't worry. This is a bit of a test and if it goes well, we'll plan to add some similar types of runs throughout the year next year. If you're planning to attend, please email [email protected] so we know to look out for you at the station.
Here's the plan: We will meet at the Finchley Road and Frognal Overground Station at 8:30 for the 8:37 train to Richmond. We will arrive in Richmond by 9:15 to start our run. (You can take a bus up Finchley Road to the station or take the tube to Finchley Road, turn left and walk up to the Overground Station.) When we arrive in Richmond we'll run along the Thames all the way to Hampton Court Palace. The run is approximately 8 miles. We'll take the train back to London from the Hampton Court train station. The train runs every 30 minutes, at 24 and 54 past the hour.
Save the Date – Upcoming runs
Wednesday June 1 – The Wall
Friday June 3 – Borough Market
Mon June 6 – Hampton Court Palace (more details above) or Big Ben
Wed June 8 – Last official run of the year – Regents Park 4 miles
AND…Monday June 13 WRW evening social with spouses (more details to follow)
Summer running in London
We're nearing the end of our official WRW year, but we'll still be running over the summer! If you're in town, plan to meet at Barclays at 8:30 on MWF and the group will decide on the route that day. We tend to have a small group that runs most weeks, especially in June and early July. It just depends on who is in town. Darcy Fautz ([email protected]) has volunteered to be a contact point for the summer, so please email her if you're planning to run or if you want to check and see if anyone else is running.
Keep running,
Jane
ROUTES
Monday 30 May – Bank Holiday
No scheduled run.  Anyone interested in a run can meet at Barclay's at 8:30 am and decide on a route.
Wednesday 1 June  –  The Wall (6 miles)
We head down towards Regents Park, then enter the canal at the Charlbert entrance and run east [left] cutting through Camden Lock Market until we run out of canal path at Islington and hit "The Wall."  [Don't forget to touch The Wall or else your run doesn't count 🙂 ].  At The Wall, we turn around and head back to St. John's Wood.  This is a great route to do a tempo run because there are no traffic lights.  But please be careful and aware of the bikes on the path.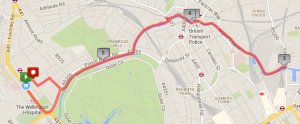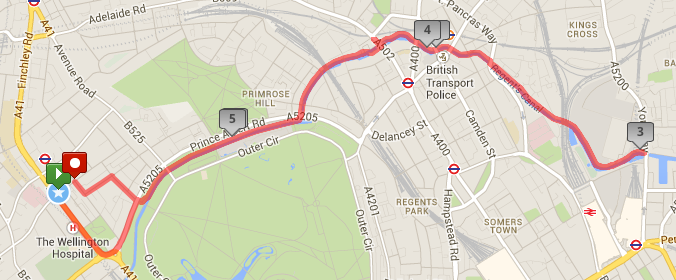 Friday 3 June – Borough Market via Westminster Bridge (6 miles)
We head to Hyde Park via the usual route. Start heading west on Circus Road and turn left on Grove End and follow south as it becomes Lisson Grove. Cross over Marylebone Road and continue on Seymour Place until the end. Turn right and cross over Edgware Road and then left to enter Hyde Park at the intersection with Stanhope Place. Run along the eastern edge of the park to Hyde Park Corner, under Wellington Arch and down Constitution Hill. Run past the Victoria Memorial, down the mall and enter St. James Park. Run over the pond and out of the park, turning left onto Birdcage Walk and down into Parliament Square to Big Ben. Continue past Big Ben and cross Westminster Bridge. After the bridge turn left to run along the Thames until the river path ends after Southwark Bridge. Borough Market is under the railway bridge near the London Bridge station. The official address is 8 Southwark Street SE1 1TL.