Hi all,
The clocks change this weekend, which means we're approaching the dark winter months, ugh!  Yesterday morning almost every person who I spoke to at Barclays said, "I didn't want to run this morning."   So if you're having a little trouble getting out the door in the morning – you're not alone!  But I can promise you that you'll feel better after the run.
Also, consider signing up for the spring half-marathon.  It can be a great motivational tool to keep you running.  If you have already signed up for the race, please email Patricia Shelton ([email protected]) with your race registration number, flight number and hotel room preference – single or double- and roommate if known.
Severe Weather Forecast

We run in "all" weather but the current forecast for late Sunday and early Monday is 60-80 mph winds.  I think a hurricane might just cross the line! (I looked it up – anything over 74 mph is a hurricane!)  If this storm does materialize, there is a chance we won't be running.  I'll plan to send an email early Monday morning.  But if it's safe to be out and about, consider coming to Starbucks for coffee instead.   We have a special guest – see below!
Paula is here Monday

The founder of WRW and our great friend Paula Mitchell is back in town on Monday.  The routes for the week (below) are a long run to Hyde Park and a tempo run to Kensal Rise.  I'll leave it up to the pace groups whether they would like to adjust their long/tempo run days and follow the route that Paula is running (assuming we're running.)
Routes and building mileage

I know we've been in Hyde Park a lot recently.  If you're getting tired of it, don't worry.  Jen Cohen, Kathy McMahon and I have set the routes until the December break and we have some good adventures in store for you!  If you are following the gradual training plan, think of November as the time to get comfortable with a 6-mile run.  As always, we'll continue to offer a range of distance options on the routes.  The most important thing is to run and run consistently.
Keep running,
Jane
ROUTES THIS WEEK

LONG RUN —Monday 28th October for the 9's and 10's

                 Wednesday, 30th October for the 11's and 12's

(OR feel free to adjust so you can run with Paula)

Hyde Park—always versatile! 4, 6 or 8 miles, your choice:

Click here for all of the Hyde Park interactive route maps 
Start:  Everybody starts the same way… head west on Circus Road, turn left on Grove End Road and follow south as it becomes Lisson Grove.  Cross over Marylebone Road and continue on Seymour Place until the end.  Turn right and cross over Edgware Road and then take the first left on Stanhope Place to enter Hyde Park at the intersection with Stanhope Place. Cross into the Park—you'll see a silver orb just inside the park.

4 Milers:  turn left, follow the carriage drive to the exit by the Animals in War memorial [near food kiosk], follow Upper Brook Street to Park Street, where you turn left.  Park Street becomes Gloucester Place, then merges into Park Road and takes you back to SJW.  At the SJW Church roundabout, veer right to the crosswalk which goes to the SJW High Street. 

6 Milers: upon entering the park, turn right at the silver sphere and run until you meet N Carriage Road where you turn left.  Run down to the Serpentine, crossing over the bridge then left to run along the Serpentine. At the end of the Serpentine, turn left again and make your way to the eastern edge of the park before exiting at the Upper Brook St/Animals in War exit.  Continue along Upper Brook Street to Park Street, turn left, take it to Park Road and into SJW.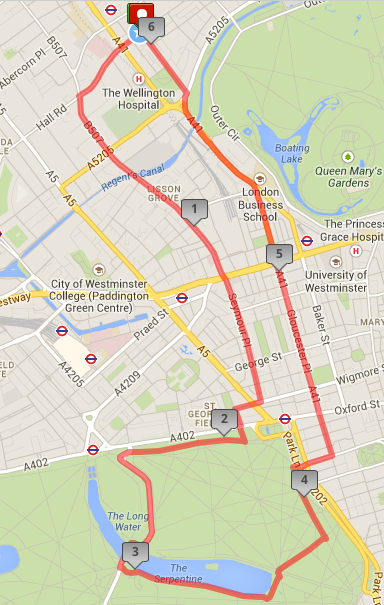 8 Milers: follow the 6 mile run but do not turn left at N Carriage Rd, instead cross over [this is tricky, be careful] and follow until you reach the large broadwalk where you turn left.  Run past Kensington Palace (on your right) and take a left to run along the southern edge of the park towards Hyde Park Corner, then turn left on the eastern edge and exit at Upper Brook St/Animals in War exit as above.  Take Upper Brook Street to Park Street [left] to Park Road and home to SJW.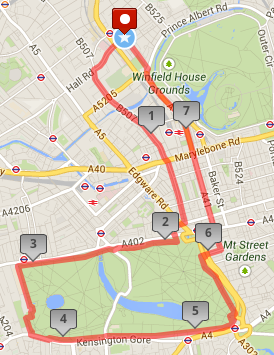 TEMPO RUN:  Wednesday, 30th October for 9's and 10's

         Monday, 28th October for 11's and 12's

(OR feel free to adjust so you can run with Paula on Monday)

Kensal Rise – 4 or 6 miles, your choice

The beginning of this run takes us along the canal to the west.  Please be aware of bikes along the canal and move into single file whenever you hear a 'bike!' shout.

Start out heading west on Circus Road, turn left on Grove End to St John's Wood Road and go west working your way to the canal entrance on Blomfield.  Enter the canal heading west and run to the Ladbroke Grove exit.  Here we turn right and run over the bridge along Chamberlayne Road to Harvist Road. Turn right on Harvist, which turns into Brondesbury Road, and take that to Kilburn High Road/Maida Vale.  Turn right and follow Maida Vale to Hall Road where you turn left and run back to Starbucks. If you want to shorten this route, run west on the canal and turn back at your desired half-way point. 

(The two mile mark is at the point on the canal when the Westway highway is over our heads.)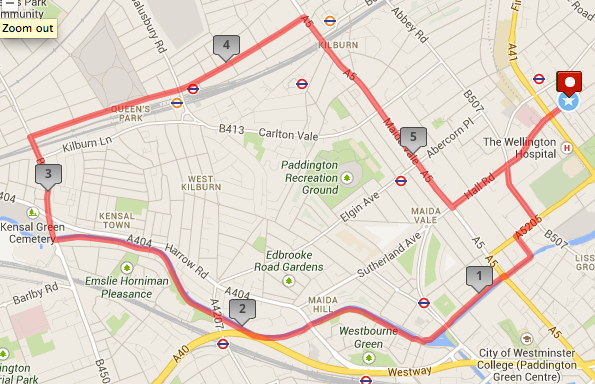 Friday 1 November – The Heath

We may be a smaller group today because the Lower School at ASL is off but there will still be a group running.  

It's Friday again, so everyone up Fitzjohn's.  You can pick your distance and whatever you choose, there will certainly be someone else interested in running that distance.  All of these routes are on the website.

In addition, every week there are a group of women who prefer to do a flat run.  We can help make sure that you find each other.  

4 miles:  A great way to ease into running the hill.   Run up to the Hampstead tube station and back.

5 miles: The Betsy Route

6-7 miles:  The partial Heath route

8 miles:  The full Heath route
Click here for maps of all of the Heath routes.

______________________________________

Website:  https://womenrunningtheworld.commm

Facebook Group:  Women Running The World (request to join)

Email: [email protected]
An umbrella tunnel at Canary Wharf!
28 Oct – 1 Nov Running Info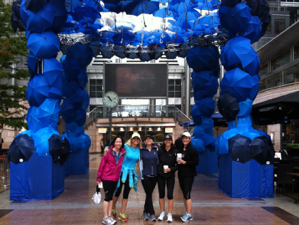 Saturday, October 26, 2013
<![CDATA[]]>