First, a big shout out to Linda Dolan for baking delicious cupcakes for the birthday girls.  Nothing like a little sugar high after running the Heath.  Also, apologies to Alev for leaving her off the birthday list (11 July).
I'll get the administrative tasks out of the way next:
1)  Don't forget to RSVP to the Leavers' Coffee Evite that was sent out last week.  If you can't find it in your email, please let us know.
2) Please let Kelli Montanaro know if you are planning to join the group for the pub crawl next Friday, 7 June.  This is not going to be a pub run so no running gear is necessary (unless you want to track the distance between pubs on your Garmin…).

Summer Reading
Looking for a great read and a little running (and life) inspiration?  Jane highly recommends Born to Run:  The Hidden Tribe, the Ultra-Runners and the Greatest Race the World has Never Seen by Christopher McDougall.  Amazon describes it this way – "At the heart of Born to Run lies a mysterious tribe of Mexican Indians, the Tarahumara, who live quietly in canyons and are reputed to be the best distance runners in the world; in 1993, one of them, aged 57, came first in a prestigious 100-mile race wearing a toga and sandals. A small group of the world's top ultra-runners (and the awe-inspiring author) make the treacherous journey into the canyons to try to learn the tribe's secrets and then take them on over a course 50 miles long. With incredible energy and smart observation, McDougall tells this story while asking what the secrets are to being an incredible runner. Traveling to labs at Harvard, Nike, and elsewhere, he comes across an incredible cast of characters, including the woman who recently broke the world record for 100 miles and for her encore ran a 2:50 marathon in a bikini, pausing to down a beer at the 20 mile mark."  The reviews say, "Hugely entertaining…one of the most joyful and engaging books about running to appear for many years."

Health and Nutrition
We have two items in the health and nutrition corner this week.  First, from The New York Times:  OPINION: Breeding the Nutrition Out of Our Food  The piece discusses how much of our produce is relatively low in phytonutrients — compounds that may reduce the risk of many diseases.  Next, an article in Fitness Magazine on the Top 7 Foods for Runners.  Sunny comments, "The first 2 and actually all of them are just obvious healthy eating habits but I think the reasoning of how and why they help aide in running..be it energy or recovery is useful. (Especially berries! I never knew vitamin C helped recovery!)"

Finally, here is a link to an amusing list on The Guardian entitled Running Etiquette – the 10 Commandments.  You'll probably find yourself, as I did, nodding in agreement with several of them.

See you next week,

Amy

Key Information:
Friday, 7 June – Sights of London run and Leavers' Coffee at Richoux
Friday, 7 June – Pub run crawl, 7 pm, The Holly Bush, 22 Hollymount, Hampstead
ROUTES
Monday June 3 – Notting Hill (6.75 miles)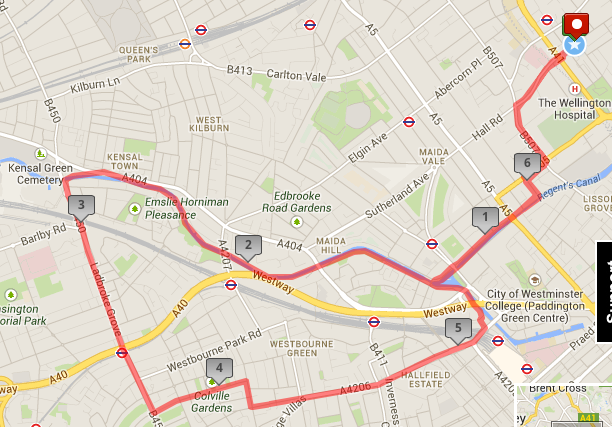 There is no Lower School today so we decided to stick with a simple local run for those who may have limited time.  Run out the canal to the west and exit at Ladbroke Grove.  Run to Elgin Crescent and make a left.  Continue to Ledbury and go right and then left at Westbourne Grove.  Run down Westbourne Grove over Bishop's Bridge and down the steps into Sheldon Square.  Go back along the canal and out where you entered and back to Starbucks.
Wednesday June 5
You have two options for your run today as we try to squeeze in those last fun runs before everyone disappears for the summer.
Finsbury Park/Happening Bagel (6.8 miles)
Since we're doing our "Sights of London" run on Friday, we head up the hill today (but not on our normal route) to Finsbury Park and the Happening Bagel Bakery.  (We can't have a week without hills, right??)  The route goes up Fitzjohn's, on to Highgate then across the Finsbury greenbelt to Finsbury Park.  We end at a fantastic bread/bagel shop and Costa for coffee.  Bring your tube card for the trip home.  The hill in the first part of the run is a good work-out but the payoff is running through the greenbelt.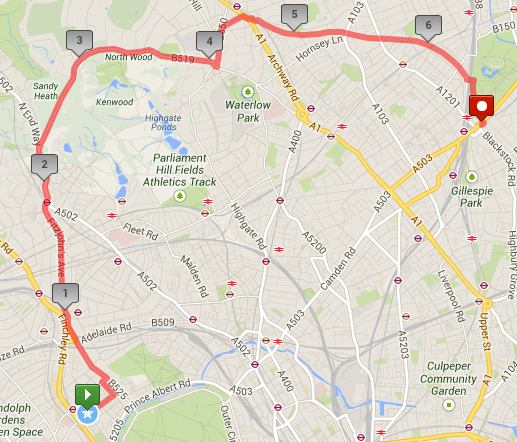 We head up the Fitzjohn's hill to the top but instead of turning into the Heath, we follow the road (which becomes Hampstead Lane) all the way around the top of the Heath until we enter Highgate.  We turn left of Southwood Lane and then right on Jackson's Lane.  We cross over Archway road.  The entrance to the greenbelt is a bit tricky to find, so make sure to stick with a runner who knows the route.  (We promise to look out for those of you who are new to the route!)  At the end of the greenbelt, we enter Finsbury Park, turn right to head toward the Finsbury Park tube station and the Happening Bagel Bakery.  (You have to admit that is a great name!)
Turkish Coffee (5 miles)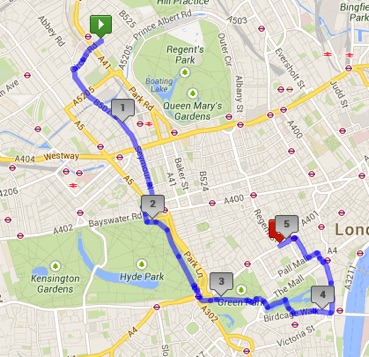 Betsy and Alev will be leading a group to a Turkish coffee shop near Piccadilly Circus.  The group will run to Hyde Park, follow the eastern side of the park to Hyde Park Corner then continue on the south side of Green Park, pass Buckingham Palace and go through St James Park to reach Big Ben.  Continue up Whitehall to Trafalgar Square, then up Haymarket to Piccadilly Circus, turn left onto Piccadilly and end at a wonderful Turkish coffee shop, Kahve Dunyasi.  If you would like to join this group, look for Betsy or Alev on Wednesday.
Friday June 7 – Sights of London (7.5 miles) and Leavers' Coffee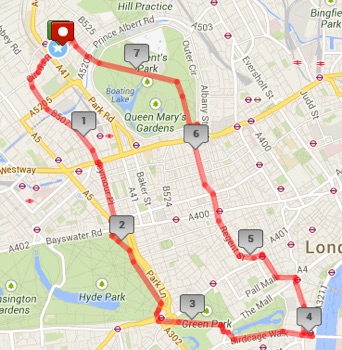 We'll be doing our "Sights of London" run all over town.  We stop in front of the iconic locations for photos.  Instead of running with a dozen cameras, it would be great if we had only a few cameras and someone would agree to make the photos available to everyone.  Any volunteers???  The entire route will be something around 7.5 miles with options to shorten or lengthen the route.  The pace for the run is wide open – come-one-come-all – seriously!!!  Because we're stopping so often for photos, there is plenty of time for people to catch up.  (I borrowed those words from Paula's email last year – could you hear her enthusiasm?  PLEASE JOIN US – It will be fun!)
We start out down Circus Road to Lisson Grove/Seymour Place to Hyde Park.  We continue through Hyde Park and Green Park stopping to wave to the Queen at Buckingham Palace.  On to St. James Park and Big Ben.  Then we head up Whitehall to Trafalgar Square and then up Haymarket to Piccadilly Circus.  Next up Regent Street/Portland Place and through Regents Park to end up back in St. John's Wood for our Leavers' Coffee at Richoux.
______________________________________
Facebook Group:  Women Running The World (request to join)
Email: [email protected]