Hi Everyone,
This is our last week of training before many of us leave for the race in Germany.  We have a 7-mile loop on Monday and a 5-mile loop on Wednesday.  Yesterday, I sent out an email to all the trip participants with our final update, the itinerary and the bus lists.  Please let me know if you didn't receive it for some reason.  (You may want to check your spam folder first.)  The next weekly email will go out on Monday or Tuesday next week after the race.  If you're not going to the race, you can decide together on your own favourite route for Monday 31 March.  
Mat Pilates Class Update

Angela has worked out a sign up system for the Thursday 10am Mat Pilates class at Pizza Express that we announced last week.  Follow this LINK to get to the google docs sign up page.  If you have any questions you can email her at [email protected].
Keep running,
Jane
ROUTES

Monday 24 March

LONG RUN – 7 miles 
Head to Hyde Park the usual way and run along the eastern edge of the park to Hyde Park Corner.  Cross under the Wellington Arch and run down Constitution Hill to The Mall.  Run a short distance down The Mall, turn left and run along the eastern edge of Green Park to Piccadilly.  Turn left on Piccadilly and run along the northern edge of Green Park back to Hyde Park Corner.  Cross back into Hyde Park and run back up the eastern edge of the park to the Upper Brook Street exit and back to SJW via the normal route.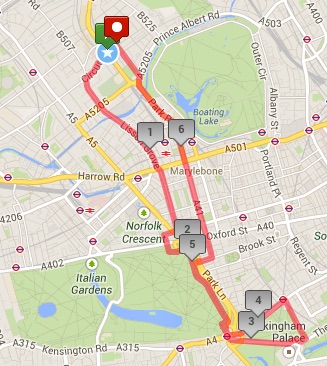 Wednesday, 12 March

SHORT RUN – 5 miles – This is an easy-paced run
Camden/Morningside Crescent/Regent's Park Loop
We start out on the canal eastbound to Camden Market, where we exit the canal and turn right onto Camden High Street.  We'll run down Camden High Street to Mornington Crescent Tube Station and veer right onto Hempstead Road, which we will take down to Euston road.  We'll then go right on Euston to Park Square East, where we will enter Regent's Park.  We make the first left onto Outer Circle and run around the loop to the Charlbert exit (where we enter for the canal). We'll run up Charlbert to Allitsen, make a left, and head back to Starbucks.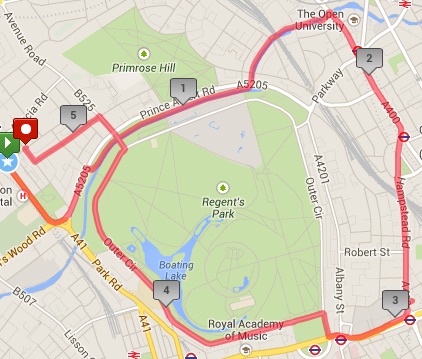 Friday 28 March

For those running in Bad Durkheim, we are off to the races! No scheduled run today.  
For those not heading to Germany…
HILL RUN  The Heath
It's Friday again, so everyone up Fitzjohn's.  You can pick your distance and whatever you choose, there will certainly be someone else interested in running that distance.  All of these routes are on the website.
In addition, every week there are a group of women who prefer to do a flat run.  We can help make sure that you find each other.  
4 miles:  A great way to ease into running the hill.   Run up to the Hampstead tube station and back.
5 miles: The Betsy Route
6-7 miles:  The partial Heath route
8 miles:  The full Heath route
Click here for maps of all of the Heath routes
NO ROUTE 

Monday 31 March
Most of the group will be returning from Germany.  If you are not travelling, meet as usual at Barclays and pick your favourite route!
______________________________________
Website:  https://womenrunningtheworld.commm

Facebook Group:  Women Running The World (request to join)
Email: [email protected]
Congratulations on the long run to Kew this week!
24 – 28 March Running Info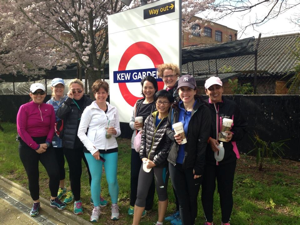 <![CDATA[]]>
<![CDATA[]]>