Hello Runners!
Once again, what a fun week of running!  I love how the "Crazy 8's" perfectly captured the joy and energy we all felt last week coming off the race and back to two favorite runs in sunny London! (Some serious leaps in that bunch, too!).  Don't forget to send any great photos you take– it's so fun to see what each pace group gets up to when they're turned loose in London…
Running this Week.  We're going to try to keep the fun vibe rolling this week with a (dare I say 'bright'?) idea brought to us by the 11s Whatsapp chat:  First Race Hat Run.  On Monday morning, don your first WRW race hat– or some other bright and interesting hat if you haven't yet done a race with us– for the run through Sloane Square and Westminster to the Benugo in St James Park.  It will be slightly less than 7 miles if you stop at the cafe, or right at 7 if you go straight on to Green Park tube, and there are options to stop at 3.75 (Sloane Sq) or just over 6 at Westminster.  We should be a pretty neon group, given that we always choose hats we hope will help us find each other in a sea of runners!  

Wednesday, let's try to stop and smell the roses in Regents Park gardens as we run the Inner/Outer Regents Park loop and end back in St Johns Wood. Instead of sticking with the pavements outside the park, try running inside the fences and taking in all the flowers blooming, especially aiming for the rose gardens inside the Inner Circle.  And Friday we head back up to the Heath for the route of your choice.  As always, please do see below in "Routes" for maps and instructions.

Shout-outs and Announcements.  A belated set of congratulations for all the ladies who ran other half marathons while some of us were in Milan.  Heather Davenport, Sarah Nicoli, and Katherine Grieg ran the London Landmarks Half– well done, ladies!  And congratulations also to alums Yianna Xenakis and Vicky Timbers (and Vicky's daughter, Chrissie), who ran the Napa Half on the same weekend!  Please let me know if I've missed anyone, and do keep us up on races you're running– shout-outs are free, and we love to give them!!

Our routes team deserves a huge shout-out for all the hard work they're doing this spring in creating some new routes for us– Thank You!!  Here's a look ahead so you can get some of the not-to-be-missed runs on your calendar during this busy time of year.  Anything we call an "Adventure Run" is one that requires a tube or train ride to get us to the start.  Those usually mean you need to plan a little extra time compared to a regular run, so we will also offer alternate runs for those who can't carve out the time on one of those days.

SAVE THE DATE
Monday 8 April – NEW Adventure Run – Ally Pally to Finsbury Park
Friday 26 April – Borough Market
Monday 29 April – Adventure Run – Hampton Court
Wednesday 8 May – Covent Garden
Friday 10 May – NEW Adventure Run – Dollis Hill to Hampstead
Monday 13 May – NEW Adventure Run – Windsor
Wednesday 22 May – Sights of London/Leaver's Coffee
Friday 31 May – Borough Market
Monday 3 June – Brick Lane

Hope you've all had a great weekend.  Happy Mother's Day to so many of you!  Whether you light up the world for your little people, are tolerated by your teens, or treasure the days you get to spend with the fun and interesting young adults you sometimes can't believe you raised– you are amazing, giving, loving people!  And mothering or not, I can say that last bit about every single person in this group for the way we treat each other.  So thankful for you all… and looking forward to seeing you (in neon hats!) at Barclays!
xx  Micki
ROUTES
Monday 1 April – Sloane Sq/Westminster/Green Park, 3.75 or 6 or 7 Pick whichever distance suits you but most will end at Benugo in St. James Park.
Everybody starts out to Hyde Park, taking the usual route: west on Circus Road, left on Grove End, all the way down to Seymour Place to where the road ends. Right on Seymour, across Edgware, left on Stanhope and enter the park. At the silver orb, turn left and run down to the southern edge, following the path to the right before it leaves the Park. Run to the large gated exit (Albert Gate) before the tall 'One Hyde Park' complex, cross Knightsbridge and turn right on Knightsbridge, then a left onto Sloane Street after Harvey Nichols. Follow Sloane St until it ends at Sloane Square.
3.75'ers: at Sloane Sq, take the Tube home!
6.33'ers: continue past Sloane Sq down Lower Sloane St/Chelsea Bridge Road to the Thames. Turn left on the Thames side of Grosvenor Rd and run along the embankment to Westminster Tube – you're done!
7+'ers: continue left on Birdcage Walk, running up the eastern edge of St. James Park and cutting in at Horseguards Parade to end at Benugo for coffee.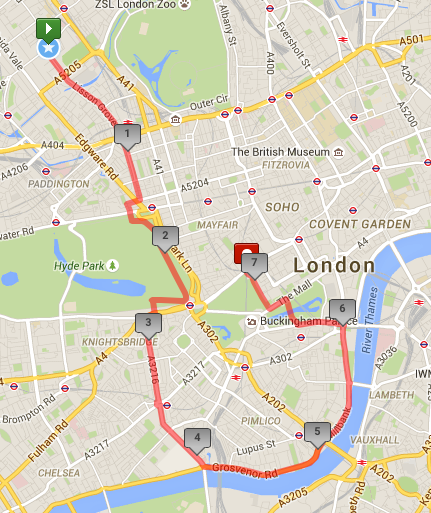 Wednesday 3 April  – Inner and Outer Regents Park – 5 miles
From Barclay's head down Wellington Road to the traffic circle at Lord's Cricket Ground and bear left onto Prince Albert Road. Run to the pedestrian crossing where we will cross and head to the OuterCircle. Turn right and run on the inside of the circle past Winfield House which will be on your left. Continue around the Outer Circle until you reach the traffic light at intersection with York Bridge. Turn left and proceed to the Inner Circle. Run one complete loop of the Inner Circle and back out across York Bridge where we will take a left and continue on Ulster Terrace which is part of the Outer Circle. At the next large intersection take a left and continue on the Outer Circle, heading north back towards the Zoo and Camden. Pass the entrance to the Zoo on your left and continue to the bridge at North Gate which we will cross to reach Charlbert Street. Run up Charlbert Street until St John's Terrace where we turn left and run back to Barclay's for a stretch before heading to Starbucks.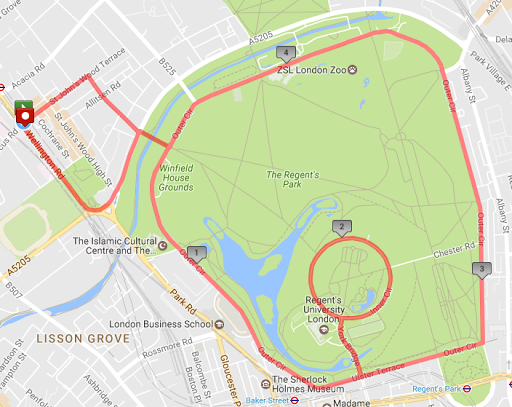 … and don't forget to stop and smell the roses!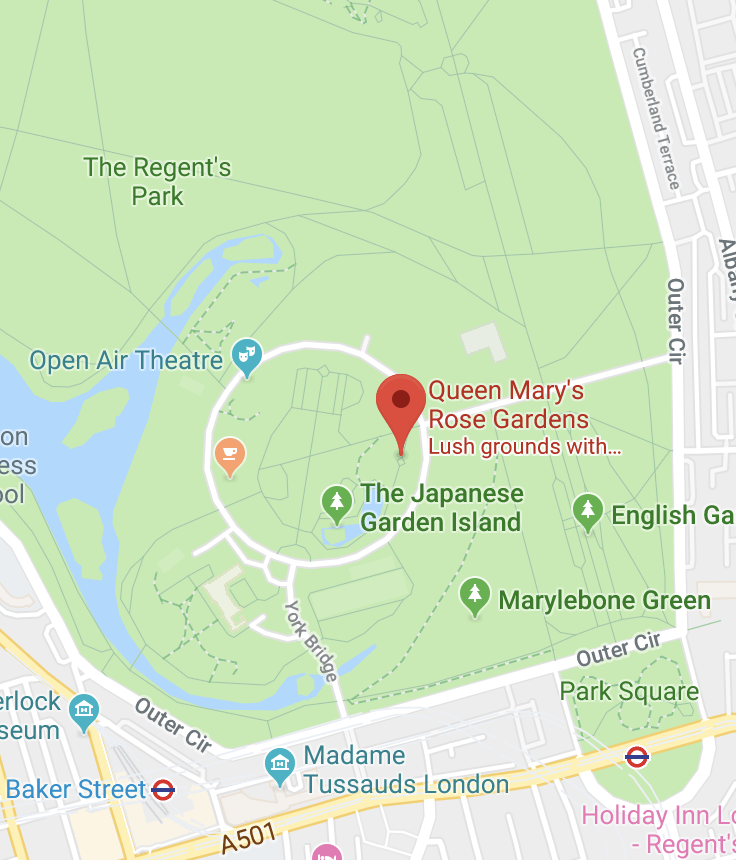 Friday, 5 April – The Heath!  It's Friday again, so everyone up the hill! You can pick your distance and whatever you choose, there will certainly be someone else interested in running that distance. All of these routes are on the website. If you are not up for a hill run, ask around at Barclays; every week there is a group who prefer to do a flat run and you can decide together which flat route to tackle.
4 miles:  A great way to ease into running the hill. Run up to the Hampstead tube station and back. If you have trouble running up, think about how easy it will be running down!
5 miles: The Betsy Route
6+ miles:  The partial Heath route OR the Reverse Heath route OR Pergola route
7.5 miles: The Highgate route
8 miles:  The full Heath route
Click here for maps of all of the Heath routes.