Hi Everyone,
Due to the American Thanksgiving holiday, many of our runners are out of town or unavailable to run on Wednesday and Friday so we'll do one route for Monday this week. We're running to the Happening Bagel Bakery (LOVE that name!) in Finsbury Park via Highgate and the Greenway. This is a WRW favourite and we don't do it often because the first part takes us up the hill in Hampstead, which we usually do on Friday. The first part is the hill, but the second part is beautiful as we run through Highgate and then a stretch of woodland known as the Parkland Walk. Parkland Walk is a stretch of forest that follows an old train line. (History lesson – the train line first opened in 1872 but was eventually replaced by the extension of the London Underground. Passenger service ended in 1954 and freight service in 1970.) If you've never done this route before I strongly encourage you to give it a try. (If I can't twist your arm to try it, you could always do one of our other Heath routes.)
We're not setting routes for Wednesday and Friday. If you want to run, show up for an 8:30 start and as a group you can decide where you would like to go.
Managing our Many Runners!
Wow, what a turnout we've had recently! I just love seeing so many runners regularly coming out to run. After all the work that the route masters (Kathy McMahon, Darcy Fautz and Stacey Towfighi) do to set the route plan and make the maps, it is very rewarding to see so many people participating and enjoying the routes. Because of our large numbers, I think we may need to spend a bit more time managing our pace groups and our starting groups so that we don't overwhelm the sidewalks. I noticed a few petrified pedestrians on Monday on Grove End Road! Plus we start to be too big of a group to make it across the road at a traffic light all at once. The 10s pace group is particularly large right now so we're going to work over the next few weeks to try to break 10s into two groups. Our current 11s are more like a 10.5s group, led by Julie Adams, Melissa Kay and Stefhanie Howe. For our big destination runs, we'll try to have part of the 10s with Jane, Darcy and Maureen and part of the 10s with Julie, Melissa and Stefhanie. We may also try to stagger when all the groups start. Maybe we'll send the a few pace groups first and then have the rest of the runners wait for another traffic light cycle. Anyway, thanks for your patience and understanding as we try a few things over the next couple of weeks. We want to be good citizens and we want to be in a small enough pace group and that we can all look out for each other while still embracing the awesomeness of our huge turnouts.
Three final reminders on the pace groups. First, they are most important for our long runs on Mondays, especially when we're going to a destination because we don't want anyone to get lost along the way. They are less important for Wednesdays and Fridays, when some people may want to run faster or slower and everyone is beginning to become familiar with the routes. Second, even for the long Monday runs, we encourage everyone to look at the maps and try to learn the routes. Third, the pace groups can be a very rewarding part of our training because you become very close with the women with whom you train to tackle the challenge of the half marathon.
Keep running,
Jane
ROUTES
Monday 23 November
Happening Bagel via Highgate and Finsbury Greenbelt – 7 miles
For this run we start up Fitzjohn's like we're going to the Heath but pass the entrance and continue up Spaniards/Hampstead Lane to Highgate. At the very top of the hill bear right and run slightly downhill towards Highgate High Street. At the second circular intersection, cross the high street at the zebra crossing and go down Southwood Lane. At the bottom of the hill veer to the right onto Jackson's Lane (which is a very narrow road). Continue down Jackson's to Archway Road, cross the road and make a right, then a relatively quick left onto Holmesdale Road.  Run a short distance on Holmesdale and the entrance to the Finsbury Greenbelt will be on your left.  Follow the path until it ends, turn left, cross the bridge over the train tracks and enter Finsbury Park. Turn right and run along the western edge of the park until the entrance on Seven Sister's Road. After we stretch we will head over the street to the Happening Bagel. Once we've bought our bagels we will cross back over the street to Costa for coffee and then take the tube home from the Finsbury Park Station.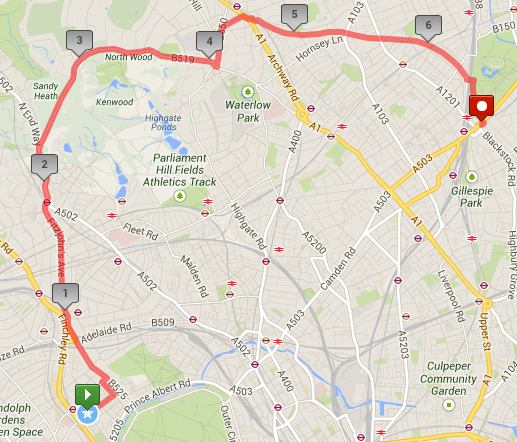 Wednesday 25 November and Friday 27 November
No organised routes. Meet at 8:30 and pick your own route.