Hi all,
For those who celebrate, I hope you had a Happy Thanksgiving!  Thanks to everyone who ran to Happening Bagel last week.  It was fun to have all the groups together.  I really enjoyed the run, hope you did too.
I know this is a busy time of year and making the time to run can be a challenge.  Please, please try to keep running consistently.  It is the best way to avoid injury.  This week we return to some of our standard runs – Hyde Park, Notting Hill and the Heath.  This offers many options in terms of distance and we can loop back to St. John's Wood.  (Looking ahead, the following week Dec. 9 or Dec. 11, our long run is to Wembley or Wembley Park, which is a great training run.  We head west out the canal for almost the entire run.  But you will need to build a little extra time in your schedule for the tube home.)
GERMAN TRIP UPDATE

Your response to the half marathon trip to Germany has been amazing!  We have an over 20% increase in our numbers since last year – as I write this it looks like we have 85 women going to Bad Durkheim.  This is very exciting but it also means that the logistics of managing the trip are more complicated.  Please help us out by reading the emails and doing what we ask from you.  We'll be collecting money next week 4 – 6 December at Pret.  Please look out for an email early in the week with all the details.
Keep Running!
Jane
ROUTES

LONG RUN — Hyde Park—always versatile! 6 or 8 miles, your choice:
Monday, 2 December for the 9s and 10s
Wednesday, 4 December for the 11s and 12s
Click here for all of the Hyde Park interactive route maps
Start:  Everybody starts the same way… head west on Circus Road, turn left on Grove End Road and follow south as it becomes Lisson Grove.  Cross over Marylebone Road and continue on Seymour Place until the end.  Turn right and cross over Edgware Road and then take the first left on Stanhope Place to enter Hyde Park at the intersection with Stanhope Place. Cross into the Park—you'll see a silver orb just inside the park.
6 Milers: upon entering the park, turn right at the silver sphere and run until you meet N Carriage Road where you turn left.  Run down to the Serpentine, crossing over the bridge then left to run along the Serpentine. At the end of the Serpentine, turn left again and make your way to the eastern edge of the park before exiting at the Upper Brook St/Animals in War exit.  Continue along Upper Brook Street to Park Street, turn left, take it to Park Road and into SJW.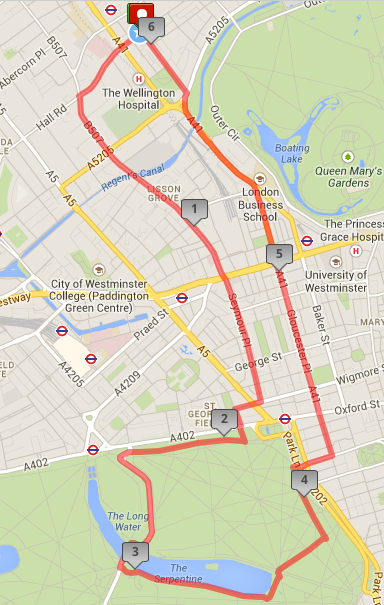 8 Milers: follow the 6 mile run but do not turn left at No Carriage Rd, instead cross over [this is tricky, be careful] and follow until you reach the large broadwalk where you turn left.  Run past Kensington Palace (on your right) and take a left to run along the southern edge of the park towards Hyde Park Corner, then turn left on the eastern edge and exit at Upper Brook St/Animals in War exit as above.  Take Upper Brook Street to Park Street [left] to Park Road and home to SJW.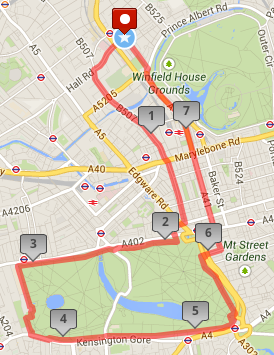 TEMPO RUN – The Wall
Wednesday 4 December for  9s and 10s
Monday 2 December for  11s and 12s
6 Milers: Run South on Finchley/Wellington Road to the SJW Church Roundabout, follow the sidewalk to the left and cross Prince Albert Road at the crosswalk just beyond the SJW Church.  Continue east and enter the canal at the Charlbert entrance.  Run east [left], cutting through the Camden Lock Market until you run out of canal path at Islington.  Touch the canal boat tunnel wall—this is The Wall!—then turn around and re-trace your steps back to SJW.  When you come of the canal at Regents Park, take Charlbert to Allitsen to SJW High Street to Starbucks.
3 Milers:  Start as above but when you reach the Camden Lock Market, turn around and head home.
Notes:  This is a great time to do a faster 'tempo' run.  Be very aware of bicyclists who commute on this canal path.  Move into single file lines whenever someone yells out 'bike!'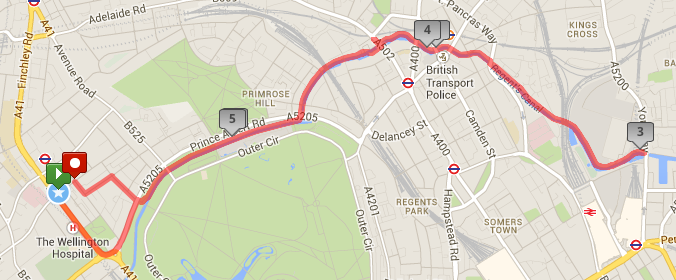 Friday 6 December – The Heath

It's Friday again, so everyone up Fitzjohn's.  You can pick your distance and whatever you choose, there will certainly be someone else interested in running that distance.  All of these routes are on the website.

In addition, every week there are a group of women who prefer to do a flat run.  We can help make sure that you find each other.  

4 miles:  A great way to ease into running the hill.   Run up to the Hampstead tube station and back.

5 miles: The Betsy Route
6-7 miles:  The partial Heath route

8 miles:  The full Heath route
Click here for maps of all of the Heath routes.
______________________________________
Website:  https://womenrunningtheworld.commm

Facebook Group:  Women Running The World (request to join)
Email: [email protected]
Sunny and Michelle skipped the Heath last week to run to Covent Garden and the Lego snowglobe.
2 – 6 December Running Info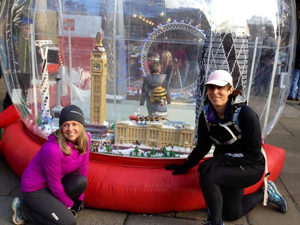 Saturday, November 30, 2013
<![CDATA[]]>