Hi all,
Since there is no school at ASL on Friday, we'll still be running but it may be a smaller group.  Plan to meet at Barclays for a slightly later start at 8:30.  
Good Luck Runners in the Windsor Half

On Sunday, Micki Heskett, Leah Neenan and Erin Roth are running the Windsor Half Marathon.  Good luck!  We hope you have a great race!
Good Luck Paula!!

For the new folks, Paula Mitchell is the woman who founded Women Running the World and was its talented and inspirational leader for many years.  Over the years she has completed many ULTRA races but this year she may be tackling her most difficult one yet.  On October 5, she begins the Atacama Challenge, a 250km, 6-stage, week-long, self-supported race across the Atacama Desert in Chile.  The Atacama is the driest desert in the world – 50 times more arid than California's Death Valley.  Runners must prepare for daytime high temperatures of 103-104 degrees and freezing temperatures at night.  A self-supported race means that each participant must carry everything they will need for the WEEK on their back including food, sports drink powder, gels, sleeping bags, clothes, medical supplies etc.  The race website says that the average backpack weighs 20 lbs.  The race only provides water at check points and sets up tents for the racers (8-10 people to a tent – think about that for a minute!)  Paula would never ask, but I wanted to let you know that as part of this challenge she is raising money for the Kendall County Womens Shelter that provides a safe place for victims of abuse.  If you're interested, click here for the fundraising page.
Congratulations!

Congratulations to Sonia, Stefhanie, Alyse and Peg who completed the Kew Gardens 10K last weekend!  
Keep running,
Jane
ROUTES

Monday 29 September – Big Ben 4 – 8 miles

This is such a fun route!  We run right through the heart of London and stop at the famous Big Ben for a 4 mile option.  You can extend the run by looping back to Green Park Tube [5.5 mi] or all the way back to SJW [8 mi].  

Head to Hyde Park via the usual route. Start heading west on Circus Road and turn left on Grove End and follow south as it becomes Lisson Grove.  Cross over Marylebone Road and continue on Seymour Place until the end.  Turn right and cross over Edgware Road and then left to enter Hyde Park at the intersection with Stanhope Place.  Run along the eastern edge of the park to Hyde Park Corner, under the arch and down Constitution Hill.  Run past the Victoria Memorial down the mall and enter St. James Park.  Run over the pond and out of the park, turning left onto Birdcage Walk and down into Parliament Square to Big Ben.  Those running four miles will take the tube back to SJW from here and those running eight will turn around and follow the same route back.

Wednesday 1 October – Notting Hill (4-6+ miles)
Keep your eyes open as this is often a celebrity spotting route! 
Start out by heading west on Circus Road, turn left on Grove End to St John's Wood Road and go west, working your way to the canal entrance on Blomfield.  Enter the canal and run to the Ladbroke Grove exit then run down Ladbroke Grove to Elgin Crescent and make a left.  Continue to Ledbury and go right and then left at Westbourne Grove.  Run down Westbourne Grove over Bishop's Bridge and down the steps into Sheldon Square [across from Paddington Station].  Go back along the canal and out where you entered, then run back to Starbucks.
You also have the option of a shorter run by not getting off the canal. Run half the distance you want, turn around and head home. As a rule of thumb, the two mile mark is the Westway overpass.
Friday 3 October – The Heath (4-8 miles)
We run up the hill on Fridays–it's tradition! It is hard, but you'll feel great when you are finished. 
If you are not up for a hill run yet, no problem, just let us know.  Every week there are a group of women who prefer to do a flat run.  We can help make sure that you find each other.
4 miles:  A great way to ease into running the hill.   Run up to the Hampstead tube station and back. If you have trouble running up, think about how easy it will be running down!
5 miles: The Betsy Route
6-7 miles:  The partial Heath route
8 miles:  The full Heath route
Click here for maps of all of the Heath routes.
______________________________________

Website:  https://womenrunningtheworld.commm

Facebook Group:  Women Running The World (request to join)

Email: [email protected]
Congratulations to Peg, Sonia, Stefhanie and Alyse for running the Kew 10K last weekend!
29 Sept – 3 Oct Running Info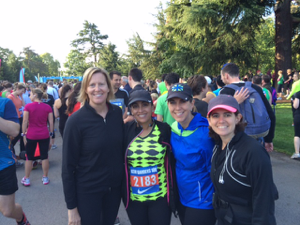 Sunday, September 28, 2014
<![CDATA[]]>
<![CDATA[]]>
<![CDATA[]]>
<![CDATA[]]>