Hello Runners!
It was another great week to run together in London!  From the Parks to the Pergola to Peggy Porschen, we covered a lot of ground.  And thanks to everyone who went a couple of extra miles Thursday morning to cheer for the Beginners Class of 2022 as they made their first run to Big Ben– you gave them a great moment with the surprise, and a first glimpse of the kind of community they are joining!  
Running this week.  Monday it's time for an old favorite route to Tower Hill.  It's a beautiful 7-mile route that basically follows our Borough Market run but then continues along the South side of the Thames to Tower Bridge and across, to end at the Tower of London.  From there you can take the tube at Tower Hill, or it's an easy walk back to London Bridge tube station for a direct line to St Johns Wood.  You can also exit the route at Borough (London Bridge tube) for 6 miles, or Westminster for 4 miles.  On Wednesday we will follow the first half of the Camden/Mornington Crescent route, then circle through Regent's Park and around the boating pond to end at the Regent's Park Bar and Kitchen for an all-WRW coffee (with thanks to our special consultant for coffee procurement, Magali Kivatinetz, for setting it up).  There will be space inside, as well as plenty of room outside, so come and enjoy hanging out with runners from all the pace groups– we will celebrate the prospect of our Berlin running weekend next spring, and there may even be a few small prizes on offer from our race boss Sue!  
And finally, Friday– don't miss the annual Halloween run!  Extra points if you show up in costume for this run to the scenic Hampstead Cemetery, on your choice of a 6- or a 7-mile route (or another option is to hop on the Jubilee line at West Hampstead).  How creative can you be??  
Shoutouts and Announcements.  Anna Zlateva is running the Virtual TCS New York City Marathon today in London!  Good luck, Anna — we are cheering you as we read this!  Meanwhile, as I write, Miki Neant is guide-running again for Irish endurance runner Sinead Kane in the Gloucester 24-hour Elite Track Race.  As with the Battersea event a few weeks ago, this race runs nonstop from 10am Saturday until 10am Sunday, and Miki will likely run with Sinead for many of those hours.  
Congratulations and great job in the Oxford Half Marathon last weekend to Jess Browne, Darcy Fautz, Alysia Hoyt and Carmine Najjar!  And congratulations to Phil Kelvin on finishing the Cabbage Patch 10-Mile Race last Sunday.  
Hopefully you all received the Berlin Half hotel email (let us know right away if not), and you are signed up for the race and have reserved a room!  Do reach out if you have any questions.  And, as mentioned in last week's email, Marissa is ready to hit 'send' on the WRW kit order e-mail.  Look for that in the next day or two, and be sure to read it carefully and respond promptly if you want to order an annual shirt or other kit this year, as our stock has been significantly limited by the ongoing global supply chain issues.
Speaking of global issues, please do continue to take care of one another as we enter colder weather and Covid cases continue to rise in the UK.  Most of our time together is spent outside, and most of us are fully vaccinated; so hopefully incidences in WRW will remain extremely low.  But it's a good idea to take a lateral flow test from time to time.  If you should happen to test positive, please let us, your pace leaders or the women you ran with know right away.  Fully vaccinated people do not have to self-isolate after an exposure, but it is important for them to know they've been exposed, so they can monitor and test themselves.  When we have had cases in the group so far this has worked well, and we are grateful for how conscientious you all have been!
Save the Date.  Be sure to save time on your calendar for these extra-special runs/events!
Fri., Nov. 12 – The Remembrance Run– Annual WRW running tour in honor of Remembrance Day (Nov. 11).
Mon., Nov. 15 – Hampton Court Adventure Run– Block off the full morning for this twice-yearly favourite route.  Take the Overground to Richmond for the 7-mile run to Hampton Court Palace (hopefully with coffee in the Tiltyard Cafe on palace grounds!), then take the train back via Waterloo.
It should be a fun week– with great seasonal destinations, the buzz of a race and some new kit to think about, and a WRW social to enjoy!  I look forward to seeing you in the park– happy running!
xx Micki

ROUTES
Monday 25 October – Tower Hill (7.1 miles, or options for 4- or 6-mile routes)
RunGo: https://routes.rungoapp.com/route/eckLcQj4pf
Today we will be running across, along and across the Thames and in and around some of the oldest parts of London. The sights will be stunning! We start off as though we are running to Borough Market— down Grove End and into Hyde Park, under Wellington Arch, along Green Park, through St James Park and towards Big Ben then across Westminster Bridge. At the end of Westminster Bridge, exit left down the stairs and run along the Thames Path past the London Eye, Royal Festival Hall, Blackfriars Bridge, Tate Modern, Shakespeare's Globe to the Golden Hinde, admiring all the landmarks as you trod past. Follow the walkway to the right of the Golden Hinde and at the junction with Southwark Cathedral, turn sharp left and follow Montague Close, passing through the tunnel. You are now on Tooley Street. Shortly, you will see a Legible London standing road sign for Tooley St/London Bridge (photo below) – turn left and go through the passage to meet up with Queen's Walk/Thames Path. Turn right onto the walk. Continue on the Thames Path past the HMS Belfast, City Hall and Potters Fields, to Tower Bridge. Climb the stairs up to the Bridge (don't go under the Bridge), then run across Tower Bridge (the views!), continuing past the Tower of London (more views!) until you reach the stairs down to Tower of London Park. Take the stairs down and follow the paved path along the park. Just past the park is a junction in the path-turn right to run in a tunnel under Tower Hill Road, past part of the original London Wall and up to the Tower Hill tube station. Now, think of all the history you've witnessed in just 7 miles!
If you don't want to do the full 7 miles yet, you can simply end at Borough Market for 6 miles, or stop at Westminster for 4 miles.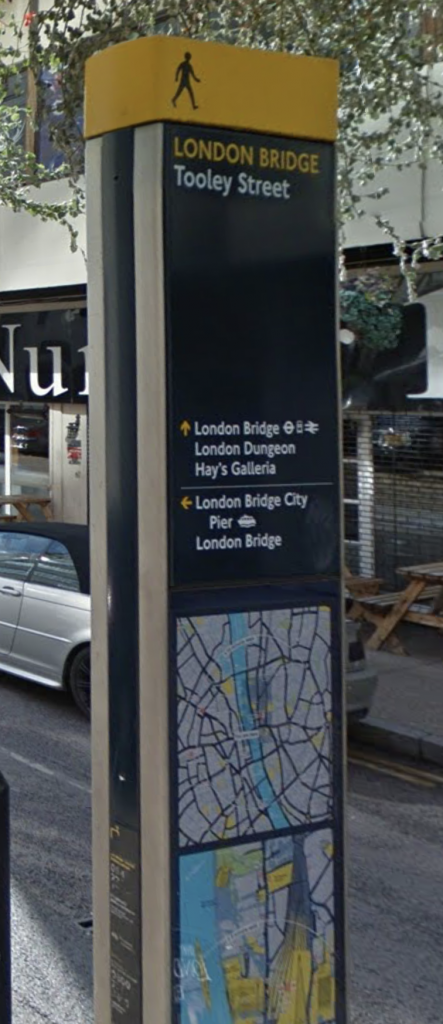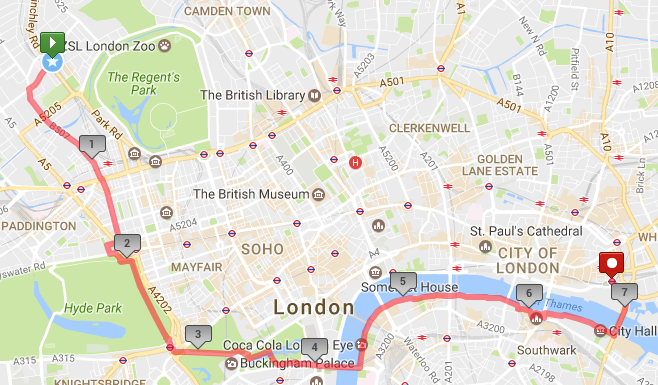 Wednesday 27 October – Camden Lock/Mornington Crescent/Regent's Park Coffee (5.15 Miles)
RunGo:  https://routes.rungoapp.com/route/3Oz5Lz9hEF
Head to the canal going eastbound to Camden Lock, where we cross the small, cobblestone bridge, exit the canal and turn right onto Camden High Street (alternatively, turn right just at the bottom of the bridge and go through the opening between the buildings to get to Arlington Road). At the first intersection with Jamestown Road take a right after crossing Jamestown Road and then the first left onto Arlington Road. Run straight down Arlington Road, make a slight right onto Mornington Crescent, follow it around and turn right onto Hampstead Road. At the first intersection, turn right onto Granby Terrace and the second left onto Stanhope Street. Continue down Stanhope until we reach Trinton Square. Turn right and run between the office buildings at Regent's Place, past the nice fountains, to the end of Trinton Street. Use the pedestrian crossings to cross Osnaburgh Street and Albany Street. Head left to the intersection of Euston Road, where you take a right and run briefly along Euston Road. At Park Square East, turn right through the gates towards Regent's Park. We enter the park at the Outer Circle intersection and stay on the path on the far right (east side) of the park. After you cross Chester Road, take a left on the second path and follow it, keeping toward the boating lake and running around it all the way to York Bridge, where we will turn left and run to the Inner Circle. Cross the road, turn left, and run the short distance to the cafe.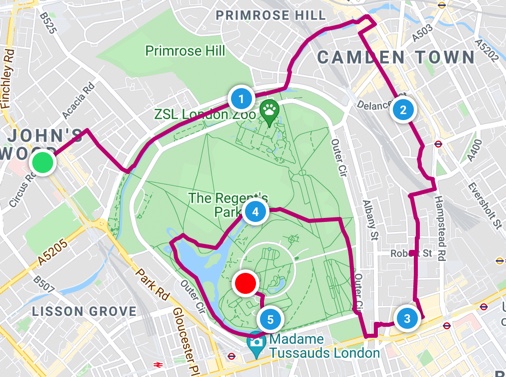 Friday 29 October – HALLOWEEN RUN! – Hampstead Cemetery (7.1 or 6 miles)
RunGo link:   https://routes.rungoapp.com/route/aVzrkOhVjU (7.1 mile route)
From the Church Gardens, head straight out to run up Cochrane St.  Turn left on Acacia and cross Wellington Rd.  Turn right on Loudoun and run until it ends at a traffic circle.  Turn left on Belsize Rd and then a quick right to head onto Fairhazel Gardens.  Take your first left onto Goldhurst Terrace and then a left when it curves around.  Turn right on Prior Rd and run to the end, turning left onto Broadhurst Gardens.  Take the next right onto West End Lane and run about half a mile, taking care to avoid pedestrians as much as you can.  Keep West End Green on your right and when the Green ends, turn left onto Fortune Green Rd.  When the street bears right, cross and enter Fortune Green Park.  Run straight through and enter the narrow pathway that leads to the cemetery.  Take the first entrance on the left and run a loop to the left around the cemetery chapel side.  Then cross the path to take a loop around the other side, running straight and then turning left just before the street exit.  There you will find the lovely Art Deco Bianchi monument as you circle through.  Once back on the cemetery road, turn right (you'll see the chapel) and then turn right again to continue on the path you were on from Fortune Green.  Follow this path to the end, between school playing fields, and turn left to follow it out.  Once on the street, turn left to get on a path (you'll see bike entry barriers) that takes you along the far side of the playing fields.  At the end of the path, continue straight onto Somali Rd, then jog left and then right to get onto Sarre Rd.  At the end, turn right onto Mill Lane (larger street).  Take a left onto Fordwych Rd.  At the end, turn right onto Maygrove Rd and then a left onto Kilburn High Rd.  Again, take care to avoid pedestrians.  Run a few blocks and turn left onto Netherwood St.  At the top of the hill, turn right onto the aptly named Hilltop Rd then left onto Hemstal Rd.  At West End Lane, cross and turn right and then a quick left onto Cleve Rd.  Turn right onto Priory and the second left onto Goldhurst Terrace.  Keep left onto Aberdare Gardens.  At the end, turn right onto Fairhazel Gardens and go straight across Belsize Rd.  Jog left and then right to get back onto Loudoun.  At the top of the hill, turn left onto Boundary Rd and cross over Finchley Rd.  Turn right onto St. John's Wood Park and take that to St. John's Wood Terrace.  Turn right and finish at Starbucks.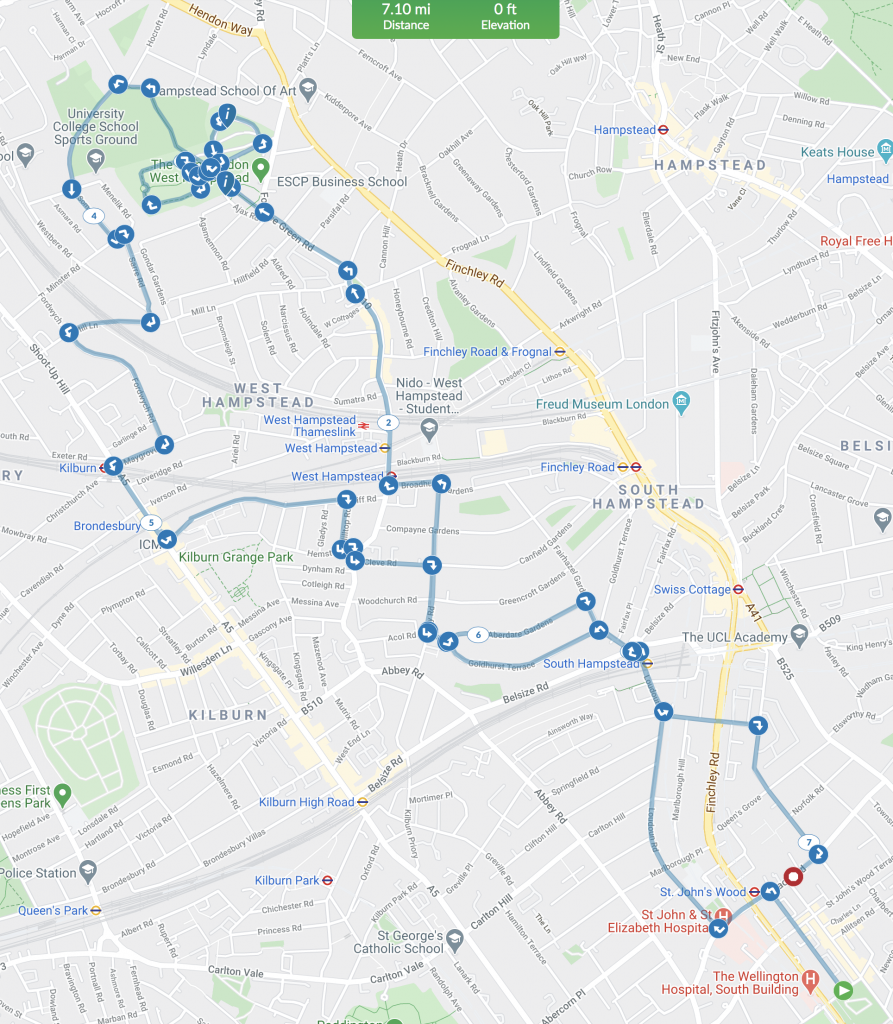 For a 6-mile option, begin the run as above, but after you run the two small loops in the cemetery, exit as you came in, and follow West End Lane until it meets Abbey Road.  Turn left onto Abbey and follow it back to St Johns Wood, then turn left on Grove End Road to head for the SJW High Street and a coffee.  If you need to keep the run even shorter, you can hop on the tube at West Hampstead for just over 4 miles.