Hello Runners!
What a bright and gorgeous day to bring November to a close! I hope all of you celebrating Thanksgiving had a happy break and delicious feast! If you're feeling a bit lethargic, as I am, maybe the crazy tights photo can offer a lift of motivation for getting out on the pavements in our running shoes again this week.

Running this week. Monday we are doing a loop that takes us to Hyde Park on a slightly different route through Paddington, then on to Green Park and back through Mayfair. Routemaster Darcy Fautz deserves credit and thanks for realising that the SJWWC holiday luncheon would mean a good number of ladies will need to stay close to home, so we made a last-minute switch (despite the fact that Darcy already had a different route ready to go). Hopefully this means more of us can make the Monday run! Wednesday is our annual Holiday Lights Run at 6am from Barclays (see below). If you can't make the early start, there will likely be some runners meeting at the usual time. We've suggested The Wall (see map and directions below) as another option. And Friday we have a new route up to Hampstead, but running through Golders Hill Park– an area we have been neglecting– before crossing into the Heath and coming home on a slightly different path. Please check the map and instructions below so it's not too confusing on Friday when we all tend to go on 'auto-pilot' around the regular Heath routes!

The annual Holiday Lights Run is this Wednesday at 6:00am! This is a highlight in our running year, and a unique way to experience central London decked out for the holidays– so join us if you can! The mileage is flexible so you can cut out to get back to your households as needed for morning demands. A few things to remember for this run:

Wear bright colors for safety in the dark, and bring a bike light or headlamp if you have one.

Please try to keep our volume down at Barclays and on the part of the run through residential areas! We have heard from neighbours in the past that we've woken them! People are still sleeping in the houses we pass, so best to keep conversation to a minimum until we get to the more commercial part of the run.

Watch your footing! Uneven pavements, curbs, and other obstacles (benches? poles?) can be especially problematic in the dark! No sprains or scrapes!
Shoutouts and Announcements. We have two huge shoutouts for race accomplishments this weekend! Miki Neant finished her 100k Channel Islands ultramarathon earlier today– just over 14 hours of running time, straight through the night! That is simply an amazing achievement!! Congratulations, Miki! And WRW alum Rekha Kumar, who became a runner during her time with WRW London, ran her second marathon today in Singapore! Well done, Rekha– we are so proud of you!

Great news for holiday shoppers… We have been invited to a private shopping event at Lululemon, alongside the St Johns Wood Women's Club! The Marylebone shop will open for us on this Thursday, Dec. 5 from 7:30-8:30, and we will receive a 20% discount. Please RSVP to Marissa O'Malia ([email protected]) or Mary Clyde ([email protected]), and big thanks to both of these lovely runners for bringing us this event! And note their wise advice– because the event will be well attended and fitting room space is limited, it's a good idea to do a bit of pre-shopping research if possible, so you will know what you want.

Speaking of holidays, it's time to think about the annual WRW tradition of showing our appreciation for the employees at our local coffee stops. As Starbucks and Pret function as our unofficial clubhouses, and the employees are generally very friendly and kind to us as a group, we like to give a tip and a basket of home-baked goods on our last run before the holiday break. Laura Beal has agreed to coordinate the cash gifts again this year, so if you're inclined to contribute £5-10 toward our thank you, you can hand your gift to Laura (or to me) at Barclays this week, or no later than next Wednesday, Dec 11. And there is absolutely no obligation whatsoever to contribute! We are also seeking baked contributions for Friday, Dec. 13, and we'd love to have a "Cookie Master" step forward to take charge of coordinating and collecting the baked goods for delivery. Please email [email protected] if you can commit to making a baked contribution for Friday, Dec. 13, or if you're up for coordinating the baked goodies!

Wow. How did December sneak up on us this way? Despite the burgeoning to-do lists this time of year brings, I am so looking forward to some of the fun and festive runs we do together at this time of year. Something about our mornings together makes me feel like we can do anything and everything on our respective lists! Enjoy the rest of the weekend. See you Monday!
xx Micki
ROUTES
Monday 2 December – Canal West/Paddington/Hyde/Green/Mayfair Loop (6.89 miles)
Start out by heading west on Circus Road, turn left on Grove End to St John's Wood Road and go west, running along Blomfield towards the canal. Do not get on the canal but instead cross over the canal and take the Westbourne Bridge over the Westway A40. Run south on Westbourne Terrace and at the fork, bear right to enter Hyde Park at Lancaster Gate.
Run along the west side of the Italian Gardens and continue along the south side of The Serpentine until you reach Hyde Park Corner. Run through Wellington Arch and turn left to enter Green Park. Run to the Green Park Tube, cross Piccadilly and head north (turn left) on to Berkeley Street. After Berkeley Square Gardens, turn left and then right onto Davies Street. Run north on Davies to the Bond Street Tube. Go left on Oxford and then right onto James Street. Run north on James which becomes Marylebone High Street. At Marylebone Road, turn left and then right to enter Regents Park at York Gate. Once in Regents Park, turn left and run along the Boating Lake back to the Charlbert Street exit. Take Charlbert back to SJW Terrace and Starbucks.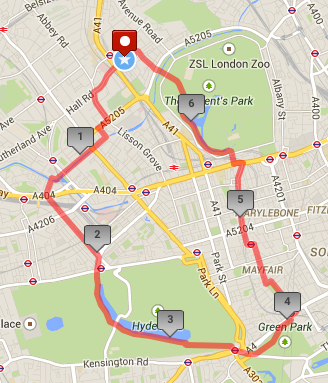 Wednesday 4 December
Option One (6:00 am start) – London Holiday Lights (4-6 miles)
We start out straight down Wellington Road past the Mosque onto Park Road and down to the Baker Street tube station. Turn left and run along Marylebone Road, crossing after Madame Tussaud's to cut through the Marylebone Church courtyard and turn right to follow Marylebone High Street, enjoying its lights until you turn right on George Street. After just a couple of blocks, take a left on Spanish Place to Manchester Square, running to the right (past the Wallace Collection) to make a right on Fitzhardinge Street, then a left on Orchard Street (at Portman Square) until you reach Oxford Street.
Turn left on Oxford Street and continue until you reach Regents Street and turn right. Follow Regents Street to Great Marlborough Street, take a left, go past Liberty and then take a right on Carnaby Street. Follow Carnaby to its end at Beak Street, right on Beak then left on Regents Street, all the way into Piccadilly Circus. Turn right on Piccadilly Street and then right on Old Bond Street. Follow Old Bond which turns into New Bond back up to Brook Street. Turn left then right onto South Molton Street up to Oxford Street. You can stop at the Bond Street Station (4.4 miles) or continue up Gee's Court (a tiny alley street diagonally across from Bond Street Station) which becomes St. Christopher's Place. Cross Wigmore Street up Marylebone Lane, back up the Marylebone High Street, through the Marylebone Church courtyard to Marylebone Road.
Options: turn left at Marylebone Road to reach Baker Street Station and you will have run 5.4 miles; alternatively, retrace your steps through Regents Park outer circle back to Starbucks via Allitsen and St Johns Wood Terrace and you will have run 6.5 miles. Latte time!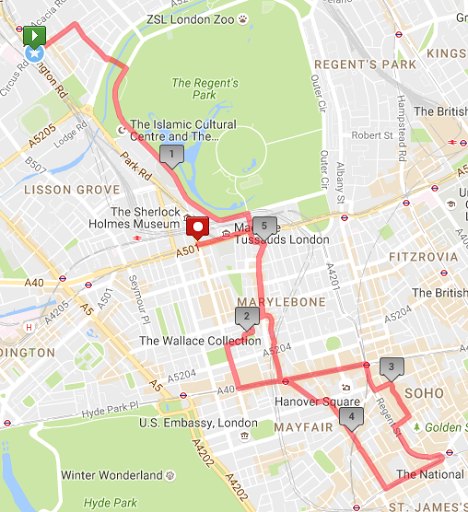 Option Two (8:15 for an 8:20 start) The Wall (3-6 miles)
We head down towards Regents Park, then enter the canal at the Charlbert entrance and run east [left] cutting through Camden Lock Market until we run out of canal path at Islington. At The Wall, we turn around and head back to St. John's Wood. This is a great route to do a tempo run because there are no traffic lights. Please be aware of the bikes on the path and move into single file on the inside (away from the water) when they are approaching.
If you run all the way to The Wall and back it is 6 miles. But it is very easy to run half the distance if you want and turn around and head home. As a marker, if you run to the Camden market (where we have to exit the canal path and run past the food stalls for a minute) and return home it is a 3 mile round trip.
Friday 6 December Golders Hill Park (7miles)
We're exploring another part of the heath today! Head up Fitzjohn's as usual but cross the road at the pedestrian crossing (opposite Oriel Place on the right and before the Tesco on the left) and back track a bit to turn into Church Row. Follow Church Row all the way until Frognal where we turn right and then quickly make a left onto Redington Road. Follow Redington Road as it curves around to the right until reaching the T junction with West Heath Road, where we turn left. Cross West Heath Road at the zebra crossing, continue left until you make a right onto a wide dirt path. There are many options of looping the whole park and seeing the zoo or the deer enclosure but for now we will cut straight through the woods, crossing a few paths, almost to the other side. Take a sharp right near the edge of the wooded area and some buildings. After the path curves to the right, take the first left and head up hill towards the pergola which will be on our right. We run out Inverforth Close, head right on N End Way back up to the roundabout where we cross to enter the heath at the usual Friday entrance. Run down the main path towards Parliament Hill but bear right at the bottom past the ponds and out to Downshire Hill. At the end of Downshire Hill, turn left down Rosslyn Hill and right on Belsize Ave to head back to St John's Wood the usual way.