Hello Everyone,
It was great to see so many runners on Wednesday.  I know it is hard to get back to it after some time off but it's worth it.   This week there's a threatened Tube Strike, so all our routes loop back home.  We're doing the Kensal Rise loop on Monday and the Camden/Regents Park loop on Wednesday.   Friday is the Hampstead Hill.  If you're new to the hill, don't worry.  You can build up to it.  One option is to run up to the Hampstead tube stop and then turn around and run back down.  That's a little less than a 4-mile run.  The payoff of the hill training is being able to run in Hampstead Heath.  For me, I hate the hills, but I love the Heath.  It's one of my favourite places in London.  It's so wild and remote that you quickly leave the cars and the craziness of London behind.
Helping with the Beginner Group?

We're looking for volunteers to help with next year's beginner group.  You can be any level/speed of runner and you don't need to have been a beginner yourself.   You can respond to this email or email me directly at [email protected].
Save The Date

Our annual "Sights of London" run and Leavers Coffee will be on Friday June 6.  We'll run as one big group and stop at a few key sights for photos.  It's great fun.  If you're moving away from London, please let us know so we can properly say good-bye.  (We'll miss you!)
Trail Race June 7

Sonia is looking for some women to join her in the Runner's World Trailblazer run (10K or half) on Saturday June 7 in Kent.  It's a trail race and looks like an absolutely beautiful run.  Check out the website at www.rwtrailblazer.co.uk and email Sonia at [email protected].
Health News

Thanks to Donna and Erin for mentioning an article in the NY Times yesterday reporting that scientists found that exercise has tremendous benefits for our skin.  People who exercise (at least 3 hours per week) were able to reduce or reverse the normal ageing process of skin.   The results were so dramatic that active 60 year olds had skin that was closer to the skin of 20-30 year olds.   (They tested skin that was not exposed to the sun from subject's butts!)  Just another example that exercise is great for you!

Keep running!

Jane

Monday, 28th April

Kensal Rise–6 miles

The beginning of this run takes us along the canal to the west.  Please be aware of bikes along the canal and move into single file whenever you hear a 'bike!' shout.

Start out heading west on Circus Road, turn left on Grove End to St John's Wood Road and go west, working your way to the canal entrance on Blomfield.  Enter the canal heading west and run to the Ladbroke Grove exit.  Here we turn right and run over the bridge along Chamberlayne Road to Harvist Road. Turn right on Harvist, which turns into Brondesbury Road, and take that to Kilburn High Road/Maida Vale.  Turn right and follow Maida Vale to Hall Road where you turn left and run back to Starbucks. If you want to shorten this route, run west on the canal and turn back at your desired half-way point. 

(The two mile mark is at the point on the canal when the Westway highway is over our heads.)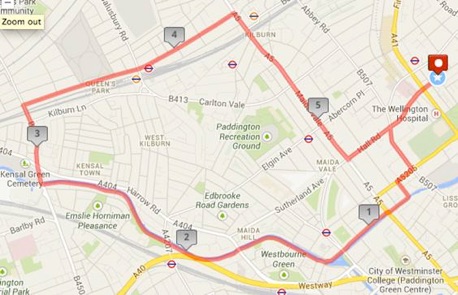 Wednesday, 30th April  

Camden/Morningside Crescent/Regent's Park Loop—5 miles

We start out on the canal eastbound to Camden Market, where we exit the canal and turn right onto Camden High Street.  We'll run down Camden High Street to Mornington Crescent Tube Station and veer right onto Hampstead Road, which we will take down to Euston road.  We'll then go right on Euston to Park Square East, where we will enter Regent's Park.  We make the first left onto Outer Circle and run around the loop to the Charlbert exit (where we enter for the canal). We'll run up Charlbert to Allitsen, make a left, and head back to Starbucks.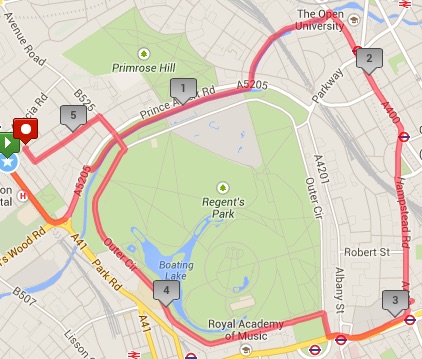 Friday, 2nd May 

The Heath!

It's Friday [again!], so everyone up Fitzjohn's.  You can pick your distance and whatever you choose, there will certainly be someone else interested in running that distance.  All of these routes are on the website.

4 miles:  A great way to ease into running the hill.   Run up to the Hampstead tube station and back.

5 miles: The Betsy Route

6-7 miles:  The partial Heath route

8 miles:  The full Heath route

Click here for maps of all of the Heath routes

______________________________________

Website:  https://womenrunningtheworld.commm

Facebook Group:  Women Running The World (request to join)

Email: [email protected]
It's springtime in London!
28 April – 2 May Running Info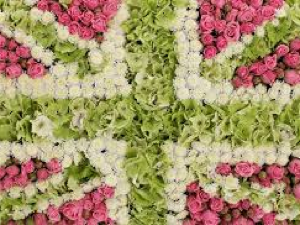 <![CDATA[]]>
<![CDATA[]]>
<![CDATA[]]>
<![CDATA[]]>