Hi everyone,
I'm looking forward to another good week of running!  We're in the key training weeks for the half marathon.  It's important that you complete the upcoming long runs.  Try to block the time in your schedule so you can do the destination runs with the group.  It takes longer, but there are benefits to your training and morale to get out of the neighbourhood and tackle a new route.  This week we have the 8-mile Big Ben loop route before we build to longer runs in the following weeks.  If you're feeling strong, you may also want to try the 8-mile Heath route this week.
As a reminder our upcoming long runs are:
March 2 – Big Ben Loop, 8 miles
March 9 – Canal to Greenford Destination, 10 miles
March 16 – Canal, Farringdon, Embankment Loop, 9 miles
March 23 – Kew Gardens Destination, 11 miles
March 30 – Spring Break
April 6 – Easter Monday holiday
April 13 – Green Park Loop, 6-7 miles
April 19 – RACE DAY
REMINDER – Money Collection on Tuesday March 3rd
If you are attending the Italy trip or if you ordered a WRW T-shirt, you should have received an email about our plan to collect money this week.  We'll be collecting money on Tuesday March 3rd from 8:30am-11:00am at the Pret-A-Manger basement on Circus Road, across from Starbucks in St. John's Wood.  We'll also be handing out the hats and shirts at the same time.  All people attending the trip will receive a WRW hat as part of the trip costs.  But we also have extra hats at a cost of £10 for anyone who would like one.  If you can't make it at this time, please send your money with a friend.  Thanks so much!
Nike Women's 10K
Registration is open for the Nike Women's London 10K on 21 June 2015.  Join 10,000 runners for a great event run in Victoria Park.  Follow this LINK to the registration page.
Keep running,
Jane
ROUTES
Monday, 2 March – Big Ben Loop (8 miles)
For this run we head to Hyde Park via the usual route and run along the eastern edge of the park to Hyde Park Corner, under the arch and down Constitution Hill.  Run pass the Victoria Memorial down the mall and enter St. James Park.  Run over the pond and out of the park, turning left onto Birdcage Walk and down into Parliament Square to Big Ben, then turn around and run the same route back to Starbucks.

Wednesday, 4 March – Tempo Track Sprinting and Fartleks
Time for more tempo training—this week, Fartleks.
Head down to the Regents Park Outer Circle the normal way [down Wellington, left at roundabout, cross zebra before the High Street, enter outer park at Charlbert] but do not go into the park, instead turn left on the outer circle and run slowly to the track.  Run ONE lap at the track, gradually increasing your speed.  Now, time to really run!
Do a timed one mile on the track [4 laps in the middle lane is pretty close] or you can set your watch to give you a one mile interval. Run this mile at about 80-85% of your maximum capacity.  If it were a scale of 1-20 [where 20 is a level of intensity that you could do for 1-2 seconds before you collapse], your timed mile should be a 16-17 [yikes!].  After your timed mile, jog another lap, slowly, around the track to recover, then continue to run slowly over the Regents Park.
Now, we'll do about a 15-20 minute group Fartlek session.  This is how it works:  break into groups of 3-5 runners based on your sprint pace—the fastest group needs to be in front.  Separate each group by a couple of minutes before you start running again.  Someone in each group identifies the 'run-to' point [a bench, a rubbish can, a particular tree, etc] then counts down 3,2,1, 'GO!'  Everyone in that group runs as hard as possible to the established 'run-to' point.  The distance of each fartlek should be different—mix up longer legs [maybe 200 meters] with shorter legs [maybe 20 meters].  You can do the loop outlined in the map below or just pick your own path until you've done about 15-20 minutes of fartleks.
Now, jog back over to the track and do ANOTHER timed mile to try to meet or better the time you had from your first timed mile.
Run, walk or crawl back to Starbucks and enjoy a much-earned coffee and chat!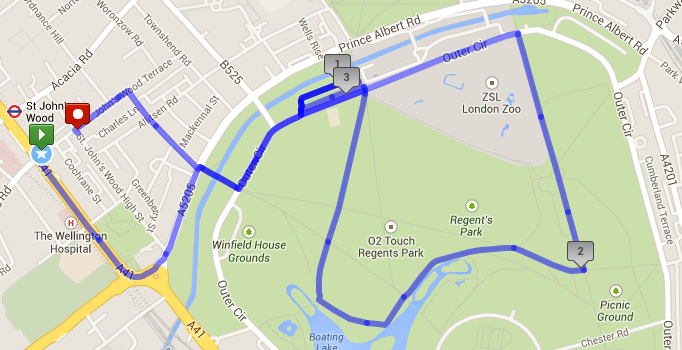 Friday 6 March —  The Heath [all options]
It's Friday so everyone head up Fitzjohn's.  You can pick your distance and whatever you choose, there will certainly be someone else interested in running that distance.  All of these routes are on the website.
4 miles:  A great way to ease into running the hill.   Run up to the Hampstead tube station and back.
5 miles: The Betsy Route
6-7miles:  The partial Heath route
7.5 miles: The Highgate route
8 miles:  The full Heath route
Click here for maps of all of the Heath routes.