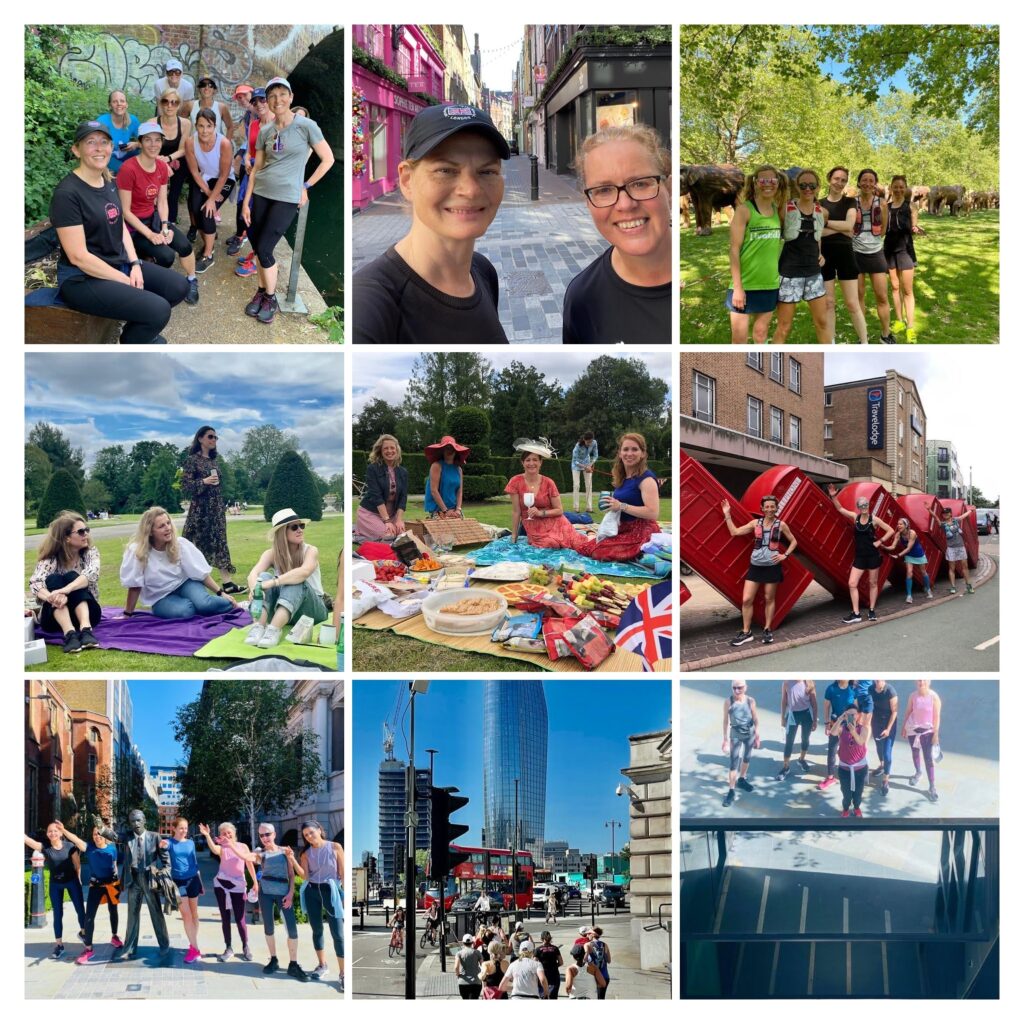 Hello Runners!
What a beautiful week and weekend we have had!  I don't think we could have asked for any better conditions for our celebration in Regent's Park on Friday, and you all made it truly special and memorable.  It may be that a new tradition has been born this year– our end-of-year picnic celebration!  Out of all the chaos the pandemic has sown into our lives, finding creative ways to fill the spaces left by the things we couldn't do has given us some great memories of unique experiences, and made us appreciate all the more anything we were able to do!  This will be an email filled with thank-yous, so here is the first one– thank you all for embracing all the new things we've done!  Everything would fall flat if there weren't people rallying around to bring life and joy to the things we've done together!
And with that said…. drumroll… it's time to rollout the WRW Annual video, created this year by the brilliant Janelle Meyer!  More in praise of her efforts below, but for now, here's the link you've all been waiting for:  The Amazing WRW Race! 
Running this week.  It's a short week, as we follow the ASL calendar and school ends on Wednesday!  Monday we have scheduled the traditional last run to Big Ben.  It's a 4-mile jaunt, but you can carry on back to Green Park to make it closer to 5, loop back to St Johns Wood for more mileage, OR carry on from Big Ben across Westminster Bridge for one more run to Tower Hill (7 miles)!  On Wednesday, when ASL has a half day, we'll cap off our year as we usually do, with the familiar run around Regents Park's Inner and Outer Circle.
After Wednesday, we are officially on 'WRW summer break'– but you know there will still be people running!  To help those who want summer running partners in London, we are reactivating the WRW Summer running whatsapp chat (which you can join by clicking the link).  There are many women on the chat still from previous summers, so you may find you are already there!
Shoutouts, announcements, and mostly, Thank-Yous!  Let's start with a big congratulations to all who are celebrating a graduate this year!  Whether here in London, or at university abroad, I hope you were able to celebrate the occasion in a meaningful way!
And speaking of meaningful ways… I have been wrestling with how to deliver big thank yous to all of the people who make WRW work on a weekly basis.  It's hard to let this go without a microphone and the ability to conjure a standing ovation for each one of these ladies, but I will try to be brief if you will promise to fill in around my little summaries with all the extra praise and superlatives that these women deserve!
Amy Grace (Beginners guru and webmaster)– Thank you, Amy, for ALL you do for WRW– from running the Beginners Program, to keeping us online, to keeping me sane.  I don't think people realise how much you do for all of us– as our coach, webmaster, historian, data keeper, and guardian of all WRW institutional knowledge!  On a weekly and daily basis, you are centrally involved in every decision about WRW.   I'm truly not sure how we would function without you!
Sue Wheeler (race boss and finance director)– Sue, thank you for being the steady hand that guides us through all things race- and finance-related!  We all owe you SUCH a big thanks for having the clairvoyance to book us on a UK-based half-marathon this year:  the Hampton Court Half allowed us to snatch one victory back from the pandemic and its lockdowns, by giving us a gorgeous, self-supported race option that could actually happen!  Beyond the race, I count on your wisdom, perspective, and creativity in every decision we make!
Jen Iannazzo (membership) – Ah Jen, did you have any idea what you were getting yourself into when you agreed to be our membership-minder?  You have been a phenomenal addition to the team, welcoming something like 70(!) new members to the group this year with the lowdown on who we are and how we work.  But beyond that, you've gone the extra distance to help each one find a place within the group, being in touch both by e-mail and (once it became legal!) face-to-face.  You are also a wonderful sounding board, and I am excited to work with you again next year! 
Marissa O'Malia (kitmaster) – Marissa, I cannot even express for all of us how much joy your kit selections have brought to this strange year!  Truly, I'm not sure there could have been any better choice than the happy, bright colors and the oh-so-appropriate slogan this year!  We are all beyond grateful for the kit.  And your positive, inclusive, encouraging and always helpful presence is a joy to be around.  I have to mention how it made me smile to see you pull an extra clothing accessory from your ever-stocked bag for a friend at the picnic Friday!  You truly are the kitmaster extraordinaire!
Our Routes Team – Erin Roth, Melissa Kay, Dinae Norris, Janelle Meyer, and Darcy Fautz – Thanks to you ladies for the planning sessions by zoom, the new routes, and especially for stepping up to be the sounding board whenever we had to make operating changes related to Covid rules.  You have especially been so understanding and gracious in those times I crashed in asking for a last-minute opinion a few hours before the e-mail was due to go out.  Lockdown and social distancing have made it a frustrating waiting game as far as putting out routes for the group, and we missed a lot of favorite runs this year because we had to be so separate.  I SO look forward to getting our groove back next year!
Our Beginners Coaches – Amy Grace, Melissa Kay, Paola di Meo, Renata Figueiredo, Jess Browne, Shannon Ashton, and Sue Wheeler – You coaches this year, including the two last-minute 'temporary/permanent' recruits, went above and beyond!  You are always so caring and attentive to the beginning runners, but you went to all the extra lengths this year to make sure each woman felt supported through the more extreme period of lockdown, and to help them forge a bond despite having to be separate for so long.  I know that you each feel the reward of having made the journey with our new ex-beginners, but you deserve so much recognition from all of the group for making it possible this year!  And in addition to these regular coaches, a special thanks goes out to all the women who took the time and care to do coaching runs while we were on one-on-one coaching duty.  I'm afraid I will miss someone if I try to list you here, but please, please know how much you are appreciated by me, by the coaches, and by the ex-beginners you ran with!  And further thanks to all of those who supported the Silver Linings' Hampton Court Half Marathon with logistics, cheering, and extra running alongside!  You made the capstone event feel like an event, and we all are grateful.
Our Pace Group Leaders – Miki Neant, Marissa O'Malia, Meredith Snizek, Jane Novak, Stephanie Mager, Laura Beal, Heather Davenport, Jess Browne, Jen Iannazzo, Veena Gopal, Melissa Kay, Magali Kivatinetz, Tamar Brooks, Fernanda Spinelli, Claudia Figueroa, and Carol Osborne – A big thank you to each of you for really stepping up this year.  Even while we were separate for an extended time this year, pace group leaders were asked to look out for your people more than ever, beyond just whether they are falling behind on a run.  You were on standby for everything from people needing running partners to people feeling isolated and needing an ear or a shoulder.  And when there was no common meeting time or space, you became a trusted means of quickly and reliably communicating with the group.  You were asked to organise breakfasts, destination runs and celebrations– and you did it all with good grace and creative, positive energy.  I am so grateful for your leadership this year.  You have been the glue keeping us together while the pandemic and the lockdown response was like a centrifuge spinning us apart!Our Film-maker Janelle Meyer – thank you, Janelle, for taking on the ultimate challenge of creating a WRW annual video… in a year when you couldn't actually gather people together to do any filming!  Your creative solution is nothing short of brilliant, and it has given us a lasting and fun memento of our year together (well, and apart!).  There is nothing better than being able to laugh in the face of adversity, and I think 'toilet paper plyometrics' will always make me laugh along with the 'Get Off of my Cloud' soundtrack!  
Our Photographers – Tamar Brooks, Miki Neant, Jennifer Egsgard, Jen Iannazzo, Shannon Ashton, Marigold Dooley, and many others – thank you to all the talented people holding cameras throughout the running year!  And thank you for being so gracious about me shamelessly lifting them from group chats, Facebook and any other means by which I could manage to snag them!  You deserve credit every week for your creativity, and often I can't even keep track of what came from whom.  But your skills amaze me (I have banned myself from ever again taking a group running selfie!).  Special thanks to Tamar for all the work to make beautiful memories for the Silver Linings Beginners Group, with great individual photos at the start, along the way, and at the finish of their Hampton Half.  As with all you do for us and for others, your efforts were above-and-beyond and are much appreciated!
Goodbyes.  The saddest part of every last e-mail is the goodbye part.  We have once again made electronic goodbye cards for each of our leavers.  Please take the time to follow the link, sign the card, and add a picture if you have one (the website is fairly intuitive, if a little fiddly sometimes).  The cards will stay open until next Saturday, June 19– then all of our collective good wishes and memories in the cards will go to our leavers by e-mail.  Apologies that they are a little light on the personalization to start, but I will be adding more photos to the cards throughout the week!

2021 WRW London Leavers:

And that, as they say, is a wrap.  It has been another wild year for all of us.  I know we've been over it all before, but just one final time I want to say how proud I am– both of you all, and of all of us together— for how we've made it through another year of re-adjusting hopes and expectations.  Even though we were often forced apart over the last 18 months, I think our shared experience has brought us close in ways we will always remember.  And the jubilance of coming out of lockdown over the last couple of months has given us memories all the sweeter!  For those who are leaving this year, you will be missed.  But you will always be part of Women Running the World– since our description pretty much covers the globe, there is no getting away from us!  Our love and best wishes go with each of you!
Best summer wishes for everyone.  I hope you will keep running.  But what I really hope is that you are able to spend time with the people you love in the places you love.  We will be waiting here for you with a big London running reunion at the end of August!
xx Micki

ROUTES
Monday 14 June – Big Ben, or on to Tower Bridge (4-8 miles)RunGo: https://routes.rungoapp.com/route/eckLcQj4pf
This is our traditional last-Monday-of-the-year run– right through the heart of London to Big Ben. From this 4-mile mark you can either take the tube from Westminster, run back to Green Park for the tube, or make it an 8-mile loop back to St Johns Wood. OR, if you feel like continuing on, why not turn it into a final run to Tower Bridge? We head to Hyde Park via the usual route: start heading west on Circus Road and turn left on Grove End and follow south as it becomes Lisson Grove. Cross over Marylebone Road and continue on Seymour Place until the end. Turn right and cross over Edgware Road and then left to enter Hyde Park at the intersection with Stanhope Place. Run along the eastern edge of the park to Hyde Park Corner, under Wellington Arch and down Constitution Hill. Run along the edge of Green Park, past the Victoria Memorial and cross The Mall at the traffic light. Run down The Mall and enter St. James Park. Run over the bridge across the lake and out of the park, turning left onto Birdcage Walk and down into Parliament Square to Big Ben. Those running four miles will take the tube back to SJW from here and those running eight will turn around and follow the same route back. You can also make it about a five mile run by turning back at Big Ben and running to the Green Park Tube Station, then tubing it home.
To continue on to Tower Hill, carry on across Westminster Bridge and exit left down the stairs on the South side. Run along the Thames Path past the London Eye, Royal Festival Hall, Blackfriars Bridge, Tate Modern, Shakespeare's Globe to the Golden Hinde, admiring all the landmarks as you trod past. Follow the walkway to the right of the Golden Hinde and at the junction with Southwark Cathedral, turn sharp left and follow Montague Close, passing through the tunnel. You are now on Tooley Street. Shortly, you will see a Legible London standing road sign for Tooley St/London Bridge (photo below) – turn left and go through the passage to meet up with Queen's Walk/Thames Path. Turn right onto the walk. Continue on the Thames Path past the HMS Belfast, City Hall and Potters Fields, to Tower Bridge. Climb the stairs up to the Bridge (don't go under the Bridge), then run across Tower Bridge (the views!), continuing past the Tower of London (more views!) until you reach the stairs down to Tower of London Park. Take the stairs down and follow the paved path along the park. Just past the park is a junction in the path-turn right to run in a tunnel under Tower Hill Road, past part of the original London Wall and up to the Tower Hill tube station. Now, think of all the history you've witnessed in just 7 miles!
Wednesday 16 June – Regents Park Inner/Outer Circle (5 miles)RunGo: https://routes.rungoapp.com/route/BoeFK1Khvv
From Barclay's head down Wellington Road to the traffic circle at Lord's Cricket Ground and bear left onto Prince Albert Road. Run to the pedestrian crossing where we will cross and head to the Outer Circle. Turn right and run on the inside of the circle past Winfield House which will be on your left. Continue around the Outer Circle until you reach the traffic light at the intersection with York Bridge. Turn left and proceed to the Inner Circle. Run one complete loop of the Inner Circle and back out across York Bridge where we will take a left and continue on Ulster Terrace which is part of the Outer Circle. At the next large intersection take a left and continue on the Outer Circle, heading north back towards the Zoo and Camden. Pass the entrance to the Zoo on your left and continue to the bridge at North Gate which we will cross to reach Charlbert Street. Run up Charlbert Street until St John's Terrace where we turn left and run back to Barclay's for a stretch before heading to Starbucks.