We are excited to announce that the 2019 half marathon will be in… Milan!


Italy's "City of the Future" is a
capital of commerce, finance, fashion, and media.
The Stramilano Half Marathon began in 1976 and currently plays host to over 7000 runners. Its great organization, amazing location and cheerful crowds earn it outstanding reviews.
The race begins at 10:30 AM and has a 3 hour cut off, which we feel very confident that all our runners will be able to meet.
The course begins and ends at Piazza Castello in central Milan. It is
flat and fast, and it
takes runners in a large loop around the city before returning to the Piazza .
There are 4 water stations with bathroom services and 3 sponge stations along the course, and a full service Athletes Village at the end with refreshments and medical services.
Many of you are new to WRW, so a word about how the annual trip works. First of all, the half marathon trip is for WRW runners only. No husbands, no partners, no kids, no non-runners. This weekend is all about you and the women in the running group. If you'd like to talk about this, just let one of us know! Second, for the most part, the entire trip is planned for you. There are a few things you will need to do to make your travel plans, but we'll let you know as the time comes for those items. The most important thing throughout is simply to keep running!

General Plan for the Weekend

Friday, 22 March – Arrive and visit Stramilano Centre to pick up race numbers. Group dinner at a local restaurant.
Saturday – Enjoy Milan. Optional tours will be organized for sign up. Option to attend Stramilano Centre. Group dinner at an Italian restaurant.
Sunday – THE RACE followed by celebration dinner!
Monday, 25 March – Return to London

What to do now

At this point you can book your flights. There are many flight options. Please be aware that when people start booking flights the prices will go up, so we want to give everyone an equal chance to book early. Below is a handy guide to Milan airports and some of the flight options that may work. Feel free to book one of these or find another flight that works for you, but make sure you pay attention to which airport you are flying in to.

There are three airports serving Milan – Milan Linate (LIN) being the closest and most convenient. Please take care when booking, to check you are flying into and out of the airport you intend, since (as in London) the cost and ease of transfer differ widely with each.

Milan's three airports
1. The airport closest to the central city (and our hotel) is Milan Linate (LIN). Most (but NOT all) BA and Alitalia flights from London go there, as well as one or two Easy Jet flights daily. Easy 8km taxi (~€20)

2. Milan's biggest airport is Malpensa (MXP) into which most long haul flights arrive from outside Europe (eg: any WRW runners coming from the US). Its also the main hub for low-cost carriers (incl. Easy Jet), and has a couple of BA flights from London. It is 50 km outside Milan. Taxis into the city are pricey (~€100) though there is a direct train from Terminal 1 to Milan Central Station. (~ 2x hourly, 52 minutes, €13)

3. Bergamo Airport (BGY) often pops up in flight searches. It is the farthest away of the three airports. Ryan Air flies here (and into MXP). Bus and bus/train transfers can take ~1.5 hours. This won't be the most convenient choice for most, but a back-up option for anyone booking last minute when fares may be less than LIN or MXP.

Flight options from London (there are many others):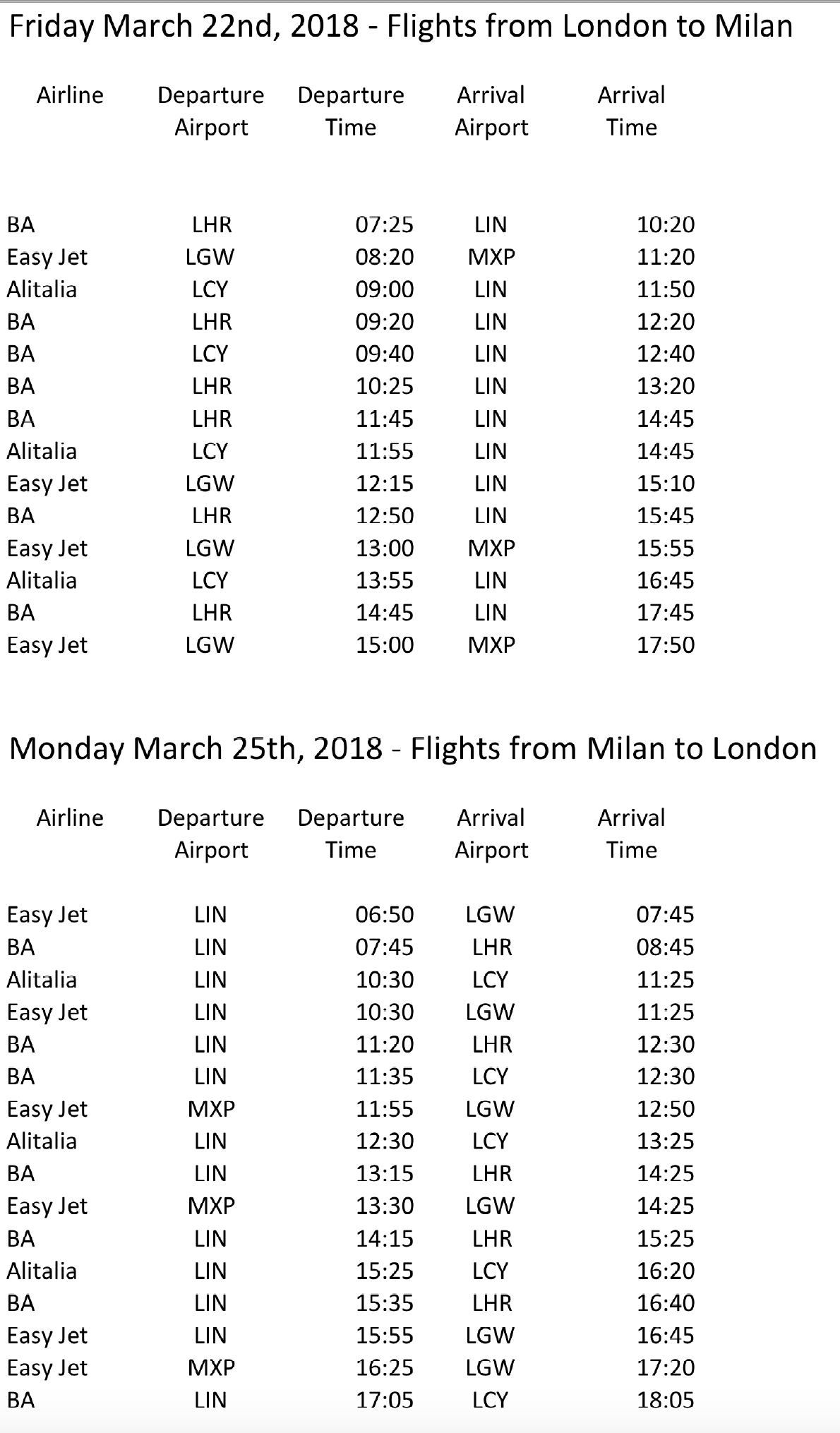 Other details


Race registration will open at the end of October or beginning of November. We will send details, including any special WRW code from the race director, in a future e-mail.
Hotels. W
e are working with a hotel to reserve a large block of hotel rooms in central Milan. We
will send details about where, when and how to book a room and when to register in our next email.
Club Affiliation for Italian races. One thing to note, Italian races all require that runners either belong to a run club affiliated with the IAAF (International Association of Athletics Federation) or have an extensive medical exam.
As we did the last time we ran in Italy, we have identified an athletic club in London that we can all join to meet this requirement. We will send details in a future email about how and when to join.
We are super excited about sharing this experience with you! Keep on running!
SaveSave
SaveSave