Hello Runners!
Isn't it exciting?!  We have a half marathon on the calendar!!  We are so lucky to have– right in our 'neighborhood'– this beautiful race that would be worth traveling to from abroad.  While we will miss the element of travel in the race, we can all acknowledge that this is not the year to make elaborate flight, hotel, and dinner arrangements.  Thanks to Sue's great scouting and strategising, we get to run in a unique and historic location, with the maximum chance that the 'show will go on' if at all possible!  If you didn't receive the half marathon announcement this week, you can get all of the information on our website by clicking here.  And be sure to follow the linkand get yourself signed up for the race before it sells out!

Just a reminder to continue to mind the social distancing in the park during meetup (especially keeping space between our groups of six), out on the streets when running, and wherever we may land for coffee/drinks after the runs.  You can review our Covid-19 guidelines here.  Thank you for being so conscientious about this!
Running this week.  This week we are sticking with loops again, but trying to mix it up a little bit.  Monday we will head to Hyde Park, which is looking gorgeous in its autumn glory right now, for a 7-mile loop created during lockdown– The Hyde Park Statue Parade!  If you aren't comfortable with that distance yet, no worries– it's easy to improvise to shorten the run by doing less in the park.  On Wednesday we will do an older route, the Kensal Rise loop– if you're up for it, try running it in reverse!  One group did that with Notting Hill last Monday, and it was really fun to get to greet the other groups along the way.  And Friday is our 7th annual Halloween Run, with costumes encouraged– I can't wait to see what you all come up with!  This year we will run a loop to Hampstead Cemetery instead of our usual destination through Brompton Cemetery (so we aren't having to use public transport to get home).  The route is 7 miles, with some hills, but not as much as our usual Friday Heath runs.  If you prefer, you could shorten it by running to the cemetery, limiting how much you run inside it, and then returning to SJW the same way you came up.  
Training Plans.  As long promised, now that we have a race date on the books, we have tweaked our training plans and can share the overview with you.  Below are the full calendar plans for a standard training approach and a gradual training approach (apologies in advance if these show up either enormous or tiny in your e-mail– gmail gives us very little control over our graphics-shares!).  We will have these up on our website shortly as well under the Training Plans menu.  Our Routes team will continue to consider the standard training plan when choosing routes each week, so if you are following the emails, you're automatically following the program.  And we do try to offer routes with flexible mileage options if you are following the gradual plan.  Please keep in mind that we are not experts, and you should customise these plans to your own fitness and goals (and, of course, be sure you are healthy enough to undertake the training in the first place).  What we can say, though, is that many, many women have completed half marathons over the years using these basic plans created by our founder, Paula Mitchell.  We will continue to share training notes, as well as any plans to incorporate optional tempo training, and perhaps some special tip sessions for anyone running her first half marathon.  Stay tuned.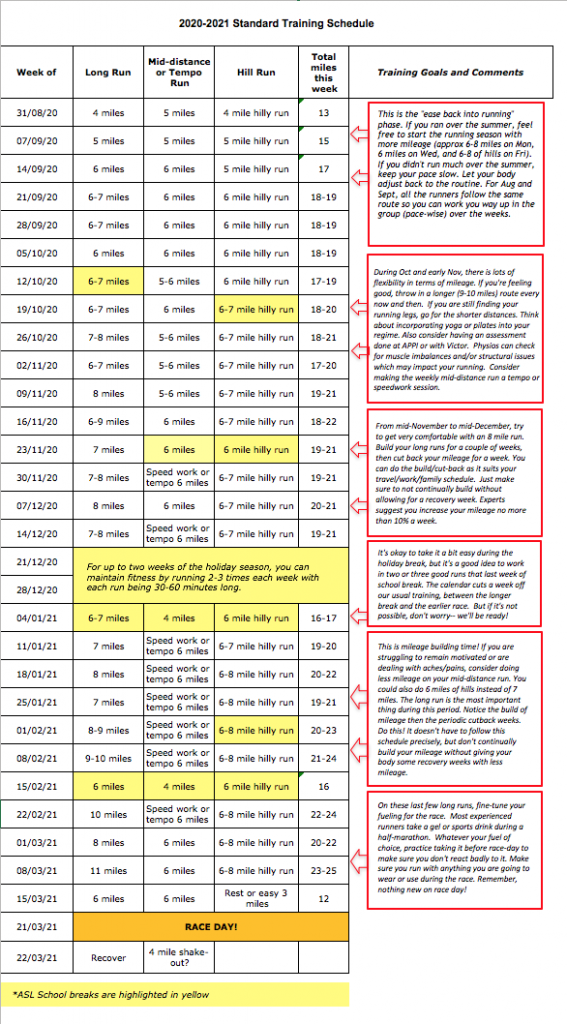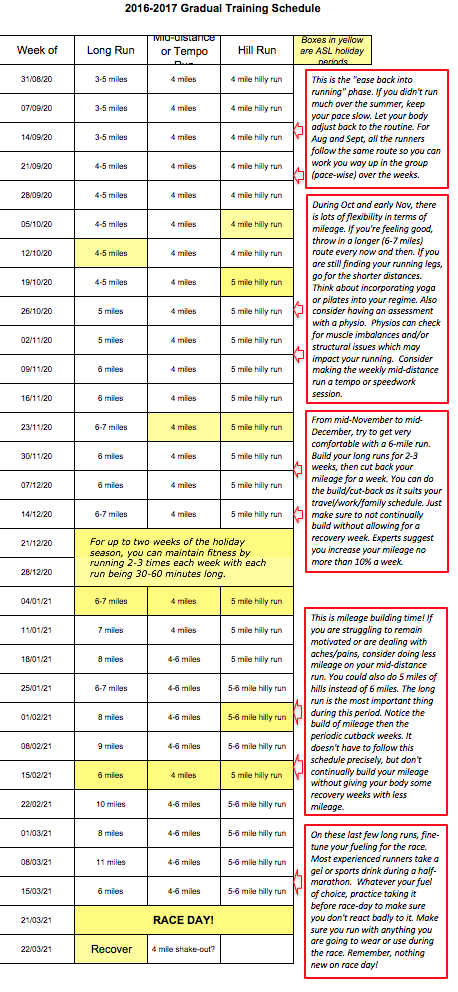 Announcements and Shoutouts. We need to send out a BIG shoutout to the Hustler's pace group this week: On Monday they held their own 5k race, complete with medals and gifts! This is such a dedicated and hardworking group– always one of the best attended in WRW. Under the leadership of Tamar Brooks, with Fernanda Spinelli, Claudia Figueroa, and Carol Osborne, the race celebrated the milestone of ramping from initially running with walking intervals, to doing the 5k nonstop. They will continue to move from strength to strength, and the photo montage is just a peek at the great time they have doing it together! Bravo, ladies!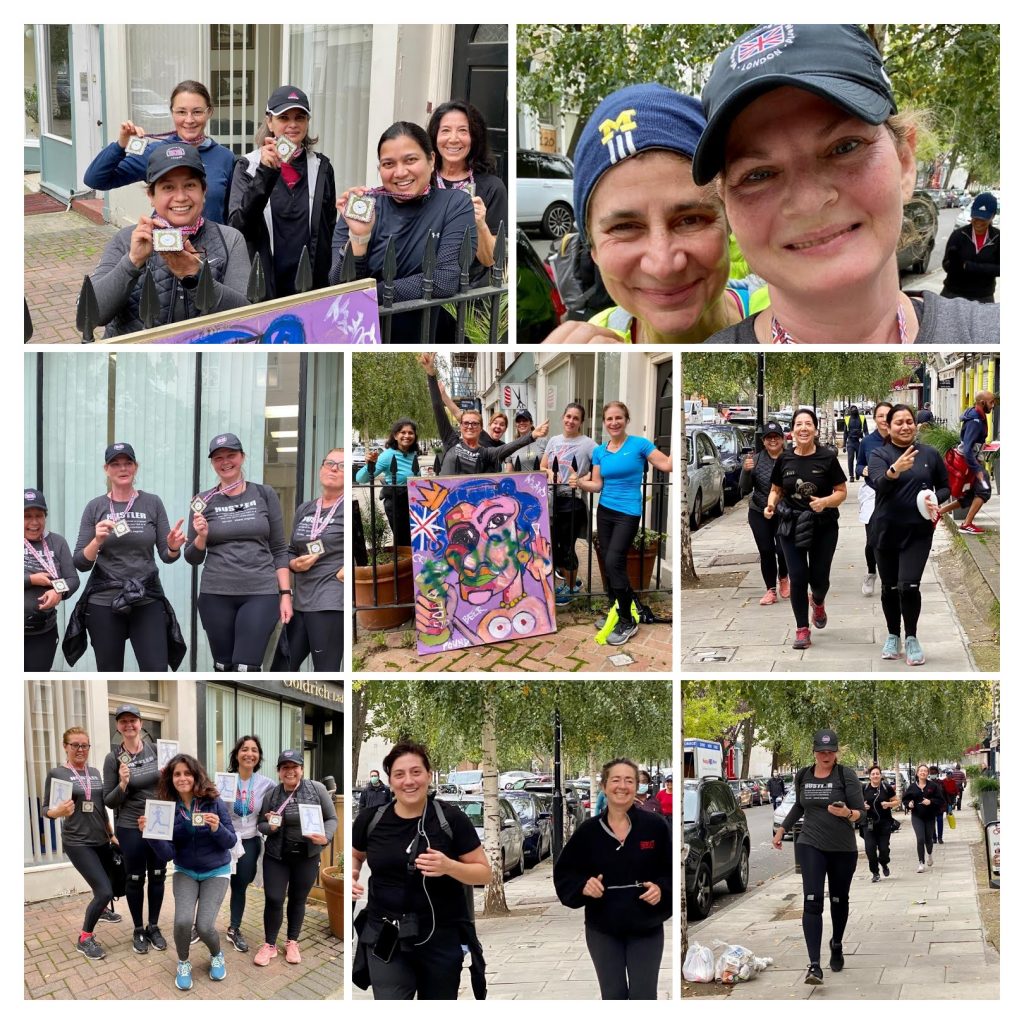 Another announcement from the WRW Alumnae group, based in the U.S. Ariadne Petrucelli let us know recently about the Run For Ruth – We Dissent race many of the alums are doing virtually. They have set up a Women Running the World team for the 87 mile "race" and have invited us to join (make sure to select the team if you register). It's a very flexible race, with participants simply logging in their miles incrementally through Jan 31st. If you're running with us a few times a week, you will easily get to 87 miles, and this is a great way for us to stay connected with our friends and fellow runners around the world– thanks to Ariadne and the awesome alums who keep WRW going after London!

That's it for this week, runners… can't wait to see you out there tomorrow for a beautiful run to Hyde Park! Hope you are enjoying the extra hour of Sunday we've received this week (and be sure you don't show up an hour early tomorrow morning)!

xx Micki
ROUTES
Monday, October 26 – Hyde Park Statue Parade (7.1 miles)
RunGo link: https://routes.rungoapp.com/route/ykEnDIhXh8
8s and 10s Pace Groups we suggest that this week (because it is half-term!) you follow the old route to Hyde Park, running down Lisson Grove to enter the park at the silver sphere, and follow the statue route from there. Please use the RunGo app for turn-by-turn instructions from the park entrance.
9s and 11s Pace Groups follow the route as shown on the map. Please use the RunGo app for turn-by-turn instructions on the run.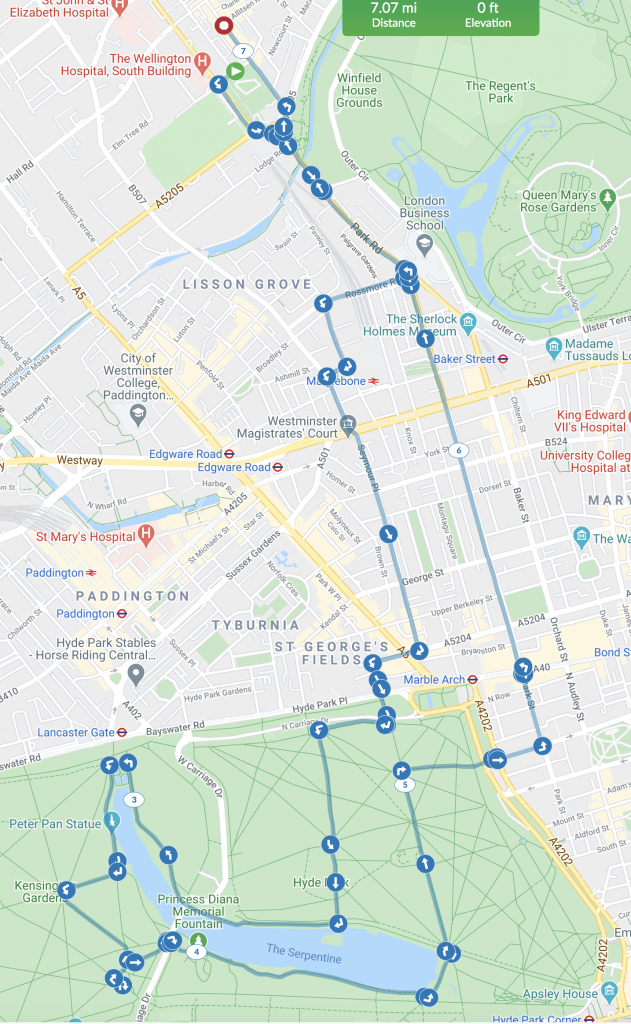 Wednesday, October 28 – Kensal Rise (5.5 miles)

Please be aware of pedestrians and bikes along the canal and form a single file whenever needed for social distancing! Some groups may want to try running the route in reverse, to lighten traffic on the canal during rush hour. Start out heading west on Circus Road, turn left on Grove End Road, then right on St John's Wood Road at the traffic light. Then turn left on Cunningham, right on Aberdeen, and cross Maida Vale to the right side of Blomfield Rd. Stay on the right side of Blomfield Road as you run parallel to the canal. Turn left at the second bridge over the canal (at Westbourne Terrace Road), turn right just after the bridge, follow the sidewalk along Delamere Terrace, and join the canal path heading west at this point. Run to the Ladbroke Grove exit. Here we turn right and run over the bridge along Chamberlayne Road to Harvist Road. Turn right on Harvist, which turns into Brondesbury Road, and take that to Kilburn High Road/Maida Vale. Turn right and follow Maida Vale to Hall Road where you turn left and run back to Starbucks. If you want to shorten this route, run west on the canal and turn back at your desired half-way point. (The two mile mark is at the point on the canal when the Westway motorway is over our heads.)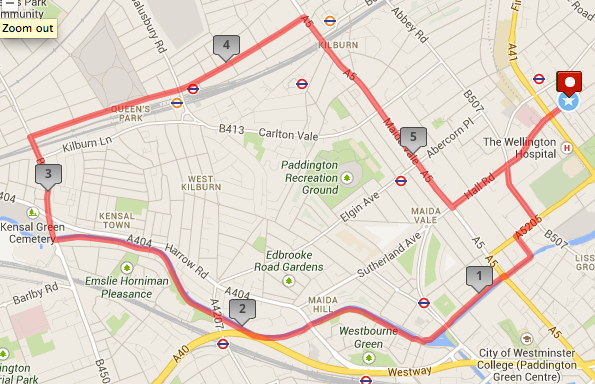 Friday, October 30 – HALLOWEEN RUN!  Hampstead Cemetery (7.1 miles)
RunGo link:https://routes.rungoapp.com/route/aVzrkOhVjU
From the Church Gardens, head straight out to run up Cochrane St.  Turn left on Acacia and cross Wellington Rd.  Turn right on Loudoun and run until it ends at a traffic circle.  Turn left on Belsize Rd and then a quick right to head onto Fairhazel Gardens.  Take your first left onto Goldhurst Terrace and then a left when it curves around.  Turn right on Prior Rd and run to the end, turning left onto Broadhurst Gardens.  Take the next right onto West End Lane and run about half a mile, taking care to avoid pedestrians as much as you can.  Keep West End Green on your right and when the Green ends, turn left onto Fortune Green Rd.  When the street bears right, cross and enter Fortune Green Park.  Run straight through and enter the narrow pathway that leads to the cemetery.  Take the first entrance on the left and run a loop to the left around the cemetery chapel side.  Then cross the path to take a loop around the other side, running straight and then turning left just before the street exit.  There you will find the lovely Art Deco Bianchi monument as you circle through.  Once back on the cemetery road, turn right (you'll see the chapel) and then turn right again to continue on the path you were on from Fortune Green.  Follow this path to the end, between school playing fields, and turn left to follow it out.  Once on the street, turn left to get on a path (you'll see bike entry barriers) that takes you along the far side of the playing fields.  At the end of the path, continue straight onto Somali Rd, then jog left and then right to get onto Sarre Rd.  At the end, turn right onto Mill Lane (larger street).  Take a left onto Fordwych Rd.  At the end, turn right onto Maygrove Rd and then a left onto Kilburn High Rd.  Again, take care to avoid pedestrians.  Run a few blocks and turn left onto Netherwood St.  At the top of the hill, turn right onto the aptly named Hilltop Rd then left onto Hemstal Rd.  At West End Lane, cross and turn right and then a quick left onto Cleve Rd.  Turn right onto Priory and the second left onto Goldhurst Terrace.  Keep left onto Aberdare Gardens.  At the end, turn right onto Fairhazel Gardens and go straight across Belsize Rd.  Jog left and then right to get back onto Loudoun.  At the top of the hill, turn left onto Boundary Rd and cross over Finchley Rd.  Turn right onto St. John's Wood Park and take that to St. John's Wood Terrace.  Turn right and finish at Starbucks.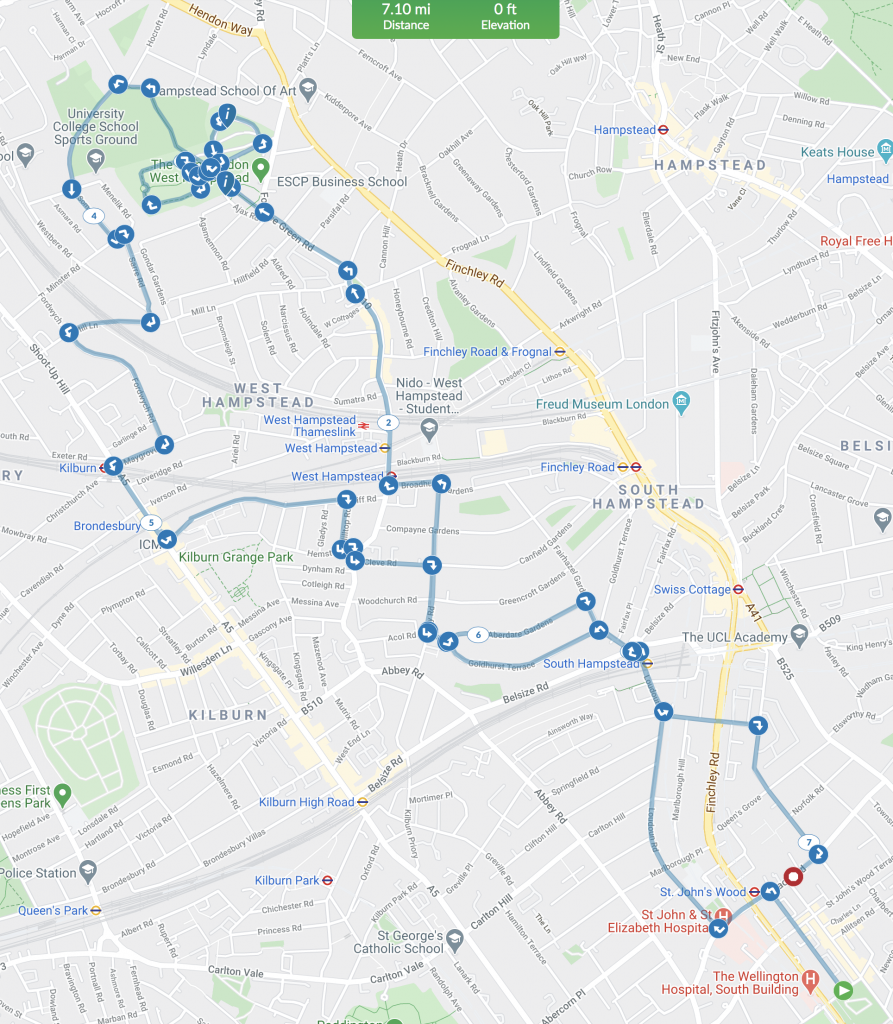 Here are the links for all of our Heath routes, if you'd rather stick with the regular drill! Please continue to use our Elsworthy Rd and Thurlow Rd routes into the heath, so we can keep as much traffic as possible off the Fitzjohn Avenue pavement. For specific directions on these routes, consult the WRW London group page on the RunGo app.