Hello Runners!
It's been another solid week of training, with some great runs done and great company had! It was so much fun to visit Ted Lasso's world in Richmond on Monday– we even got an 'us-ie' with him! And as always, the run along the Thames to Hampton Court Palace was beautiful. Apologies that we did not know about the palace now being closed on Mondays, or that they have changed the grounds such that you can't access the cafe without paying admission. That was disappointing, but good that we could take consolation in the great little cafes across from the train station. For those who weren't able to make the trip this time, we do usually try to run this adventure route again in the Spring after the half marathon.
Running this week.  This is a short running week, as ASL's Thanksgiving holiday begins Wednesday.  Our only official run will be Monday, when we head to Whole Foods Piccadilly on a 6.5-mile urban run that takes in a variety of iconic London locations.  We start out east on the canal for a few miles before exiting at the Wall to head down Farringdon Road, under the Holborn Viaduct, and close to St Paul's Cathedral (look to left at the Fleet Street intersection).  Then we run along Embankment before turning up toward Trafalgar Square and ending at Piccadilly Circus.  See the "Routes" section below for full directions, a map, and a RunGo link.  Whole Foods has a seating area upstairs if you want to take a coffee and hang out a bit, and it's a great place to get your shopping done if you are cooking a Thanksgiving meal!  Wednesday and Friday are 'runner's choice' days– reach out to your pace group via Whatsapp to coordinate if you want to do a group run with those who are in London for the break.  And don't forget to make plans for our annual lights run next week (Wednesday, Dec. 1, at 6am). 
Shoutouts and Announcements.  Jess Browne is in Lisbon today, running the Lisbon half marathon with our alumna friend, Litsa Savastino.  The race is starting as I write this– so sending out good luck and all of our wishes for a strong and happy run!  Kudos and congratulations to the ladies who went out and ran the Grand Union Canal Half Marathon outside London last weekend: Marigold Dooley, Phil Kelvin, Abby Khatiblou, Clare Missin, and Meredith Snizek.  Well done, ladies!  And big congratulations to Francesca Rangheri on her first marathon last weekend, to Rebeca Ernrooth (who ran it as an ultra), and to Stephanie Gladis, who rocked the Ravenna marathon.  Last, but certainly not least, congratulations to Miki Neant and Kelli Willis, who quietly ran another virtual Abbott Global Marathon last weekend.  Do keep us in the loop on your upcoming running events– it's an inspiration to see what everyone is doing and to get to cheer you all on.
Lululemon Marylebone are giving us early access to their Black Friday sale, this Wednesday morning (24 November) at 9am.  We can shop their sale an hour before it officially opens.  You can ask about our regular 15% discount, but in the past that has not always been available on top of their Black Friday sale prices.
The ever-popular London Winter Run, a 10k to benefit Cancer Research UK, is back on for 13 February, 2022 after two missed mid-winter dates (one because of high winds and one because of Covid).  While this is not an official event we run, many WRW runners sign up each year and enjoy a fun Sunday morning out running through London together, amid inflatable snowmen and people in penguin costumes!  It's also a great opportunity and good timing to take part in a local race ahead of the Berlin half marathon.  You can find the signup page here.
Berlin Half Marathon.  Anyone planning to run the Berlin Half Marathon in April with WRW should have received an email this week confirming that you are signed up or on the waiting list for our group events.  Please let us know if you think you are registered but you did not receive an email this week.
Training note.  We will publish the training calendar leading up to the Berlin Half Marathon after Thanksgiving (last year's training plan can be found here, if you just can't wait for a peek). Be assured we are well on track, building a strong base now to begin going longer distances after the Christmas break.  We will also begin offering some speed training and interval options beginning next month, to help not only with speed but with overall endurance and strength.  These are always optional, depending on any physical limitations/injuries, or your inclination.  But if you are able, these sessions can be fun when done with your WRW friends!
Save the date.  Be sure to mark your calendars for some highlight runs in the coming month.  Details for the Lights run will be in next week's e-mail, of course, but just a reminder here so you can make whatever arrangements are needed in your household to make the 6am start!  Many women manage to do the run each year, hop on the tube at Bond Street or Baker Street, and make it home before their kids leave for school.  And meanwhile, fish around in the back of your sportswear drawer, or do a little crafting or shopping if you like, to find some crazy tights for the Monday, December 6 run.  It's always good fun, and yes, we are quite a spectacle on that day!
Wednesday 1 December – Annual Holiday Lights Run @ 6 amMonday 6 December – Crazy Tights RunWednesday 15 December – Hyde Park to Covent Garden
That's it for this week, ladies.  Safe travels to everyone on the road for American Thanksgiving and the ASL school break.  You know that I won't let this slip by without telling you once again how thankful I am for all of you, and for our running community. 
Enjoy the rest of your weekend, and I hope to see you in the park tomorrow morning!

xx Micki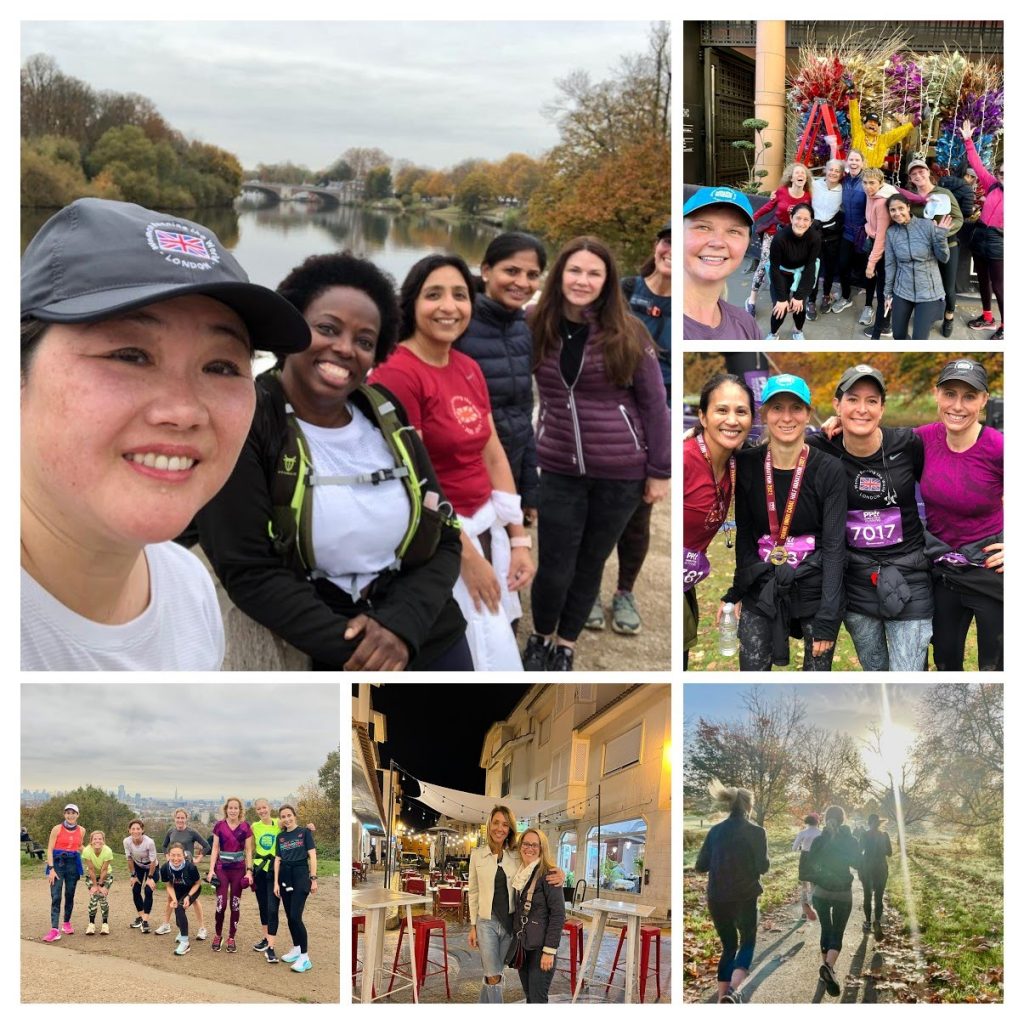 ROUTES
Monday 22 November  – Whole Foods Piccadilly via Embankment (6.5 miles)
RunGo:  https://routes.rungoapp.com/route/sPLE0JCI3K
Here's a chance to do some pre-Thanksgiving shopping after the run!  We start out heading east on the canal and run to the Wall.  We'll exit the canal there and turn right onto Rodney, which will turn into Penton Rise, then King's Cross Road, and eventually Farringdon, which we will stay on until we reach the embankment. We then turn right and run along Victoria Embankment to Northumberland (just past Embankment Tube Station). Turn Right onto Northumberland and run through Trafalgar Square onto Cockspur and then turn right onto Haymarket. Take Haymarket into Piccadilly Circus and turn left onto Coventry. Run through Piccadilly Circus, across the street and onto Glasshouse Street, where you will see Whole Foods Market.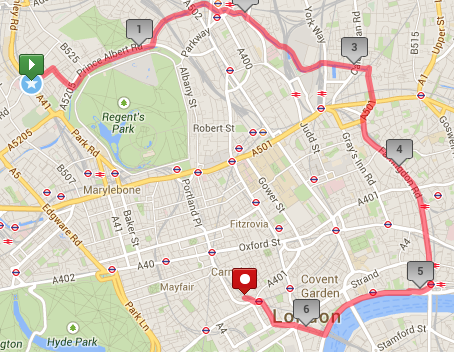 Wednesday and Friday, 24 and 26 November – Runner's Choice! Thanksgiving break
Round up your running friends who have stayed in London, and pick the route of your choice!