Dear Runners,
Good morning.  I'm sorry for being late with this week's note.  It's been hard to find words this week.  Sometimes when that is the case, it's better to let pictures speak; so I wanted to begin by sharing some of the many flower photos the WRW London community has posted during this difficult week.  We won't be sharing names or particulars here, but our hearts are with those in our community who are grieving.

Running this Week.  Last week's casual mention of the 10's challenging themselves to run to Singapore has blossomed over the last few days into a bigger challenge for all of WRW.  We'd like to join all together to try to virtually run all the way around the world!  What better way to show our community spirit and live up to our name??  The idea is to track all of our miles run during this lockdown and social distancing time, pool them together, and see how far around the globe that will get us.  Devy Schonfeld, the spark behind the original lockdown miles challenge, has agreed to help us plot our course around the world with stops to give virtual fist-bumps to our runners who either live far from London or have dispersed from London because of the pandemic.

So how will this work?  For those currently in a Pace Group, your Pace Leaders will post a link on your WhatsApp chat to a group Google sheet on which you can record your miles for each week.  The Pace Leaders will share that information with Devy, and we'll include an overall progress report for how far we've made it in the weekly e-mail the following weekend.  AND because we want to make this accessible for everyone who wants to be able to participate, even if running is limited by local lockdown rules in various locations, or homeschooling/caregiving demands, we are including other forms of exercise in this challenge at the rate of 10 minutes of exercise = 1 mile!  

So all you have to do to participate is follow the link you'll be sent via WhatsApp chat, go into the Google sheet, and enter your name in the left column.  Then just update your miles total (or exercise minutes converted to miles) by Sunday each week for the Monday-Sunday period.  Here's an example of the very simple tracking sheet (with names blocked out) we've already been using to challenge ourselves to a different goal (I've only just changed the title!):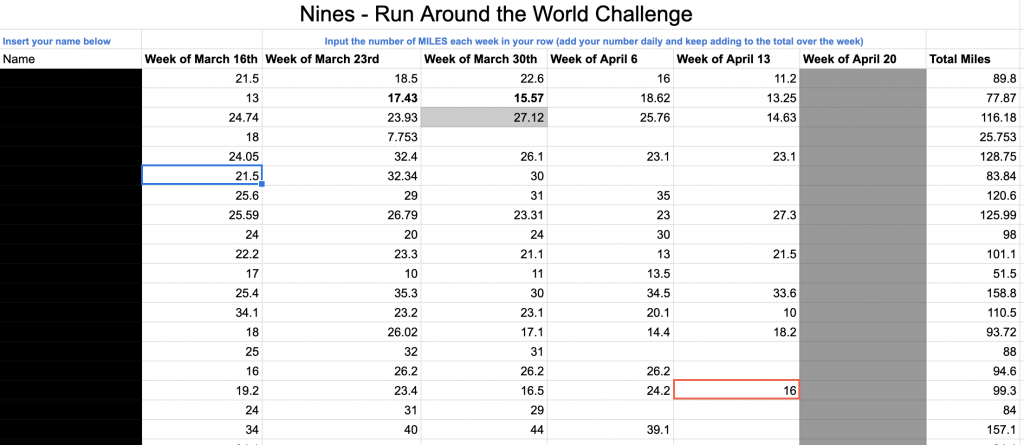 If you are not on an existing WhatsApp chat but would like to participate, here is a link to a sheet for you to use as a new 'Alumni Group': 
Finally, if you are not in London and you'd like us to consider running by you on our round-the-world route, please send your location and a photo of yourself we can crop to pin on the map, and our amazing Map-master Devy will try to include you in the route!
More to do with Miles.  Inspired by Captain Tom's amazing fundraising efforts, one of our runners let me know this week about a scheme that would allow us to easily and individually convert our miles into some giving.  Charity Miles is an app you can download to track your miles and 'donate' them to one of their 40-some charity partners.  The allocation of miles across the charities determines how a pool of money the organisation has raised from corporate sponsors will be allocated to the various partners.  In other words, you get to use your miles to vote for the charity of your choice.  Thanks to Carolyn Reeves for the idea!

Looking ahead.  We wish a meaningful celebration to all who will begin observing Ramadan this week, understanding that social distancing deeply affects this holiday for you.  When we come out of lockdown and begin running our routes together again– and we WILL do that!– I will have to re-learn how to write this weekly e-mail filled with route information, training tips passed down to us through the years by Paula for our half marathon prep, and a few observations about either how wet we got running in the rain the previous week, or how beautiful it was.  In the meantime, keep sending your ideas, your photos, and your miles; and we will keep ourselves connected and, hopefully, inspired through this really exceptional pause.  
Sending all best to everyone in London and around the world this week.  We are in this together!  Reach out here or in your group chats if you need a little boost.  Stay well!
xx Micki