Good Morning, Runners!
For those of you celebrating, Happy Pesach, and Happy Easter!  As we head into week four of the London lockdown, I want to make special note of all the smiles in the photos from this week. You ladies are so inspirational in your determination to make the best of this time!  Updates I've heard from all the pace groups highlight the many ways we are staying connected and supporting each other.  In addition to everyone keeping lively pace group chats going with lots of humor and support, we've got the ex-beginners continuing yoga and squats twice a week, and all of the groups hosting Zoom hangouts (including an 8's birthday celebration).  There are also the continuing combined-mileage challenges (will the 10s total mileage during social distancing be enough to get them to Singapore? Australia? Will they make it back to London?), and we have collectively been celebrating everything from a hard-fought, first run back from illness, to more solo half-marathon completions (including the 'First Annual, Fourth Week of Self-Isolation' weekly half-marathon).  
Running this week.  Most of us have probably established our go-to routes from our homes by now.  But one idea for something fresh and fun is to create a custom "Friend-ly" Route.  If you look at a street map starting from your own house, and pick out a friend who lives maybe 1.5 to 2 miles away, you can probably design a 5-mile loop route that runs past the homes of a dozen or so more friends– and if you post that on your chat without names and ask people to shout out their addresses if they're on the route and want to be a part of it (no obligation, of course), you will likely discover even more people on or near the route.  Then whenever someone runs the route, she can text when headed out the door, and friends can be looking out to give a wave or a socially distant hello as the runner passes.  Even better, those on the route might want to put a colorful sign or one of the bright WRW hats in a window, so that even if no one is home, runners on that route can feel less alone knowing they're passing all these friends!  And best of all– if there are 12-15 people living on the route, it gives that many runners a fresh new run.  Here is a sample route (with houses still unmarked) that includes about 15 runners so far: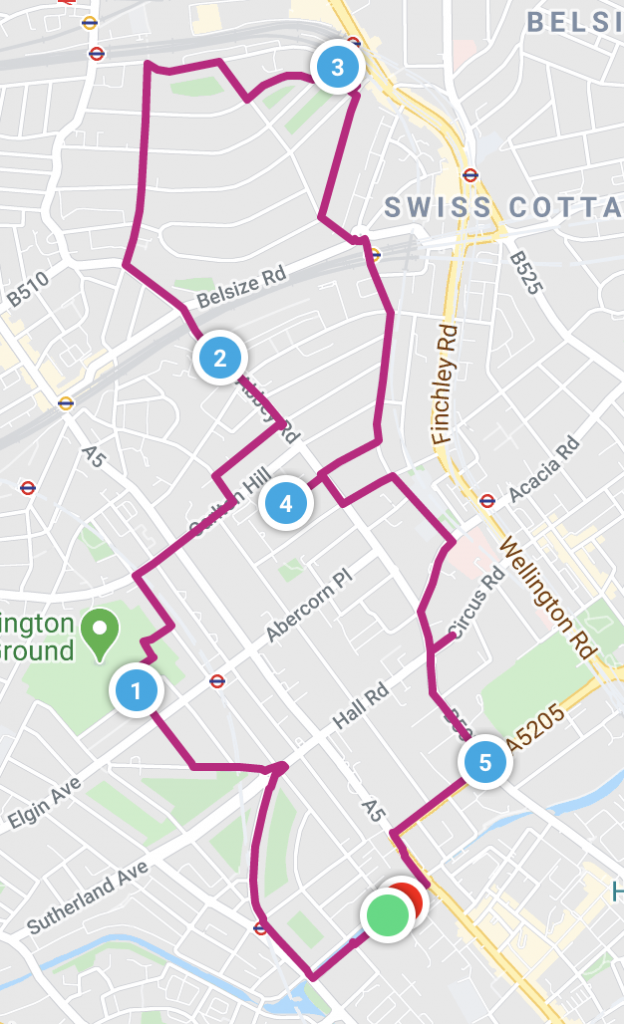 How great would it be if we could collect a set of routes covering different neighborhoods?  (Hint, hint…)

Obviously we are all acutely aware of our physical proximity to others when we are running these days.  A simulation that went viral this week (no pun intended) shows the wisdom of keeping even more distance than the 2 meters recommended if you are running or biking, because you are moving more quickly into the 'slipstream' of a person you are passing.  In fact, if you are running behind someone, the article recommends a 4-5 meter distance.  Here is the link to the original article published on Medium this week (thanks to Tamar).  I should mention that there is some controversy now about methodology and peer reviewing, but it still seems like good information to have and logical advice to consider.  Also on the topic of running in a time of social distancing, here is a piece we all might identify with– "What I Yell About When I Yell About Running."

Training.  It bears repeating every week that one of the most important things we can do for ourselves in terms of training these days is to be kind to our bodies.  Stretch, do some yoga or other cross-training, and… keep away from zombies?  A fun idea we've heard about from a few different sources (including Jennifer Egsgard) is the "Zombies, Run!" app which allows you to run your own route with a presumably zombie-infused narrative that will give you a little extra incentive to pick up the pace at various intervals on the run (all while minding social distancing, of course!).  Though all the reviews I've heard have come from people under 14, I've downloaded the app and can't wait to give it a try!  In other workout app news, a huge thank you to Karen Hough for managing the 'WRW Distance Runners' group on the Beachbody app– it's another fantastic way to connect and motivate for all kinds of lockdown fitness activities.  

Earlier this week someone sent me an article by a cyclist on 'rediscovering the joy of riding alone'.  So much of what the author says can be applied to those of us who are accustomed to running in a group as we're forced to transition to running solo.  In the spirit of finding the good in a bad situation, there really are things we can learn and even appreciate on this unusual journey.  Like the sudden ability to run in the road much of the time.  Or the novelty of running on Oxford Street in mid-afternoon any day rather than just our one, annual, pre-dawn outing on that route.  Or the flexibility to start your run when your body tells you it's ready to go, rather than convincing your body it will be ready at 8:20, like it or not (do we all know what I'm talking about here?).  Or finding all of these new ways to virtually connect with one another, and bonding even further through this shared experience.  The more we look for the things to appreciate, the more we find to be grateful for.  Gratitude builds upon itself and lifts us up as it rises.
Hmm, yes, sometimes I get carried away a little.  But just hoping that you all are doing well in every way.  Take care of yourselves, take care of each other, and do reach out if you are in need of support.  Stay well, and have a beautiful week!
xx Micki